Barbecue baked black-eyed peas
Last Monday, which was also my birthday, I finished my second cookbook. It was the best present I could ever give myself. After I sent my manuscript to my editor, I then spent a week being lazy. With little rest and relaxation the past six months as I've raced towards my deadline, it felt good to have other people cook for me and do absolutely nothing. After a few days of this, however, I became restless and missed hanging out in my tiny kitchen. So back I went.
As I started poking around my shelves to see what I had left over after the recipe testing, I didn't find much, though there was a bag of dried black-eyed peas. At first, I thought to myself, "I can't do anything with these, they're a January food." But then I realized this was foolish thinking, as like most Texans I grew up eating black-eyed peas all year round.
When I was young, we ate black-eyed peas several times a week. Whether it was the summertime and they were freshly picked from my grandmother's garden and needed nothing more than a dash of salt to shine, or whether it was the colder months and we took our dried black-eyed peas and slowly stewed them with aromatics and bacon—black-eyed peas were often on the table. And they were always good.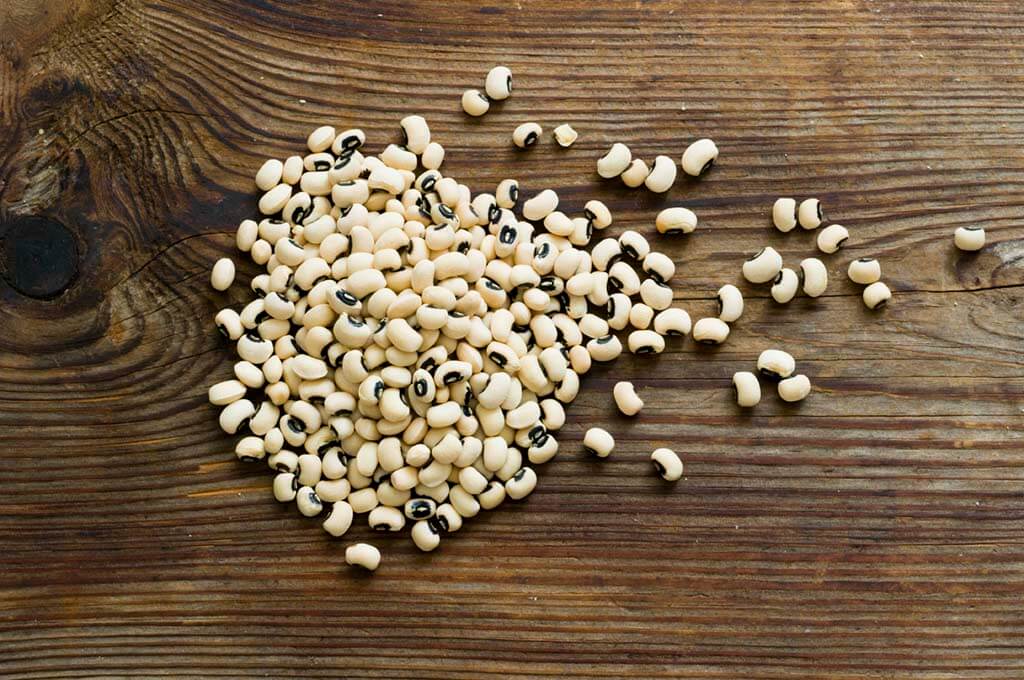 That said, for some reason when I moved to New York, I got it into my head that they should only be served on New Year's Day, as that was the only time I could find them at the stores. Of course, they're popular on January 1 as they're one of those foods that's supposed to bring you good fortune in the New Year. But their good flavor certainly shouldn't be limited to this one day. A return to serving black-eyed peas year round was long overdue.
Like most folks, I'll be attending a few backyard gatherings this summer. While in New York it's rare to have outdoor space, I do have a few fortunate friends with yards and they're always happy to share their limited patch of dirt and sunshine with those of us who are without. While at some point I would love to become more adept with a smoker and a grill, for now I'm happy to help out with the sides.
(That said, there are three books on Texas and barbecue—Robb Walsh's Barbecue Crossroads, Tim Byers' Smoke: New Firewood Cooking, and Daniel Vaughn's The Prophets of Smoked Meat I look forward to reading in the next few weeks so I can further my barbecue education.)
So what could I make with my black-eyed peas that would be backyard-season appropriate? A quick flip through A Taste of Texas (which is sadly out of print) gave me my answer. There I spotted a recipe for barbecue baked lima beans, and while I didn't have lima beans on hand, I figured that swapping black-eyed peas for lima beans would probably work.
This recipe veers more towards the savory and spicy side, so if you're a fan of sugary baked beans, this might not be your thing. But I found that the liberal use of earthy chili powder, smoky bacon, and tangy vinegar and mustard makes for a flavorful pot of beans.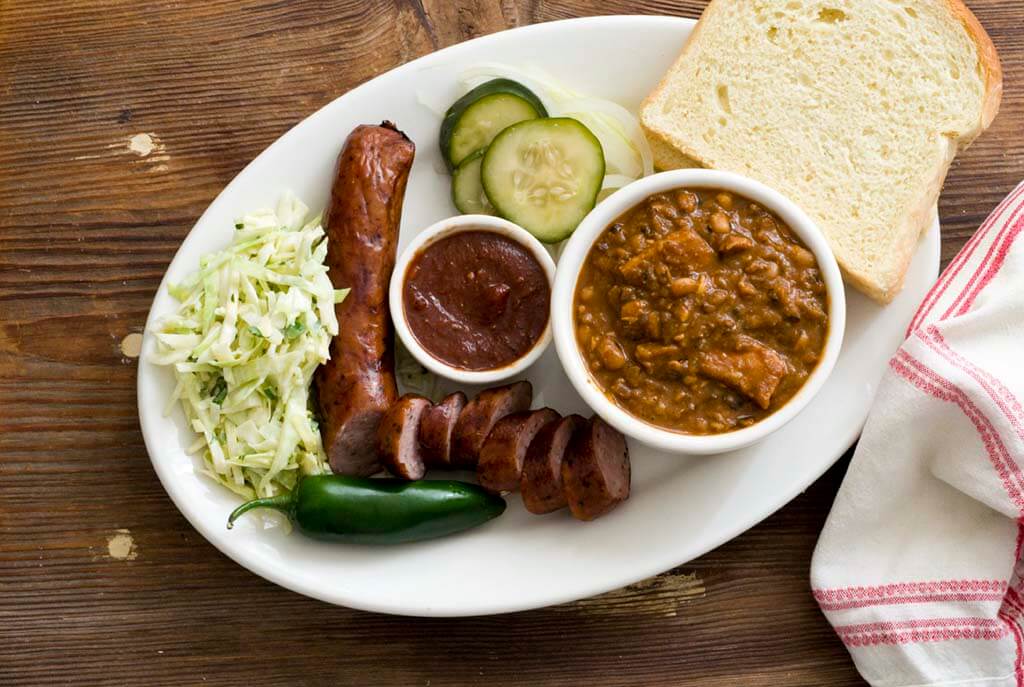 These go well with hamburgers, sausage, brisket, or even with just a hearty salad and cornbread. And while I'll be serving them this summer, when January comes around in a few months and you're craving black-eyed peas, there's no reason why these barbecued black-eyed peas couldn't make an appearance then, too. After all, black-eyed peas are welcome on the table any time of year.
Barbecue baked black-eyed peas
Ingredients
1

pound

dried black-eyed peas or 3

15-ounce cans black-eyed peas

1

tablespoon

kosher salt

12

ounces

thick-cut uncooked bacon

cut into 1/2-inch pieces

4

cloves

garlic, minced

1

medium yellow onion, diced

1

8-ounce can tomato sauce

1/4

cup

apple cider vinegar

1/4

cup

prepared mustard

2

tablespoons

Worcestershire sauce

2

tablespoons

molasses

2

tablespoons

chili powder

1/4

teaspoon

cayenne

2

cups

bean liquid water
Instructions
If using dried black-eyed peas, rinse the peas and place in a large ovenproof pot. Cover with one inch of water and add the salt. Bring the pot to a boil, cover the pot and turn the heat down to low. Simmer the pot covered for 1 hour and then remove the lid. Continue to simmer the peas until tender and soft (but not completely mushy), which can take anywhere from 30 more minutes to 1 1/2 hours, depending on the age of the peas. (If the water gets too low, add a little more to the pot). When the peas are tender and soft, drain the peas reserving the cooking liquid. If using canned black-eyed peas, simply drain them, also reserving the liquid.

To make the barbecue baked black-eyed peas, preheat the oven to 350°F. In the same pot that you cooked the peas, on medium-low heat, cook the chopped bacon while occasionally stirring just until some of the fat is rendered, but not crisp, about 3 minutes. You want it to be underdone. Remove the bacon from the pot with a slotted spatula, and place on a paper-towel lined plate leaving the rendered fat in the pot. Leaving the pot heated on medium-low, add the onion and cook until translucent, about 5 minutes. Add the garlic and cook for 30 more seconds. Turn off the heat.

Pour the black-eyed peas into the pot. Add the tomato sauce, vinegar, mustard, Worcestershire sauce, molasses, chili powder, cayenne, bacon, and 2 cups of the reserved bean liquid (if there's not enough add water to make up the difference). Stir until well combined. Taste and adjust seasonings, and add salt.

Cover the pot and place in the oven. Bake for 30 minutes covered. After this time, remove the lid and continue to cook uncovered for 30-45 more minutes or until the beans are your desired consistency (I like my beans a little on the dry side, but you may prefer yours soupier). Serve warm.
Notes
If you prefer, any bean such as lima, pinto, black, or navy, would work well in this recipe, too.