New Year's Day Migas with black-eyed peas and bacon
Migas for breakfast are welcome anytime, but I have especially fond memories of eating them with friends in Austin as our first meal of the New Year.
When I was younger, no matter where I happened to be living in Texas, it always seemed that I ended up in Austin for New Year's Eve. So naturally, on New Year's Day, my friends and I would go out for breakfast and enjoy big platters of migas along with fluffy flour tortillas and refried beans.
This year, I'll be in New York and sadly I have to admit I haven't had migas on New Year's Day for a long time now. Why is this, I wondered? Even though I'm in a place where I can't easily go to a restaurant and get my fix, there's no reason why I can't whip up a batch of migas at home.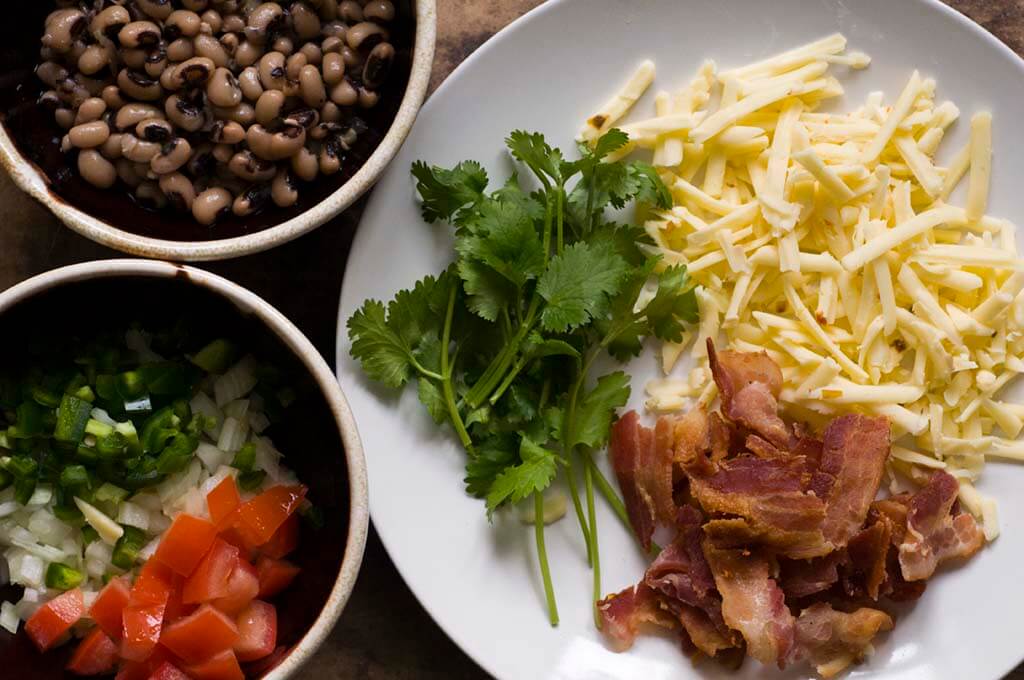 Now, there are as many ways to make migas as there are stars in the sky—the possibilities are almost endless. That said, there are two things that define all migas and this is the presence of scrambled eggs and tortillas. While usually people do add other things to their eggs, such as chile peppers, onions, tomatoes, and cheese, if there are not tortillas in the eggs, then they're not migas—they're simply some other type of egg scramble.
(If you're not familiar with migas, you may be thinking they sound like chilaquiles, and they are indeed similar, but chilaquiles are fried tortilla chips in salsa, not eggs, which is the main difference between the two. While you can add eggs to chilaquiles, it's the chips in the salsa that define; likewise, you can add salsa to your migas but it's the eggs with tortillas that define this particular dish.)
Because there is so much latitude with migas, which means crumbs in Spanish, I decided to play around with my usual version and make a special edition for New Year's Day. This, of course, meant there would be black-eyed peas involved since that's what many Texans eat in the New Year to ensure good fortune. And the addition of pork, such of sausage, to the black-eyed peas is also supposed to help make the year a fine one, so I added plenty of smoky bacon to my eggs, as well.
At first, I simply threw in a handful of cooked black-eyed peas to my eggs, along with the bacon and tortillas. The bacon and tortillas were fine, but the peas got lost in the scramble and seemed a bit off to me. It just didn't work. I decided to persevere, however, and decided instead of cooking the migas with the black-eyed peas, I'd try serving them on top of the scrambled eggs in a Texas-caviar style salsa.
After one bite, I realized this was the way to go. When the peas were cooked in the eggs along with the other vegetables, such as jalapeños, onions, and tomatoes, everything sort of blended together and got lost. But when the vegetables were allowed to stay crisp and bright with some spices and lime juice, they balanced out the rich, cheesy eggs gussied up with bacon and fried tortillas. It was a fine dish and would make a welcome start to any day—New Year's or otherwise.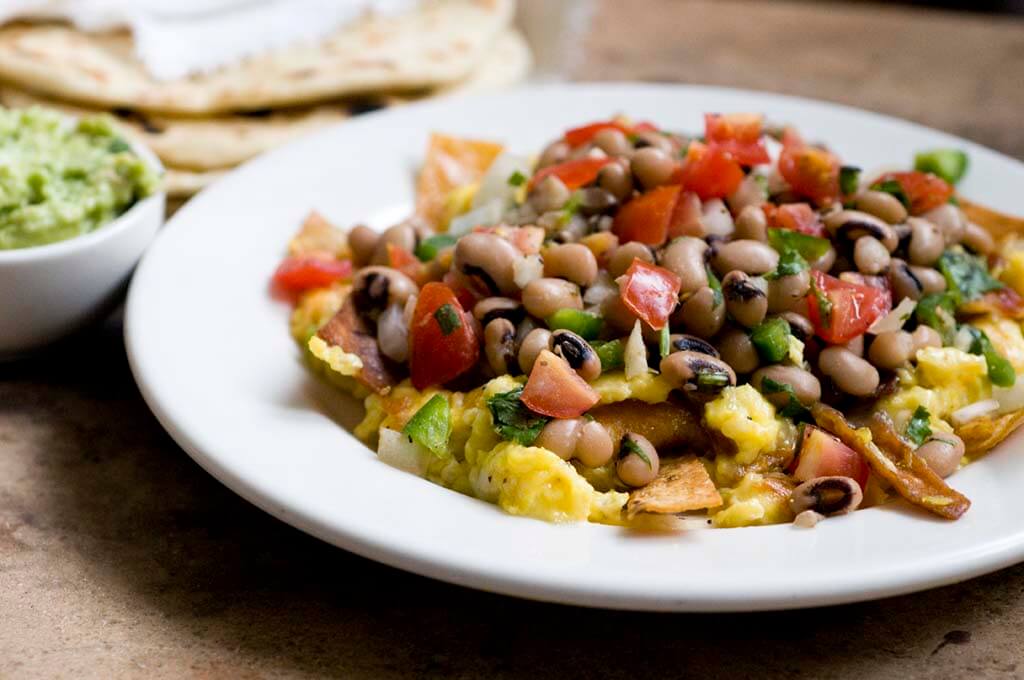 While the past year was a busy and productive one, I'm very excited for 2014! I already have a few trips to Texas planned, and my new book will be here in the spring. And may your 2014 be filled with much good fortune, love, joy, and good food.
Happy New Year!
New Year's Day migas with black-eyed pea salsa and bacon
Ingredients
Oil for frying

4

corn tortillas, preferably at least a day old

1 1/2

cups

cooked black-eyed peas, , drained or 1 (15-ounce) can black-eyed peas, drained

1

cup

grape tomatoes, diced

2

jalapeños, seeded and diced

1/4

medium yellow onion, diced

2

cloves

garlic, minced

1/4

cup

chopped cilantro

1/2

teaspoon

kosher salt

1/4

teaspoon

black pepper

1/4

teaspoon

ground cumin

1/2

tablespoon

olive oil

1

tablespoon

lime juice

8

large eggs

1/4

cup

room temperature water

8

slices

cooked bacon, crumbled

1

cup

4 ounces shredded pepper jack

Salsa, for serving

Guacamole, for serving
Warm flour tortillas, for serving
Instructions
To make the fried tortilla strips, first cut the tortillas into strips, about 1/2-inch wide and 1 1/2-inches long. Pour 1/4-inch of oil into a large skillet and heat on medium high to 350°F, about 5 minutes. If you don't have a thermometer, you can test the temperature by sticking a wooden spoon into the oil. If it bubbles around the spoon, it should be ready for frying. Line a large plate or sheet with paper towels.

Working in batches, gently slide the tortilla strips into the oil and fry for about 45 seconds, turning once, or until lightly brown and crisp. Remove with a slotted spoon and drain on the paper towel-lined plate. Repeat until all the strips are fried.

Turn off the heat and when cool enough to handle, drain and discard all but 2 tablespoons of oil from the skillet.

To make the black-eyed pea salsa, stir together the black-eyed peas, tomatoes, jalapeños, onion, garlic, cilantro, olive oil, lime juice, salt, black pepper, and cumin until well combined. Taste and adjust seasonings.

To make the eggs, whisk together the eggs, water, and bacon. Lightly salt and pepper the eggs, about 1/4 teaspoon of each. Return the skillet with the oil back to the stove and heat on medium-low heat. Pour in the eggs, and allow to cook without stirring for 1 minute. Gently stir the eggs a couple of times and then sprinkle evenly on top of the eggs the fried tortilla strips and the cheese. Gently stir once and then allow the eggs to cook until set to your preference, about 2-3 minutes.

Remove the eggs from the heat and top with the black-eyed peas. Serve with salsa, guacamole, and warm flour tortillas on the side.
Notes
To save time, you could use crushed tortilla chips instead of frying your corn tortillas.