Black-eyed peas with bacon and jalapeños
There's a children's book called "Old Hat New Hat" about a bear who decides he wants a new hat. He goes shopping and tries on quite a few, but whether it's the color, the shape, or the pattern, there's always something wrong with his choice. He is persistent, however, so he keeps at it. After much time, he at last finds the hat he seeks. Except the perfect hat for him is the one he was wearing when he arrived at the store. After all his effort, he realizes he had what he wanted all along.

Now, I can relate. The New Year is approaching and since Texans eat black-eyed peas for good fortune at this time, I've been trying to think of a fun dish to share. While I'm always fond of my stand-by pot of black-eyed peas, which is made with bacon and jalapeños, sometimes I want to cook up something fresh and new.

For example, in past years I've made: queso with black-eyed peas; black-eyed pea soup with collards and ham; smoky black-eyed pea and sausage soup; barbecue baked black-eyed peas; and migas with black-eyed peas and bacon.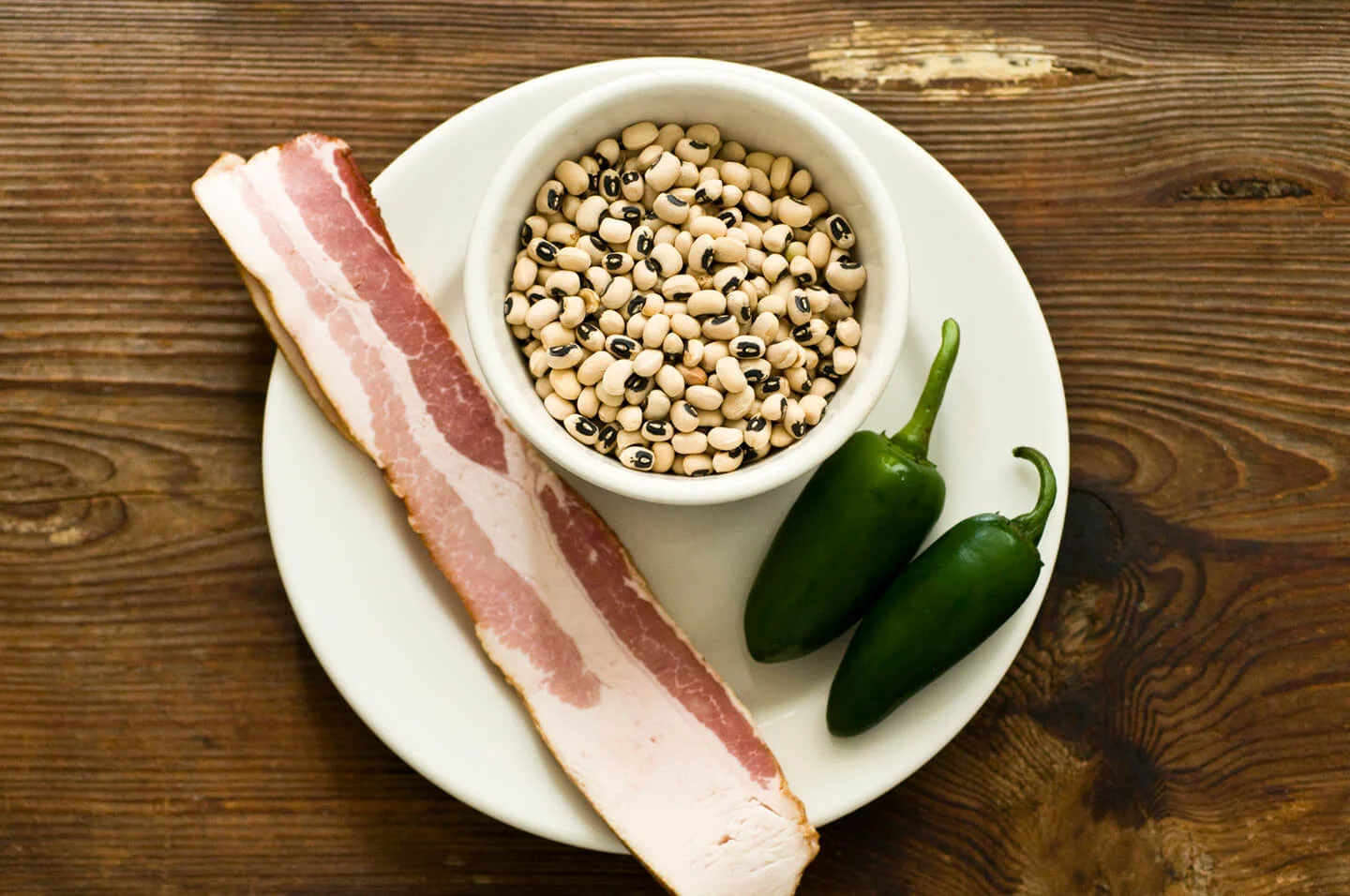 Because this past year was challenging, the desire to come up with something creative—in order to improve my good fortune—was strong. So after brainstorming a bunch of ideas, I headed to the kitchen and began experimenting with different spices, herbs, meats, and vegetables.

Each pot was definitely unique, but just not right. I'd eat a bowl then go back and try something new. Since I wasn't exactly sure what I was looking for, I'd pour more ingredients into the pot thinking it would be an improvement. It never was, but I was persistent.

Then I made a pot of black-eyed peas with red chile peppers, cinnamon, and vinegar. In theory, it was supposed to taste like chorizo but I got heavy handed with the cinnamon and it tasted, well, wrong. (In case you were wondering, cinnamon and black-eyed peas aren't really made for each other.) So while I was thankful for the ability to be creative, I decided I'd had enough with odd combinations. It was time to return to an old friend I already knew and loved.

All my life, my family has cooked their black-eyed peas with bacon. Some like salt pork or ham hocks in their black-eyed peas, but we've always been bacon people. Over the years, I've embellished on the original by including garlic and jalapeños, and following my mom's lead with her pinto beans, I finish it off with a splash of jalapeño pickle juice. But those additions aside, this familiar pot of black-eyed peas is my default whenever I get a craving.

The past year has been educational and I'm grateful for all that I've learned. Fortunately, the good memories far outweigh the bad, though some lessons were not easy—for instance, you can be certain I won't be putting cinnamon in my black-eyed peas anytime soon! But like many things I'm glad I at least gave it a try, as making the effort helped me understand that I already had what I wanted all along.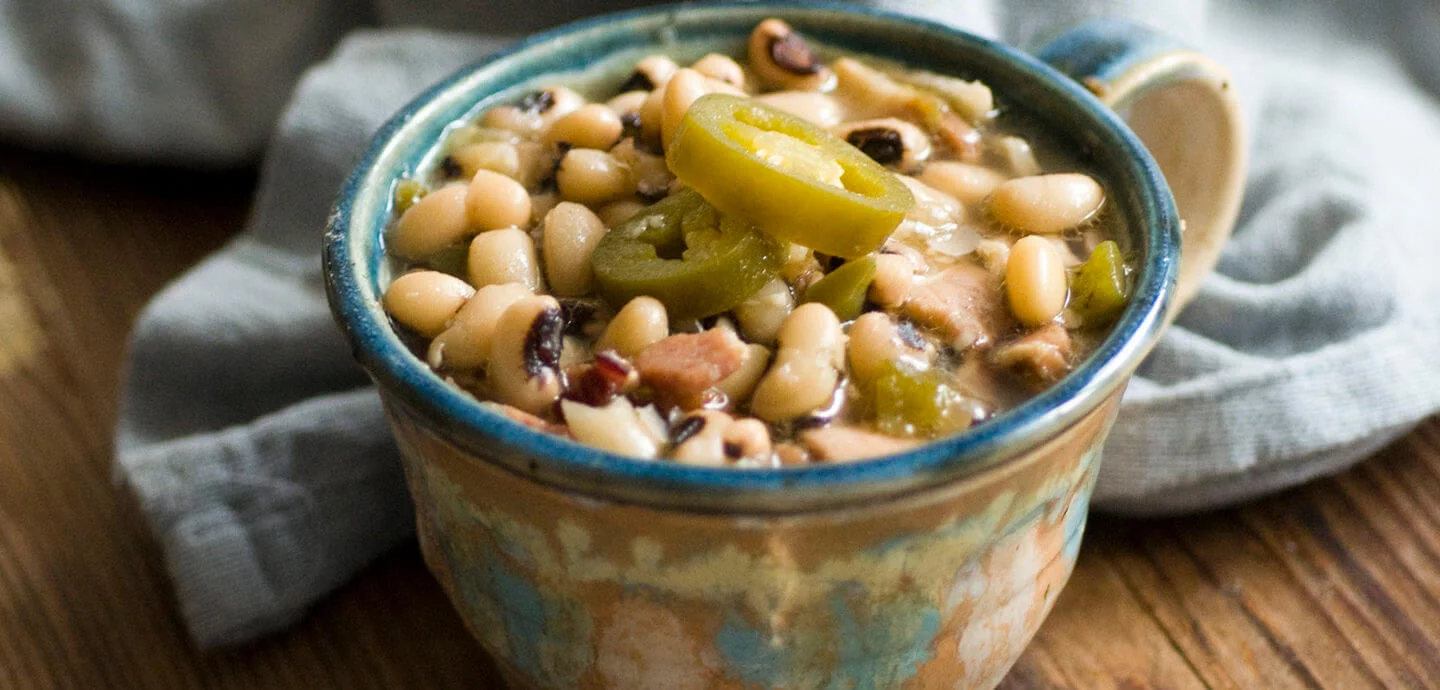 Best wishes to all of you and may your 2016 be filled with much love, joy, and good fortune! Happy New Year!

—————
Would you like more Homesick Texan? Well, I've started offering additional recipes for paid subscribers to help with the costs of running the site. While I'm not taking anything away, if you'd like to support Homesick Texan and have access to exclusive, never-seen-before subscriber-only posts, please consider becoming a member; annual subscriptions are as low as $25. Thank you for reading, your consideration, and your support!
—————

Black-eyed peas wth bacon and jalapeños
Ingredients
8

ounces

slab or thick-cut bacon, diced

2 to 4

jalapeños, depending on how hot you want it, seeded, stemmed, and diced

4

cloves

garlic, minced

1

pound

dried black-eyed peas

8

cups

water

1

tablespoon

kosher salt

Pinch

cayenne

1

teaspoon

jalapeño pickle juice or vinegar

Pickled jalapeño slices, for garnishing
Instructions
In a Dutch oven or large pot, on medium-low heat cook the bacon while occasionally stirring until some of the fat is rendered and it's just beginning to crisp, about 5 minutes.

Add the jalapeños to the pot, and cook for 2 minutes or until they begin to soften. Add the garlic and cook for 30 more seconds. Add the dried black-eyed peas and stir until everything is well combined.

Pour in the water and add the salt and cayenne. Turn the heat up to high and bring to a boil. Once the pot is boiling, continue to boil for 5 minutes then cover the pot, turn the heat down to low, and gently simmer for 1 and 1/2 hours.

After this time, remove the lid and test the peas to see where they're at in terms of tenderness. Continue to cook the peas uncovered until they're your desired texture, which can take anywhere from 30 minutes to 2 hours, depending on the peas.

Once the peas are tender, stir in the jalapeño pickle juice then taste and add more salt and pickle juice if desired. Serve warm garnished with pickled jalapeños.