Pasta primavera with asparagus, peas, mushrooms, and bacon
Sometimes an unexpected trip can yield delicious results. Take this creamy springtime pasta loaded with asparagus, peas, mushrooms, and bacon. It wasn't my original intent to make a dish with those ingredients together; I had other plans. But when I decided at the last minute to go to Houston to help my mom settle into her temporary home while they rebuild her flooded house, a hearty pasta dish seemed like the best way to use up a lot of things at once.
Actually, it wasn't a total fluke. Fettuccine Alfredo had been on my mind since a few weeks ago some friends were chatting about how it had gone out of style. While you would think that pasta tossed with butter, cream, and cheese would always be popular, I realized it had been a while since I'd made it myself. So I whipped up a batch, but sadly after a few bites I was bored. Perhaps my friends had a point.
While the Alfredo sauce was decadent enough, it left me craving more texture and flavor. Fortunately, to the rescue came my refrigerator filled with perishable ingredients that needed to be used before I left town. I decided to make pasta primavera instead.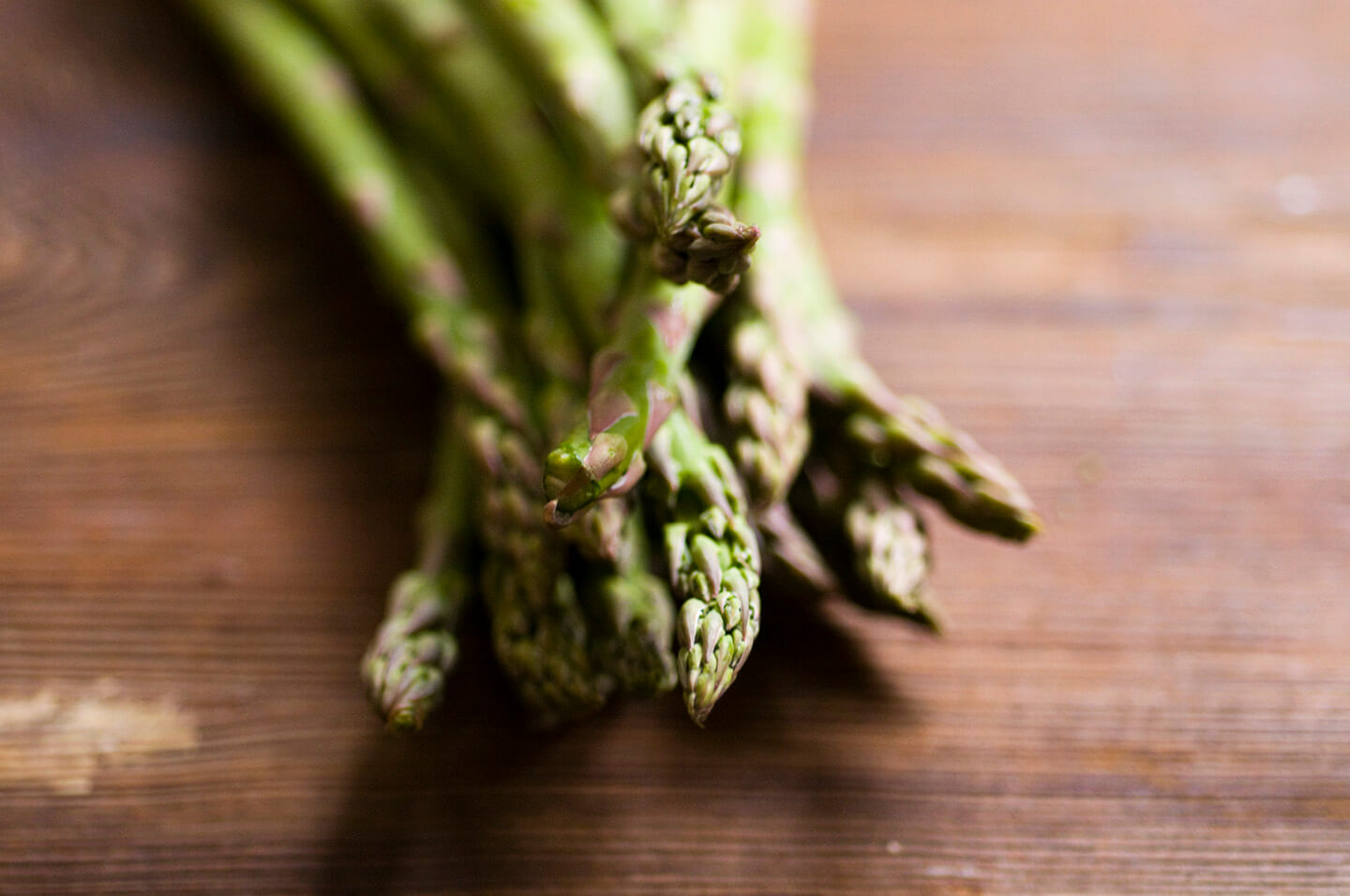 Pasta primavera, a close relative to fettuccine Alfredo, is also pasta tossed with a creamy sauce, but springtime vegetables are added to the mix, hence the primavera in the name, which means spring. Faced with my deadline and a bounty of fresh asparagus along with mushrooms, and peas, I felt inspired to toss them with the pasta. And indeed, they provided plenty of seasonal snap.

As for the sauce, I began with the basic cream, butter, and Parmesan cheese blend, along with some garlic, too. Wine is also a popular addition, but since I had half a bottle of Shiner Bock in my refrigerator, I stirred that into the sauce instead. This not only gave it some Texan flare but also bock beer is traditionally a springtime beverage, so it just made sense. Lastly, I threw in some smoky bacon and a jolt of hot jalapeños—neither of which are traditional but are always lively and fun.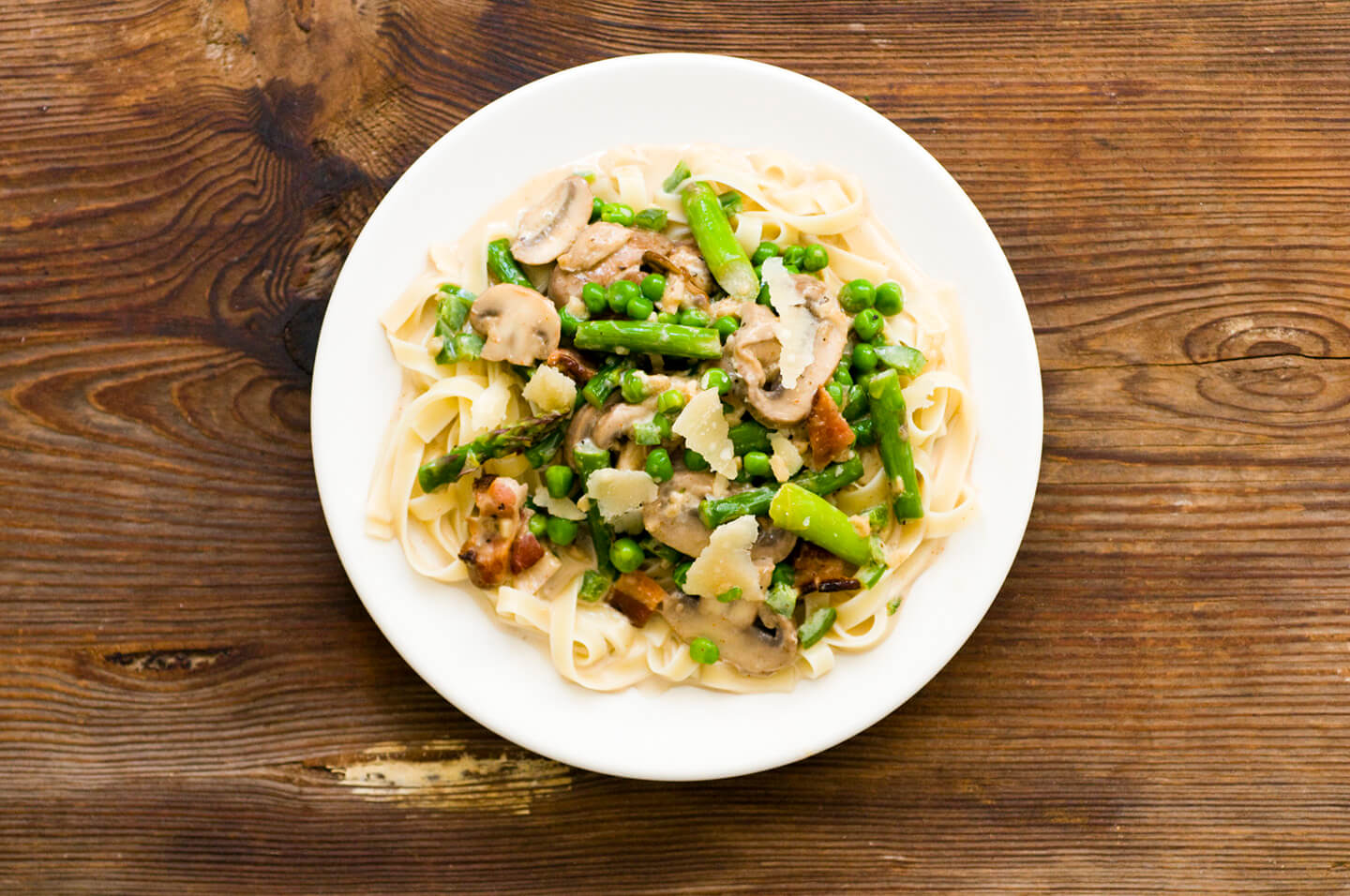 Of course, all these things go well together in theory, but I was worried my Texan-inspired pasta primavera might be a bit strange. Well, I shouldn't have been concerned, as it turned out to be a creamy, smoky pasta loaded with the bright, earthy flavors of spring. I loved it. Sure, the dish wasn't my original intent but it all worked out very well in the end. It's true, sometimes the unexpected can indeed yield wonderful results.
Pasta primavera with asparagus, peas, mushrooms, and bacon
Ingredients
8

ounces

fettuccine pasta

1

tablespoon

kosher salt

6

ounces

bacon

4

tablespoons

unsalted butter

2

cloves

garlic, minced

1/2

pound

asparagus, cut into 1-inch pieces

1/2

pound

cremini or button mushrooms, thinly sliced

1

jalapeño,seeded and diced

1

cup

fresh or thawed frozen green peas

3/4

cup

heavy cream

1/4

cup

bock beer

1 1/2

cups

finely grated Parmesan cheese, plus more for serving

1/4

teaspoon

black pepper

Pinch

cayenne
Instructions
Cook the fettuccine according to the package instructions in a large pot of water seasoned with salt. Once cooked, drain and rinse the fettuccine.

As the pasta water is heating up and the pasta cooks, in a large skillet on medium-low heat, cook the bacon until crisp, about 10 minutes, turning once. Place the cooked bacon on a paper-towel lined plate and pour off all of the bacon grease in the pan except 1 tablespoon. (Reserve the rest of the grease for another use.) When it's cool enough to handle, cut the bacon into 1/2-inch pieces.

Meanwhile, return the skillet with the tablespoon of bacon grease back to the stove and again turn the heat to medium low. Add the butter to the skillet and once it's melted, add the garlic, asparagus, mushrooms, and jalapeño. While occasionally stirring, cook until the asparagus and jalapeños are tender and the mushrooms have released some of their liquid, about 5 minutes.

Add to the skillet the bacon, peas, heavy cream, bock beer, and Parmesan cheese. Stir quickly until well combined, then turn off the heat to keep the sauce from over cooking. Add the black pepper and cayenne. Adjust seasonings and add salt to taste.

Depending on the size of your skillet, you can add the drained pasta to the skillet and toss it with the sauce, or place the pasta back in the large pot and toss it with the sauce there.

Serve warm topped with freshly shaved or grated Parmesan cheese.
Notes
As this pasta was originally created as an improvisation, feel free to add or subtract ingredients as you like. Also, other pasta shapes such as bow tie or penne would also work just as well.