Tomato, cheddar, and bacon biscuits
The other morning I was waiting for the cable guy to arrive. I'm sure you know the drill—the cable company gives you a window of time and if you're not home within that slot then you miss your appointment. And this you don't want to do as it might take another week for them to send someone to fix your problem. Not to mention, despite everyone's good intentions the repair guy usually doesn't arrive until the end of the allotted time. So you're stuck at home for a while.
You don't need me to tell you about waiting for repair people, however, so let's instead talk about happier things—like this batch of tomato, cheddar, and bacon biscuits. While I was biding my time at home, I had this urge to bake something. That said, because I hadn't been to the grocery store or the farmers market in a few days, and I couldn't leave lest I miss the cable guy, I decided to challenge myself and bake with whatever I had available.
Since I'm always cooking, you'd think that I would usually have a pretty well stocked larder, but this particular morning I didn't have a whole lot on hand. For instance, it being summer and all, my first inclination had been to make something with fruit, but I realized I'd eaten the last of my blueberries and peaches over the weekend.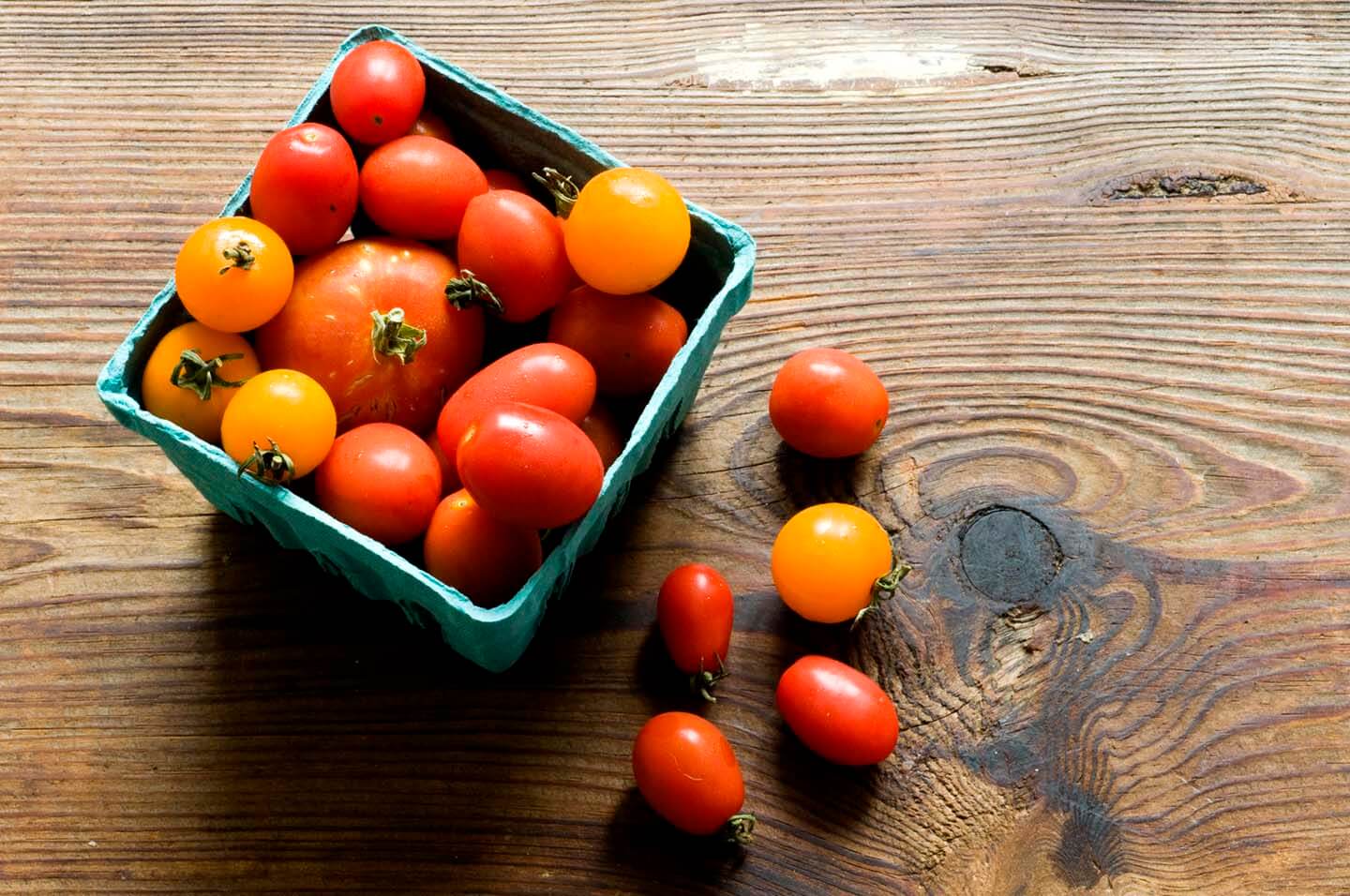 I was also out of sugar and eggs, which ruled out making cakes and cookies. But I did have plenty of cheese, buttermilk, flour, and grape tomatoes. As I poked around the refrigerator, I spotted some bacon in there, as well. And that's how I came to bake a batch of tomato, cheddar, and bacon biscuits, which now may be one of my favorite things.

To make these, I followed my usual recipe for biscuits and then added some chopped grape tomatoes, shredded cheddar cheese, along with cooked and crumbled bacon. For good measure, I added a generous shake of black pepper, as well.
If you're a fan of tomato cobblers or tomato pie, then you will love these biscuits. The soft, buttery biscuit is a perfect vehicle for the juicy tomatoes, while the sharp cheddar and smoky, salty bacon adds depth of flavor, as well. That said, if you don't eat meat, you can leave out the bacon in these biscuits and they will still be very good, as it's the tomato and the cheddar that are the true stars.
When my biscuits were fresh from the oven, I scrambled up an egg and made a breakfast sandwich with one while it was still warm. Usually I adorn my breakfast sandwiches with cheese or bacon, but since those items were already in the biscuit, no embellishing was necessary. It was wonderful.


Of course, if you're like me you know that biscuits aren't just for breakfast and these savory biscuits are no different. They go well with many things, including soups, salads, and fried chicken. Though they can also be enjoyed simply on their own with a generous pat of cold, sweet butter.
Tomato, cheddar, and bacon biscuits
Ingredients
2

cups

all-purpose flour

1

tablespoon

baking powder

1/2

teaspoon

kosher salt

1/2

teaspoon

black pepper

1/2

cup

2 ounces shredded cheddar cheese

1

stick

cold butter

4

slices

cooked bacon, chopped

1/2

cup

2 ounces grape tomatoes, chopped

3/4

cup

buttermilk
Instructions
Preheat the oven to 450°F and grease and lightly flour a baking sheet or a large ovenproof skillet.

Whisk together the flour, baking powder, salt, and pepper. Stir in the shredded cheddar until well combined. Cut the stick of butter into pieces and work into the flour mixture with your hands or a pastry blender until the flour is crumbly. Stir in the bacon and chopped grape tomatoes. Pour in the buttermilk and then stir until the dough is well combined. It's okay if the dough is a little sticky.

Pour the dough out on a floured surface and knead for a minute. Now the dough should be smooth and no longer wet. (You can sprinkle more flour on the surface if you find that it's sticking.) Roll out the dough until it's 1/4 of an inch thick and then fold over in half.

Using a round cutter cut out the biscuits from the folded dough. (You may have to gather the scraps and roll out again if you run out of room while cutting.) Place the cut biscuits on the greased baking sheet close together (so they rise up, not out) and bake for 15 minutes or until the tops are golden brown.