Chambersville black-eyed peas and rice
The other day, I took dinner to my family at our Chambersville farm. My mom was in town helping my uncle with some family business, and since I knew that they, along with my grandma, had probably had a busy day, I figured a home-cooked meal would be welcome.
This year, for the first time in many, we had a crop of black-eyed peas. It's always been said that the black dirt in our little patch of Texas produces the best peas, and I agree. It's been too long and I'd forgotten how fresh and vibrant they can taste, even when they're dried and a few months old.
My uncle had given me a pound for Christmas, and that day I had cooked a pot in anticipation of sharing a new recipe on the blog. When I decided to cook dinner for everyone, I worked with the black-eyed peas I'd already prepared and came up with an entire meal.
Over the past month, I'd been testing ham recipes, so I took some slices of that along with flour tortillas and shredded Monterey Jack and Cheddar to make ham and cheese quesadillas. I also cooked some Spanish rice to go with the peas. Lastly, I made a pico de gallo with avocado, as I only had one, which wasn't enough for guacamole but was a creamy accent to the fresh salsa.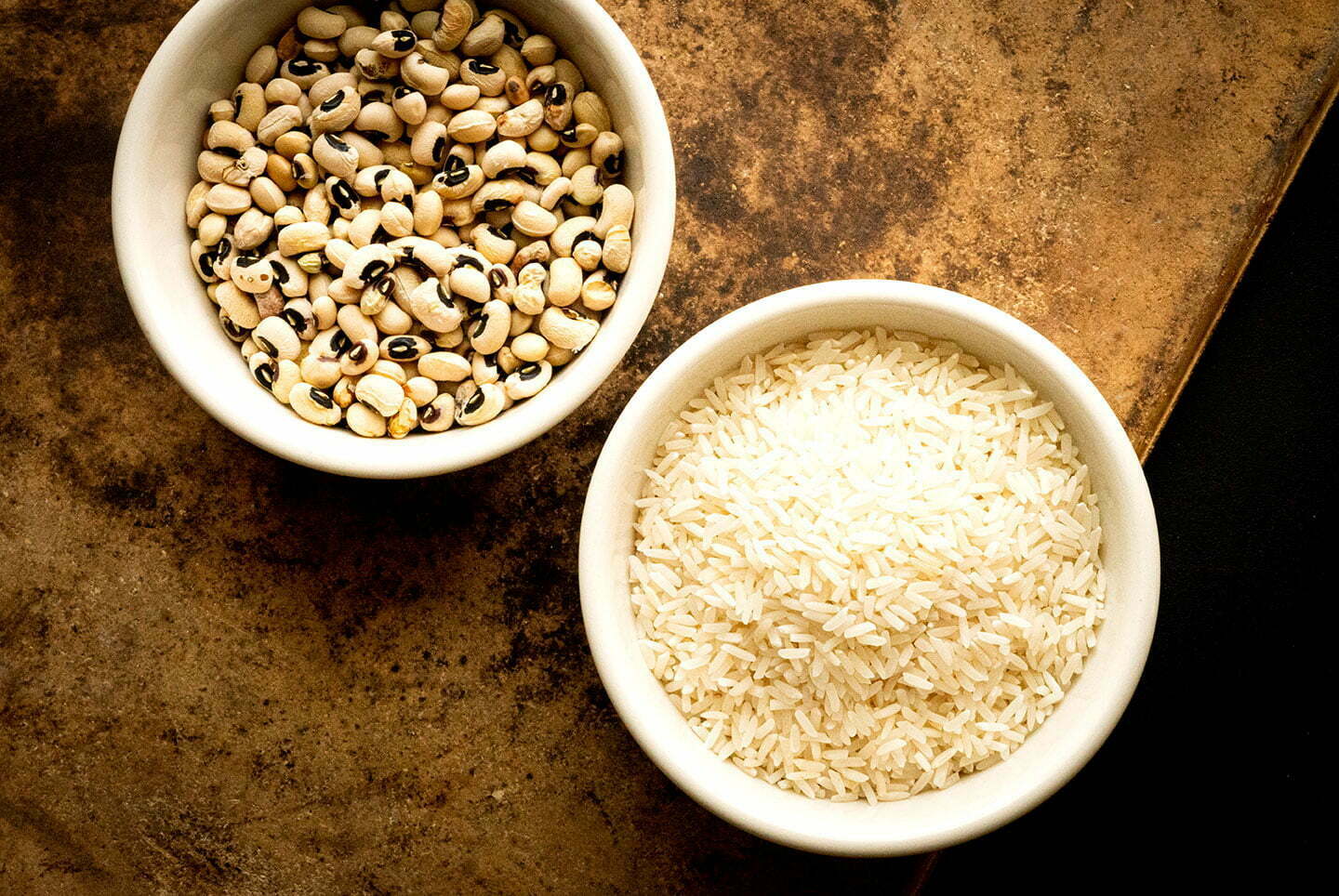 These days, Grandma has an edict that she no longer prefers onions or hot peppers in her food, so while I'd already thrown a jalapeño into the peas, I only used a sweet red bell pepper in the pico. There were no hot peppers in the rice, either.
The meal was homespun and easy, and while I'd been working with ingredients I needed to use from my fridge, everyone agreed it tasted good and fresh. I was pleased to have been able to cook for them.
As we cleared off the table to make room for the peach cobbler I'd also baked, Grandma suggested we take the leftover rice and mix it with the black-eyed peas, as the latter had quite a bit of flavorful broth remaining. She thought the two together would make a fine dish.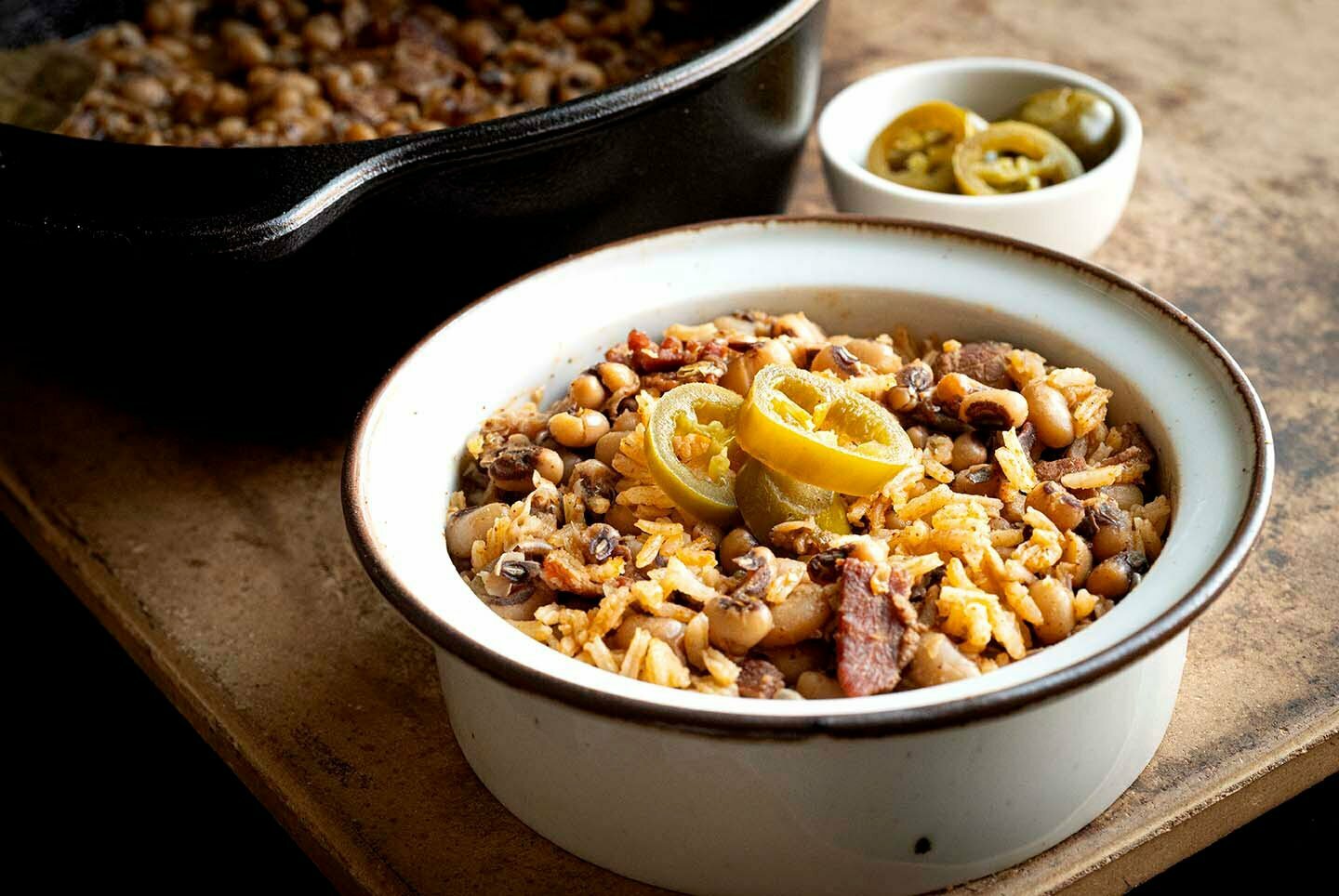 I agree, and now I share that combination with you—slowly cooked black-eyed peas with lots of garlic, bacon, and spices, along with some tomato-and-garlic Spanish rice. Rice and beans are a classic combination, and this North Texas take on the two together is a wonderful way to feed your family and welcome in a new year.
—————
Would you like more Homesick Texan? Well, I've started offering additional recipes for paid subscribers to help with the costs of running the site. While I'm not taking anything away, if you'd like to support Homesick Texan and have access to exclusive, never-seen-before subscriber-only posts, please consider becoming a member; annual subscriptions are as low as $25. Thank you for reading, your consideration, and your support!
—————
Chambersville black-eyed peas and rice
Ingredients
For the black-eyed peas:
8

ounces

uncooked bacon

1

jalapeño, seeded and diced

4

cloves

garlic, minced

1

cup

dried black-eyed peas

2

teaspoons

salt

1

teaspoon

chili powder

1

teaspoon

ground cumin

1

teaspoon

dried oregano

Pinch

cayenne

1

bay leaf

4

cups

water or broth

Pickled jalapeños, for serving
For the rice:
1

teaspoon

olive oil

2

cloves

garlic, minced

1

teaspoon

ground cumin

1

teaspoon

dried oregano

1

teaspoon

kosher salt

1

tablespoon

tomato paste

¾

cup

uncooked long-grain rice

1 ½

cups

water

1

tablespoon

lime juice
Instructions
For the black-eyed peas, in a large pot, cook the bacon on medium heat until crisp, turning once. Remove the bacon from the pot, leaving in the grease.

Add the jalapeños to the pot, and while stirring occasionally, cook until softened, about 5 minutes. Add the garlic and cook for 30 more seconds.

Add to the pot the black-eyed peas, salt, chili powder, cumin, oregano, cayenne, bay leaf, and water. Cut the cooked bacon into pieces and add it to the pot, too. Bring the pot to a boil, then turn the heat down to low and cover the pot. Simmer the peas covered for 1 1/2 hours.

After 1 ½ hours, remove the lid and test the peas to see where they're at in terms of tenderness. Continue to cook the peas uncovered until they're your desired texture, which can take anywhere from 30 minutes to 2 hours, depending on the peas.

Once the peas are tender, taste and add more salt and adjust seasonings if desired. Serve warm with pickled jalapeños on the side.

Meanwhile, for the rice, in a heavy-bottom pan, heat the olive oil on medium-low heat. Add the garlic and cook for 30 seconds. Stir in the cumin, oregano, salt, and tomato paste until well combined. Add the rice and stir until well blended with the tomato paste and spices.

Pour in the water, turn the heat up to high, and cook uncovered until boiling. When it boils, cover the pot, turn the heat down to low, then simmer for 20 minutes. After this time, turn off the heat and leave on the lid for 10 more minutes.

Remove the lid, fluff the rice, then stir in the lime juice. Taste and adjust the seasonings if you like. Garnish with cilantro. Serve with the black-eyed peas.
Notes
This will serve 4 as a main dish or 8 as a side. The recipe calls for only 1 cup instead of the usual 2 cups since you're combining the peas with rice. That said, feel free to double it if you prefer more peas!