Grandpa's special pancakes
When I was little, I spent a lot of time at my grandparents' house in the Dallas neighborhood of Oak Cliff. Sundays through Fridays, my grandmother ruled the kitchen. But on Saturdays the stove belonged to Grandpa. Every Saturday morning, you'd walk into their house and the smell of smoky bacon, spicy sausage and sweet syrup would waft through the air, inviting you to take a seat at the table and dig into a tall stack of Grandpa's special pancakes.
When cooking his pancakes, he'd always mix his batter with an eggbeater in a large 32-oz. glass measuring cup, which made it all the easier to pour the batter into the skillet. And while his pancake recipe is pretty simple, because they were made with both expertise and love they are still the best pancakes I've ever had.

Even though my grandparents were living in Dallas, they had never given up their family farmland in far North Texas. On both farms are pecan trees, and so they always had a steady supply of this sweet and crunchy Texas treat. Grandpa would throw them into his pancakes, and when blueberries were in season he'd add those as well. The soft, puffy pancakes combined with the snap of fresh nuts was a perfect marriage—so sweet and delicious, in fact, that no butter or syrup was even necessary.
When they retired and moved back to the farm, Grandpa didn't abandon his Saturday-morning pancake tradition. If I'd be visiting, my grandparents always insisted I stay through Saturday so I could eat some of his pancakes. It was a request I never refused.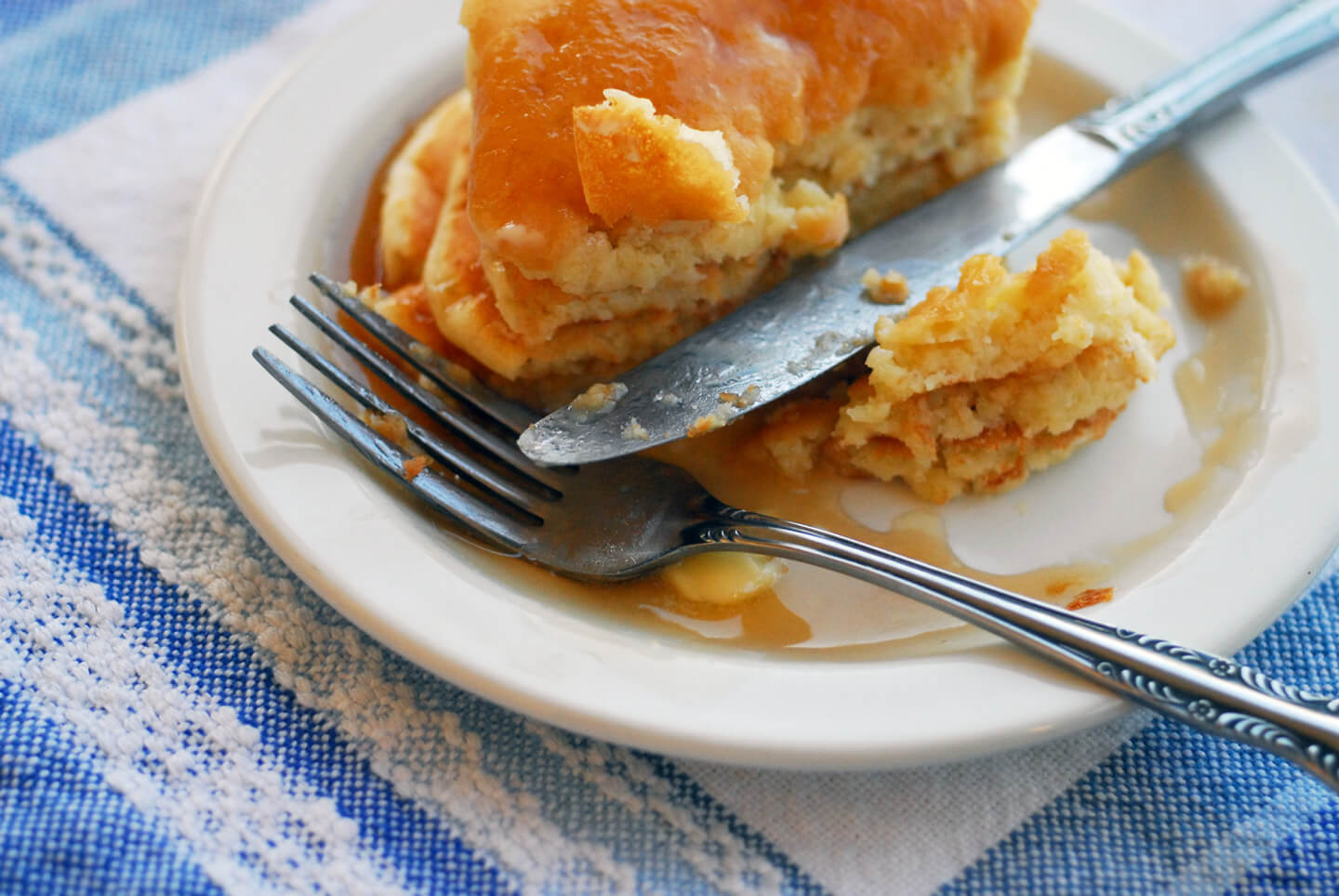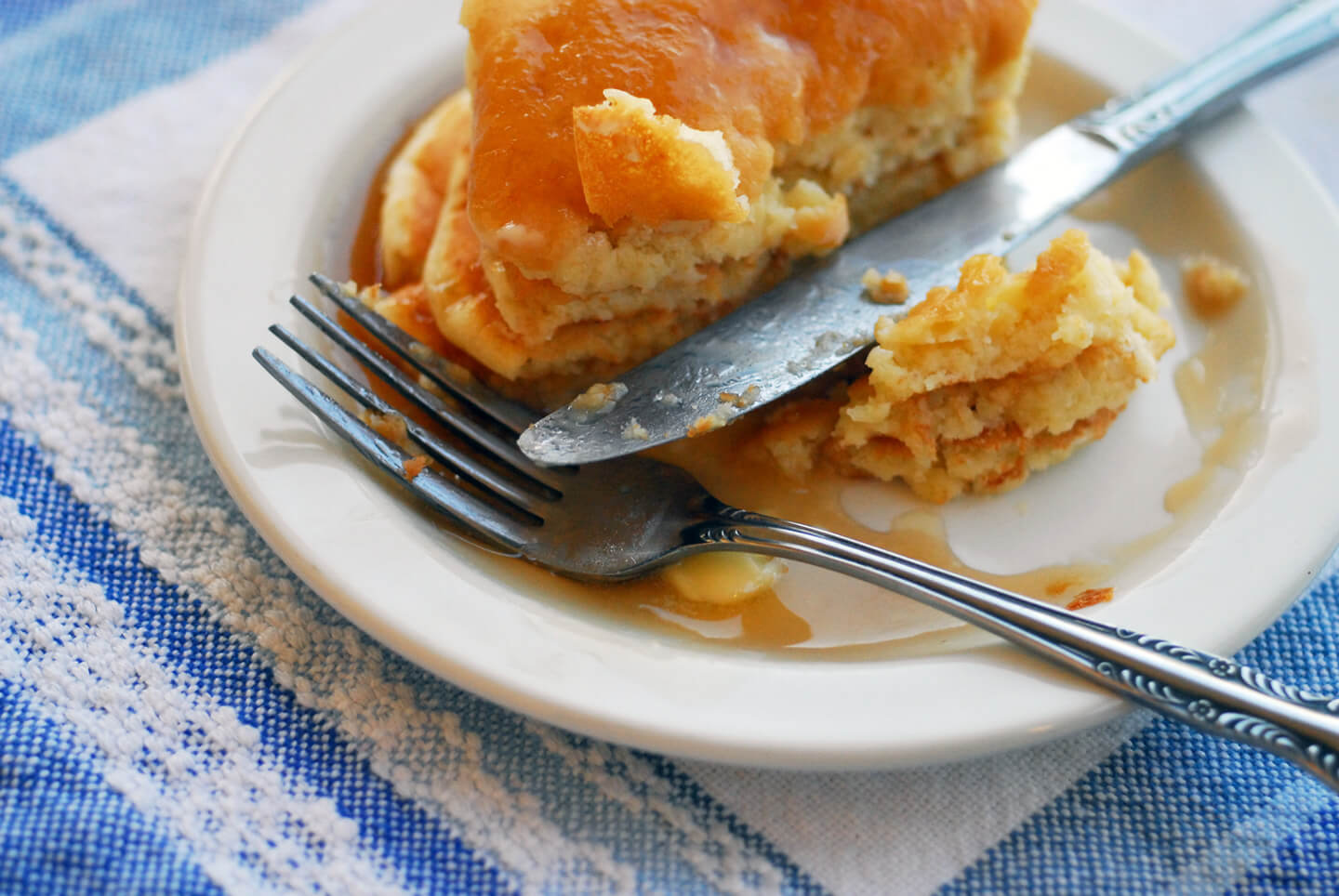 My family loves to both eat and cook, and my brother Jacob has decided to continue Grandpa's pancake-making tradition. So when my Grandpa died in 2008, on the morning of the funeral, we woke up early to find Jacob in the kitchen beating up a batch of pancakes just like Grandpa's. After eating and cooking, my family loves nothing more than the opportunity to remain at the table talking and laughing for hours on end. And Jacob's pancakes were indeed a fine tribute as we sat around that morning at the farm, eating puffy pancakes while sharing memories and stories about Grandpa.
Grandma gladly gave me his pancake recipe, which is made all the more dear by the added instructions, "Mighty good on Saturday morning." And yes, you can eat these pancakes anytime, but for me they'll always be Grandpa's special Saturday pancakes—a sign that a happy time of family gathering has begun.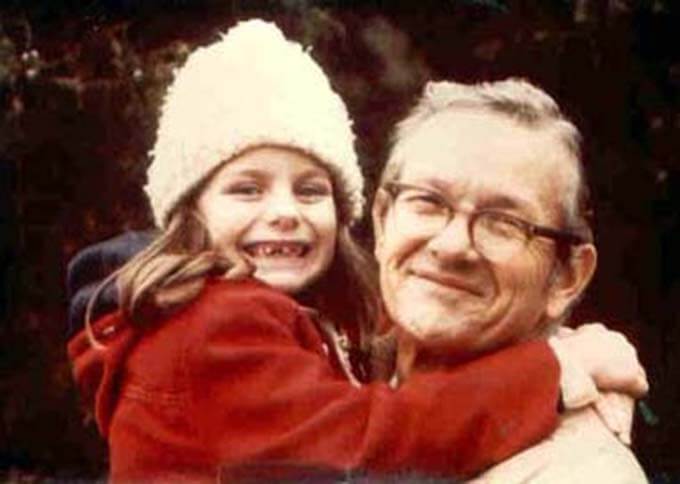 Grandpa's special pancakes
Ingredients
1

large egg

1 1/2 cups milk

2

cups

all-purpose flour

1

tablespoon

whole-wheat flour

1

heaping tablespoon baking powder

1/2

teaspoon

kosher salt

2

tablespoons

sugar

4

tablespoons

vegetable oil

1/2

cup

shelled pecans
Instructions
Beat together the egg and milk. Add the rest of the ingredients. Mix (can add more milk if needed).

Pour 1/4 cup onto skillet heated at medium.Cook for a couple of minutes on one side (until edges are brown and bubbles form in batter).Flip and cook on other side a couple more minutes.

Serve immediately.Don't forget: Mighty good on Saturday morning!
Notes
When Jacob made these, he used buttermilk, which made them extra fluffy. He also used less than four tablespoons of oil. And my uncle Austin recalls that Grandpa insisted his secret to great pancakes was in using a fresh and hearty tablespoon of baking powder.