Squash and green chile casserole
If you're a Texan of a certain age, then you probably remember Liz Carpenter. Mrs. Carpenter was most famously Lady Bird Johnson's press secretary, but she was also a longtime journalist and public relations specialist, as well. When I lived in Austin many years ago, you'd see her out and about at various functions, and Mrs. Carpenter's puff of white hair and abundant wit always stood out in the crowd.
During this time, in the mid-1990s, she wrote a book about raising her brother's children after he died. I knew that my grandma was a fan of both her and Lady Bird so I asked her if she'd like me to get her a copy of the book, as Mrs. Carpenter was having a signing in Austin.
My grandma said that she would love a copy of the book, but also suggested I get one for my dad. I thought that was curious until my grandma explained that Mrs. Carpenter's brother, Tom Sutherland, had been my dad's English professor at school.
Apparently, Professor Sutherland and my dad got along very well, and as Professor Sutherland liked to entertain, he had my dad and my mom, along with some other students, over for dinner a few times when they were in college. When I met Mrs. Carpenter at a book signing, I told her this story and how much her brother's kindness and classes had meant to my dad. She smiled and said that she had heard that a lot—apparently her brother had been a very popular teacher.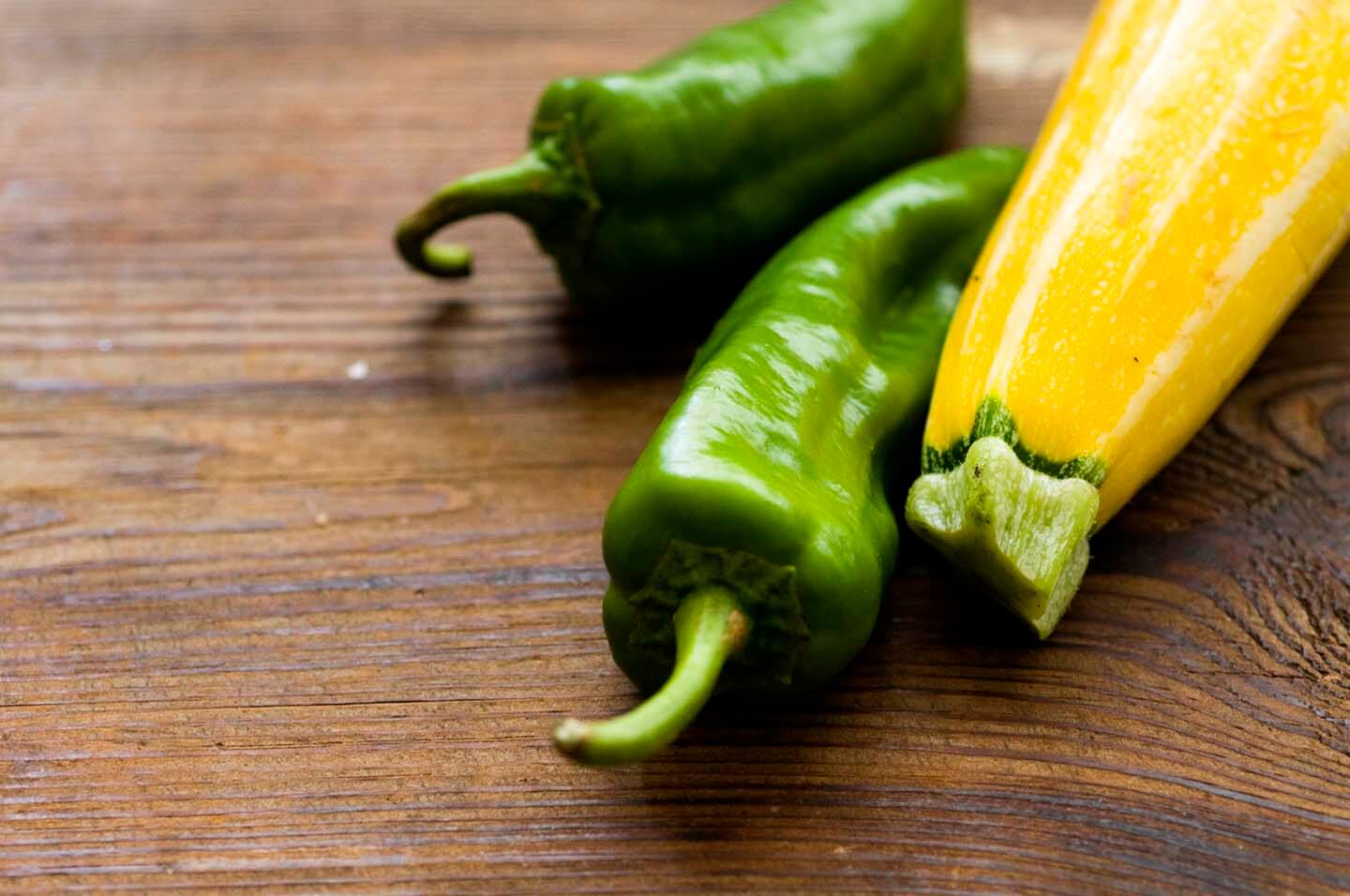 While I don't know what her brother served his students when he had them over for dinner, apparently hospitality ran in the family, as Mrs. Carpenter was also known for her good food. Her recipe for squash casserole was even heralded in 1987 by Texas Monthly as an excellent dish to take to potlucks and share with friends.

There are many ways to make squash casserole, and for the past few years I have to admit that my favorite recipe has been my own Tex-Mex squash casserole, which is spicy and flavorful with cheese and tomatoes. That said, this time of year when squash is in such abundance I'm always looking for new ways to prepare it, and when I saw Mrs. Carpenter's recipe, I decided it would be a good time to branch out from the usual.
There are several different ways to prepare squash in a casserole and hers is an egg-based dish that's rich with cheese and fiery with chiles. Her recipe called for canned green chiles, but since green chiles such as Hatch chiles are now in season, I went the fresh chile route instead.
Her squash casserole recipe also calls for parsley, but I figured if you're making the dish more Texan by adding chiles, you might as well use cilantro instead. A couple of other additions I made to her dish was adding a little garlic, throwing in a dash of cumin, and sautéing the squash and aromatics in butter instead of boiling them before baking.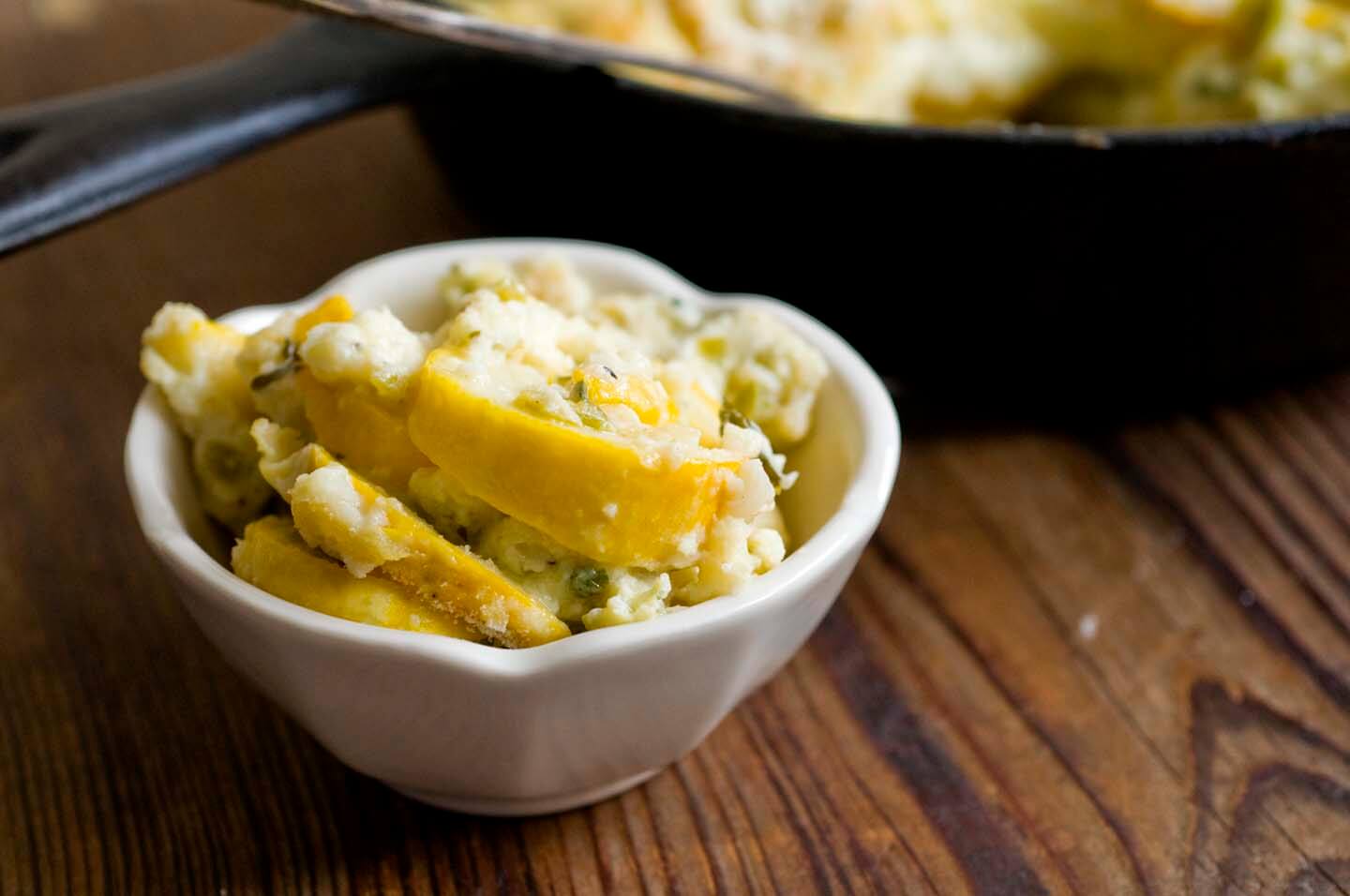 That said, despite the changes I made, at heart it was still her egg-based squash casserole. While ostensibly the squash casserole is a side dish, this one has enough substance that you could easily serve it as a main dish along with a salad or soup. Most importantly, however, I have to say her recommendation that it makes a fine dish for sharing is accurate, as this squash and green chile casserole is just too good to keep to yourself.
Squash and green chile casserole
Ingredients
4

Hatch or Anaheim chiles

2

tablespoons

unsalted butter

1

small yellow onion, diced

2

cloves

garlic, minced

2

pounds

summer squash, sliced into 1/4" rounds

1/2

cup

chopped cilantro

1

teaspoon

kosher salt

1/2

teaspoon

black pepper

1/4

teaspoon

ground cumin

3

tablespoons

all-purpose flour

2

teaspoons

baking powder

1

pound

(4 cups) shredded Monterey Jack cheese

4

large eggs

1/2

cup

whole milk

1/2

cup

finely crushed saltines
Instructions
First you'll need to roast the chiles in order to peel the tough skin. Place the chiles under the broiler until blackened, about 5 minutes per side. Place the chiles in a paper sack or plastic food-storage bag, close it tight and let the chiles steam for 20 minutes. Take the chiles out of the bag and gently rub off the skin. Remove the stem and seeds and dice the chiles.

Meanwhile, in a large, deep skillet, melt the butter on medium-low heat. Add the onion and cook until translucent, about 5 minutes. Add the garlic and cook for 30 more seconds. Add the squash, and then while occasionally stirring, cook until the squash is softened, about 5-7 minutes. Stir in the cilantro, salt, black pepper, and cumin. Turn off the heat. Taste and adjust seasonings.

Preheat the oven to 350°F and grease a 3-quart baking dish. (If your skillet is oven proof and holds this amount, you can just use that instead.)

For easier mixing, transfer the squash to a large mixing bowl. Add the diced chiles, flour, and baking powder. Stir until well distributed. Add the cheese and again, stir until well combined. Whisk together the eggs with then milk and then pour over the squash and stir until well combined.

Lightly sprinkle half the crushed saltines along the bottom of the baking dish. Pour in the squash mixture into the dish and then sprinkle the rest of the saltines on top. Bake uncovered for 30-35 minutes or until the casserole is set and the top is lightly browned in places.

Serve warm. If you want to take it to a gathering, it can easily be reheated.