King Ranch bean casserole
The first time I cooked King Ranch casserole, I wasn't sure if I'd ever had it before. While it's a classic Texan standby, I'd been gone from the state for so long that some things had faded from my memory. This may sound strange, but it had been over 10 years since I lived at home, and an old-fashioned casserole made with canned soups had not been on my table or served to me in quite some time.
My grandmother gave me a recipe, one that she'd prepared for her 42 games with her friends back in the day. It called for said soups, tortillas, cheese, and chicken. There were also canned tomatoes with green chiles to give the heavy dish a kick.
I made the casserole, and the melange of flavors and textures between the soft corn tortillas, creamy sauce, and piquant tomatoes rang a familiar bell; I'd eaten this dish countless times in my life. What was unusual, however, was that when my mom had prepared it, she replaced the chicken with beans. So, it wasn't King Ranch chicken casserole that I'd enjoyed most of my life, it was King Ranch bean casserole instead.
When I called my mom to confirm my hunch, she admitted that she had indeed substituted her homemade pintos or canned Ranch Style beans for the chicken. My family had some frugal years, so using a less-expensive protein made financial sense. But we're also a family that enjoys our beans, and even when we were flush we ate them often.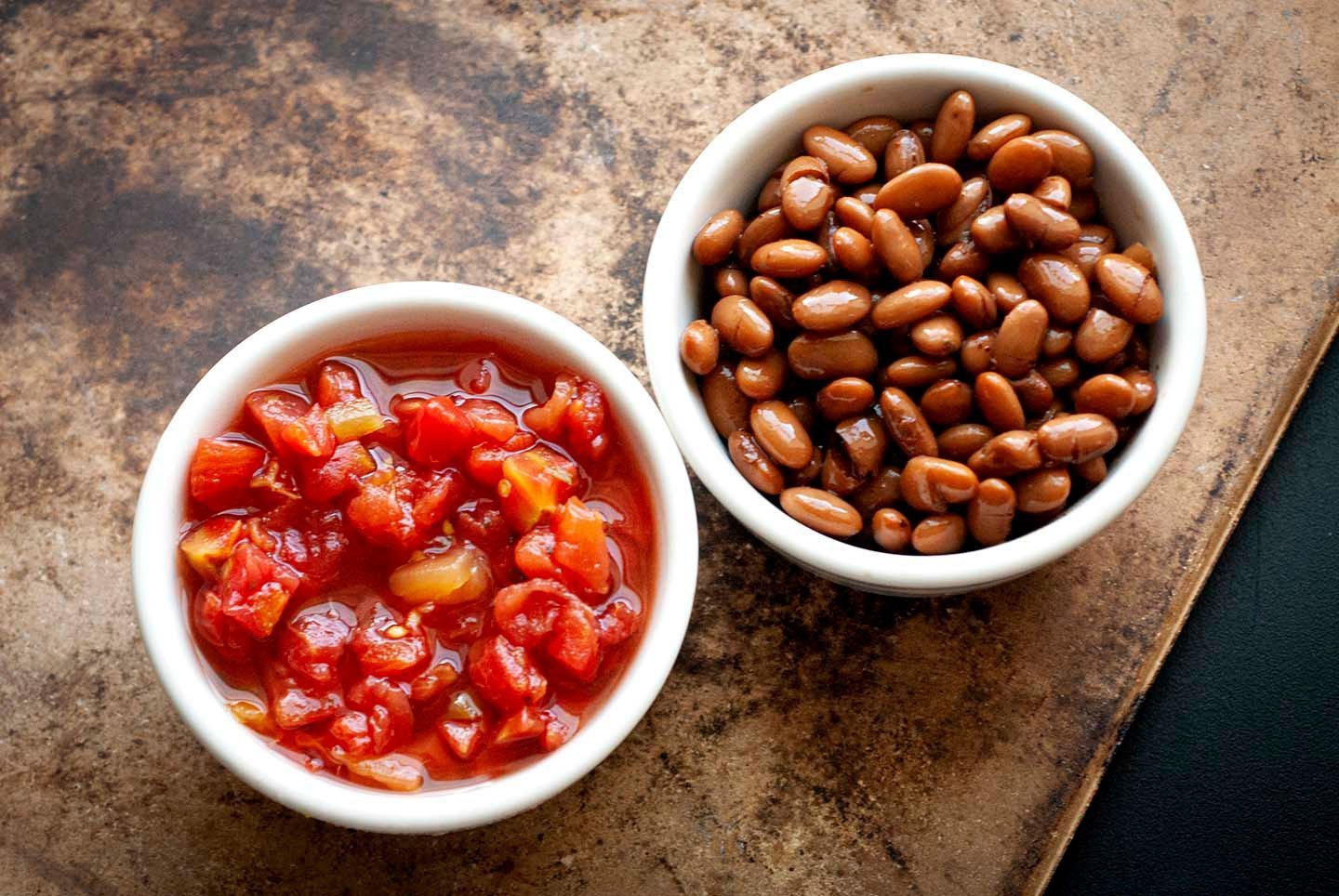 To this day, I'm still one to prepare a batch of beans at least once a week. Pinto beans are my favorite, but black beans are in heavy rotation as well. I will make enough to last a few days and ladle them into a bowl and serve them with cornbread or tortillas. Though I also include them in my queso, puree them and re-fry them, and toss them with peppers and aromatics for a hearty salad. But I had never cooked my mom's King Ranch bean casserole, so I decided to give it a go.
Now, I'm known for having a fancier rendition of King Ranch chicken casserole, which I prepare mainly from scratch. It takes more time but it's so full of flavor that you don't mind the extra steps. I considered for the bean version to use canned soups to keep it more simple, but I wasn't able to find any at the store that weren't laden with fillers and ingredients I couldn't pronounce, so I stuck with my homemade sauce.
For this version, however, I included mushrooms, which I don't use with the chicken dish. Their meaty and savory nature give the sauce a lift, though in the final dish you can't taste them. In the sauce, there are also aromatics, jalapeños, and cilantro, along with spices. It's delicious and far better than anything that comes in a can.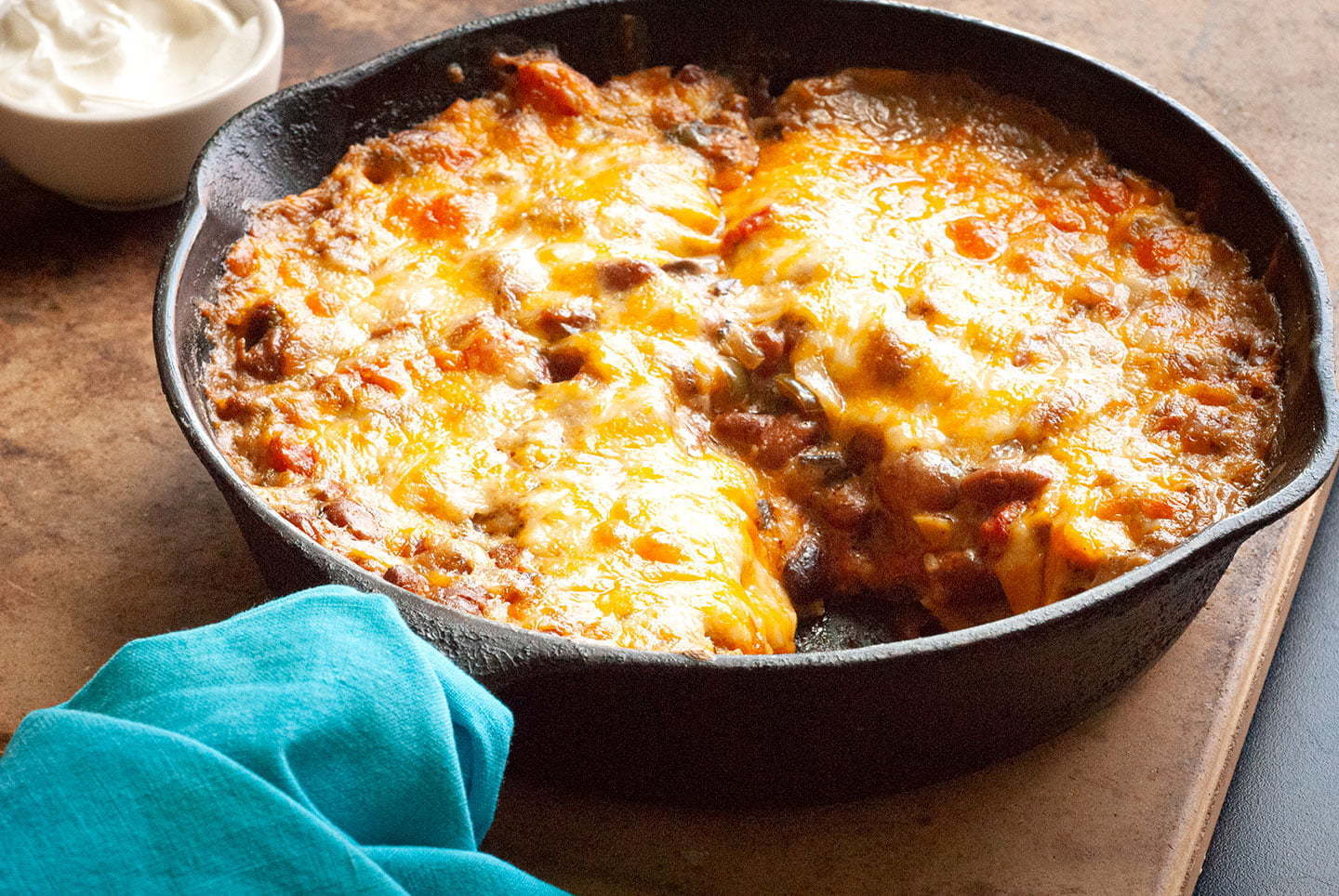 Because I had homemade pinto beans on hand, the first time I cooked the casserole I used those. However, I made it with canned beans and it was also very good. As for the rest of the dish, it comes together quickly, as after making the sauce you layer it with the tortillas, beans, and shredded cheese. A half-hour in the oven and you have a bubbling, hearty dish. A dollop of cool, tangy sour cream makes it complete.
—————
Would you like more Homesick Texan? Well, I've started offering additional recipes for paid subscribers to help with the costs of running the site. While I'm not taking anything away, if you'd like to support Homesick Texan and have access to exclusive, never-seen-before subscriber-only posts, please consider becoming a member; annual subscriptions are as low as $25. Thank you for reading, your consideration, and your support!
—————
King Ranch bean casserole
Ingredients
4

tablespoons

unsalted butter

1/2

medium yellow onion, diced

2

jalapeños, seeded and diced

6

cloves

garlic, minced

1

cup

(about 6) diced button mushrooms

1

teaspoon

kosher salt

1

teaspoon

ground cumin

1

teaspoon

chili powder

1

teaspoon

dried oregano

1/2

cup

chopped cilantro

2

heaping tablespoons all-purpose flour

2

cups

whole milk

1

(10-ounce) can tomatoes with green chiles (such as Ro-tel), with its juices

1

cup

sour cream, plus more for serving

3

cups

cooked or 2 (15-ounce) cans pinto beans, drained and rinsed

10

corn tortillas

3

cups

shredded Colby-Jack cheese
Instructions
Preheat the oven to 350°F.

In a large cast-iron skillet, melt the butter on medium-low heat. Add the onions and jalapeño and while occasionally stirring, cook until softened and fragrant, about 5 minutes. Stir in the garlic and cook for 30 more seconds.

Add to the skillet the mushrooms, salt, cumin, chili powder, oregano, and cilantro. While stirring, cook until the mushrooms have reduced, about 5 minutes.

Keeping the heat on medium-low, whisk in the flour and cook for 30 seconds until it's well incorporated. Whisk in the milk, and while stirring, cook until the sauce has thickened, about 3-5 minutes. Stir in the tomatoes, then stir in the sour cream until creamy and well combined. Taste and adjust seasonings then turn off the heat.

Pour the sauce into a mixing bowl, leaving about 1/4 cup of the sauce in the skillet. Spread it evenly along the bottom. (If you'd prefer to bake the casserole in a baking dish, spread 1/4 cup along the bottom of a 9×13 dish instead.)

Taste the pinto beans and add seasonings to taste if needed. Stir the beans into the sauce.

Tearing the tortillas in half, layer half of the tortillas into the prepared skillet or baking dish, overlapping if needed. Evenly spread half the sauce with beans over the tortillas, then evenly layer half the cheese. Repeat this layering one more time, ending with the cheese.

Bake uncovered for 30 minutes or until brown and bubbling. Allow to rest for 10 minutes before serving. Serve with sour cream, if desired.