A few months ago, I was looking at grocer ads from the late 1800s and early 1900s. As expected, the offerings were provisions such as bacon, flour, butter, and coffee. One item, however, kept popping up. It was chili beans and considering most purveyors sold only raw ingredients it was curious.
"They are here!" exclaimed one 1910 ad for H. M. Norman & Co. of Bonham. "Chili Beans!" But what did that mean? Now, to most, chili beans would conjure up a canned bean product that was made with chile peppers. And indeed, that is eventually what chili beans came to be for most Texans. But what was this product from the turn of the century? Was it a prepared dish or something else? I began to investigate.
My research lead me to multiple mentions of chili beans throughout the years, beginning with the raw ingredient ads and leading up to inclusion of chili beans on barbecue menus in the 1940s. Because I'd seen chili beans mentioned in ads from the 1920s, I asked my grandmother, who also hails from the 1920s, what she thought of when she heard the phrase.
While I'd been hoping for her to shed some light, she said she thought of the beans as being beans that are in a beef chili or canned with peppers, as I'd suspected. So that didn't clarify on what the raw product was. (Though she did caution that when one ate a lot of beans, things could get a bit wild, reciting a popular poem about magical fruit to punctuate her point.)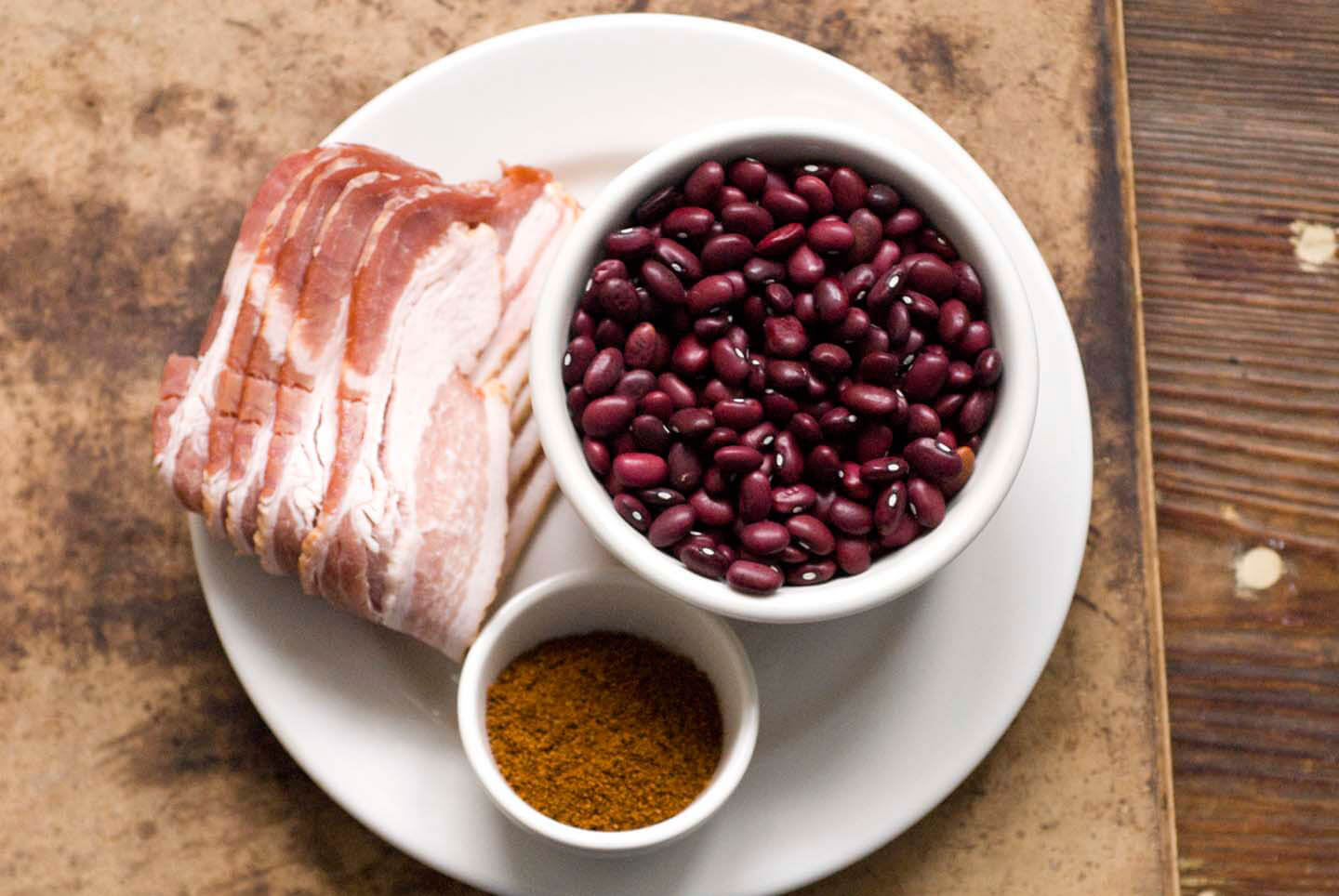 It took more digging, but eventually I discovered that chili beans were a type of bean. While the name isn't commonly used today, little red beans, which are today known as such or as Mexican beans, were once called chili beans. So, when an ad listed chili beans in the late 1800s and early 1900s, this was the product advertised.
Around 1917, pinto beans became a more common bean choice for Texans, and chili beans as a bulk commodity appeared less often in stores. Ironically, when canned chili beans began to be sold, they were made with pintos and not the namesake legume. I have no idea why this is the case and months of trying to find the answer has left me without any more clues. But I did find a bag of these little red beans at the store and since I'd never cooked with them, I took them for a spin.
Now, the question I had was how to prepare them? There were a few recipes for chili beans out there, with different styles based on region. For instance, in New Mexico, the chili beans are made with New Mexican chiles, as you would expect. In Louisiana, ground beef was added to the mix.
And for the recipes I found in Texas, an abundant scoop of chili powder was included, along with meat such as bacon. There are also vegan chilis made with beans, such as black bean chili, though these are not what was once known as chili beans.
The recipe I decided to adapt came from Boardin' in the Thicket, a book about East Texas boarding house kitchens. This pot was made with pintos and not said little red bean, but as it was the closest I could find, I just made that substitution. I also added some chipotle chile powder along with the ancho chile powder to increase the smoke content.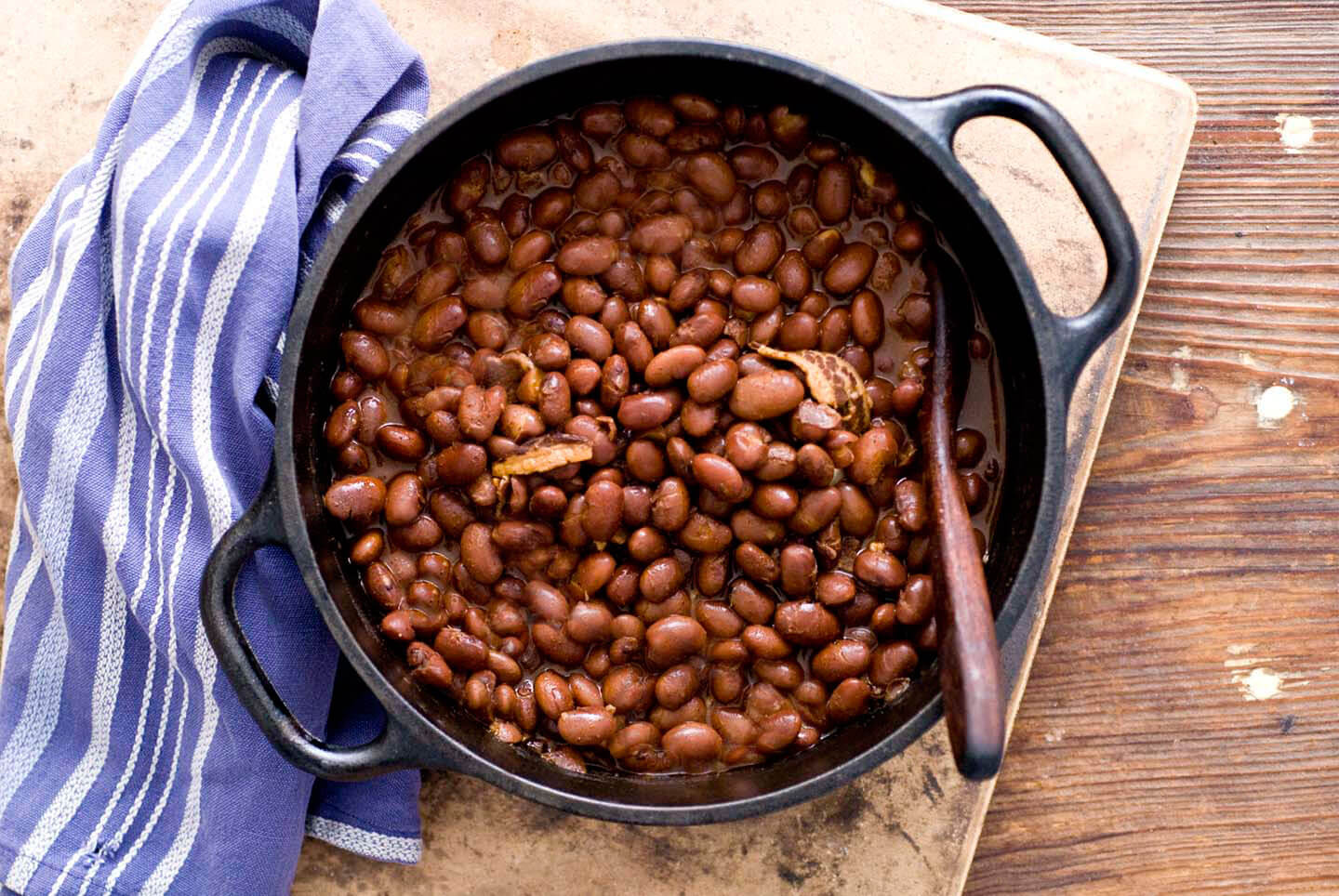 I cooked the beans with aromatics, the chile powders, and bacon until tender. The flavor was familiar, much like ranch style beans, or these barbecue beans, but I did find that the little red beans were a bit meatier than pintos, despite their smaller size.
While the beans would make a fine side dish, I opted instead to serve them as a main, topped with shredded cheese, jalapeños, and onions as I would a bowl of meat chili, as chili is a Texan birthright and these beans are a clue to our past.

Smoky chili beans
Ingredients
1

pound

Mexican small red beans

1 1/2

tablespoons

kosher salt

6

cloves

garlic, chopped

3

tablespoons

ancho chile powder

1

tablespoon

chipotle chile powder

1

tablespoon

ground cumin

1

tablespoon

dried oregano

6

slices

uncooked smoked bacon
Instructions
Rinse the beans, removing any rocks. Place the beans, salt, garlic, ancho chile powder, chipotle chile powder, cumin, and oregano in a large pot. Cover with 2 inches of water, stir until the spices are well distributed. Bring the pot to a boil, turn off the heat, cover the pot and let them quick soak for 1 hour.

To cook the beans, add the bacon to the pot. (Do not drain the soaking liquid.) You want at least 1 inch of water above the beans, so add more water to the pot if needed. Bring the pot to a boil, then turn the heat down to low, cover the pot, and cook for 1 hour.

After 1 hour, remove the cover and then continue to cook the beans until they're tender, which will depend on the age of the beans. This can happen anywhere from 1 hour to 3 hours. Taste and adjust seasonings, if desired.

If you want to make these in the slow cooker, after soaking, cook them covered on low for 6 hours, then remove the lid and continue to cook on low for 2 more hours.
Notes
If you can't find little red beans, substitute pinto beans instead.