Green chile cheeseburgers
During a trip to El Paso a few summers ago, I got in my car one morning and drove the 80-something miles to Hatch, New Mexico. My goal was to take photos of its famed long green chiles growing in the field. While I didn't see many farms, there were plenty of shops selling chiles and such, along with restaurants offering chile-based cuisine.
After all my time on the road, I was hungry. So, on the advice of a friend I pulled into a joint called Sparky's and ordered its green chile cheeseburger. The seasoned patty was topped with a mixture of chopped chiles and melted American cheese, all layered onto a squishy, sweet bun. It was my first-ever green chile cheeseburger and it was outstanding.
In Texas, green chile cheeseburgers are served in many places, especially this time of year when the fresh chiles are at their peak. Texans, of course, love heat so it only seems natural we would enjoy a juicy burger topped with peppers. But as much as Texans enjoy spicy food, their love for the green chile cheeseburger has nothing on New Mexicans' deep and abiding passion for the dish.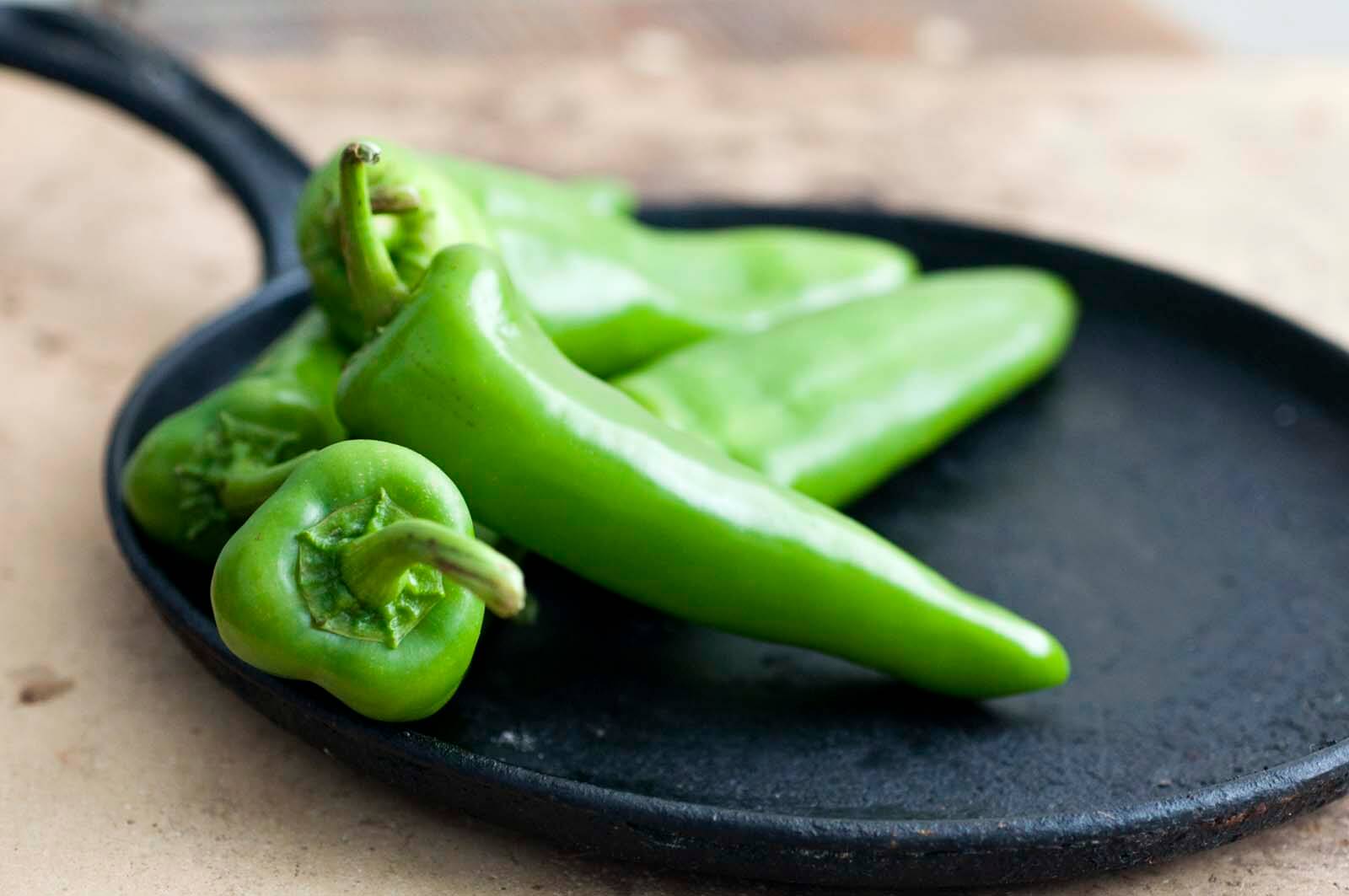 Indeed, if you ask a New Mexican where to find the best green chile cheeseburger, chances are no two answers will be the same as opinions on the matter are strong. For instance, besides Sparky's, you'll hear people say other New Mexican burger joints such as Blake's or Buckhorn Tavern or Santa Fe Bite offer the best. There are also fevered debates on the correct way to prepare the burgers. Some prefer a thick patty topped with chiles before smothering the meat in a blanket of melted cheese. Others prefer their meat to be topped with cheese before adding the chiles.

The choice of cheese is also up for consideration, with some swearing by white cheeses, such as Monterey Jack, while others stick to the classic orange slice of American. Then there are those that combine the two methods and blanket the burger with chiles, layer it with both orange and yellow cheese, then top with even more chiles. When it comes to green chile cheeseburgers, there are many paths to satisfaction.
Now, I've tried them every which way and they're all delicious. I believe that when stating your green chile cheeseburger preference there is no wrong answer. That said, when I make them at home I like my cheeseburgers to be on the thin and smashed side, and I am also a fan of the salty, melty perfection of American cheese. Because I don't want anything getting in the way of the cheese and the meat, I top my sizzling patty with a slice of cheese as it cooks, then add the chiles on top while it's still hot so that the diced chiles nestle into the molten cheese.
For my buns, I toast them in a pool of melted butter for a crisp and lightly browned edge. If I'm feeling decadent, I'll add a dab of mayonnaise or mustard, too. As for garnishes, while some purists believe that the green chiles are plenty, I'm a fan of a few more healthy bits on my burgers. So, I add iceberg as it holds up to the burger's juices and gives a satisfying crunch. If tomatoes are in season, then a thick red slice is good. Some rings of fresh red onion are also welcome for extra punch.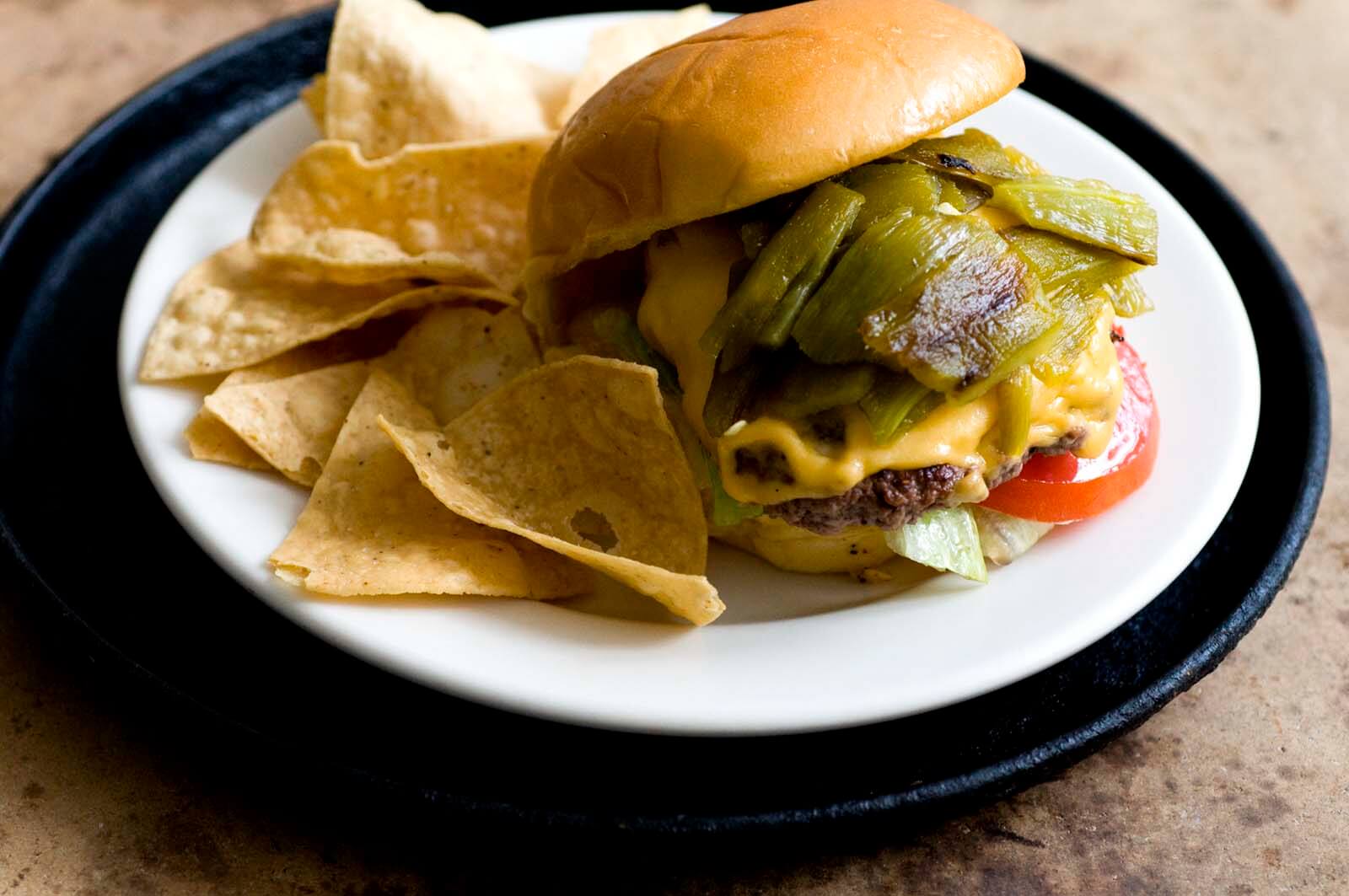 This is how I make my green chile cheeseburgers, but there are no hard and fast rules besides the basic components of beef, chiles, and cheese. So, for instance, if you prefer a thicker patty, a different cheese, or your chiles on top of the meat instead of the cheese, then feel free to follow your heart. Indeed, when it comes to green chile cheeseburgers, there are many paths to satisfaction.
Green chile cheeseburger
Ingredients
8

long green chiles such as Hatch or Anaheim

2

pounds

80 percent lean ground beef

2

tablespoons

unsalted butter

8

hamburger buns, preferably potato rolls

8

slices

American cheese

Kosher salt and black pepper

Mayonnaise and/or mustard, for the bun

Shredded iceberg lettuce, for garnishing

Tomato slices, for garnishing

Red onion rings, for garnishing
Instructions
Roast the chiles under the broiler until blackened on both sides, about 10-12 minutes, turning once. Once blackened, place the chiles in a paper sack or plastic food-storage bag, close it tight and let the chiles steam for 20 minutes. After the chiles have steamed, remove from the bag and rub off the skin. Remove the stems and seeds from both the chiles and chop.

To make the burgers, divide the ground beef into 8 equal portions and form into balls. Melt 1 tablespoon of the butter in a large cast-iron skillet over medium heat. Working in batches, place the buns, cut-side down, in the skillet and cook for 1 to 2 minutes, or until lightly toasted. Transfer the first batch to a plate, add the remaining 1 tablespoon butter to the skillet, and toast the remaining buns. Cover with aluminum foil to keep warm.

Using the same skillet, turn the heat to high. (If you don't have a powerful hood, open a window for ventilation.) Place 2-4 meat balls in the skillet (depending on skillet size). Cook for 30 seconds, then smash down with a flat spatula to form a patty about 4 inches across. Season the patties with salt and pepper.

After 2 minutes, or when the patties have developed a crust on the bottom, flip them, top with a slice of cheese, and cook for 1 to 2 more minutes, or until the meat is cooked to your liking and the cheese has melted. Rest the patties on a plate and top with chopped green chiles. Repeat cooking process with the remaining meat balls.

Dress the buns with mayonnaise and/or mustard, if desired. Place lettuce, tomato, and/or onions on the bottom bun then top with the patties. Cover with the top bun and serve immediately.