Fritoque, bean and corn chip casserole
My first encounter with fritoque was in Robb Walsh's "The Tex-Mex Cookbook." He described it as a bean and corn chip casserole that was popular in San Antonio in the 1940s. The dish, which is a simple layering of cooked beans, crushed tortilla chips, and cheese, is baked until it's melty and hot. To serve, you top it with sliced jalapeños.
His version had the casseroles baked in individual dishes, which calls to mind another dish that begins with "frito," and that would be Frito pie. While fritoque (pronounced free-toe-kay), used beans instead of chili (and I assume the name came from the Spanish word for beans, frijoles), the combination of protein, chips, and cheese is indeed very similar.
Walsh said that he'd learned about fritoque in Arthur and Bobbie Coleman's "The Texas Cookbook," which was published in 1949. Curious to learn more, I decided to head to the source and see what they had to say.
The Colemans were a San Antonio-based couple who wrote about a myriad of Texan topics, but Texan cuisine seemed to be their greatest passion. After "The Texas Cookbook" was published, they also had a column in "The Dallas Morning News," and while both their book and their newspaper stories covered a range of favorites, they seemed particularly fond of beans.
In their book, they explain fritoque was popular around San Antonio during this time. It was on the menu at San Antonio's The Original Mexican Restaurant, and the Colemans wrote that each household also had their own interpretation of the dish.
For instance, recipes from the 1950s that appeared in the Texas press were similar to the Colemans' version, as they called for chips, cheese, and either chili or beans, or perhaps a combination of the two. However, in the book "Fritos Pie: Stories, Recipes, and More," Kaleta Doolin, daughter of Fritos founder Charles Elmer Doolin, shares her mother's recipe, which was a baked creamy turkey casserole with Fritos. Fritoque was indeed a versatile dish.
So, what came first—fritoque or Frito pie? Mrs. Doolin's recipe is from 1932, so it appears that a dish known as fritoque precedes Frito pie by a few years, as the latter's first appearance in the press was in a 1946 edition of "The Electra (TX) News," in which a Mrs. E.R. Graham shared a recipe to the Electra Home Demonstration Committee.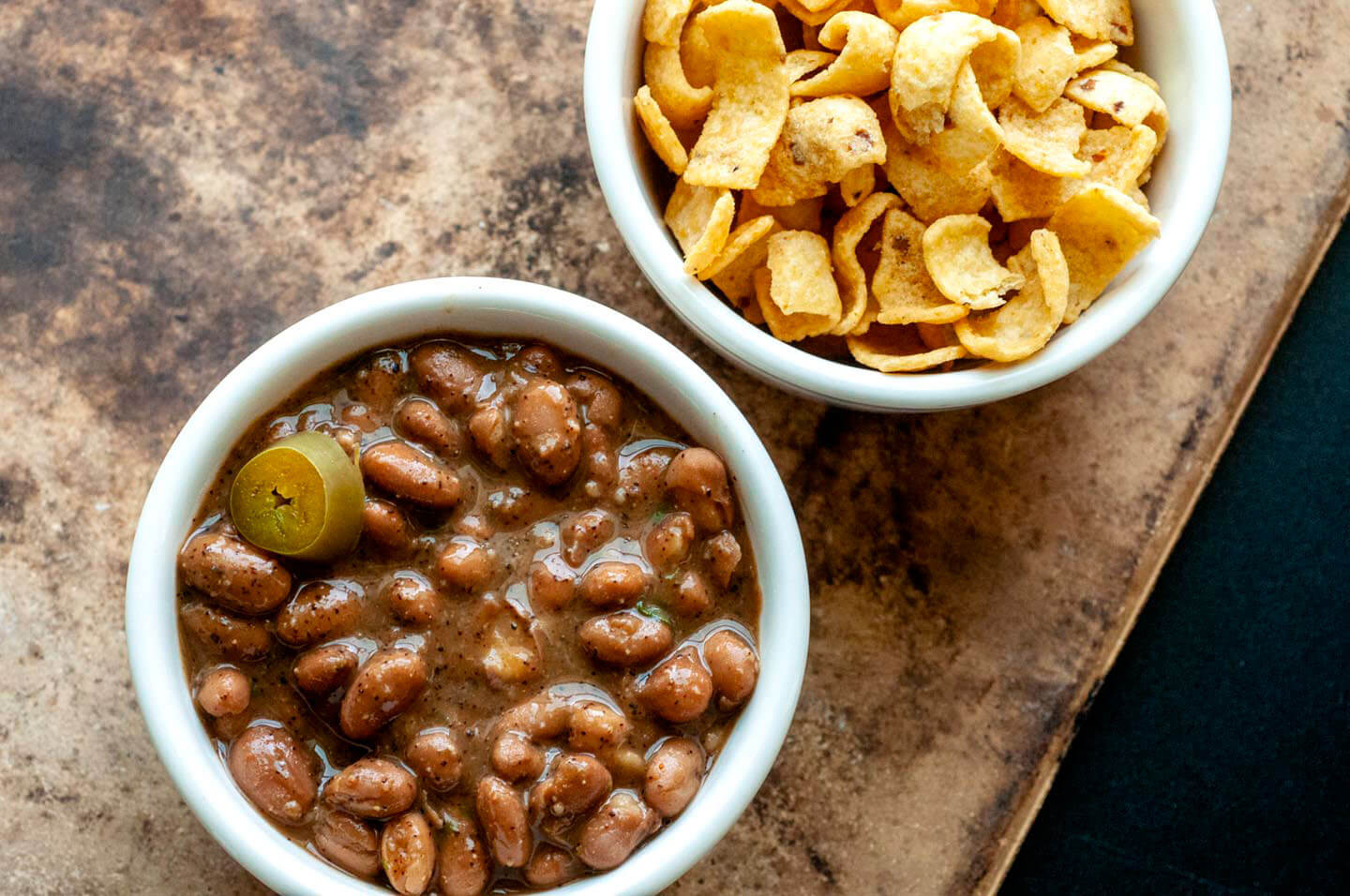 Today, most serve Frito pie as an un-baked layered dish with chips, chili, and toppings all assembled before eating. Though my grandparents used to prepare Frito pie as a casserole, so perhaps you could argue that a baked Frito pie is simply fritoque by another name.
But enough about its history—how does fritoque taste? To me, it reminds me of sloppy nachos with its tangle of spicy beans, crisp chips, and gooey cheese. It's the sort of quick and easy Tex-Mex concoction that's equally welcome on a busy weeknight or after a late-night out with friends. It's also a solid choice for game day.
To prepare fritoque is quite simple: You layer your Fritos or broken tortilla chips into a skillet, top with spicy pinto beans or black beans (or even chili, if you prefer), shredded cheese, then broil until bubbling and hot. Top with pickled jalapeños and serve with guacamole and sour cream.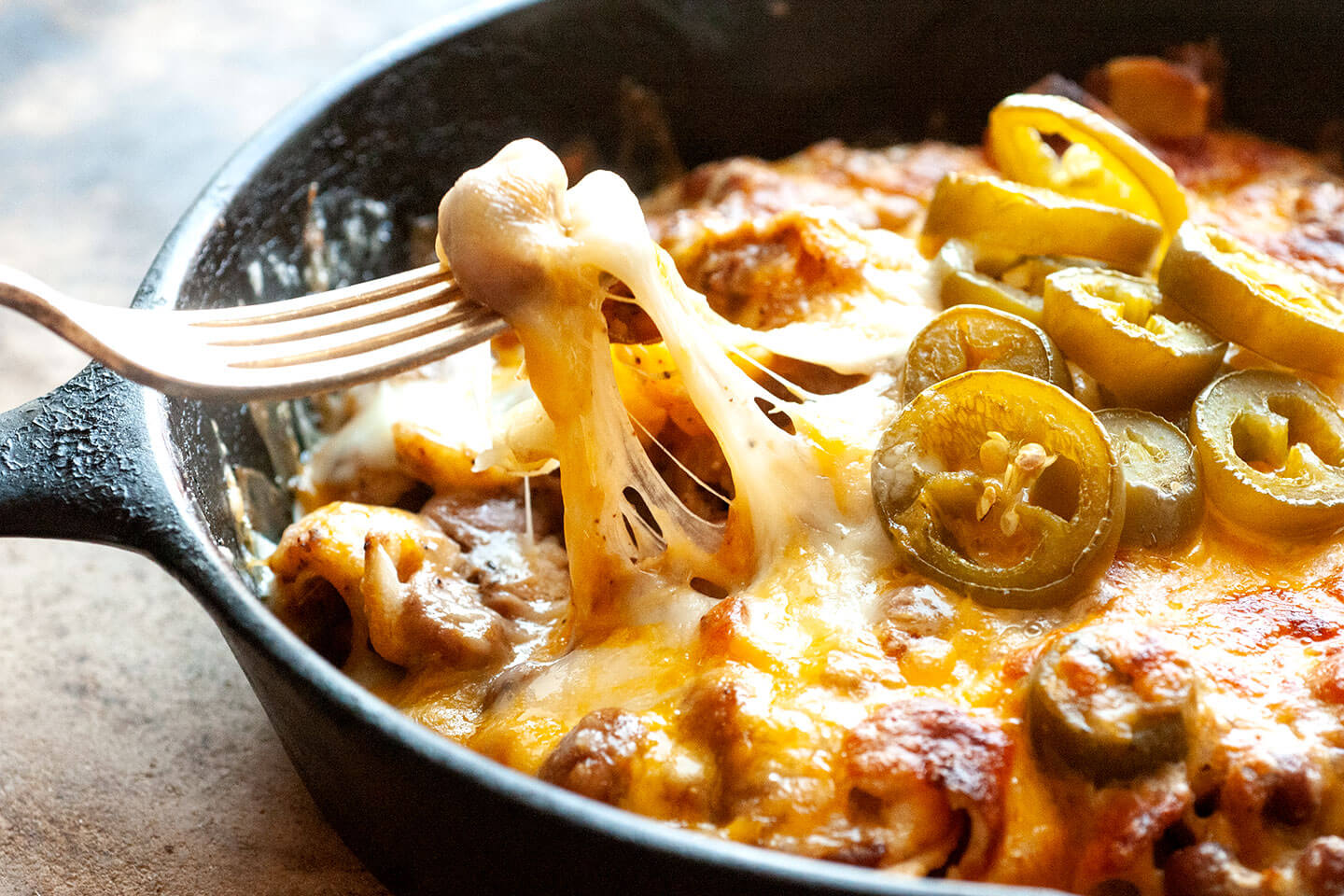 While fritoque may no longer known by name, its flavors, textures, and comforting essence will be familiar to all who love Texan cuisine. Soulful, satisfying, and good.
—————
Would you like more Homesick Texan? Well, I've started offering additional recipes for paid subscribers to help with the costs of running the site. While I'm not taking anything away, if you'd like to support Homesick Texan and have access to exclusive, never-seen-before subscriber-only posts, please consider becoming a member; annual subscriptions are as low as $25. Thank you for reading, your consideration, and your support!
—————
Fritoque, bean and corn chip casserole
Instructions
Turn on the broiler and place a rack 6-inches from the heating element.

Place the chips along the bottom of a 10-inch cast-iron skillet or 9-inch baking dish. Layer on top the beans, then evenly cover with the cheese.

Place under the broiler for 1-2 minutes or until the cheese is melted. Serve immediately topped with pickled jalapeños with guacamole and sour cream on the side.
Notes
You want to use beans that have been seasoned, so if you're using canned pinto beans, taste and add salt, chili powder, and whatever you like to make them flavorful. Ranch style beans are excellent, as are seasoned black beans. You could also use chili, too.