BLT wedge salad with chipotle blue cheese dressing
This time of year, when most days it's too darn hot to stand in front of the stove, let alone turn on the oven, I start eating a lot of salads. Namely one salad—my BLT salad with chipotle blue cheese dressing.
Blue cheese dressing was something I avoided for most of my life, probably because I was only exposed to inferior bottled versions, which can often be too sweet or have a rubbery texture. A few years ago, however, I was at a dinner party and my friend had made a batch of blue cheese dressing.
His intent was for us to use it as a dipping sauce. It was certainly thick enough for the job, and yet it was also light enough that it could glide onto salad leaves without weighing them down. As for the flavor and texture, the balance between the pungent, salty blue cheese and creamy, tangy dressing was perfect. I had no idea blue cheese dressing could be so good, and I've been a convert ever since.


When he shared with me his recipe, I tinkered with it just a bit. I love how smoky flavors complement blue cheese's salty bite, so I stirred in some chipotle powder for both its smoke and its heat. To cut through the dressing's richness, I added splash of white wine vinegar, though I reckon red wine vinegar or lime juice could work just as well.

As for my BLT salad, some may know it as an iceberg wedge. This classic dish, comprised of blue cheese dressing and a thick slice from a head of iceberg lettuce, has been around since at least the late 1800s. It's long been a staple at both steakhouses and diners, and is one of my dad's favorite things to pair with chicken-fried steak.
Sure, some may find iceberg lettuce reminiscent of a time when people sacrificed flavor for convenience, but in the summer it's one of my favorite things to eat. While the thick, crisp leaves may lack a strong flavor, it's this quality that makes it a terrific vehicle for a robust, heavier topping. Throw in some crumbled bacon and a ripe, juicy tomato, and you have a refreshing, filling dish.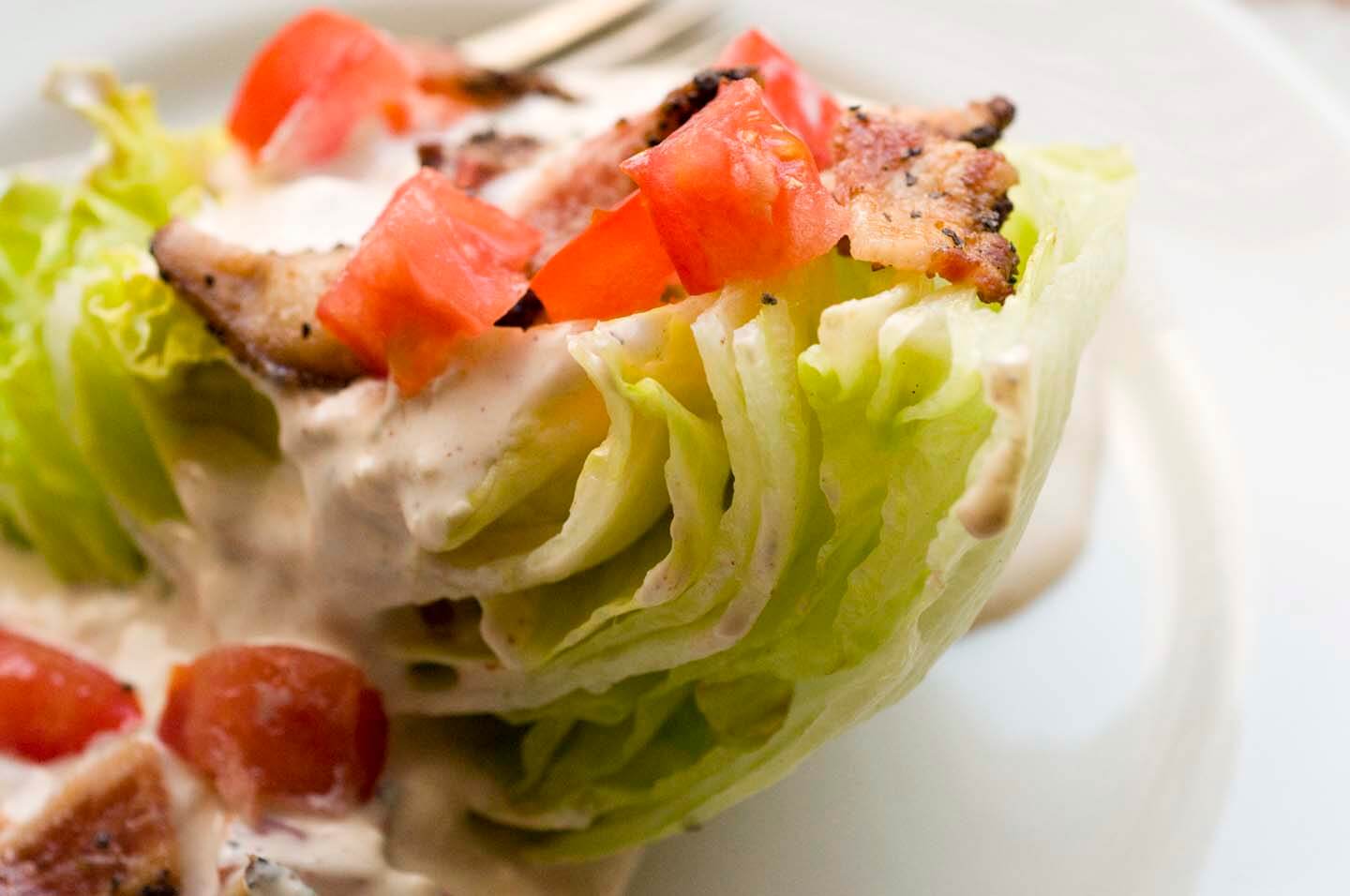 I've convinced myself that eating this salad is a spot healthier than eating a BLT sandwich, since you don't have the calories and carbohydrates from the bread. But I don't enjoy it for health reasons; I love it because it's quick and cool. And if you don't want to spend too much time in the kitchen, this salad will definitely satisfy.
BLT wedge salad with chipotle blue cheese dressing
Ingredients
Ingredients for the dressing:
4

ounces

blue cheese, crumbled and divided

1/2

cup

mayonnaise

2

tablespoons

buttermilk, plus more if needed

1

clove

garlic, chopped

1/4

teaspoon

paprika

1/2

teaspoon

chipotle chile powder or 1 canned chipotle chile in adobo

2

teaspoons

white wine vinegar

1/2

cup

sour cream or thick Greek-style yogurt

Salt and black pepper to taste
Ingredients for the salad:
1

head of iceberg lettuce

8

pieces

cooked bacon, crumbled

1

cup

diced red ripe tomato
Instructions
To make the dressing, place the half the blue cheese crumbles, mayonnaise, buttermilk, garlic, paprika, chipotle chile powder (or canned chipotle chile), and vinegar in a blender and blend until smooth. Stir in the sour cream and remaining blue cheese crumbles. Taste and add salt and black pepper to taste.

If you want a thinner dressing, stir in more buttermilk until it's the desired thickness.

To make the salad, cut the iceberg lettuce into four wedges, lengthwise. Place each wedge on a plate, and top with crumbled bacon, diced tomatoes and chipotle blue cheese dressing.
Notes
Use one chipotle chile in adobo, not a WHOLE can!