French toast casserole with blueberries and sausage
When most people think of dad cuisine, they think of outdoor cooking. And sure, my dad is an expert with fire—preparing everything from smoked briskets to grilled fish with vegetables. But my dad also wields a deft spatula in the kitchen, especially when he makes his weekend specialty—French toast.
Admittedly, French toast is not a complex dish. It's simply old bread that's been rejuvenated with eggs and milk before being fried in a skillet. And yet—despite its uncomplicated ingredients—finesse is required to make a good batch, otherwise it can turn out soggy or burnt. My dad, however, always gets it just right. And that's why his is the best.
My connection with French toast and fatherhood isn't limited to my own experience. Take the film "Kramer vs. Kramer," for instance. There's a scene early in the film where Kramer decides to prepare French toast for his son. The two are clearly uncomfortable with Kramer's new role as caretaker, and as they cook the French toast, eggs are dropped, milk is spilled, and Kramer burns his hand. Their breakfast is a disaster.
At the end of the film, however, you see Kramer and his son making French toast in a beautifully coordinated rhythm, as they've grown close and learned how to live with each other. Who knew French toast could so eloquently illustrate a father and child's relationship?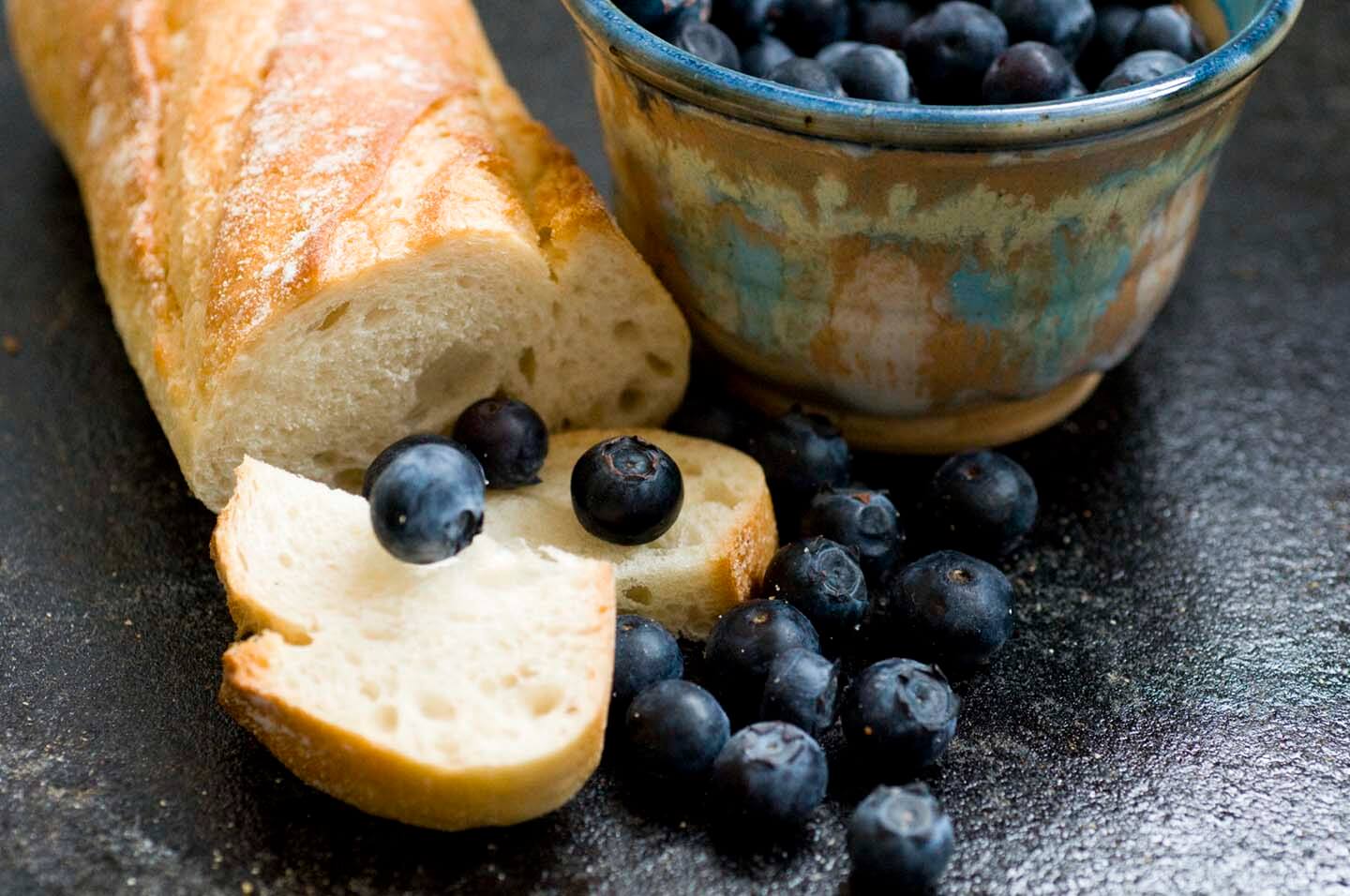 Now, all that said—I'm not going to tell you how to make French toast. Nope, my belief is that it's not a dish that can be explained by words—practice is what makes it turn out perfect. But, I will share with you the next-best thing—my French toast casserole, made with blueberries and sausage.

My grandma likes to say that I take simple things and make them all complicated. If that's true, then she will not be surprised that I've taken my dad's simple yet elegant dish and embellished it a bit. Much like regular French toast, French toast casserole is comprised of cooked bread that's been soaked in eggs and milk. But instead of being pan fried, it's baked. The inclusion of orange juice, fresh blueberries, and spicy sausage also breathes life into this French toast casserole.
Most recipes call for an overnight soak— which you can do—but I think it's just as good with a short soak, as this keeps the bread from becoming too soggy. And yes, after some time in the oven, the resulting casserole is soft with a bit of crispness, sweet with a hint of savory. Plus, breakfast is done without you having to stand in front of a stove. Sure, French toast casserole isn't exactly like regular French toast. But don't worry—the casserole's heritage is definitely apparent.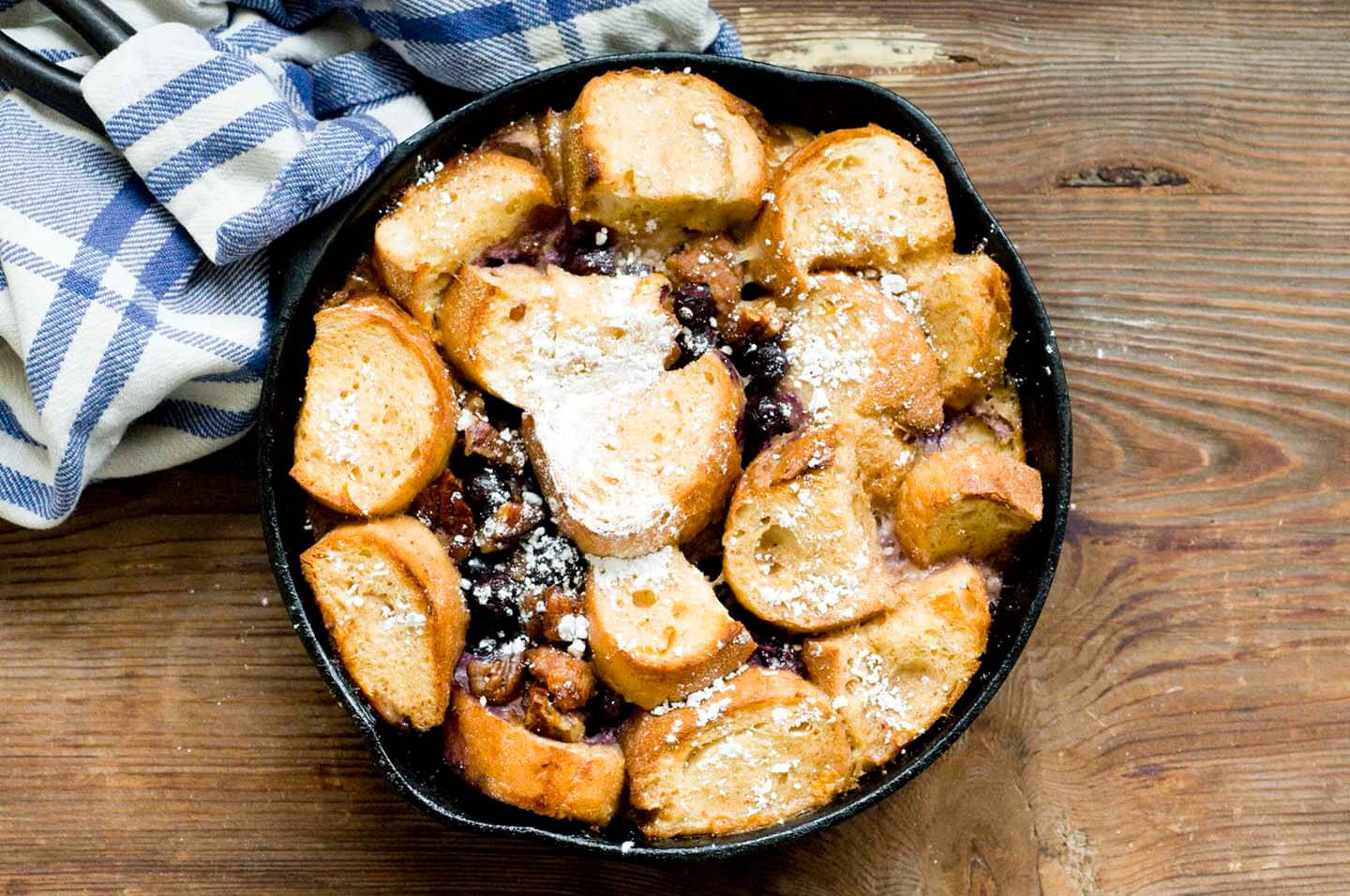 Sadly, I'm not going to be seeing my dad this father's day, but if I were visiting him I'd make sure he'd have a batch of this waiting for him in the morning, so he could take a well-deserved day off from making the family breakfast. But it's certainly not a dish to be limited to only Father's Day, as it's a terrific weekend breakfast any time of the year.
French toast casserole with blueberries and sausage
Ingredients
1

tablespoon

unsalted butter

2

cups

milk or half-and-half

4

large eggs, lightly beaten

1/4

cup

granulated sugar

1

teaspoon

orange zest

2

tablespoons

orange juice

1

teaspoon

vanilla extract

1/2

teaspoon

ground cinnamon

1/4

teaspoon

kosher salt

1 24-

inch

loaf of French bread, cubed (about 5 cups)

2

cups

fresh blueberries

1/2

pound

breakfast sausage, cooked and crumbled

Powdered sugar, syrup and/or sour cream for serving
Instructions
In a large, 10-inch ovenproof skillet, preferably cast iron, on low heat melt the butter and swirl so it coats the bottom and the sides. (Alternatively, you can add melted butter to a 9×9 square pan.)

Beat the together the milk and eggs. Whisk in the sugar, orange zest, orange juice, vanilla, cinnamon and salt until well combined.

Layer the bottom of the skillet with half of the bread. Top with the blueberries and crumbled cooked sausage. Place on top the remaining bread cubes, and then pour over the bread the milk and eggs until all pieces are well covered.

Preheat the oven to 400° F. Let the casserole sit unrefrigerated for 20 minutes, until some of the milk mixture has been absorbed, and then bake covered for 25 minutes. Remove the cover and then bake uncovered for 20 minutes or until top is firm and lightly browned. Let the casserole rest for 10 minutes before serving. Sprinkle with powdered sugar and serve with syrup and/or sour cream.
Notes
You could also make this with thick Texas toast bread or even leftover buns, if you like. And if you wanted to add nuts, that would be tasty, too.