Lemon poppyseed French toast casserole
My stepmom is the master of the French toast casserole. The first time I ever had one was at her and my dad's house, and she's so adept at the form she has more than one recipe in her repertoire.
For instance, on Easter, I spoke to her and she mentioned that she was serving the family a French toast casserole for their holiday brunch. I asked if it was the one she makes with lemon curd and poppy seeds and she said no. She said that she was making a cinnamon one then added, "We like to save the lemon poppyseed French toast for when you're here."
Because they live in Bend, Oregon, I don't visit this remote mountain town as much as I'd like, but now that I've bridged the gap (it takes 12 hours to get there by plane from New York City, but only about six from Dallas), I aim to go more often. Though she and my dad have plans to travel to Texas this summer to celebrate my uncle Bubba's 70th birthday, so I won't go to Oregon until later this fall.
That, of course, means I'll have to wait a few months to enjoy her lemon poppyseed breakfast casserole at their house. Fortunately, however, she kindly gave me the recipe, and when I do get a craving before then, I can make it at my home in Texas, too.
This has been a tough year for most people, and on top of having to stay inside and be distanced from those whom we love, many have lost loved ones, sometimes without even getting a chance to give a final hug or say a proper goodbye.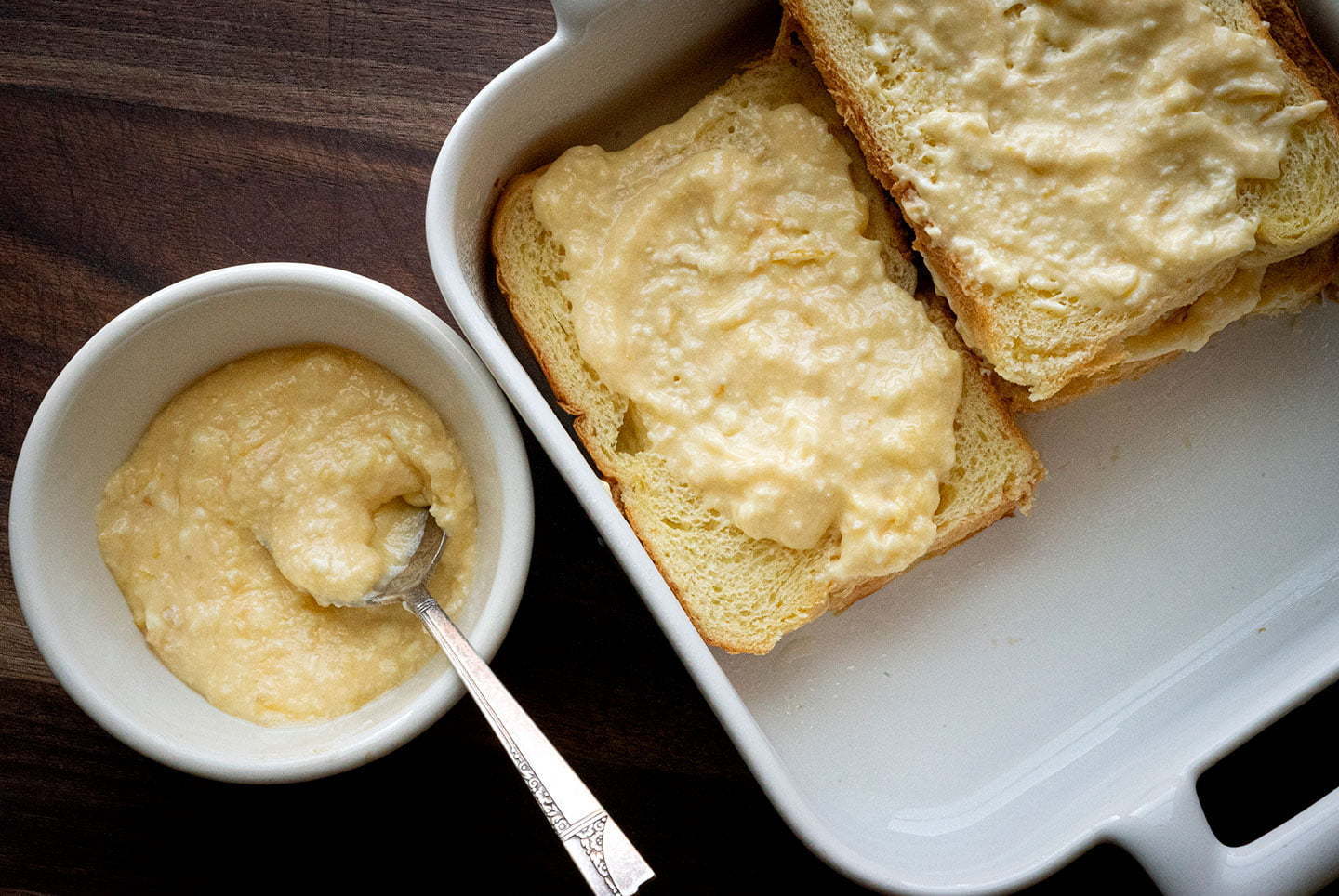 One of my best friends recently lost her mother. The diagnosis and decline happened fast, which doesn't make it any easier. I was thinking of her recently because this will be her first Mother's Day without her mom, whom she misses very much.
Soon after her mother died, I wanted to make her something sweet. When I asked her husband what her favorite cookie was, he said lemon cookies. I took her a batch of lemony shortbread and her whole family enjoyed them.
Because this is her first Mother's Day without her mom, I thought this French toast casserole, which is also bright and lively with the flavor of lemon, would be a nice thing to share. And it has the bonus of being a way to connect with my Oregon family until I get to see them in person again, too.
For my rendition, I make the lemon curd from scratch, though using a store-bought version works just as well. Sometimes I must like to be ambitious, though I definitely buy the bread, and for this I prefer the buttery sweetness of a brioche or challah.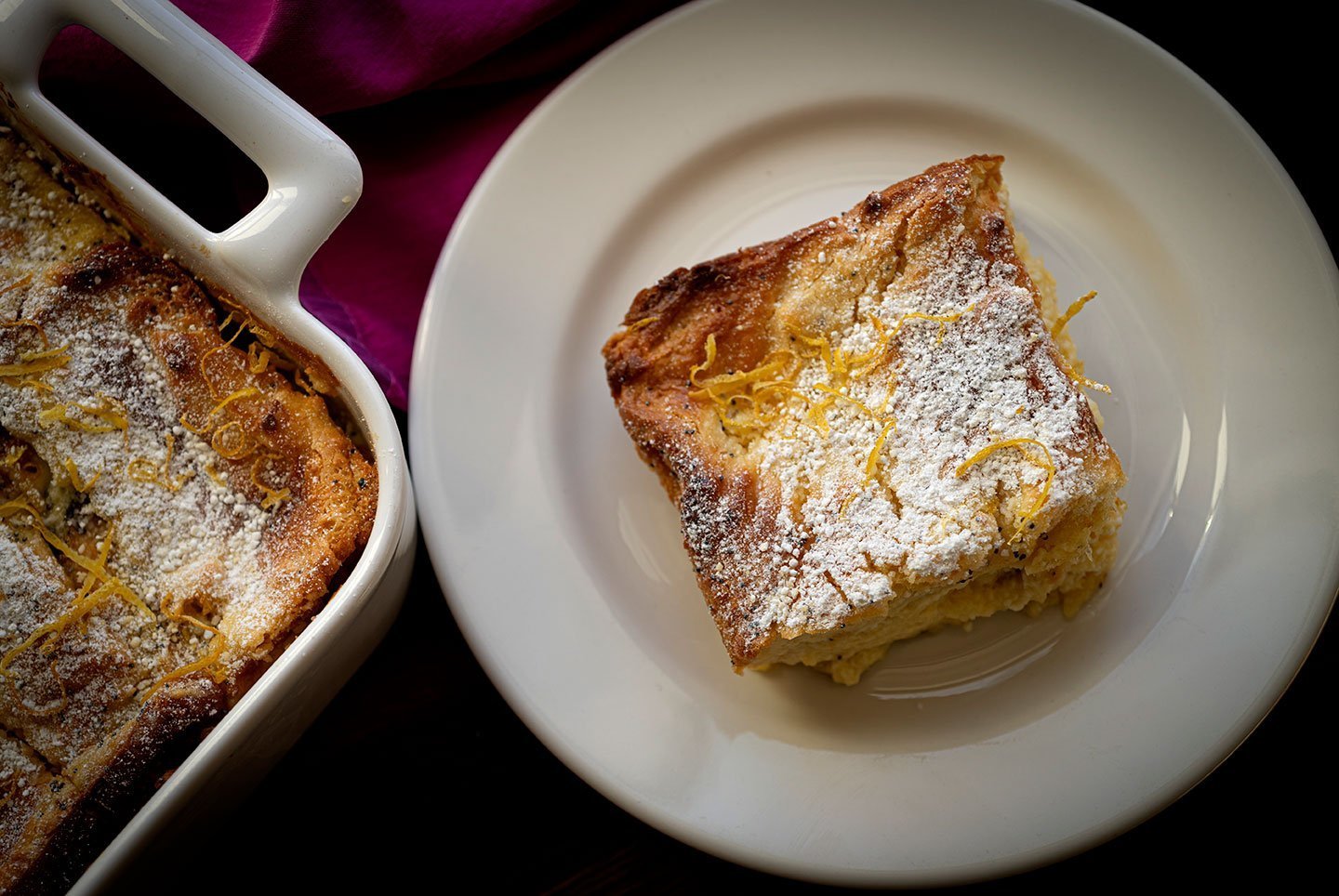 Like many breakfast casseroles (or breads puddings) there is a waiting period for the bread to absorb an egg-and-milk blend. But it doesn't take much time to prepare, especially if you go with the store-bought lemon curd. And as it bakes, your home will smell divine with the sweet and light blend of lemon. It's rich and creamy enough to enough on its own, though the tang of fresh berries can be served with it, as well.
—————
Would you like more Homesick Texan? Well, I've started offering additional recipes for paid subscribers to help with the costs of running the site. While I'm not taking anything away, if you'd like to support Homesick Texan and have access to exclusive, never-seen-before subscriber-only posts, please consider becoming a member; annual subscriptions are as low as $25. Thank you for reading, your consideration, and your support!
—————
Lemon poppyseed French toast casserole
Ingredients
For the lemon curd:
1/3

cup

sugar

1

large egg, beaten

1/4

cup

freshly squeezed lemon juice

2

tablespoons

unsalted butter, room temperature

1/4

teaspoon

kosher salt
For the casserole:
4

ounces

cream cheese, room temperature

½

cup

lemon curd

1

tablespoon

fresh lemon zest

2

cups

whole milk

2

large eggs

1/4

cup

sugar

2

teaspoons

poppy seeds

1/2

teaspoon

almond extract

1/2

teaspoon

kosher salt

12-

ounces

brioche or challah bread, cut into 1-inch-thick slices

Powdered sugar, for serving

Fresh berries, for serving (optional)
Instructions
To make the lemon curd, in the top of a double boiler, whisk together the sugar, egg, and lemon juice. Place the top of a double boiler over a pot of simmering water heated on medium-low , and while continually stirring, cook until the curd has thickened, about 7-10 minutes.

Remove from the heat and stir in the butter until it's melted, then add the salt. Refrigerate for at least 2 hours before using. The curd will keep for a week in the refrigerator, so this can be done in advance. You will have ½ cup. If you prefer to save time, however, you may substitute commercially prepared lemon curd instead.

To make the French toast casserole, lightly grease an 8-inch square baking dish.

Stir together the cream cheese, lemon curd, and half the lemon zest until well blended. Spread some of the mixture on one side of each of the bread slices.

To assemble the casserole, take half the bread and layer along the bottom, with the spread side facing up. Repeat this with the remaining slices on top of the first layer, forming two layers. To get the bread to fit, feel free to tear some pieces to achieve this.

Beat together the milk, eggs, sugar, poppy seeds, almond extract, and salt. Pour evenly over the bread, and cover and refrigerate for 2 hours up to overnight.

To bake, remove the casserole from the refrigerator and preheat the oven to 350°F. Bake the casserole uncovered for 40-45 minutes or until puffed and golden. To serve, sprinkle with powdered sugar and the remaining lemon zest. Can be eaten on its own or served with fresh berries.
Notes
This recipe can easily be doubled and baked in a 9x13 dish instead. The baking time should be about the same.