Chipotle lime Texas trash snack mix
A couple of years ago, a reader asked me if I had a recipe for Texas trash that was different from the usual. Now, if you're not familiar with Texas trash, well, it's similar to Chex party mix, except—it being Texas and all—we tend to spice it up with chili powder and dashes of hot sauce, like Tabasco. Plus, we often use bacon grease as the fat, along with the usual butter.
At heart, though, Texas trash is your typical addictive snack mix comprised of crunchy things like cereal, crackers, and pretzels, along with a variety of nuts. As for seasonings, besides said chiles and hot sauce, there's also lots of garlic and Worcestershire. If you've been in the United States during the holidays anytime since 1953, when Chex first posted its famous recipe, I'm pretty sure you know exactly what I'm talking about.


Ever since I received that email, I've become kind of obsessed with Texas trash. Was it possible to make a different kind of Texas trash? Not that there's anything wrong with the standard recipe, as I grew up eating it and I have fond memories of poking through the large tin that my mom kept it in, looking for my favorite nuts. But I do like a challenge.

So I tried different combinations of flavors, most of them leaning towards the fiery with extra scoops of chili powder or chipotle powder, or perhaps a final dusting of smoky paprika instead. But that Worcestershire sauce and garlic combination always came through, and no matter what I did, that's what you tasted, so what I'd made was good but not quite there.
Then the other day, I was whipping up a batch of chipotle lime spiced nuts, which are a little spicy, a little tangy, and a little sweet. I had about 30 things happening in my tiny kitchen, however, and so I accidentally poured the chipotle lime butter meant for the nuts into my bowl filled with pretzels, corn nuts, cereal, and crackers I'd prepared for another batch of Texas trash. At first I was annoyed, but because I didn't want to waste anything, I decided to bake it and see what happened.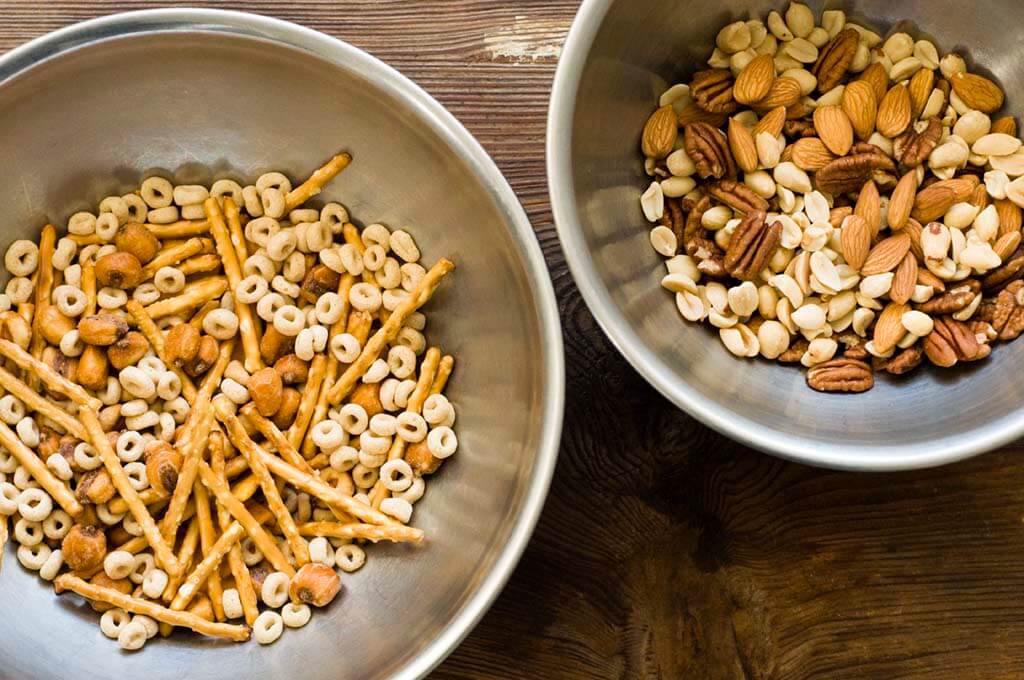 This butter was flavored with brown sugar, chipotle chile powder, cinnamon, cumin, smoked paprika, and lime juice—not your usual Texas trash ingredients. To make it a little more savory, I added a dash of Worcestershire and a light sprinkle of garlic powder, but wanted those more traditional snack mix flavors to stay in the background.
When I pulled the sheet out of the oven and took the first bite, it was surprisingly good. It was lighter than the usual recipe but at the same time there was still plenty of heat. The mix was also a bit tangy and sweet, a combination that proved very addictive. Before I knew it, I'd almost eaten the whole sheet!
I admit this recipe may seem a little weird to some but if you like spicy, tangy, and sweet flavors, I know you'll like this, too. Heck, even the cheese crackers tasted good with this mixture, which was a very pleasant surprise.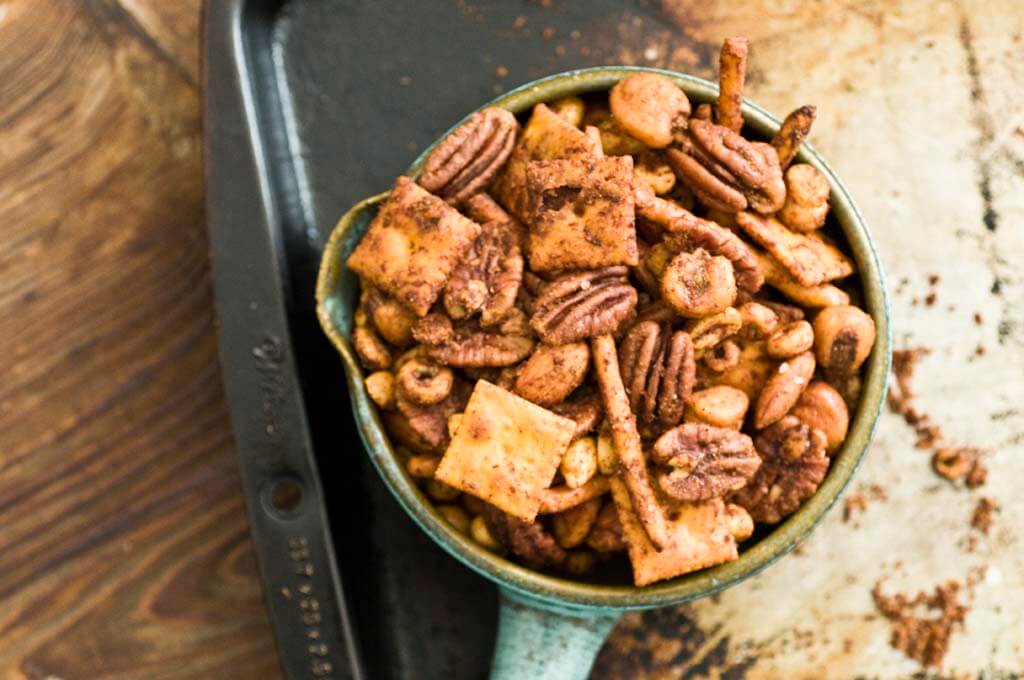 I'm looking forward to sharing bowls of this chipotle lime Texas trash with my family when I go visit them in a week. And while this one's a little different from the standard, if my informal tests are correct I predict it will also be devoured in record time.
Chipotle lime Texas trash
Ingredients
1

cup

square cheese crackers

1

cup

cereal, such as Chex or Cheerios

1

cup

pretzel sticks

1

cup

corn nuts

2

cups

unsalted pecans

1

cup

unsalted almonds

1

cup

roasted and unsalted peanuts

8

tablespoons

butter

1/4

cup

freshly squeezed lime juice

1

teaspoon

Worcestershire sauce

1

tablespoon

brown sugar

2

teaspoons

smoked paprika

1

teaspoon

ground cinnamon

1

teaspoon

chipotle chile powder

1/2

teaspoon

granulated garlic

1/2

teaspoon

ground cumin

Pinch

cayenne

1

teaspoon

kosher salt

1

tablespoon

lime zest
Instructions
Preheat the oven to 250°F and line 2 baking sheets with parchment paper. Place the already salted snacks, such as the cheese crackers, cereal, pretzel sticks, and corn nuts in one bowl. Place in another bowl the unsalted pecans, almonds, and peanuts. (If your nuts are already salted, simply add them to the salty snacks bowl.

On low heat, melt the butter in a saucepan. Once melted, turn off the heat. Reserving 2 teaspoons of lime juice, pour the rest of the juice into the pan along with the Worcestershire sauce, brown sugar, smoked paprika, cinnamon, chipotle chile powder, garlic, cumin, and cayenne. Stir until well combined.

Evenly pour the butter over the snacks and nuts in the 2 separate bowls. Stir each until everything is well coated. Add the salt to the nut bowl, then taste and see if more salt is needed.

Combine the contents of the two bowls until everything is mixed well. Taste and adjust seasonings. Stir in the lime zest.

Evenly divide the Texas trash between the 2 sheets, keeping it one layer. Bake uncovered for 45 minutes or until lightly browned and toasted, rotating the sheets in the oven after 20 minutes. When you remove the Texas trash from the oven, evenly sprinkle over it the remaining 2 teaspoons of lime juice. Allow to cool for 15 minutes before serving.

Can keep 1 week in an airtight container.
Notes
When making Texas trash, I tend to do 4 cups of crunchy snacks, such as cereal, pretzels, corn nuts, and crackers. Then I balance that with 4 cups of nuts, with my preference being 2 cups of pecans along with 1 cup of almonds and 1 cup of peanuts. Everyone has different tastes, however, and this recipe can be easily changed depending on your preference. For instance, you could substitute sesame crackers for the cheese crackers, or use cashews instead of peanuts, if that's what you like. As long as you have 8 cups of nuts and crunchy snacks all together, you're good to go with the amount of butter and spices.