Chocolate chip pecan cookies…with bacon grease
Does the world really need another chocolate chip cookie recipe? I'd say probably not. But when someone mentioned to me that they made their chocolate chip cookies with bacon grease, well, my curiosity was piqued.
Do you cook with bacon grease? I use it all the time for savory applications—in my refried beans, in my cornbread, in my cream gravy and in my okra, to name just a few places this fat is most welcome. Why do I use it? Well, I just love how with just one dollop you can propel a dish from mundane to magical. But using bacon grease for something sweet? For some silly reason, this had never crossed my mind.
Now, if you're not already saving your bacon grease and you're a bacon eater—I highly recommend this practice. You know that coffee can your great-grandmother always kept by the stove? Yep, that's where she stored her bacon grease, within easy reach for cooking. I'm not so brave, however, so I keep my bacon grease in a Mason jar in the refrigerator; I recommend you do the same. I reckon it keeps for a few months, though I use it so often I've never had the chance to test this theory.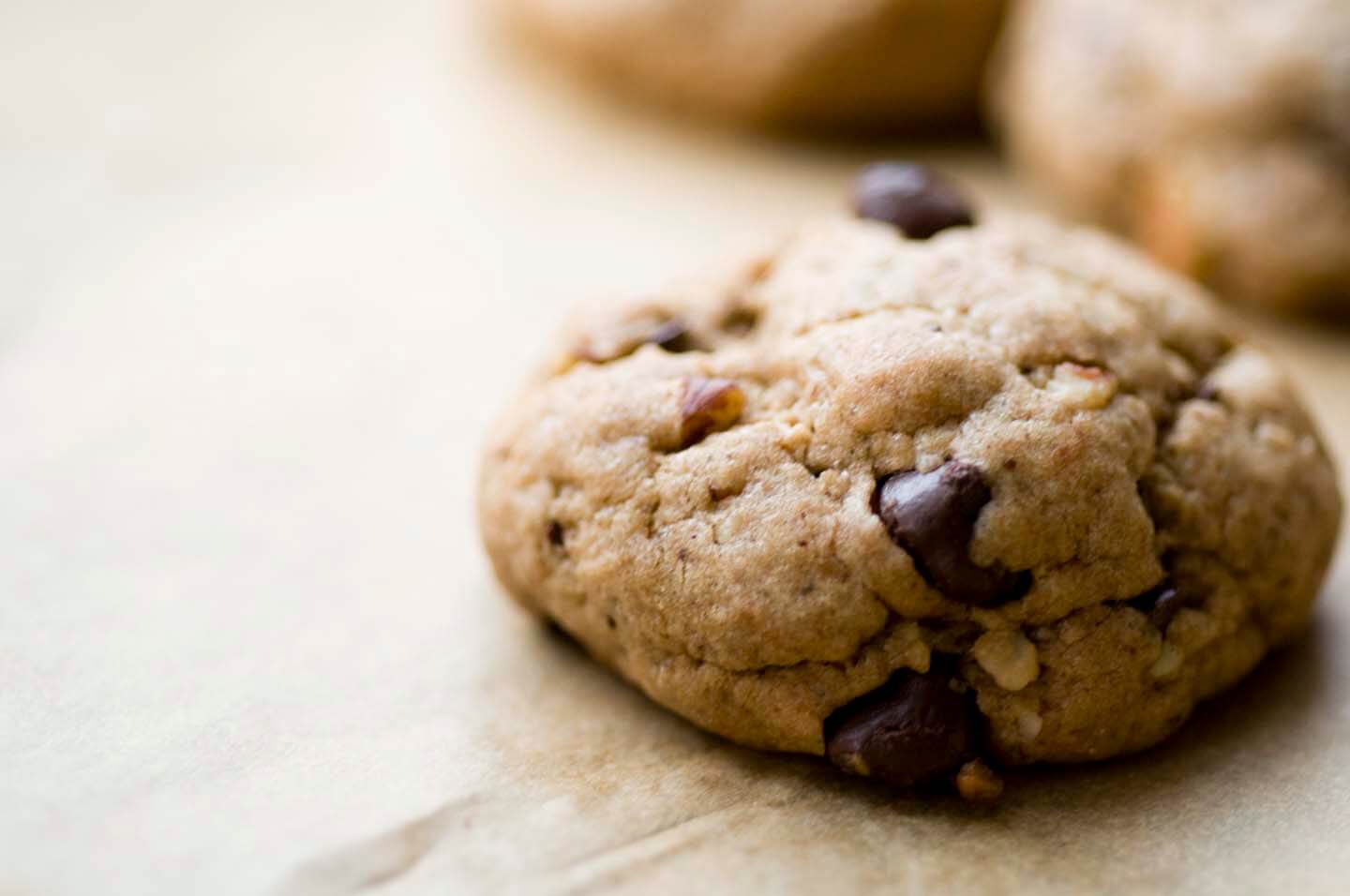 As for the cookies, I'd wanted to make a recipe that I found in my great-grandma Blanche's collection that called for buttermilk, which also seemed like an unusual ingredient. And as our great-grandmother's were the arbiters of thrift, I wouldn't be surprised to learn that perhaps she made cookies with bacon grease as well.

After taking all sorts of liberties with the recipe, I ended up with a very interesting cookie. It's full and round, which I attribute to the bacon grease, which burns at a higher temperature than butter so it's less likely to spread and become crisp. And the center is almost cake like, which probably comes from the buttermilk. (Though I'm no scientist so please don't hold me to these theories.)
I baked the first batch with chocolate chips and pecans, which was a classic combination. The second batch, however, I was out of pecans so I substituted crunch peanut butter instead and I think I liked this version even more.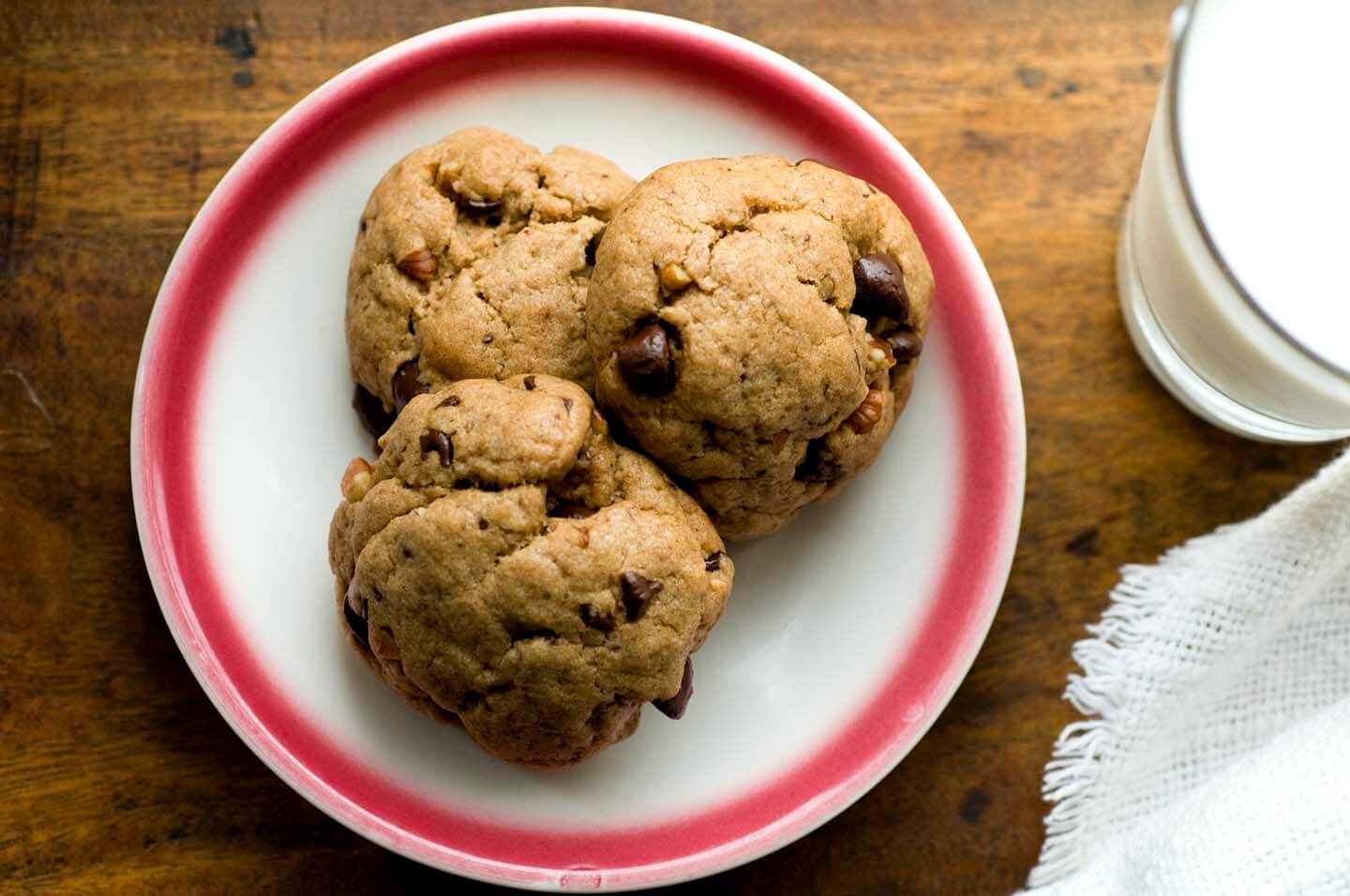 So yes, this is a darn fine cookie, but I know what you're really wondering: does it taste like bacon? Actually no. If you concentrate really hard you might detect some smoked-pork undertones, but for the most part it's simply a soft, luscious cookie in search of a hungry mouth and a tall glass of milk. And I'm good with that.
Do you ever make sweet things with bacon grease?
Chocolate chip pecan cookies…with bacon grease
Ingredients
1/2

cup

bacon grease

1/2

cup

butter, room temperature

1 1/2

cup

brown sugar

1

large egg

1/4

cup

buttermilk

1

teaspoon

vanilla extract

3

cups

all-purpose flour

1

teaspoon

baking powder

1/2

teaspoon

baking soda

1/2

teaspoon

cinnamon

1/2

teaspoon

salt

1/4

teaspoon

cayenne

1

cup

roasted chopped pecans

2

cups

chocolate chips
Instructions
Preheat the oven to 350 degrees and lightly grease a cookie sheet.

Cream together the bacon grease, butter, sugar. Add the egg, buttermilk and vanilla and beat until fluffy.

Mix together the flour, baking powder, baking soda, cinnamon, salt and cayenne and add to butter, sugar and egg mixture. Beat until well incorporated and then stir in the chocolate chips and nuts.

Roll dough into walnut-sized balls, place on parchment-sheet lined cookie sheets and bake for 17 minutes.
Notes
You can swap out the pecans for 1/2 cup peanut butter. Also, if you want a flatter cookie, press down on the dough ball with a fork before baking.