Boudin-stuffed jalapeno poppers
A friend was telling me about her family's cook-out over the weekend. They had the traditional spread of grilled meats, beans, salads, and cobblers on hand. But there was also something new: boudin-stuffed jalapeño poppers. "They were on fire!" she said.
Stuffed jalapeños have been popular in Texas since 1926. This is when French entrepreneur Jacques Clemente, who was based in Mexico City, brought his eponymous canned pepper company to the United States, setting up shop in San Antonio.
Along with pickled peppers and salsas, he also offered jalapeños stuffed with tuna, cheese, and shrimp. While others may have prepared this dish, as well, it was Jacques' version that first received a mention in the press.
From that point, stuffed jalapeños were found across Texas and New Mexico. The dish also became more elaborate, with the jalapeños often breaded and fried. Or they could be wrapped in bacon then roasted, grilled, or smoked. Along with the meats, cream cheese was regularly incorporated, too.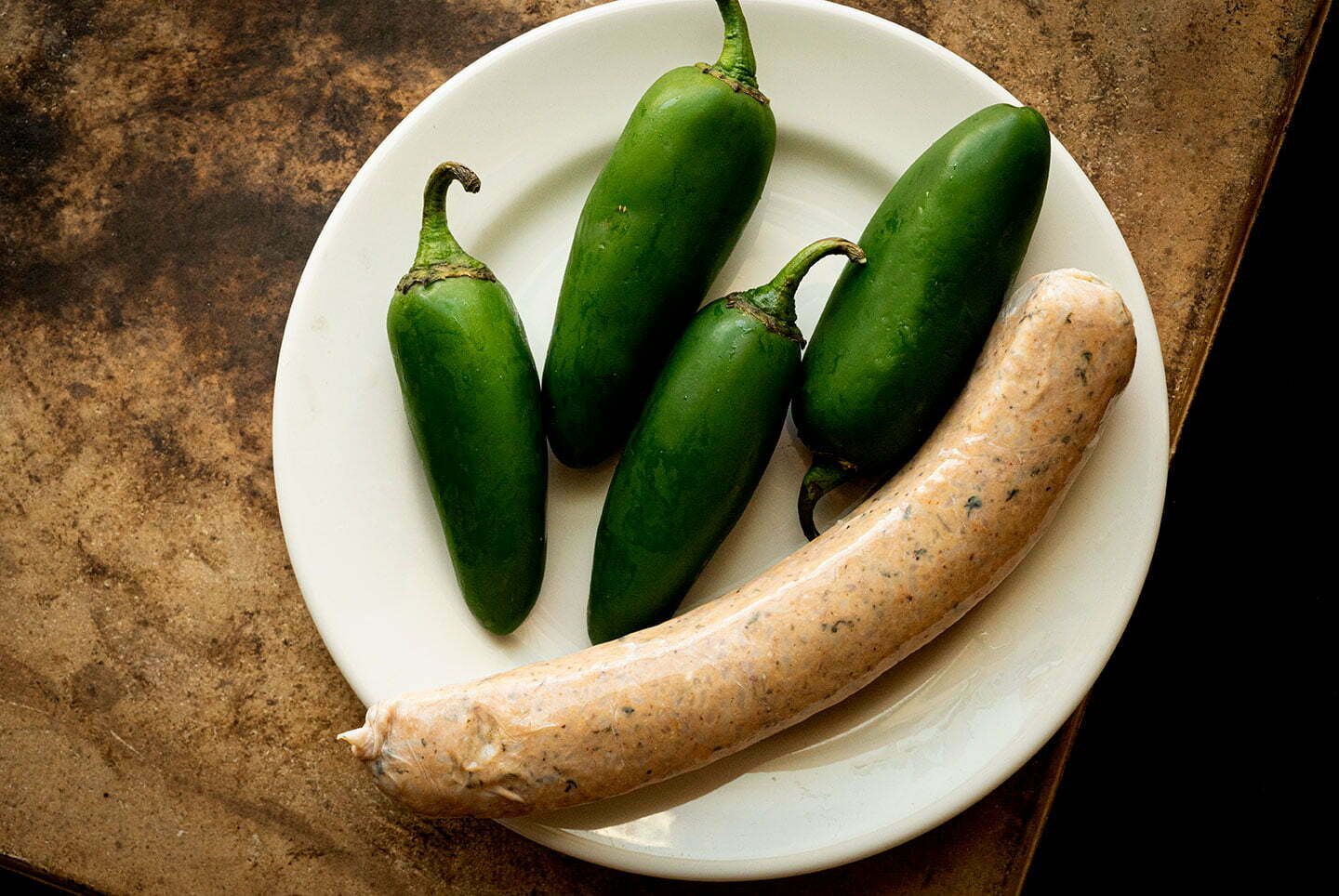 Today, stuffed jalapeños are often called poppers, though this term didn't appear until the early 1990s, in Canada, of all places. And you'll encounter chorizo poppers, breakfast sausage poppers, crab poppers, and brisket poppers across the state. Though boudin poppers were new to me.
Now boudin, the Cajun sausage that's made with rice, liver, and pork, along with the trinity of onions, celery, and bell peppers, is having a moment in Texas. It's always been beloved in Southeast Texas, as it's just across the border from the Cajun region of Louisiana.
Though in recent years, it's been making appearances all over the state, and not only in Cajun restaurants and markets, but also in barbecue joints, bakeries, and bars. Boudin is becoming less of a regional delicacy and instead is entering the mainstream.
Indeed, Zavala's Barbecue in Grand Prairie, which is a Tex-Mex barbecue spot, also has a brisket boudin on its menu. Cattleack in Dallas will run boudin as a special, too. Then there are boudin kolaches, the Czech-Tex pastry that's been stuffed with the rice sausage. They have hit the mainstream, as well.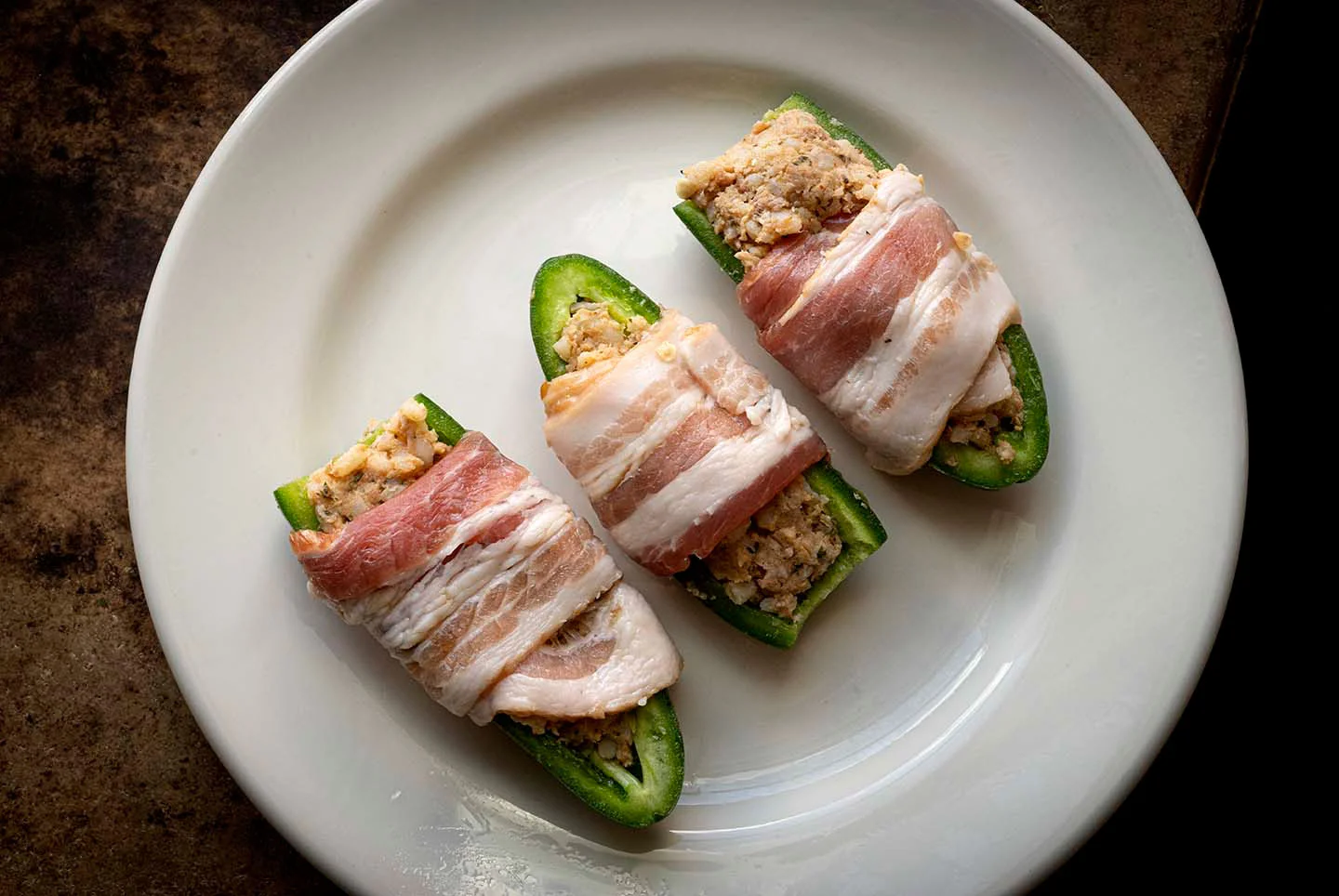 So, when my friend told me about the boudin jalapeño poppers, while it was new to me, I wasn't surprised. And as one who loves both jalapeños and boudin, I asked for more details. She said they'd picked them up at Central Market, and it was simply halved peppers stuffed with the boudin removed from the casing, then wrapped in bacon, and seasoned with Cajun pepper.
The next time I went to the store, I looked and they were available. But they looked easy enough to prepare, so instead of buying them packaged, I loaded up on jalapeños, bacon, and boudin to make my own.
The work was simple, and it didn't take long to slice my peppers lengthwise, remove the seeds, and fill them with boudin that had been squeezed from the casing. To finish, I wrapped each pepper in bacon, then sprinkled the batch with a homemade Cajun spice blend before cooking.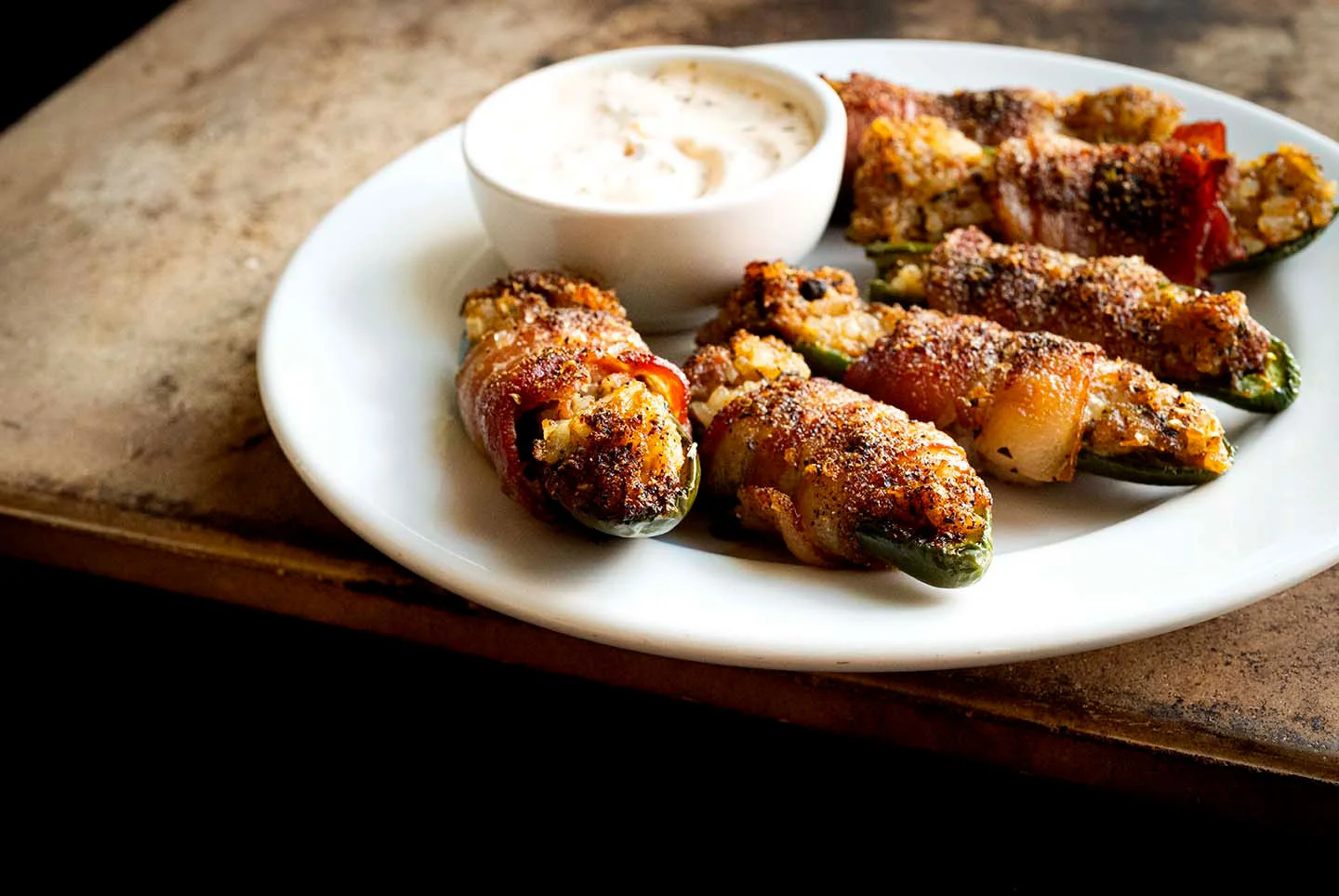 For mine, I baked them in the oven, though you could also put them on the grill or in the smoker. When they were done, the bacon was crisp, the sausage was fragrant, and the jalapeños were tender.
I popped one into my mouth, and it was savory and smoky with a bit of a kick. Cream cheese would have overpowered the poppers, but I did serve them with ranch dressing kicked up with hot sauce, for those who want something creamy to tame the heat.
—————
Would you like more Homesick Texan? Well, I've started offering additional recipes for paid subscribers to help with the costs of running the site. While I'm not taking anything away, if you'd like to support Homesick Texan and have access to exclusive, never-seen-before subscriber-only posts, please consider becoming a member; annual subscriptions are as low as $25. Thank you for reading, your consideration, and your support!
—————
Boudin-stuffed jalapeño
Ingredients
12

jalapeños

12

ounces

boudin sausage

12

slices

thin-cut bacon

¼

teaspoon

cayenne

¼

teaspoon

chili powder

¼

teaspoon

garlic powder

¼

teaspoon

ground cumin

¼

teaspoon

dried oregano

¼

teaspoon

kosher salt
Instructions
Preheat the oven to 425°F and line a sheet pan with foil.

Take each jalapeño and cut in half lengthwise, removing the stem and seeds. Remove the boudin sausage from the casing. Cut each slice of bacon in half.

To assemble, evenly spoon some of the sausage into each jalapeño half. (I don't measure, but it's probably about a couple of teaspoons per half.) Take a piece of bacon and wrap it around the jalapeño, with the ends of the bacon ending on the underside of the pepper.

For the seasoning, stir together the cayenne, chili powder, garlic powder, cumin, oregano, and salt. (If you already have a pre-mixed Cajun seasoning, you may use this instead.)

Place the jalapeños sausage-side up on the sheet pan, spaced about 1/2-inch apart. Sprinkle the jalapeños evenly with the seasoning.

Cook uncovered for 25-30 minutes or until the bacon is cooked and the sausage is browned. Serve warm with ranch dressing.