Once a year, a reader shoots me an email asking when I'll be writing an armadillo eggs recipe. At first I said, "Uh, armadillos are mammals—they don't lay eggs!" But soon I realized that he was talking about a certain jalapeño appetizer. Unfortunately, however, writing about armadillo eggs isn't as simple as it may appear, as there are several different thoughts about what this finger food should be.
My reader's interpretation of the dish is that it's a baked jalapeño that's been stuffed with cheese and wrapped in bacon. I've seen others label these bacon-wrapped jalapeños as armadillo eggs, too. But I was always taught that the name for this dish was ABT. (I'll let you discover on your own what the letters stand for, as it's a bit too colorful for me.) ABTs also can be grilled or smoked, the latter of which makes them a popular snack on the championship barbecue circuit. While you're waiting for your brisket to become tender, you can keep people happy with a plate of ABTs.
Then there are the cheese-stuffed jalapeños that have been breaded and fried, which are also known as armadillo eggs. I, however, have always thought of that snack as a jalapeño popper.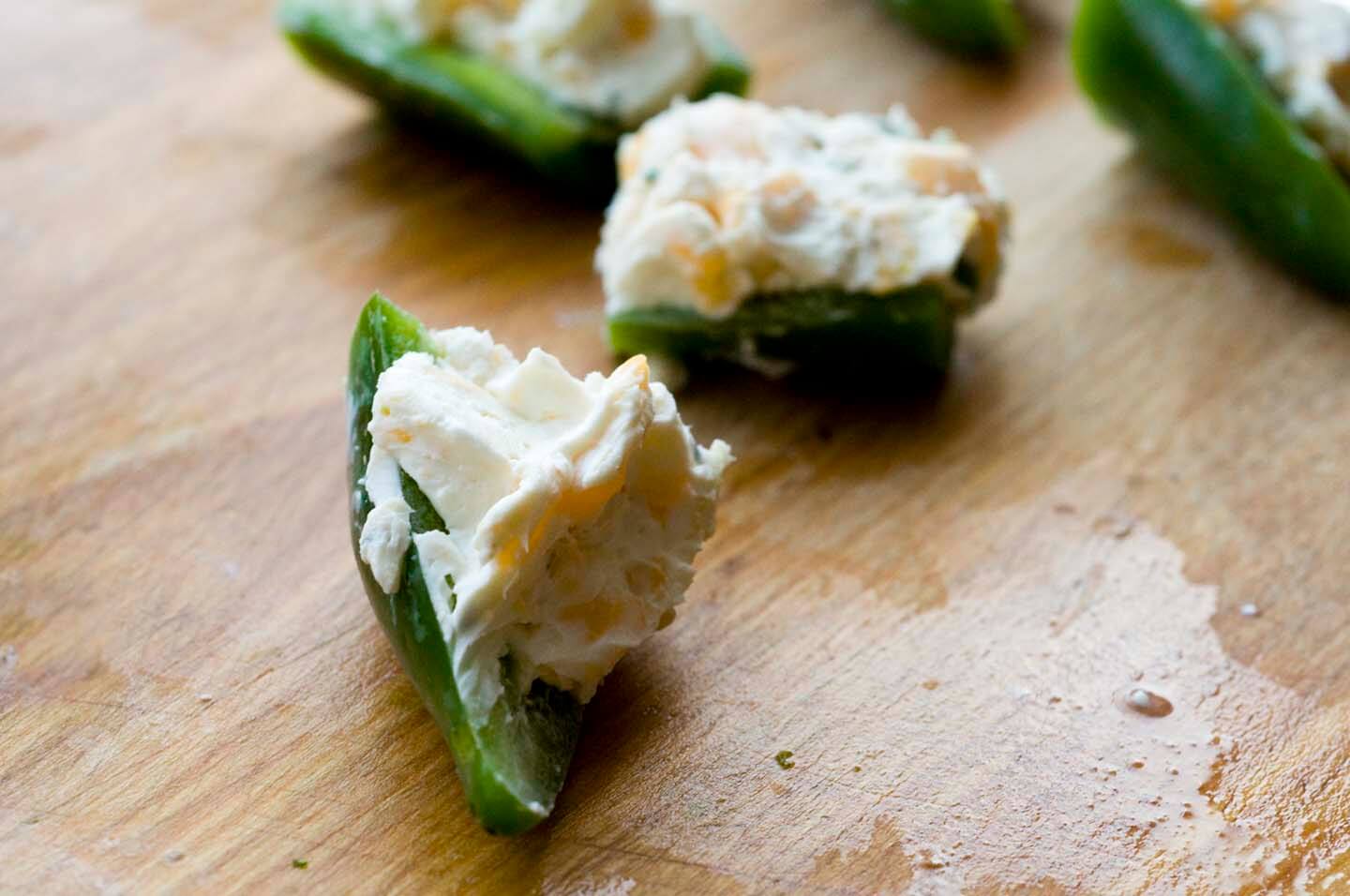 So what's my idea of an armadillo egg?
In my experience, it's always been a whole, halved or quartered jalapeño, which has been stuffed with cheese, rolled in uncooked sausage and then crusted with breadcrumbs before baking or grilling. Though sometimes the breading step will be eliminated with no loss of impact or flavor.
I've read in some places that this version was invented in Lubbock at Texas Tech. Though there were similar recipes printed in newspapers back in the 1980s that called for certain brand-name ingredients, which made me wonder if perhaps a food company didn't create the recipe instead.
That said, the first mention of armadillo eggs I was able to find was from 1972 in a Victoria, Texas Advocate article about an armadillo festival the town was holding. Amongst the festival's offerings was a group selling armadillo eggs along with dill pickles. I don't know what their interpretation of the dish was, but if it involved jalapeños, I reckon it was good.
When I make my armadillo eggs, I adapt a recipe created by the Southfork Ranch. (If you're a fan of the TV show "Dallas," the ranch is indeed a real place, though I don't think anyone named J.R. Ewing or Miss Ellie lives there.) Their version is simple—quartered jalapeños stuffed with cheddar, wrapped in breakfast sausage, and baked. Sure, the cheddar lends a yolk effect to the "eggs" when sliced in half. But I combine softened cream cheese with the cheddar, as I adore how its cool creaminess complements the hot jalapeños.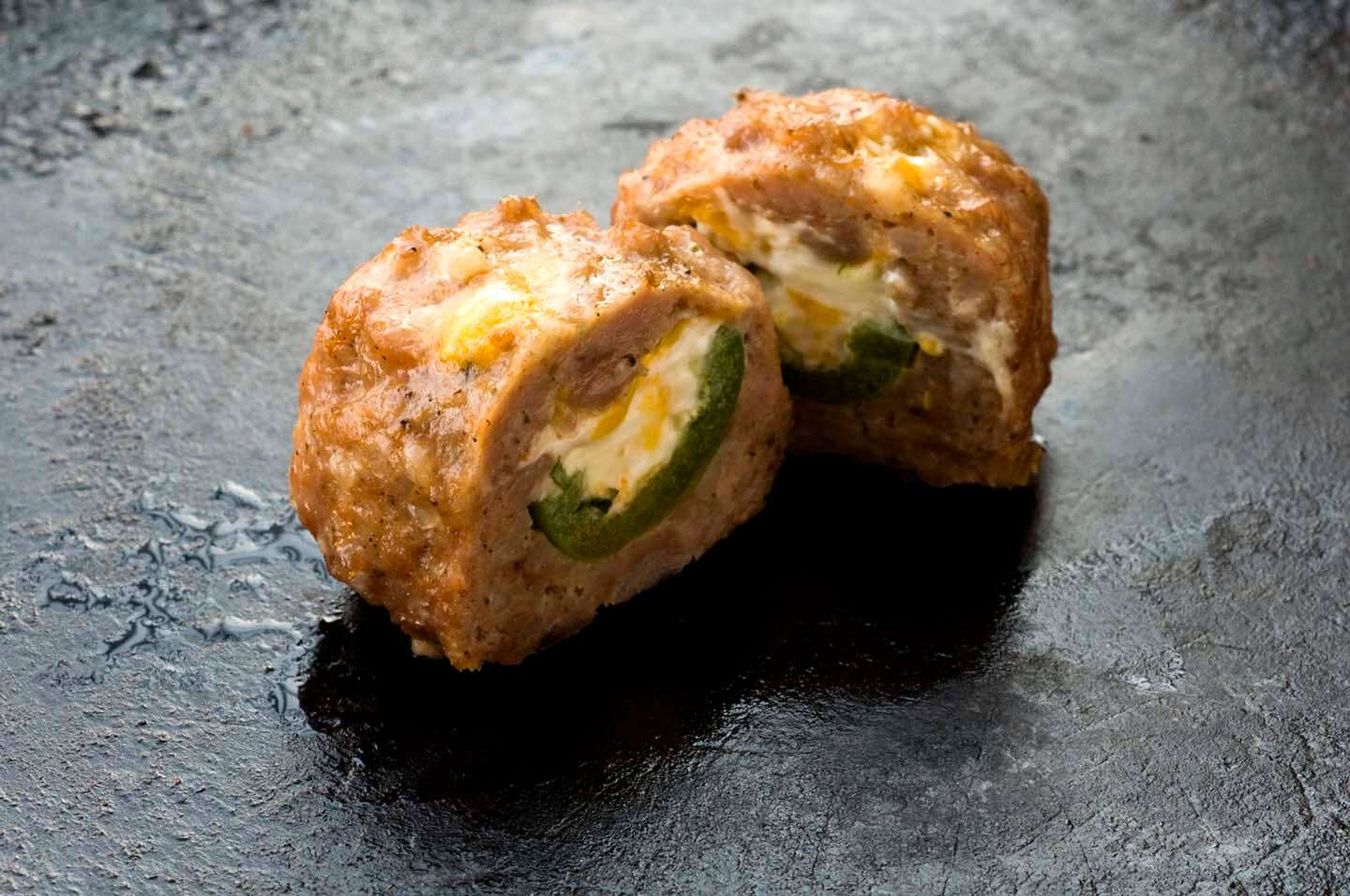 What do you know as armadillo eggs? Here's my version, which may be different than yours, but they are still outstanding. And even if nobody is certain on what to call them, I can be sure that you won't be able to eat just one.
Armadillo eggs
Ingredients
4

ounces

cream cheese, room temperature

2

ounces

(1/4 cup) yellow cheddar cheese, shredded

1

clove

garlic

minced

1

teaspoon

chopped cilantro

1/4

teaspoon

ground cumin

Salt to taste

6

medium-sized jalapeños

2

pounds

breakfast sausage, removed from its casing
Buttermilk dressing, for serving

Salsa, for serving
Instructions
Preheat the oven to 375° F and lightly grease a baking sheet.

Mix together the cream cheese, cheddar cheese, garlic, cilantro, and cumin until well blended. Taste and add salt, and adjust seasonings.

Remove the stems from the jalapeños and cut in half lengthwise. Scoop out the seeds and then cut the sliced jalapeños in half, horizontally.

Place about a teaspoon of the cream cheese filling in each jalapeño quarter. Divide the sausage into 24 equal-sized portions and pat each into a 3-inch circle then place the stuffed jalapeño in the center of the sausage. Wrap the sausage around the stuffed jalapeño until it's completely covered, and form into an egg shape.

Place sausage-wrapped jalapeños on the sheet, about an inch apart. Bake for 15-20 minutes, or until the sausage is cooked. For additional browning on top, you can place the sheet under the broiler for 2-5 minutes.