Jalapeno cheese bun recipe for a proper Texas burger
When I first moved to New York, I was struck by the presence of what was called a Texas burger. At first I was thrilled, curious as to what it could contain—guacamole, jalapenos or salsa all seemed like reasonable guesses. But I was wrong. In New York, a Texas burger means that it's topped with a fried egg. A fried egg? Now that doesn't really say Texas to me—does it say Texas to you?
For almost 15 years, I've pondered this burger. You may find burgers in Texas that have a fried egg on them, of course, but it's definitely the exception not the norm. When I think of the burgers I grew up with, I think about a thick patty topped with cheese, lettuce (preferably crunchy iceberg), tomatoes, onions and dill pickle slices, nestled between a bun spread with mustard and mayonnaise. And perhaps you'll throw on some jalapenos if you're feeling racy.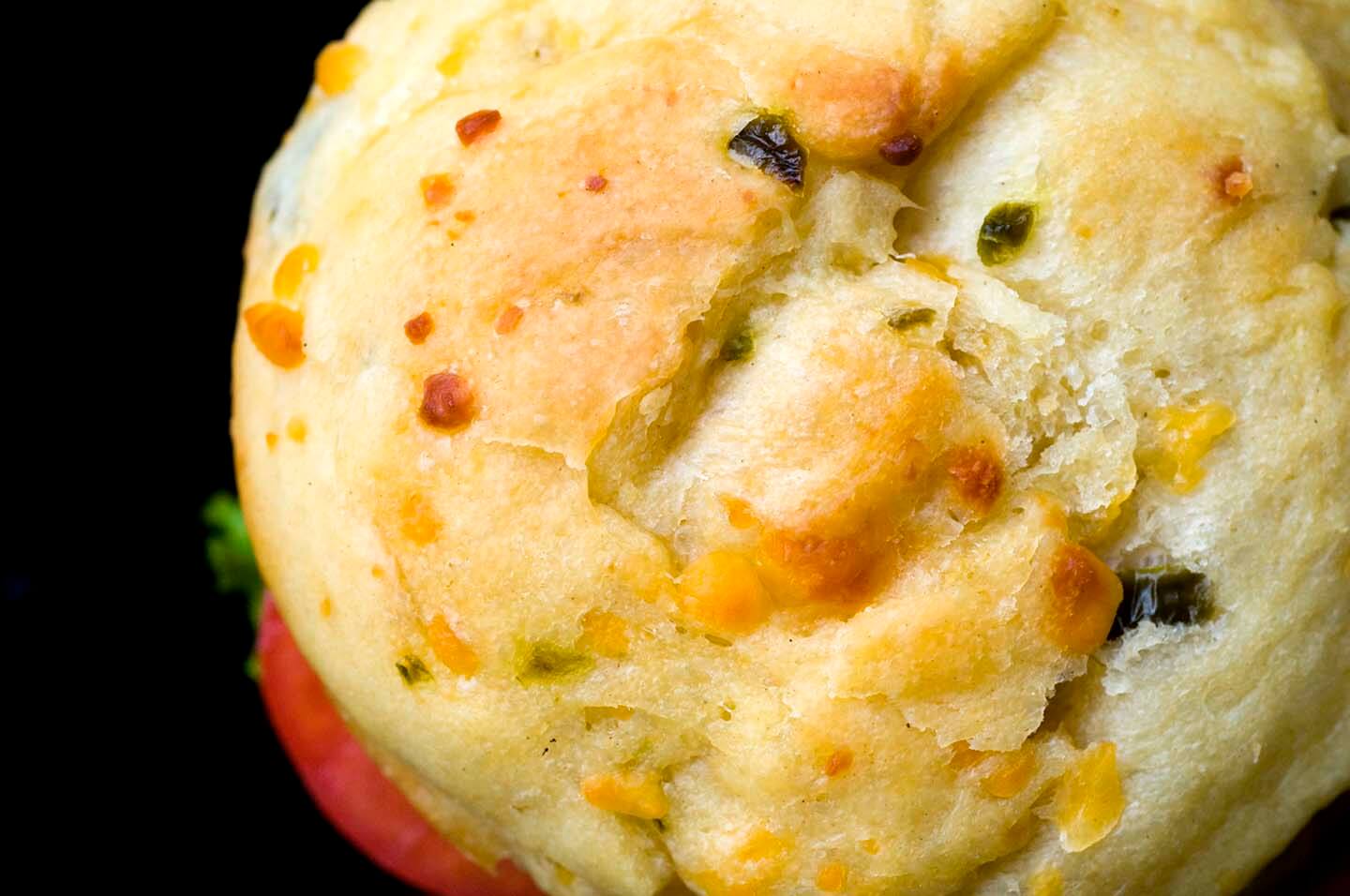 Of course, Texas being a large and diverse place there are variations on our burgers. On some Texas burgers you may find refried beans and corn chips, or cream cheese with jalapenos, or guacamole and bacon or perhaps a hearty dollop of chile con queso. All of these additions, however, still remind me of our native cuisine. But the fried egg? Not so much.

This isn't to say that we don't put fried eggs on foods. Take West Texas stacked enchiladas, which are made creamy and rich with the addition of a runny, fried egg on top of a mountain of corn tortillas, chili gravy and cheese. (Actually, that could make for a good burger—a patty topped with Longhorn cheddar, chili gravy with some refried beans spread on the bun.) But nope, in New York the fried-egg Texas burger doesn't come dressed that way. Heck, I've even seen a so-called Texas burger come with fried egg, barbecue sauce and blue cheese crumbles, which, being in polite company, we will not discuss my reaction to this insult to the good name of Texas.
Texas Monthly recently published its top 50 burgers in the state and when I was reading the list, I was struck by how many places now sandwich their beef patty on a homemade jalapeno cheese bun. Now we're talking! While the quality of the meat is what makes for a great hamburger, the bun is also a very important part of the equation. And as Alison Cook wrote in 1983, "If Texans hold any truth to be self-evident, it is that there is nothing that would not be improved by the addition of a little jalapeno."


No stranger to making jalapeno cheese bread, I decided to make my own jalapeno cheese buns. I went for a soft, egg-rich bread like my cemita rolls and just threw in some fresh diced jalapenos and a mess of shredded cheddar cheese. The buns were sturdy yet tender with enough flavor from the chiles and cheese to make them pleasant eating just on their own. But pair the buns with a thick juicy beef patty, some iceberg lettuce, mayonnaise, mustard, red onion and sliced dill pickles and you have yourself my perfect version of a Texas burger.
I've told you mine and now I'm curious: what's your perfect Texas burger?
Jalapeno cheese buns
Ingredients
2

cups

all-purpose or bread flour, plus 1/2 cup for kneading

1

teaspoon

kosher salt

1

teaspoon

sugar

1

packet

active-dry yeast

1/2

cup

buttermilk, heated until warm

1/4

cup

canola oil

1

large egg, room temperature

2

jalapenos, seeded and diced

3/4

cup

shredded longhorn cheddar
Instructions
Mix together the 2 cups of flour, salt, sugar, and yeast. Beat the egg with the oil and then add the warm buttermilk. Stir the liquid into the dry ingredients and mix well.

Let dough rest for 15 minutes and then add the jalapenos and shredded cheddar. Spread a 1/2 cup of flour on a clean surface and knead dough for five minutes or until it comes together. Note that the dough will be a little sticky.

Place the dough in an oiled bowl, cover it and let it rise until it's doubled in size, about an hour and a half.

Depending on how large you want your rolls to be, divide the dough into 8balls and let them rest, covered for 15 minutes.

To shape the rolls, take each ball and then flatten it so it looks like a disc.

Place each roll a few inches apart on a parchment-paper lined baking sheet. Cover the baking sheet and let the rolls rise for 30 minutes.

Meanwhile, preheat the oven to 400° F. Bake the rolls for 15 minutes or until lightly browned. Buns will last covered for 1 day and can be frozen, too.