I have a new favorite pie that I will be sharing with my family at Thanksgiving—it's peanut butter pie. But before I tell you how to make it, first a little background.
Two years ago, I received a cookbook in the mail. It was spiral-bound with a lavender cover that had a black and white photo of a woman pulling a tray of rolls from an oven. The title of the book was "Gennie's Bishop Grill. The Best Buns in Town!!!"
Inside the front flap was an inscription: "Lisa, We hope you enjoy a little bit of Texas home cooking! Thanks, Rosemarie." I scratched my head. I had not ordered this cookbook, nor was I familiar with either Rosemarie or Gennie's Bishop Grill. It was strange.
A couple of days later, my dad called. "Lisa, did you send me a cookbook from Gennie's Bishop Grill?" I told him I had not. Now I was really confused! Who was Rosemarie and why was she sending my dad and me cookbooks?


But before I had a chance to say this, my dad continued. "I love Gennie's Bishop Grill! I used to eat there all the time!" He went on to tell me that Gennie's Bishop Grill was a restaurant in the Bishop's Art District that served up excellent home cooking. It was known for its chicken-fried steak, yeast rolls, and its pies—namely its peanut butter pie.

The owners of the restaurant, Rosemarie (daughter of Gennie) and her husband Gus, retired in 2005 and closed the restaurant. But they had a bunch of cookbooks and the Dallas Morning News had written an article about the restaurant, with an address to place orders for this trove of Texan home cooking.
I had wanted to make a custard-based peanut butter pie for quite a while, but most of the recipes I saw were the kind where you mix the peanut butter with cream cheese and whipped cream and spoon this into a chocolate-cookie crust. Not a bad dessert, but not quite what I was looking for.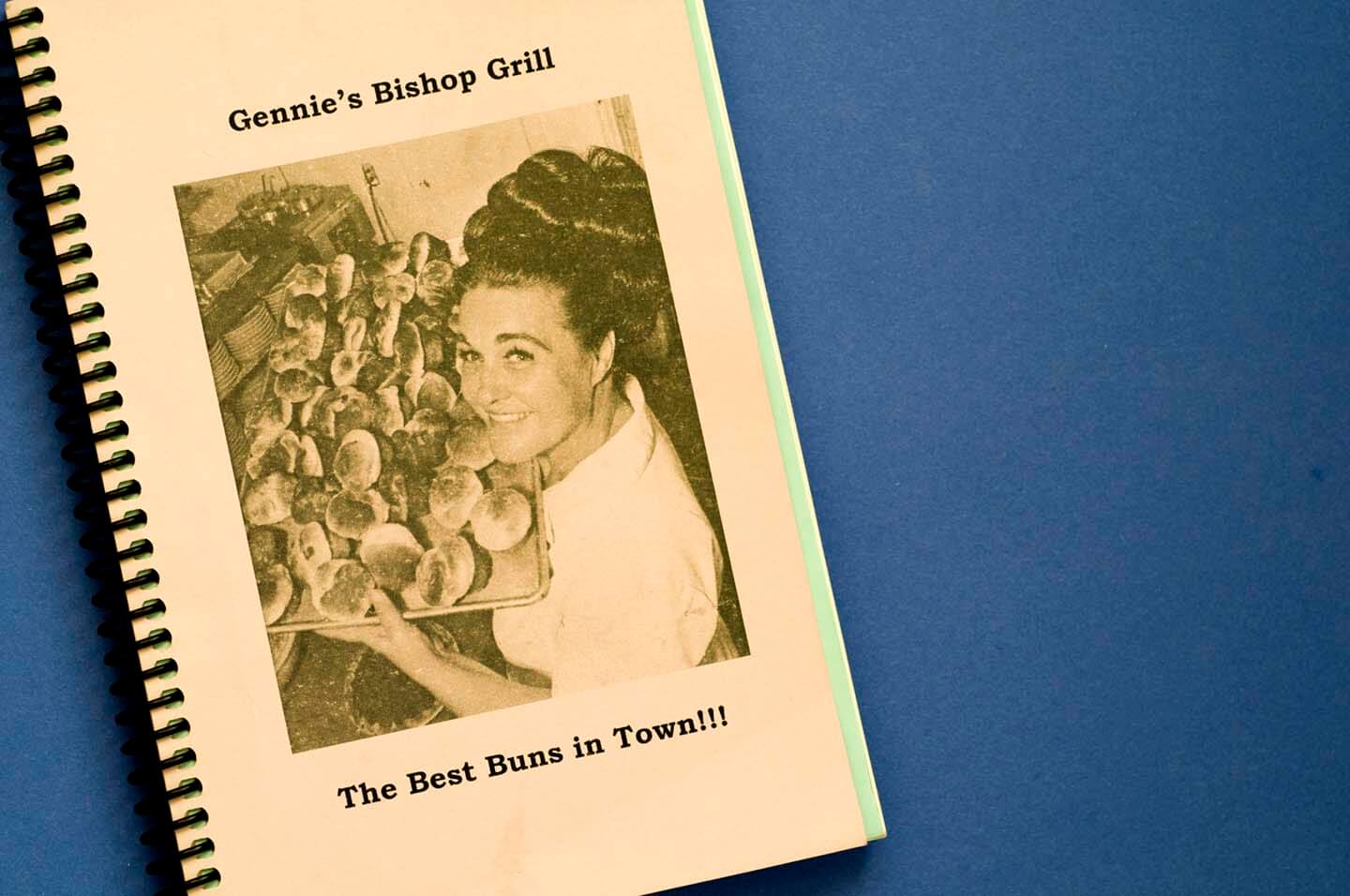 I asked my grandma if she had one, and she recommended taking her chocolate pie recipe and substituting peanut butter for the chocolate. I followed her advice and fell in love. This was the peanut butter pie I had been seeking!
A few days later when I was talking to my grandma, she said, "Are you still looking for peanut butter pie recipes? I bet there's a good one in that cookbook I sent you."
Now, my grandma often sends me recipes clipped from the newspaper or photocopied from an old family recipe cards, but I didn't recall her ever sending me an actual cookbook.
"What cookbook?" I asked.
"Oh, you know—the one from that Oak Cliff cafe that closed. I read about it in the paper and bought one for you and one for your dad."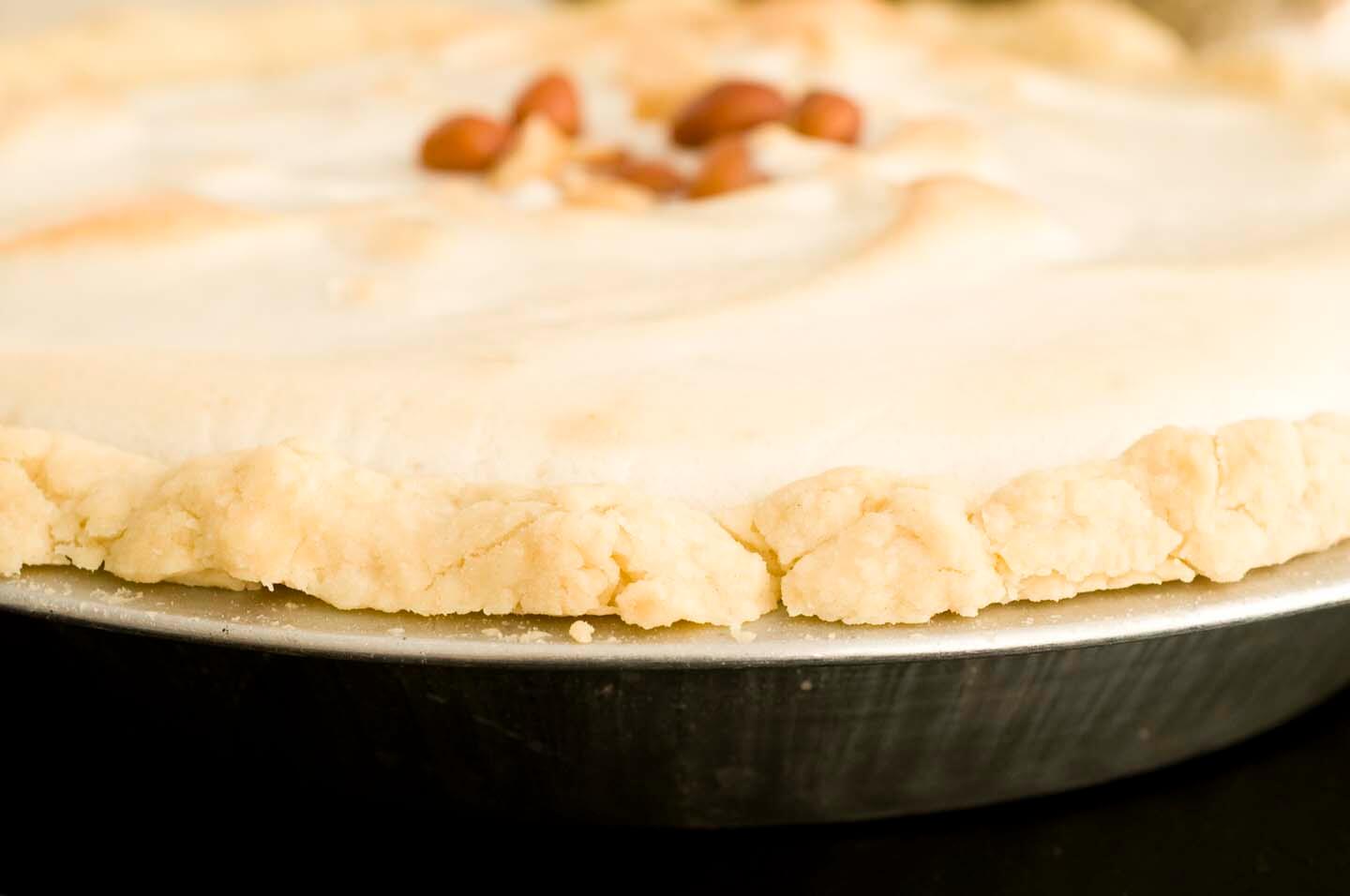 But of course! The mystery was solved. And yes, Grandma was correct—there was indeed a recipe for peanut butter pie in the cookbook. And while it was a little bit different from the one I had already made, I could tell by reading it that the food at Gennie's Bishop Grill was pretty spectacular and I'm sorry I was never able to eat at their restaurant. But thankfully, their good food lives on in their cookbook, which I'm very happy to own.
Peanut butter pie
Ingredients
Ingredients for the filling:
2

large egg yolks, beaten slightly

1 1/2

cups

whole milk

3/4

cups

sugar

5

tablespoons

all-purpose flour

1/4

teaspoon

kosher salt

1/2

teaspoon

vanilla extract

1/8

teaspoon

cinnamon

Pinch

cayenne pepper

¾

cup

smooth peanut butter

1

unbaked 9-inch piecrust
Ingredients for the meringue:
2

large egg whites

1/8

teaspoon

kosher salt

4

tablespoons

sugar
Instructions
Preheat the oven to 350° F.

To make the filling, in a saucepot, whisk together the egg yolks, milk, sugar, flour, and salt. While stirring, cook on medium heat until it bubbles and thickens, about 5 to 10 minutes.

Remove from the heat and stir in the vanilla, cinnamon, cayenne, and peanut butter until well combined.

Meanwhile, poke holes in the piecrust with a fork and bake until it's brown, about 20 minutes.

To make the meringue, beat the egg whites with salt and when they start to get fluffy add the sugar.

Pour the peanut butter custard into the baked pie shell and top with the beaten egg whites. Bake pie until peaks on the meringue are lightly browned, about 10 minutes.