Last weekend after a family wedding, I stayed the night at my grandma's before embarking on a long road trip across Texas. When I arrived at her farm, the house was rich with a savory aroma. "What are you cooking?" I asked. She said we were having ham and black-eyed peas for dinner. "And cornbread?" I said. She said yes, then asked me to make it.
We went into the kitchen and she pointed to a cast-iron skillet and containers of cornmeal and flour on the counter. "The buttermilk and bacon grease are in the refrigerator," she said. Then I got to work. Before I started, however, I asked her if she had any blueberries for me to add to the cornbread. She said she didn't unfortunately, but she was intrigued.
I explained that before arriving in Texas, I had made blueberry cornbread back in my kitchen in New York. Blueberries are in season now and I'd picked some up at the market. While I enjoy popping them in my mouth like candy, I needed to use them up before my travels and considered making my  oatmeal blueberry muffins with my bounty. After seeing some cornmeal blueberry muffin recipes, however, I decided that baking a similar recipe in a skillet would be even better.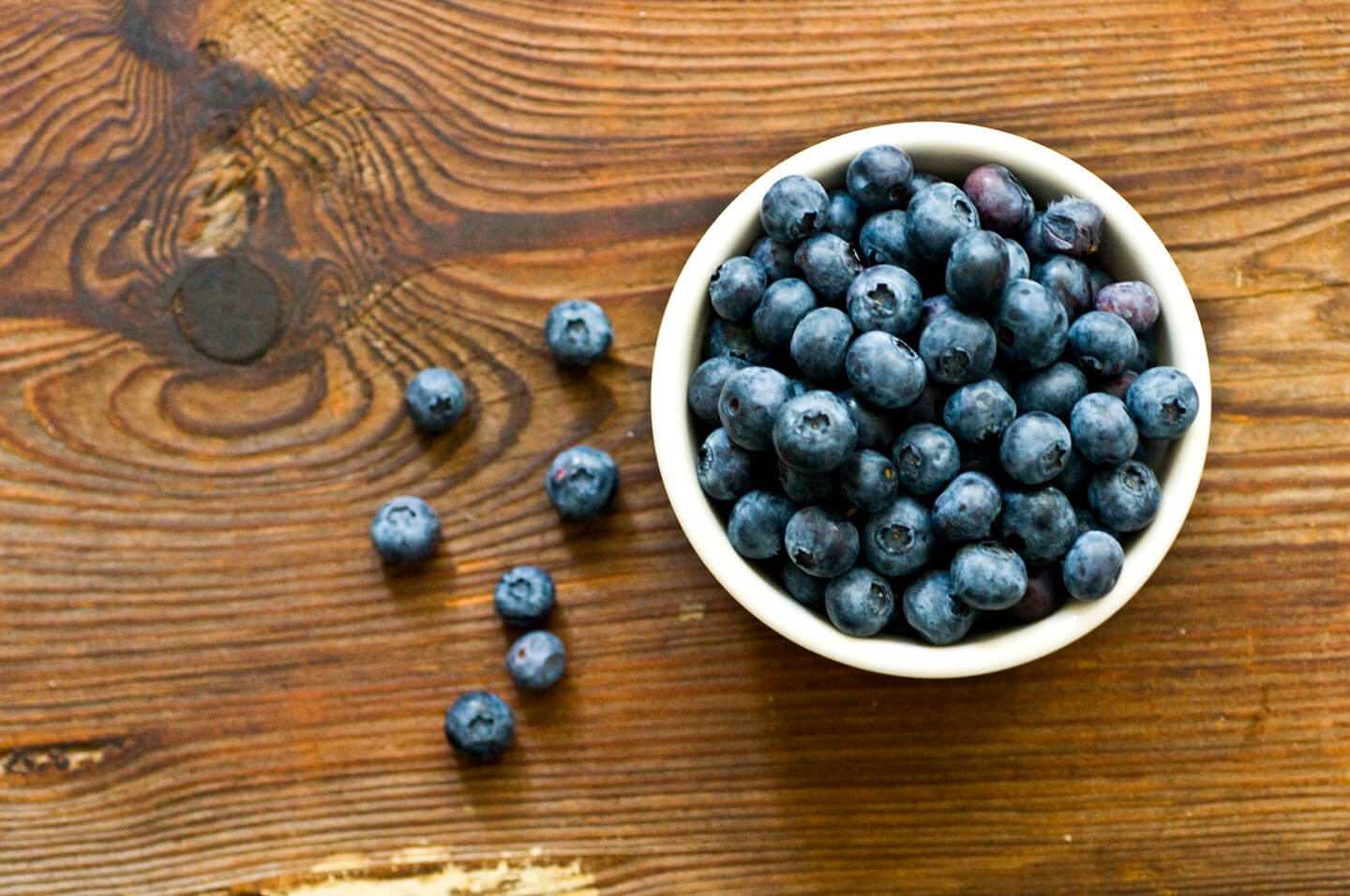 While I had started with my usual cornbread recipe, I added sugar to the mix and also changed the ratio of cornmeal to flour, as I wanted it to be a bit more tender and sweet. Of course, I'm one that feels sugar in cornbread is simply not done, so I was clearly breaking the rules. No matter, I was okay with making an exception in this case. Since I was shaking things up, for extra flavor I put in a bit of nutmeg and lime zest to the blueberry cornbread, too.
After I pulled the skillet out of the oven and had my first slice, any worries I had were soon gone. Not only did the blueberry cornbread retain its essential character, but also there was the joyful bonus of tart juicy bursts from the blueberries in each bite. Sure, it was a little sweeter than regular cornbread, but not enough to be cloying. And while it was good with a pat of butter, it was also so soft that it could be eaten on its own, hot out of the oven.
This blueberry cornbread makes for a fine beginning to the day, though it could easily be a sweet ending, too. It's simple to put together and while you will be required to turn on your oven, it's not for too long and I think the end results are worth the extra heat.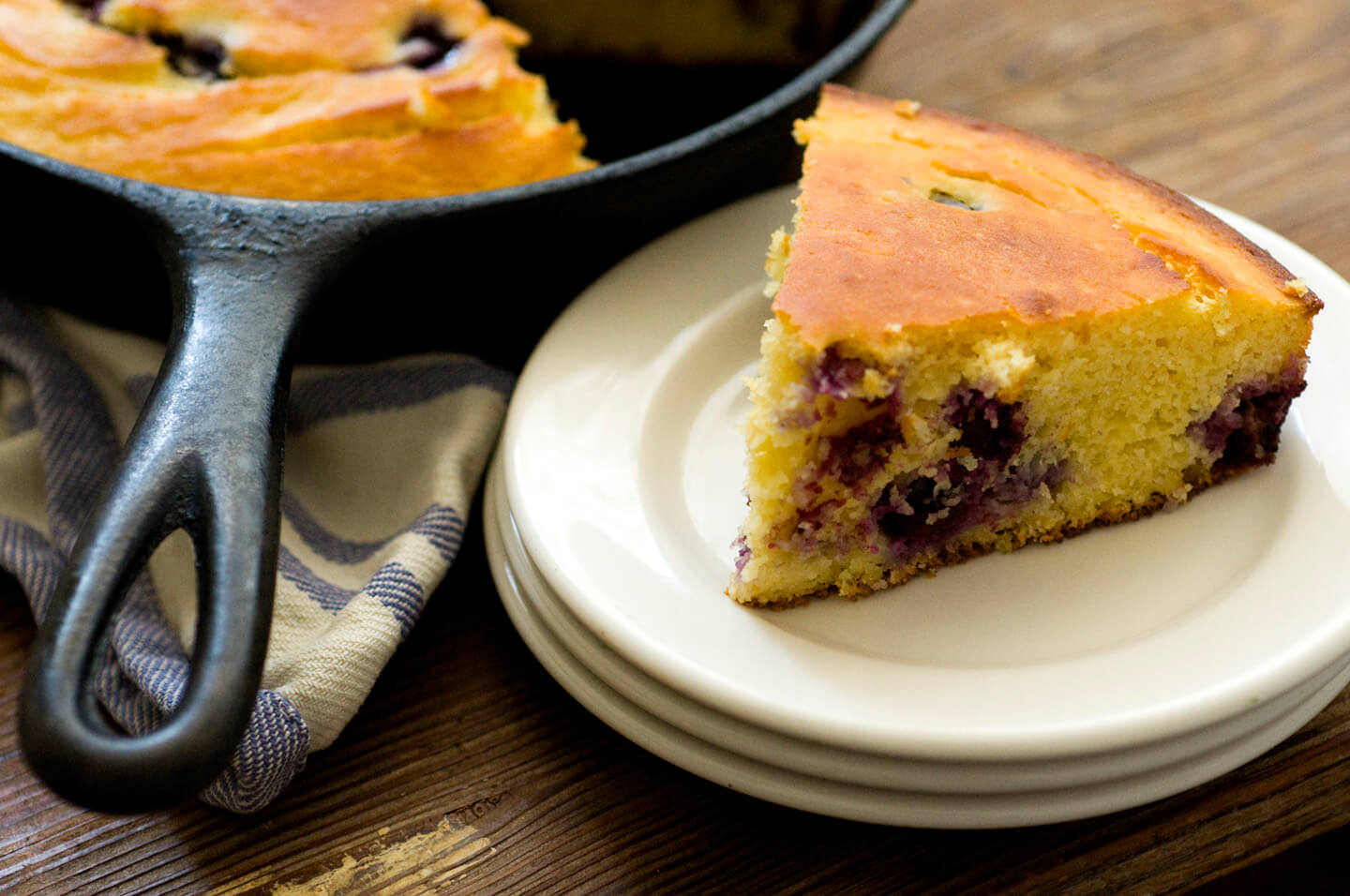 After describing the blueberry cornbread to my grandma, she was disappointed she didn't have any berries in the house. No matter, we still had a fine meal of regular cornbread along with big bowls of black-eyed peas, ham, and rice. And next time, I'll make sure we have some blueberries, too.
—————
Would you like more Homesick Texan? Well, I've started offering additional recipes for paid subscribers to help with the costs of running the site. While I'm not taking anything away, if you'd like to support Homesick Texan and have access to exclusive, never-seen-before subscriber-only posts, please consider becoming a member; annual subscriptions are as low as $25. Thank you for reading, your consideration, and your support!
—————

Blueberry cornbread
Ingredients
1/4

cup

vegetable oil

1 1/2

cups

finely ground cornmeal

1

cup

all-purpose flour

1/4

cup

sugar

2

teaspoons

baking powder

1/2

teaspoon

baking soda

1/2

teaspoon

fresh lime zest

1/4

teaspoon

ground nutmeg

1/4

teaspoon

kosher salt

2

eggs

2

cups

buttermilk

1 1/2

cups

fresh or frozen blueberries
Instructions
Preheat oven to 450°F. 
 While the oven is heating, put the oil into a 10-inch cast-iron skillet and place in the oven while the oven preheats.

Meanwhile, mix together the cornmeal, flour, sugar, baking powder, baking soda, lime zest, nutmeg, and salt. Whisk together the egg and buttermilk and pour into the dry ingredients. Stir until well combined.

Take the cast iron skillet out of then oven, and pour the hot oil into batter and stir until well combined. Add the blueberries and gently stir until evenly distributed.

Pour the batter back into the hot skillet and bake for 18-20 minutes or until the top is lightly browned and an inserted knifes comes out clean. Serve warm.