Last weekend I was with some friends in Dripping Springs. While I'm often in charge of planning meals, this time my friends wanted to grill, and since I haven't done that since I moved to New York I removed myself from this particular kitchen duty and instead focused on other things such as biscuits, salad, and cobbler.
That said, even though I wasn't in charge of the grilling, I was worried about the basting sauce that was being used on the chicken. "I think it has too much sugar," I said. "The chicken might burn!" But one of my friends told me to just let it go and have faith that the meal would turn out all right. And it did. I had no need to worry.
The reason, however, I was concerned was that I had made broiler wings the week before, and even though I marinated and basted the chicken in a salsa verde ranch dressing that had no sugar, I still needed to keep a close eye on them lest they get too dark. Though grilling and broiling are not the same and perhaps soon I can spend more time in a yard with a grill and learn more.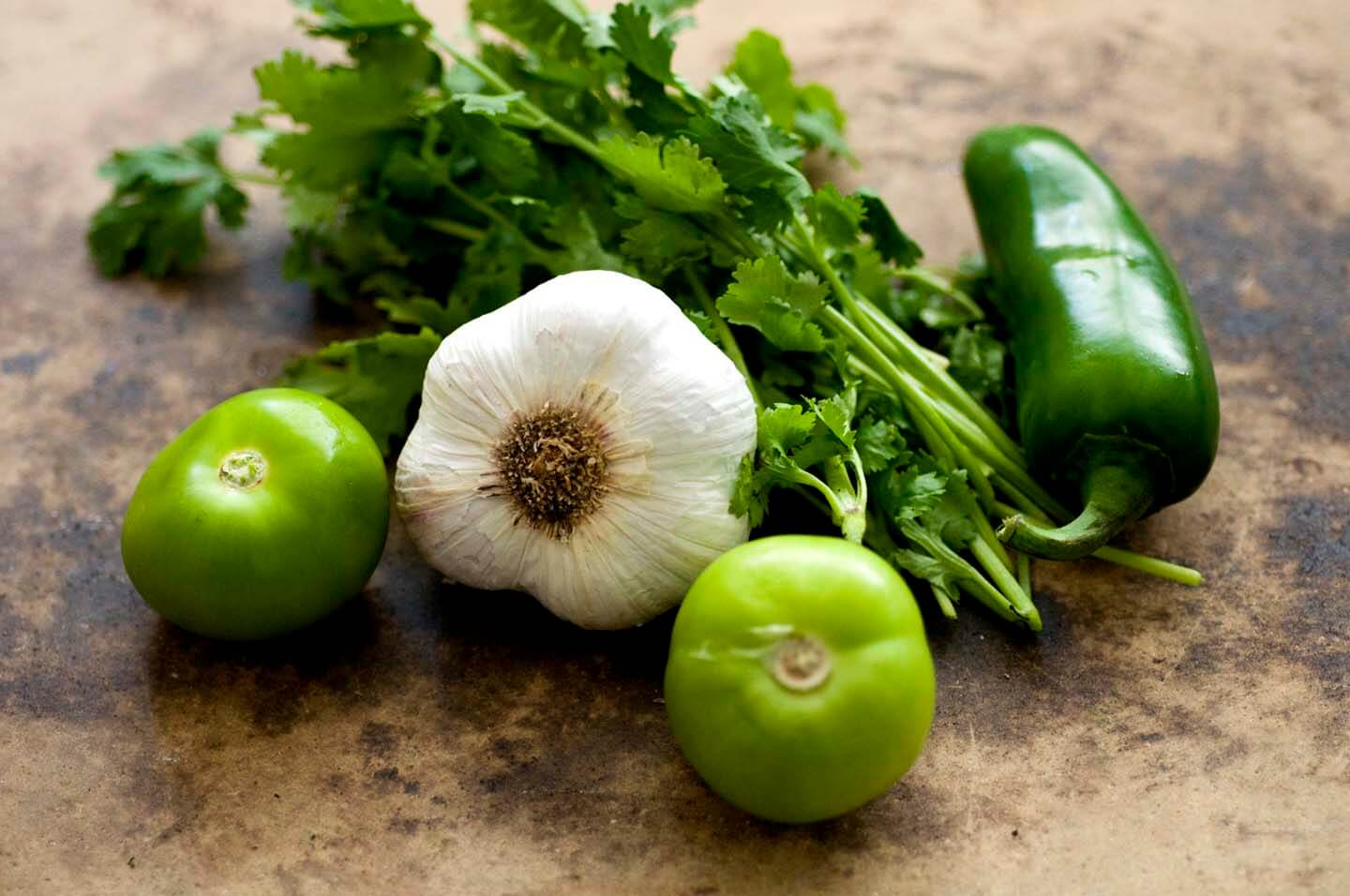 In any case, while we didn't use this salsa verde ranch dressing on our chicken while we were in the Hill Country, it's still a fine sauce that not only helps the meat stay juicy, but it also gives it a bright and spicy flavor.
Making the dressing is simple. You first take jalapeños, tomatillos, and garlic, and lightly boil them in water for a few minutes until soft and fragrant, as if you're making a salsa. Then you puree them with a handful of cilantro, and then mix this vibrant, piquant base with Greek yogurt and mayonnaise. Sour cream works, too.
After tasting to adjust seasonings, try to refrain from eating the whole bowl with tortilla chips since you are now going to use it with the chicken. (Though be happy that you've made enough that you can dip your chicken wings into it, which is a far more Texan and superior experience for wings than blue cheese dressing, in my opinion.)
After slipping the wings into the dressing to soak up some of its flavor, you then broil the wings, which keeps the oven on for only 20 minutes, a gift during hot days. It's a simple method, though you do need to be attentive so that the wings don't burn. Much like you would do if you were grilling.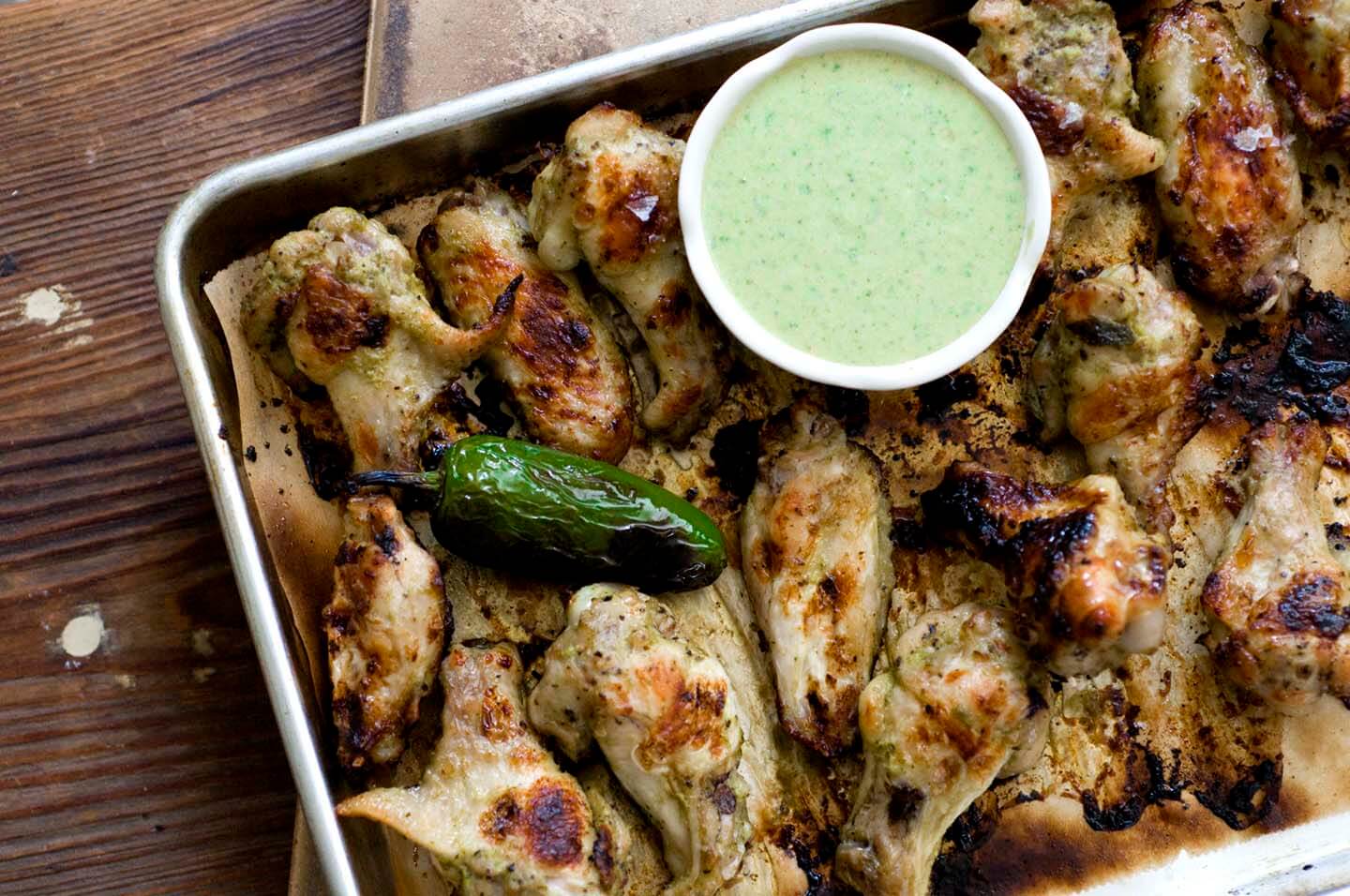 After cooking, for a final burst of flavor I finish them off with a squirt of lime juice. There's no frying involved and the most difficult action is making the sauce. And once the wings are cool enough to touch, you take one, dip it into more salsa verde ranch, and feel thankful that jalapeños and tomatillos are in season and for all that you have. Repeat until the wings are done.
—————
Would you like more Homesick Texan? Well, I've started offering additional recipes for paid subscribers to help with the costs of running the site. While I'm not taking anything away, if you'd like to support Homesick Texan and have access to exclusive, never-seen-before subscriber-only posts, please consider becoming a member; annual subscriptions are as low as $25. Thank you for reading, your consideration, and your support!
—————
Salsa verde ranch wings
Ingredients
2

jalapeños, cut in half lengthwise and seeded

4

tomatillos, husked and cut in half

2

cloves

garlic, peeled

1/2

cup

cilantro

1/2

cup

Greek-style yogurt or sour cream

1/4

cup

mayonnaise

1/4

teaspoon

ground cumin

Pinch

cayenne

Salt

Pepper

3

pounds

chicken wings, Buffalo cut

Lime wedges, for serving
Instructions
To make the salsa verde ranch dressing, place the jalapeños, tomatillos, and garlic in a saucepan. Cover with water, bring to a boil and then simmer for 7-10 minutes or until the tomatillos have turned an army-green color and softened.

With a slotted spoon, transfer the jalapeños, tomatillos, and garlic to a blender. Add the cilantro and blend until smooth. (If the tomatillos aren't juicy enough, add 1 tablespoon of the cooking water.)

With a rubber spatula scrape out the salsa verde puree into a bowl and add the yogurt, mayonnaise, cumin, and cayenne. Stir until well combined. Taste and adjust seasonings and add salt and pepper. You should have about 1 1/2 cups of salsa verde ranch dressing.

Salt and pepper the wings then place into a food-safe storage container. Pour 1/4 cup of the salsa verde ranch over the wings (refrigerating the rest to use later), and then toss to coat evenly. Cover and marinate for 1 hour.

To cook the wings, line a sheet pan with parchment paper or greased foil, and then place the wings in one layer on the sheet. Allow to come to room temperature, about 15 minutes, then turn on the broiler and place a rack 6 inches from the heating element.

Take the rest of the salsa verde ranch out of the refrigerator and pour 2 tablespoons into a bowl for basting the wings, reserving the rest for serving with the wings.

Cook the wings for 8-10 minutes or until one side is brown and crisp, and remove from the oven. Flip the wings to the other side, baste the wings with the 2 tablespoons of salsa verde ranch, and then return to the oven. Cook another 8-10 minutes or until brown and crisp.

Remove from the oven and serve warm with lime wedges and the rest of the salsa verde ranch.
Notes
If you're more inclined to grill your wings they would be delicious that way, too. As I said, I'm not an expert on this method, but I would reckon grilling them close together at about medium while turning occasionally would yield similar results.