My family has a running joke. In my first book, I included a recipe for sweet potato muffins, and in my headnote, I mentioned that anytime you'd go into my grandma's kitchen you'd find a freshly baked plate of them on her counter.
Well, that was my recollection, but the rest of the family disagrees with that assessment. They allege that the muffins were seldom served and thought my ramblings were hilarious. So, they tease me often saying things such as, "It's breakfast time, which means there must be sweet potato muffins!"
Everyone then laughs because in fact, there aren't any sweet potato muffins, and my grandma can't even recall the last time she made them. I don't find it funny, however, and stand by my memory of these muffins being around at least part of the time when I was young. (I think.)
No matter, my family gets great amusement from that story but what they are failing to note is that mashed sweet potatoes are a fine foundation not only for muffins, but also quick breads, biscuits, and cakes. This orange tuber not only gives moisture to baked goods but it also adds a natural sweetness. Sweet potatoes are excellent in baked goods.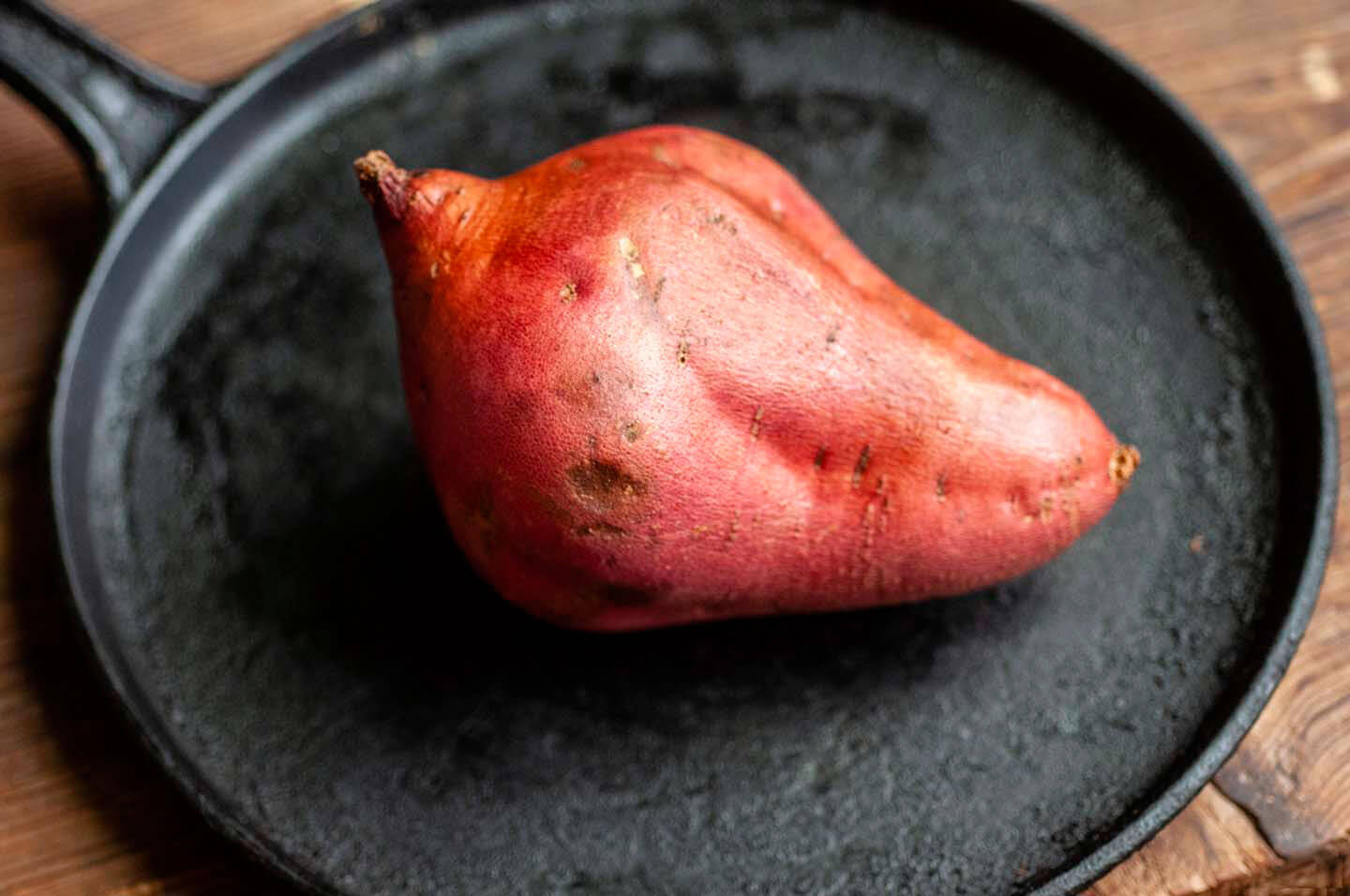 Now, on Thanksgiving for dessert we always have my uncle's sweet potato pie. It's a family favorite and there are never any leftovers as most prefer it over pumpkin. There's also pecan pie and buttermilk pie on the table, too.
While I am firmly on team pie, since like to shake things up and have a variety, I've decided this year I will amend my family's memory and produce a sweet potato bread. It's the least I could do after providing so much amusement to my family over the so-called memory over the years.
For my sweet potato bread recipe, I began with my muffin method, though I eliminated the dates, as they're not my favorite, and bumped up the spices, such as allspice and cloves. I also loaded the batter up with pecans and swirled in some fresh Texas orange zest for brightness, as well.
While you could bake this in a loaf pan, lately I've been cooking my sweet breads, such as banana bread, in skillets, as I think that vessel provides an optimum crust to crumb ratio.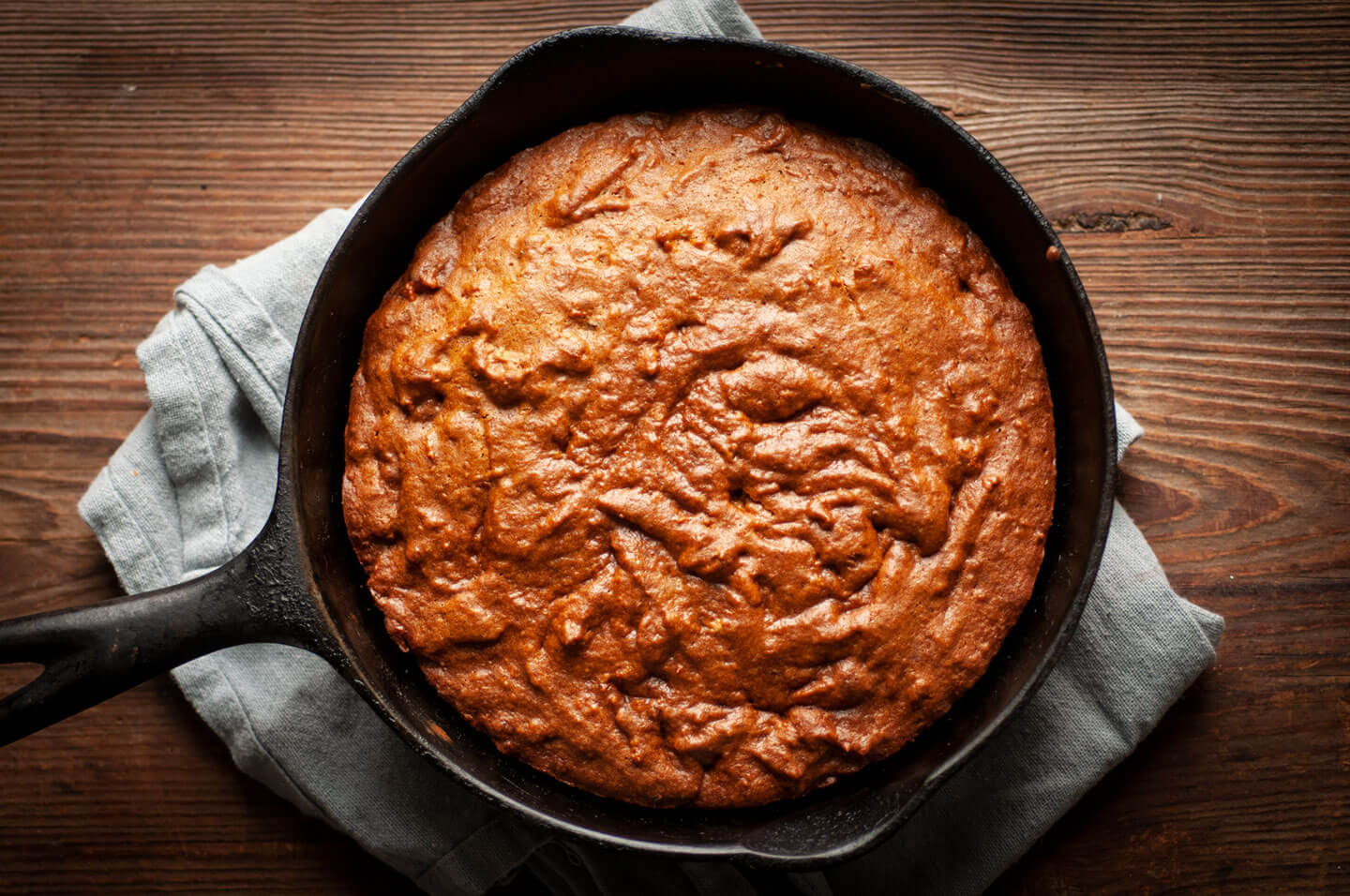 The result is a tender and fragrant sweet potato bread that makes for a fine breakfast or as a snacking cake, too. Not to mention, the basic recipe is infinitely adaptable, and one could also throw in mix-ins such as dried cranberries, raisins, white chocolate chips, walnuts, or even coconut if they wished. And that's no joke.
Sweet potato bread
Ingredients
1 3/4

cups

all-purpose flour

1

teaspoon

baking soda

1

teaspoon

ground cinnamon

1/2

teaspoon

ground clove

1/4

teaspoon

ground ginger

1/4

teaspoon

ground nutmeg

1/4

teaspoon

kosher salt

1/2

cup

chopped pecans

2

tablespoons

fresh orange zest

2

eggs

1

tablespoon

vanilla extract

1

cup

sugar

1/2

cup

brown sugar

1/2

cup

vegetable oil

1

cup

baked sweet potato, mashed
Instructions
Preheat the oven to 350°F and lightly grease a 10-inch skillet.

In a large bowl, whisk together the flour, baking soda, cinnamon, clove, ginger, nutmeg, salt, pecans, and orange zest until well combined.

In a separate bowl, whisk together the eggs, vanilla, sugar, brown sugar, oil, and sweet potato until well blended. Pour the wet ingredients into the dry ingredients, and stir until well blended. The batter will be thick.

Evenly spread the cake batter in the skillet then bake uncovered for 30 minutes or until browned and an inserted knife comes out clean.

Serve warm. Will keep covered for 5 days.
Notes
If you wish to bake this in a loaf pan, I used a 9×5 and baked it for an hour and it was perfect. Another reader said hers was not done after an hour, however, so you may test it with an inserted knife after that time and bake longer if needed. No additional leavenings are needed, but it's important to use the brown sugar as that activates the baking soda. If you want an extra-fluffy loaf, you could also add 1/2 teaspoon of baking powder. As always with leavenings, make sure they're fresh so they'll activate.