A few years ago, I went on an epic breakfast crawl across Dallas. I began at a Vietnamese bakery where I sampled a banh mi. Then I headed to a German restaurant where I had a plate with applesauce, smoked pork chop, and a potato pancake. Finally, I swung by a diner in East Dallas that was famous for its beer biscuits. Already stuffed, I ordered only a couple and they brought them to me still warm.
While I had enjoyed everything that I'd sampled that morning, it was the beer biscuits that made a lasting impression. They were nutty brown and tender with a sweet and complex flavor. In fact, they tasted a bit like a sourdough biscuit made with a fermented yeasty dough. I ate the two that I had and then left to let my full belly settle before the next round of eating. The beer biscuits were excellent and I vowed to return to this restaurant, named Barbec, soon.
Sadly, Barbec is now closed. Like many spots, it was most likely a victim of the pandemic, though it had suffered a fire, too. My intentions were good, but I never made it back and I regret that very much. The morning that I did visit, the place was bustling with people eating, chatting, drinking coffee, and reading the paper. It was alive and I do believe that cheerful energy was passed on to its food.
The only thing I did eat there was its famous biscuits. Even before I had them, they had been on my list of things to try. I'm glad that I tried them before they closed, but I wanted to enjoy them again, so I began to read about beer biscuits to learn how they were made.
My assumption had been it was an old recipe, but surprisingly the only ones I could find started appearing in the 1960s. Texan home cooks submitted recipes to their local papers, and the San Antonio-based columnist Heloise also shared a recipe. As she was nationally syndicated, her article furthered the spread of beer biscuits with recipes were appearing across the country. Though most early mentioned were from Texas, with a large presence across the state, from Amarillo to Corpus Christi and many points in between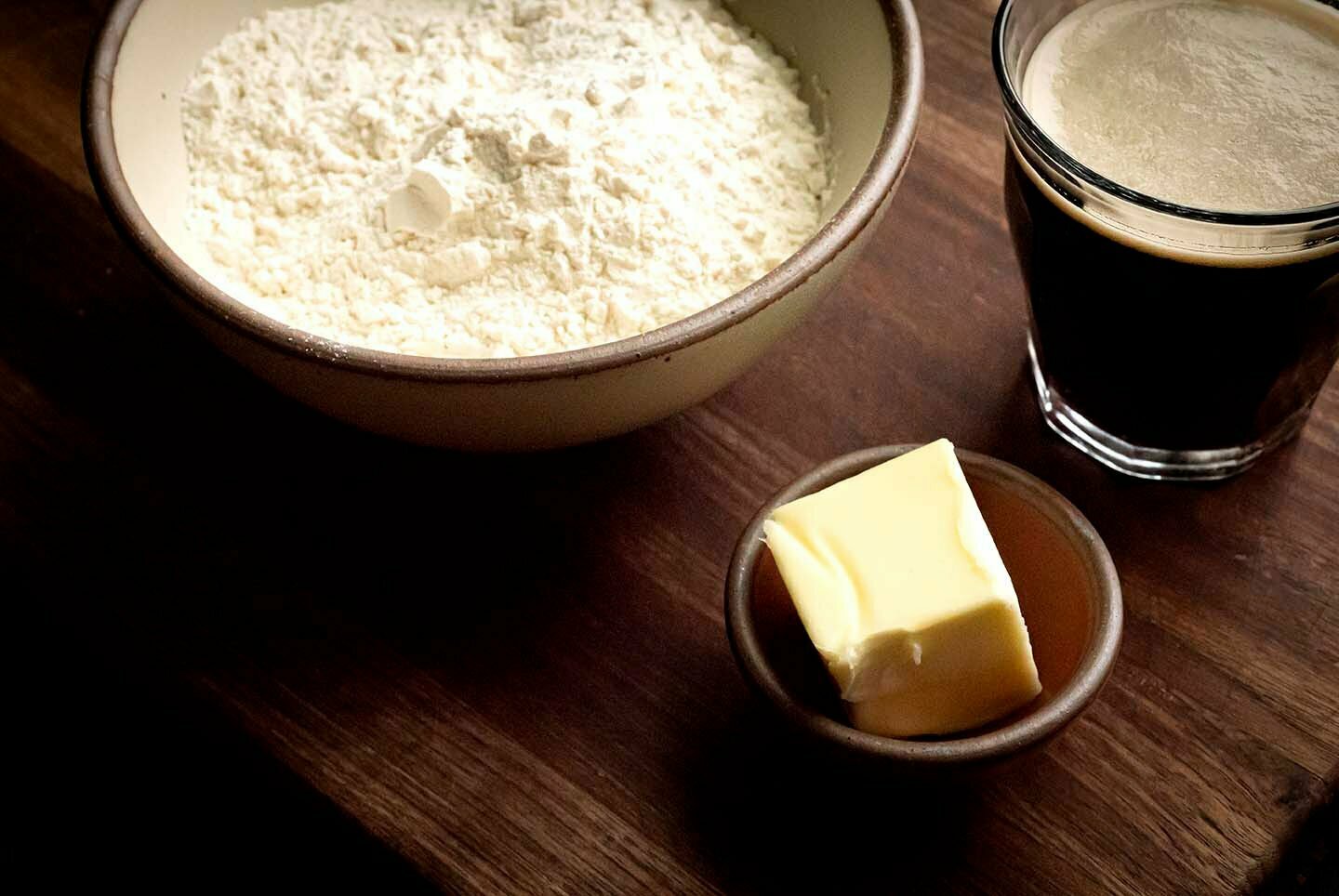 For instance, a Denton-based flour company, Morrison Milling Company, placed its recipe on the back of its biscuit mix called Bis-Kits. An accompanying article in the Denton Chronicle showcased the biscuits saying that even if one was didn't imbibe, not to worry as the alcohol in the beer cooked out in the oven.
Indeed, my grandmother even mentioned them to me when I shared a jalapeño cheddar beer bread. She asked if I was familiar with beer biscuits and I replied in the affirmative. She then told me about a friend of hers who used to bake them for her son who was at college. I reckon since he was still a young student he couldn't legally purchase the necessary ingredient—beer—to make his own.
There are several methods for making them, with some using biscuit mix and some yielding a runny dough that needs to be baked in a muffin tin. Often, recipes will omit fat such as butter or lard. Some recipes follow a more traditional biscuit method and incorporate fat into the dough, but they like all beer biscuits, they forgo the typical liquid such as buttermilk and pour in beer instead.
For mine, I went with the latter, using a dark beer such as Shiner Bock as it's not only a popular Texas beverage but also bock is known as a springtime beer. The dough comes together quickly and the beer makes it not only has a darker hue but also lends it a malty flavor that gives the biscuit an aged character belied but its quick construction.
I serve them warm with just butter. Jams, honey, or even a slather of mustard along with a slice of smoky ham are also good.
—————
Would you like more Homesick Texan? Well, I've started offering additional recipes for paid subscribers to help with the costs of running the site. While I'm not taking anything away, if you'd like to support Homesick Texan and have access to exclusive, never-seen-before subscriber-only posts, please consider becoming a member; annual subscriptions are as low as $25. Thank you for reading, your consideration, and your support!
—————
Beer biscuits
Ingredients
3

cups

all-purpose flour

1

tablespoon

baking powder

2

tablespoons

granulated sugar

1/2

teaspoon

kosher salt

8

tablespoons

(1 stick) unsalted butter

1

cup

dark beer such as Shiner Bock
Instructions
Preheat the oven to 425°F and lightly grease a baking sheet or large cast-iron skillet.

Mix the flour, baking powder, sugar, and salt.

Cut the butter into pieces, and work into the flour mixture with your hands or a pastry blender until it resembles pea-sized crumbs.

Pour in the beer and stir until a shaggy dough forms.

Place the dough on a floured surface and knead for a minute. Now the dough should be smooth and no longer wet. (You can sprinkle more flour on the surface if you find that it's sticking.) Roll out the dough until it's 1/4 of an inch thick and then fold over in half.

Using a round cutter, cut the biscuits from the folded dough. (You may have to gather the scraps and roll again if you run out of room while cutting.) Place the cut biscuits on the greased baking sheet or skillet close together (so they rise and do not spread) and bake for 20-25 minutes or until the tops are golden brown.

Serve warm. They will keep covered for a day or so, but are best fresh out of the oven. They can also be frozen.