One afternoon in Austin, a couple of friends and I went to Easy Tiger on Sixth Street and sat on its patio. We got drinks along with an order of beer cheese and soft pretzels. The beverages were cold as was the beer cheese, which was like a creamy and smooth pimento cheese dip.
While I'd never heard of beer cheese, I didn't think too much about its origins, assuming since it was served in a German-style beer garden along with the pretzels, that it was of Eastern European provenance.
A few weeks later, I attended a Kentucky friend's Derby party. She also had this rich cheese dip on hand. As she pointed out her array of snacks for us to nibble, she mentioned that the beer cheese recipe had been one from her Kentucky upbringing. "It's served at all Derby Days," she said.
When I asked why she told me that it came from her home state. I said that I had thought it was German in origin but she shook her head and said that it was an old Kentucky tradition and along with other Kentucky specialties such as mint juleps and bourbon balls, it was featured at all gatherings, including the most famous one on the first Saturday in May.
Curious to learn more, I called my grandma for verification. Because my grandparents had gone to graduate school at the University of Kentucky in the 1940s, I figured they may have encountered it. My grandma said that they had not encountered it during their time in Lexington, though perhaps it was because their circle of friends was too busy eating Frito pies.
Further research, however, showed that it was reputed to have been created at a Clark County, Kentucky restaurant called Allman's in the 1930s. A steakhouse named Kunz's in Louisville was also offering it as far back as the early 1940s. While Lexington, where my grandparents had lived, is close enough to both of these places, perhaps it didn't migrate further until after the 1940s. No matter its journey, today it's enjoyed and sold all over the state.
While no one is exactly sure how beer cheese came into being, the English also have a tradition of a smooth and thick cheese spread known as pub cheese. To make this you blend shredded cheese with cream cheese, and the method for beer cheese is much the same, though as the name implies, a pour of beer into the blend is also introduced. It doesn't have beer, but otherwise it's similar and could be an inspiration for the Kentucky take on the dip.
When looking for beer cheese recipes, I came across the one I'd had in Austin. It was in the head baker, David Norman's cookbook Bread on the Table. Using this recipe as my guide, I decided to also add pickled jalapeños, along with the shredded Cheddar, cream cheese, onion, garlic, dry mustard, and Worcestershire (and beer, of course), to give it a Texan kick.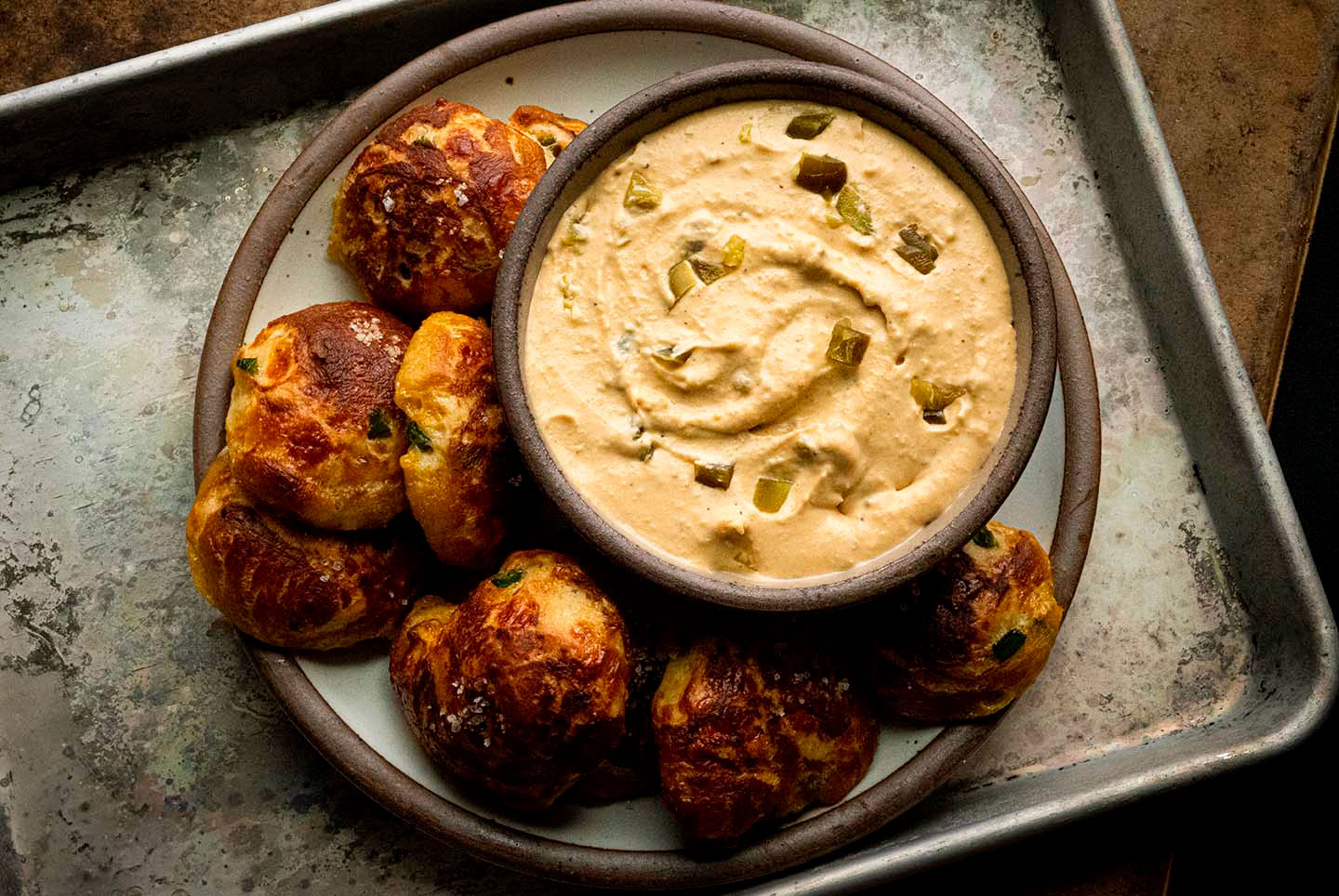 It's simple to put together with a blender or a food processor. And it can be served with crackers, crunchy pretzels, or soft pretzels for dipping. I made a batch of soft pretzels from my pigs in blankets, which paired well with the tangy, lively dip. It will be a fine addition to gatherings, whether one is celebrating Derby Day or simply a lazy afternoon.
—————
Would you like more Homesick Texan? Well, I've started offering additional recipes for paid subscribers to help with the costs of running the site. While I'm not taking anything away, if you'd like to support Homesick Texan and have access to exclusive, never-seen-before subscriber-only posts, please consider becoming a member; annual subscriptions are as low as $25. Thank you for reading, your consideration, and your support!
—————
Jalapeño beer cheese
Ingredients
½

cup

Texas lager or bock beer

8

ounces

sharp yellow Cheddar cheese, shredded

4

ounces

cream cheese, room temperature

1/4

cup

pickled jalapeños, diced

2

tablespoons

finely grated yellow onion

4

cloves

garlic, minced

½

teaspoon

kosher salt

½

teaspoon

black pepper

1/2

teaspoon

dry mustard

1/2

teaspoon

Worcestershire sauce

Pretzels, pretzel rolls, or crackers, for serving
Instructions
In a blender or food processor, add the beer, Cheddar, cream cheese, half of the pickled jalapeños, onion, garlic, salt, black pepper, dry mustard, and Worcestershire sauce. Blend until smooth, scraping down the sides as needed.

Transfer the beer cheese to a bowl, then stir in the other half of the diced pickled jalapeños. Cover and refrigerate for 4 hours before serving. Serve chilled with pretzels, pretzel rolls, and/or crackers.
Notes
Because this isn't cooked, the beer will retain its alcohol. If you want to prepare this and serve it to those who can't have alcohol, I recommend using a good non-alcoholic beer such as Athletic Brewing Company's Upside Dawn or Run IPA.