Shrimp queso flameado with ranchera salsa
There's that big game happening this week, and in honor of the host city New Orleans, I thought that it would be a fun idea to make a Cajun-inspired chile con queso. Shrimp, andouille sausage, melted cheese, jalapeños, and tomatoes—it was going to be good!
Well, I was wrong. Terribly wrong. The queso just seemed strange. How can these ingredients not work together, I wondered. After much thought, I concluded that perhaps it didn't taste all that bad, but trying to come up with a dish to fit the occasion felt false since I don't have much of an investment in this particular game. Matter of fact, the last time this season I felt any real thrill about professional football was a Sunday back in early November, when I was in Houston waiting to return to New York after Hurricane Sandy.
It was an exquisite Texas fall day with a bright blue sky, a cool breeze, and an upbeat energy in the air. Now, I assumed this good feeling came from the beautiful weather, as these clear crisp days are rare in Houston. But as I drove around town and saw flags waving from cars and everyone sporting a jersey, I realized it was a Texans game day, and part of what made the city feel so alive was that Houston was clearly in love with its home team.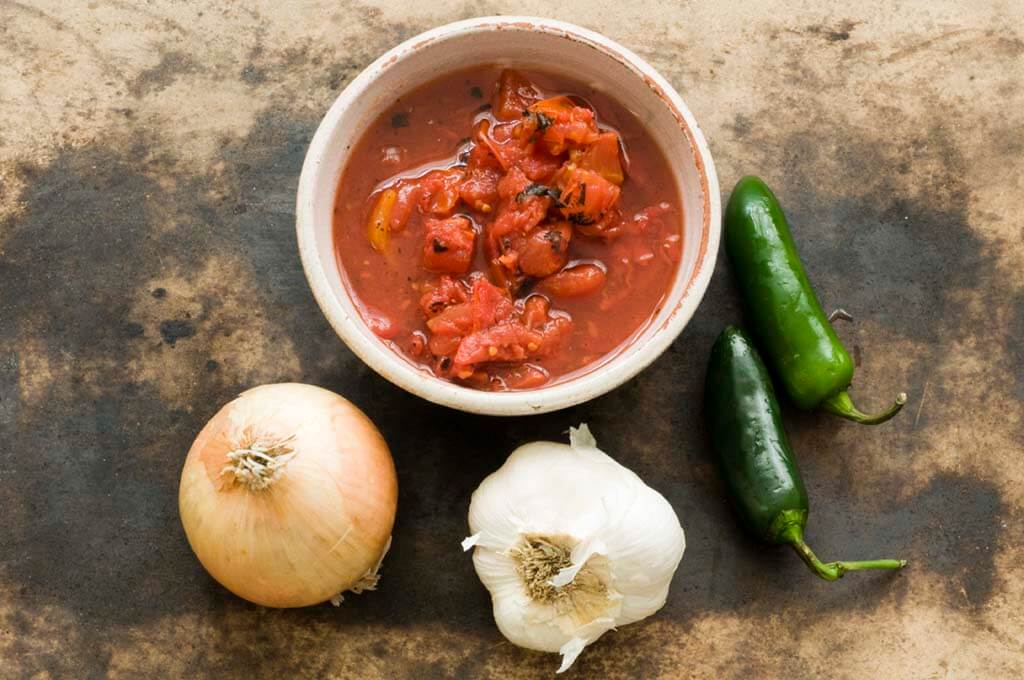 Football, at its most basic, is about community—a group of people connected by a common passion. It had been a while since I'd been in Houston on a game day, but the joy I saw people exhibit for the Texans was contagious. Of course, it helped that the team was playing well, but still—seeing a city so large and diverse as Houston united made me smile.

In hindsight, if I'd been smart, I would have headed to the stadium and joined in some tailgating fun. But instead, I had plans to stop for lunch at Teotihuacan in the Heights. I'd never been there before, but every table seemed to be dipping into sizzling skillets thick with melted cheese. They were eating queso flameado, one of my favorite things. I decided to follow their lead.
It being Houston and all, I opted to go with the shrimp queso flameado. And soon, my own skillet arrived, a luscious bed of soft Monterey Jack topped with garlicky shrimp and piquant red salsa. With a spoon in one hand and a warm tortilla in the other, I got to work. It was the perfect dish for a perfect Houston day.
When I was struggling with recipes this week, I recalled that day back in Houston and decided that shrimp queso flameado was what I really wanted to make. Fortunately, I had on hand all the ingredients to recreate it, and after making a ranchera salsa, sautéing some shrimp and melting some cheese, I was soon enjoying my own taste of Texas in New York City.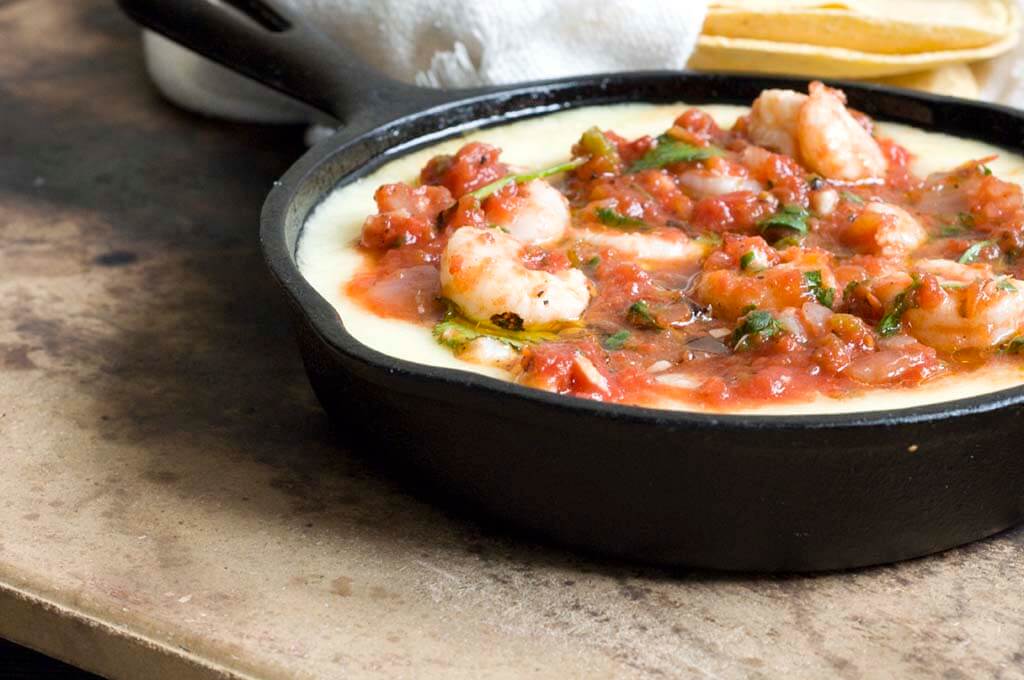 While football is about community, regional cuisine is about community, too. People are united by those familiar foods that they love. So on Sunday when folks are serving up the cuisines of Baltimore, San Francisco, or Louisiana to honor their teams, I'll stick to what I know. And while this shrimp queso flameado isn't exactly aligned with Sunday's game, it reminds me of a happy day in my hometown earlier this season. And that's good enough for me.
Shrimp queso flameado with ranchera salsa
Ingredients
Ingredients for the ranchera salsa:
1

14-ounce can diced tomatoes, preferably fire roasted

1/4

medium yellow onion, peeled

2

whole cloves garlic, peeled

2

jalapeños, cut in half and seeded

1/2

cup

cilantro

Salt
Ingredients for the shrimp queso flameado:
16

ounces

(4 cups) Monterey Jack, shredded

1

pound

small shrimp, peeled and deveined

3

teaspoons

olive oil, divided

2

teaspoons

lime juice

1/4

teaspoon

kosher salt

1/4

teaspoon

pepper

Pinch

of cayenne

1

clove

garlic, minced

Warm corn tortillas or flour tortillas, for serving
Instructions
To make the ranchera salsa, place the tomatoes, onion, garlic, and jalapeños in a medium pot. (Don't worry about chopping the garlic, onion or jalapeños as you'll be putting it in a blender or food processor after it cooks.) Bring the pot to a boil and then turn the heat down to low and simmer for 15 minutes or until the onion, garlic and jalapeño are softened. Turn off the heat and cool for 10 minutes.

Preheat the oven to 350°F. To make the queso flameado, lightly grease a medium-sized, ovenproof skillet and add to the skillet the shredded cheese. Don't put it in the oven just yet. Meanwhile, as the salsa is cooling, toss the shrimp with 2 teaspoons of the olive oil, lime juice, salt, pepper, and cayenne. After the salsa has cooled, pour it into a blender or a food processor, along with the cilantro, scraping the sides of the pan to get out all of the salsa. Pulse the salsa until roughly chopped. Add salt to taste.

At this point, place the skillet with the cheese in the oven and bake until the cheese is melted and bubbling, about 10-15 minutes.

While the cheese is baking, in the same pot that cooked the salsa, heat up the remaining 1 teaspoon of olive oil on medium-low heat. Add the garlic and shrimp along with any marinade juices, and while occasionally stirring cook until the shrimp are pink and firm, about 3-5 minutes. Pour into the pot the ranchera salsa and stir to combine the shrimp with the salsa. Continue to cook for a couple more minutes or until the sauce has warmed up again. Taste and adjust seasonings.

Remove the cheese from the oven and spoon on top of the cheese the shrimp and ranchera salsa. Serve warm with tortillas.