A couple of years ago, a friend asked me to suggest an appetizer to bring to a party. After reminding me that she had all my books and that she was a subscriber to the blog, she was curious if I had anything that she hadn't seen before. Indeed, I did. I sent her a recipe for Mom's curry dip. A few days later, my friend replied that it had been a hit. I was pleased.
Now, I shouldn't have been surprised that the curry dip was popular with my friend's fellow party-goers, since for all the years that my family has made it, it's always one of the first items to go on the snack table, as well.
For instance, my grandma recalled that she once took it to a gathering in Oak Cliff, along with a tray filled with broccoli, carrots, and celery. While that may not sound like the most exciting appetizer, she said that in little time, there was nothing left on the platter. Not a drop of dip or a vegetable.
Despite the name, however, curry dip doesn't hail from India (or any other country that serves curries such as Thailand or Japan). Instead, its roots are American, with its first appearance in a 1954 California Kraft ad for mayonnaise, as that's the standard base for the dip.
Soon after, recipes soon began appearing in Texas Gulf Coast newspapers, suggesting it be served with cold shrimp. Though typically, crudites were the vehicle of choice.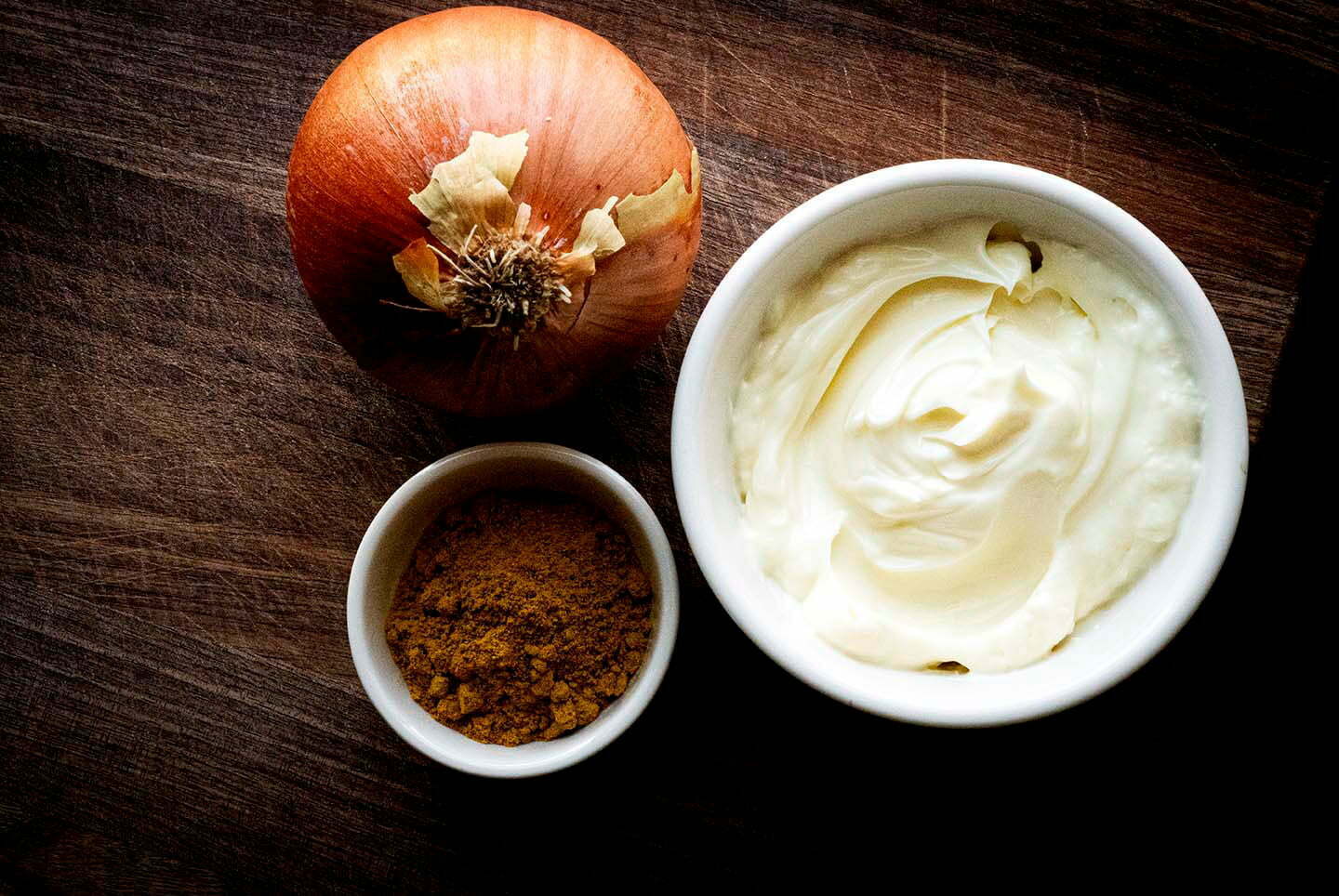 Besides mayonnaise, the main ingredient is curry powder, which lends the dip its name. Much like chili powder, the combination of spices included varies, but typically it's a blend of turmeric, cumin, cayenne, garlic, cayenne, and herbs. Its vibrant color and flavor bring a welcome kick to anything that it's added, too. And as Texans have long had a love affair with spicy, bold flavors, it's a natural fit with Texan cuisine.
Here's is my mom's rendition, which she got at a faculty gathering at Carrollton's June Thompson Elementary (at the time, known as Woodlake) in the early 1970s. Her colleague gave her the recipe and my mom loved it so much she started bringing it to all her events.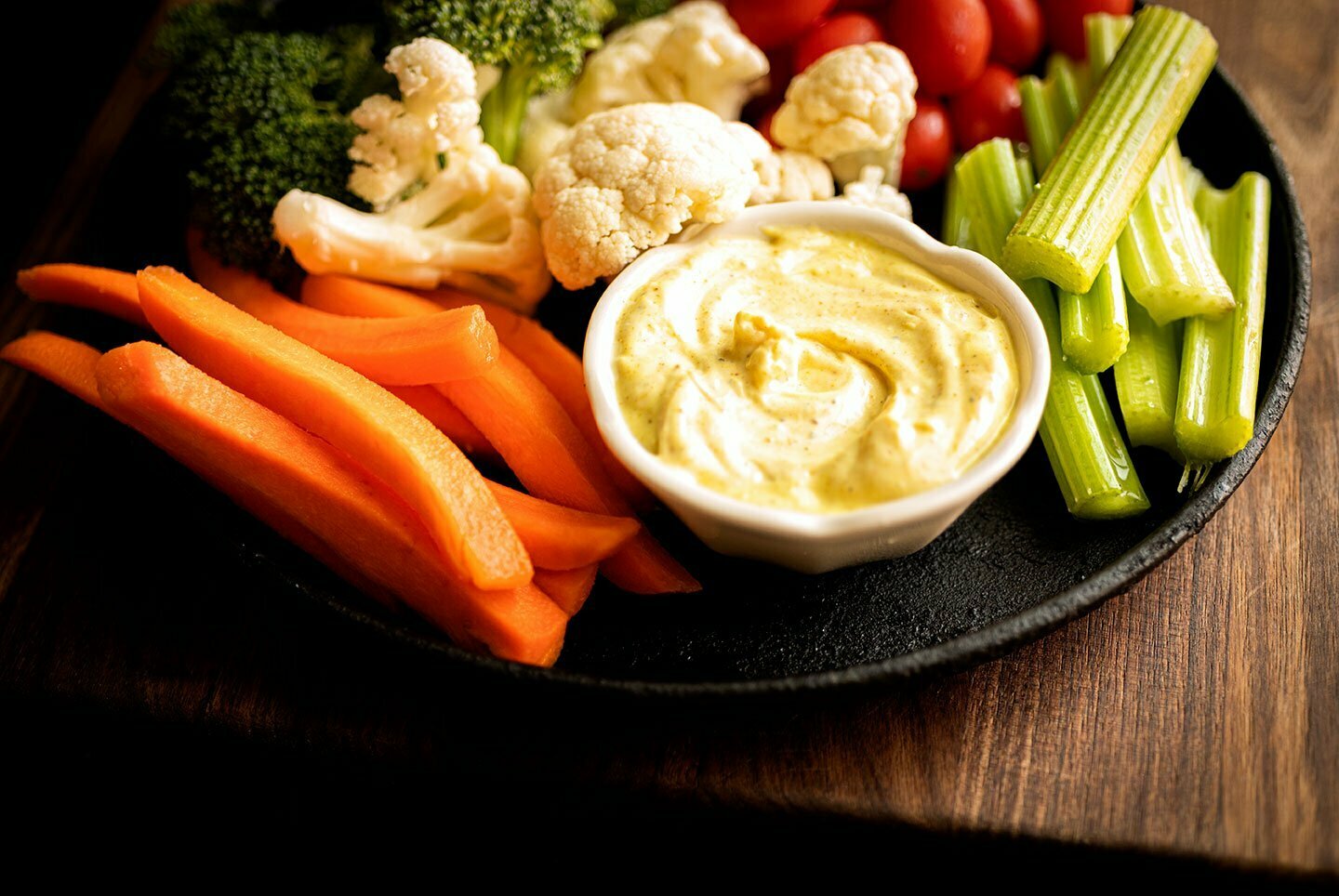 It takes very little time to make and goes well with an assortment of raw vegetables. I haven't tried it with cold shrimp, as Coastal Bend Texans used to enjoy it, though I believe that would be satisfying, too.
You could also serve with chips or crackers, but indeed as my grandma discovered, it especially shines with crudites and in a season filled with heavy foods and drink, a refreshing snack of creamy, spicy dip and crunchy vegetables is a welcome change.
—————
Would you like more Homesick Texan? Well, I've started offering additional recipes for paid subscribers to help with the costs of running the site. While I'm not taking anything away, if you'd like to support Homesick Texan and have access to exclusive, never-seen-before subscriber-only posts, please consider becoming a member; annual subscriptions are as low as $25. Thank you for reading, your consideration, and your support!
—————

Mom's curry dip
Ingredients
1

cup

mayonnaise

2

tablespoons

grated onion

1

teaspoon

curry powder

1

teaspoon

lemon juice

1/4

teaspoon

kosher salt

Crudites, for serving
Instructions
Stir together the mayonnaise, grated onion, curry powder, lemon juice, and salt. Taste and make any adjustments if desired. You can either serve immediately or chilled with crudites for dipping.