Pickled jalapeño deviled eggs
A reader once wrote and asked: "My concern is deviled egg recipes that don't contain vinegar, including yours. My mom taught me that to be deviled, the yolk mix must contain vinegar. Several times lately I've argued my point. Have I entered the twilight zone?"
In my reply, I said that my philosophy is anything tangy and acidic works. My family has always fallen in the mustard camp when it comes to deviled eggs, though vinegar, lemon, or lime juice would also get the job done. I then asked where his mom was from, curious if the preference for vinegar over mustard was regional.
It turned out his mom was a Dallas native who grew up in Houston. And the family recipe had come from a German ancestor who'd lived in Galveston. Taking these geographical clues in hand, I began to investigate.
While I didn't see a vinegar trend in North Texas, when I set my sights on Southeast Texan historical newspapers and cookbooks, I hit vinegar deviled-egg gold. There were several recipes from Houston beginning in the early 1900s, and I found ones from Beaumont, too.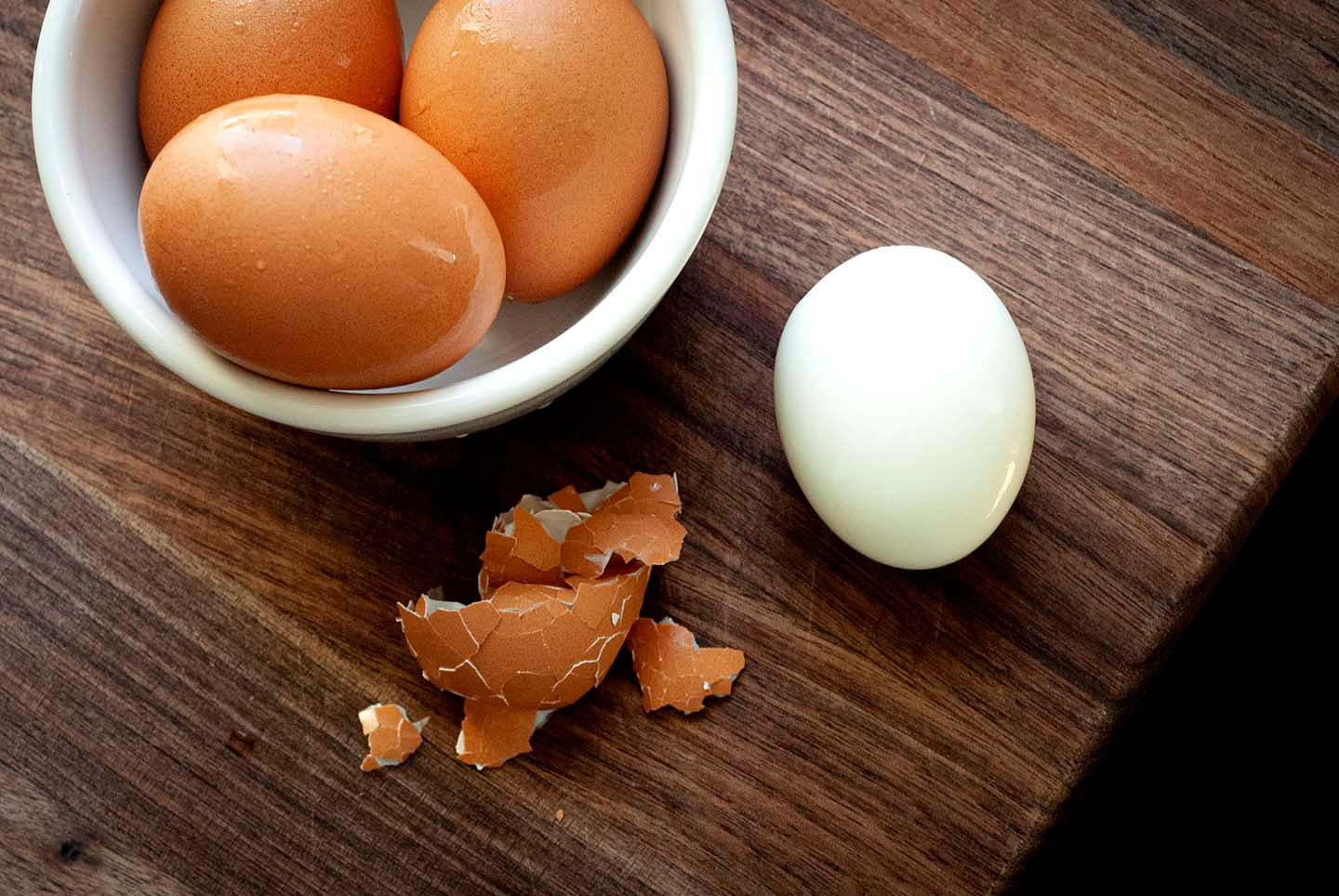 Considering German cuisine's penchant for adding vinegar to dishes, I wasn't surprised to see current German stuffed-egg recipes using vinegar. Likewise, in an Appalachian cookbook, an area where Germans also settled, there was a vinegar deviled egg recipe, as well.
Though oddly, I didn't find any vinegar deviled egg recipes from the Hill Country of Texas, which was unusual as many Germans had settled there.
A 1915 La Grange newspaper article, however, advised that pickle juice was the best way to add zest to one's deviled eggs. Since pickle juice is also largely vinegar, I decided to follow its lead when making my own version of vinegar deviled eggs.
First, I tried using dill pickle juice, but the flavor failed to impress. Someone suggested sweet pickles, but they're not my preference either. Instead, my favorite pickles are hot and tangy pickled jalapeños. Inspired, I grabbed my ever-present jar from the refrigerator and continued with my research.
While I had seen vinegar deviled-egg recipes prepared with butter or olive oil, for the fat component in mine, I decided to stick with my family's tradition of mixing in mayonnaise.
But all past practices ended there, and I veered from the usual by spooning in some of the pickled jalapeño juice, along with a few shakes of ground cumin, garlic powder, celery salt, and cayenne. For more heat and flavor, I chopped up some pickled jalapeños and added those as well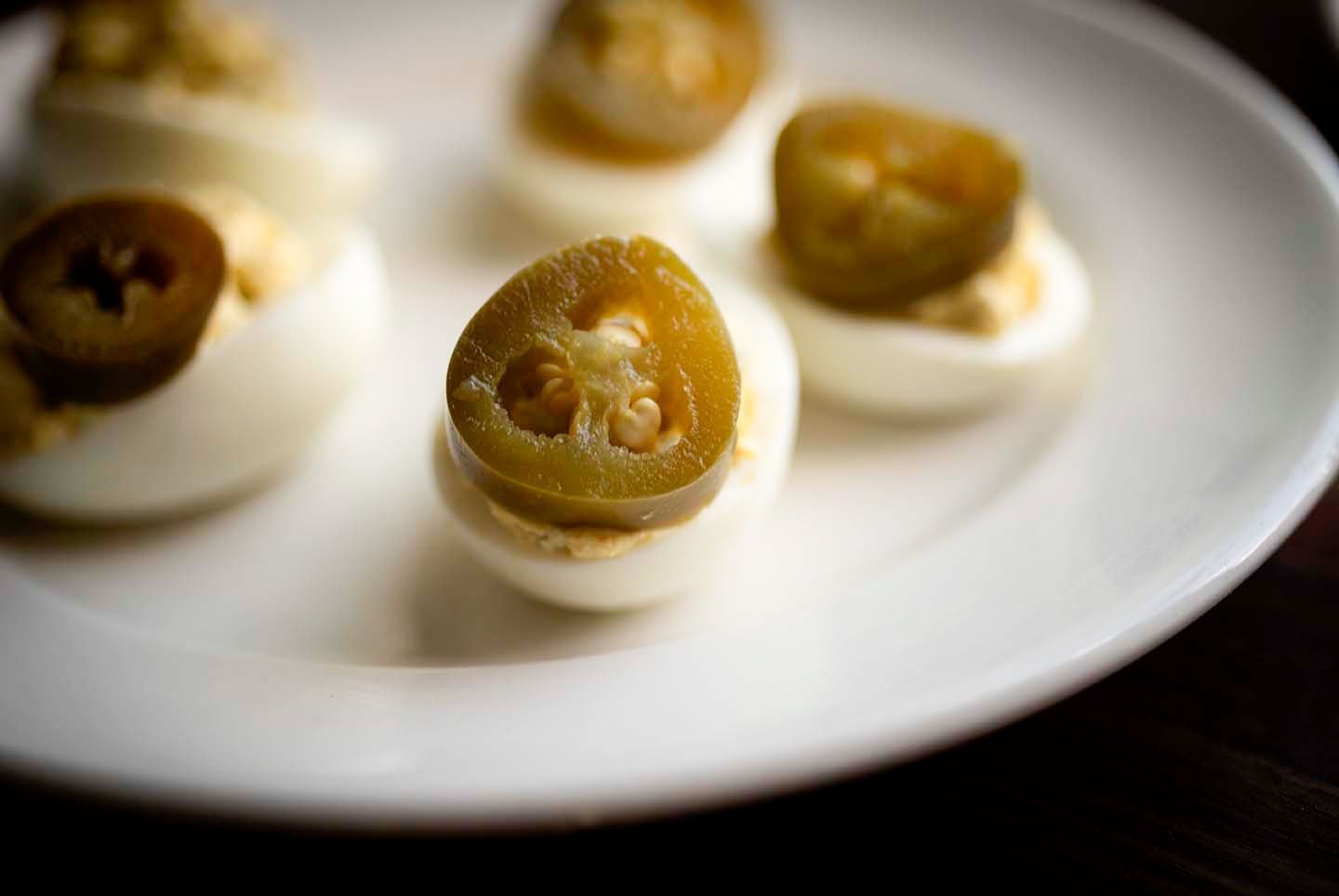 The blend was creamy and tangy with a kick. Satisfied, I stuffed the whites with the filling, then topped each with a pickled jalapeño slice to let everyone know what to expect. I loved each zesty bite, and I didn't miss the mustard at all. 
—————
Would you like more Homesick Texan? Well, I've started offering additional recipes for paid subscribers to help with the costs of running the site. While I'm not taking anything away, if you'd like to support Homesick Texan and have access to exclusive, never-seen-before subscriber-only posts, please consider becoming a member; annual subscriptions are as low as $25. Thank you for reading, your consideration, and your support!
—————
Pickled jalapeño deviled eggs
Ingredients
6

large hard-cooked eggs, peeled and cut in half lengthwise

1

tablespoon

mayonnaise

1

tablespoon

pickled jalapeño juice

2

tablespoons

diced pickled jalapeño slices

1

teaspoon

celery salt

1

teaspoon

garlic powder

1

teaspoon

ground cumin

Pinch

cayenne

Salt, to taste

12

pickled jalapeño slices, for garnish
Instructions
Scoop the yolks out from the eggs into a bowl and mash until smooth. Stir in the mayonnaise, pickled jalapeño juice, chopped pickled jalapeños, celery salt, cumin, garlic powder, and cayenne. Adjust seasonings, also adding more pickle juice or mayonnaise if needed. Add salt to taste.

Scoop or pipe mixture into halved eggs and top each with a pickled jalapeño slice for garnish. Serve immediately or they can be chilled before serving.