Buttermilk potato soup with bacon and roasted jalapeno
My grandma calls me her good cook. She'll say to her friends when I visit, "I don't have to be in the kitchen because my good cook is here!"
Usually, she lets me cook whatever I want. But the last time I visited she wasn't feeling well and she requested that I make her one thing—potato soup.
"Are you sure you want potato soup?" I asked. I explained to her that I'd never made it before and I didn't have a recipe. "There's a great sweet potato soup recipe on my blog that I can make for you," I said.
She said no, she wanted potato soup with regular Russet potatoes, not sweet. She told me that her mom used to make potato soup when she was young and she had a craving. I asked if she had my great-grandmother's recipe and she said she did not. "You're my good cook," she said. "I know you can do it."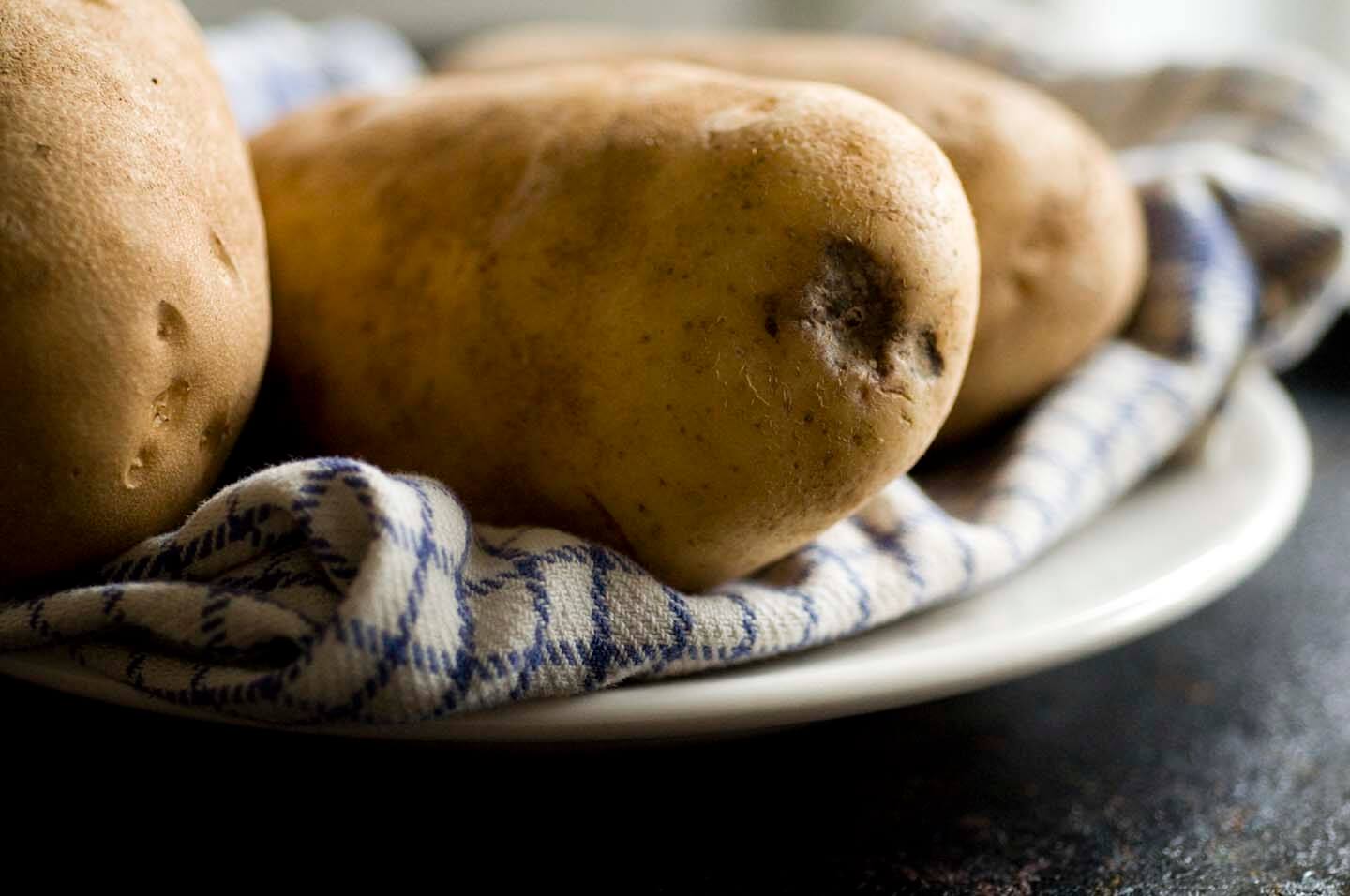 With no recipe, I looked through her refrigerator for inspiration. Most soups start with a base of aromatics such as celery and onions, so I threw those into a pot and cooked them in bacon grease left over from breakfast. I also added garlic, chicken broth and a mess of peeled and cubed potatoes. After I brought everything to a boil, I let it simmer for a while until the potatoes were soft.

My sister-in-law has an amazing touch with mashed potatoes. Her secret ingredient is buttermilk, which leaves the potatoes bright and creamy instead of leaden and heavy. When you eat these potatoes, you feel like you could eat a whole bowl and still feel light. (Okay, that might be a slight exaggeration, but they are less rich than cream- and butter-based mashed potatoes.)
Taking a nod from my sister-in-law, after I pureed my soup I finished it with a generous splash of buttermilk. Because my grandma wanted something bland, I left the roasted jalapeños out of her bowl but added them into mine, along with some crumbled bacon. For the finishing touch, I topped the warm soup with shredded Monterey Jack cheese and a dollop of thick sour cream.
The potato soup tasted pretty darn good to me, but of course the real test would be if my grandma liked it. I ladled it into bowls, set the table and told her lunch was ready. She came into the dining room and sat down. "It smells wonderful in here!" she said.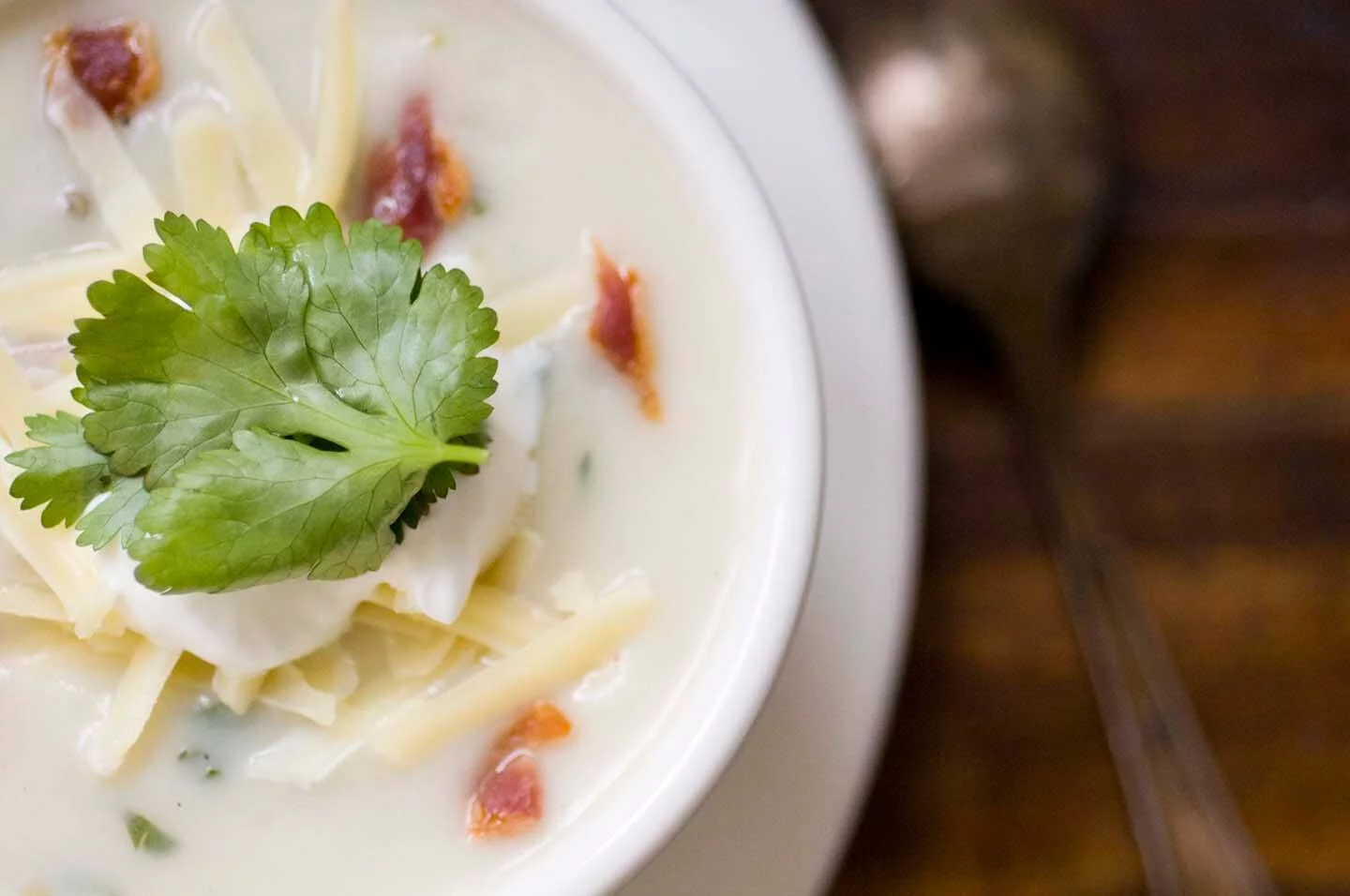 "Is this what you had in mind?" I asked after she took her first bite. She paused, took another and said, "Thank you, this is just what I needed. You're my good cook."
Buttermilk potato soup with bacon and roasted jalapeno
Ingredients
1

or 2 jalapeño chiles

6

slices

of uncooked bacon, diced

1

celery stalk, chopped

1/2

medium yellow onion, chopped

4

cloves

garlic, chopped

4

cups

chicken broth or vegetable broth

2

pounds

Russet potatoes, peeled and cut into 1-inch cubes

Pinch

ground cumin

Pinch

cayenne

2

teaspoons

chopped cilantro

1/2

cup

buttermilk

1/2

cup

half and half

Salt and black pepper to taste

Sour cream, for serving

Monterrey Jack or Muenster, for serving
Instructions
Cook the jalapeños under the broiler, turning once, until blackened, about 10 minutes. Once cool, leave on the charred skin, remove the stem and seeds and finely dice.

In a large skillet, sauté the bacon on medium heat until crisp and the fat has been rendered, about 5 minutes. Remove bacon from skillet and place on paper-towel-lined plate.

Pour 1 tablespoon of the bacon grease into a large pot, reserving the rest for another use. (Leftover bacon grease will keep in the refrigerator for up to six months.) Add the celery and onions to the pot. While stirring occasionally, cook on low heat until soft—about 8 minutes. Add the garlic and cook for 30 more seconds. Add the chicken broth, potatoes, cumin and cayenne. Turn up the heat to high and bring to a boil, then turn the heat to low and simmer uncovered for 30 minutes or until the potatoes are fork tender.

Turn off the heat and let the soup cool for 10 minutes, then pour into a blender and puree. (You may have to do this in batches. Alternatively, you can use a stick blender in the pot).

Return the soup to the pot and stir in the diced jalapeños, cooked bacon, cilantro, buttermilk and half and half. (This is a thick soup, so if you prefer it thinner, add water, more broth, more buttermilk or half and half.) Turn the heat to low and cook for 5 minutes. Adjust seasonings and add salt and black pepper to taste.

Serve topped with sour cream and shredded cheese.
Notes
If you want to keep it lighter and have it be extra tangy, use all buttermilk instead of both buttermilk and half and half.