Dr Pepper oatmeal cake with a coconut and pecan topping
Isn't January supposed to be a healthy month, a time when you renew your gym membership, eat soups and salads and have a piece of fruit for dessert? That's what I always thought, but since New Year's Day I've had at least eight people email me and ask: "How do you make a cake with Dr Pepper?"
While I hadn't had one since I was a kid, I seemed to recall that we would take a chocolate sheet cake recipe and substitute Dr Pepper for the water. This is the advice I gave people over email and they replied that indeed it worked. Now, if there were so many queries about Dr Pepper cake, I figured this cake was worthy of discussion. I'm usually not very organized, but I penciled onto my calendar for this week's post: "Dr Pepper cake."
I wondered, however, if there were other options available. While researching, I found a curious recipe in The Dallas Morning News that combined Dr Pepper with oatmeal. It seemed unusual but the end result was wonderful—a tender, flavorful cake topped with a buttery coconut crunch. I loved it, as the spices kept you warm and the oatmeal made you feel virtuous. This Dr Pepper cake was a perfect cake for January.


Then something changed.

As most of you know, Dr Pepper Snapple recently settled a lawsuit against bottler Dublin Dr Pepper by buying out its rights to make and distribute its cane-sugar version of the beloved Texas soft drink. This means that the Dublin, Texas bottler will no longer bottle Dr Pepper, which had been a huge source of pride and revenue for this Central Texas small town.
The Dublin bottling company was the oldest in Texas that had continually produced Dr Pepper from the original recipe, never switching to high-fructose corn syrup. The bottler drew hordes of tourists who came to see its collection of Dr Pepper memorabilia, antique bottling equipment, and to enjoy sodas and floats in its soda shop. And every June, Dublin would change its name to Dr Pepper, Texas for its annual Dr Pepper birthday celebration.
While cane sugar Dr Pepper tastes good, I think another thing that made Dublin Dr Pepper so beloved was what the brand represented to people in this busy world. When you drank Dublin Dr Pepper in its old-fashioned glass bottles, you felt connected to a less chaotic place—a place where people say howdy to their neighbors, a place where roads only have two lanes, a place where fireflies light up the night, a place where people know your name.
My hope is that those Dublin Dr Pepper employees who lost their jobs find new ones soon and that the town of Dublin's economy does not suffer from this loss. There is, however, some good news: you will still be able to buy cane-sugar Dr Pepper (though it won't have the "Dublin" on the label), the Dublin bottler's Dr Pepper museum and soda shop will remain open, and the bottling company will still make other cane-sugar soft drinks, including another Texan native—Big Red.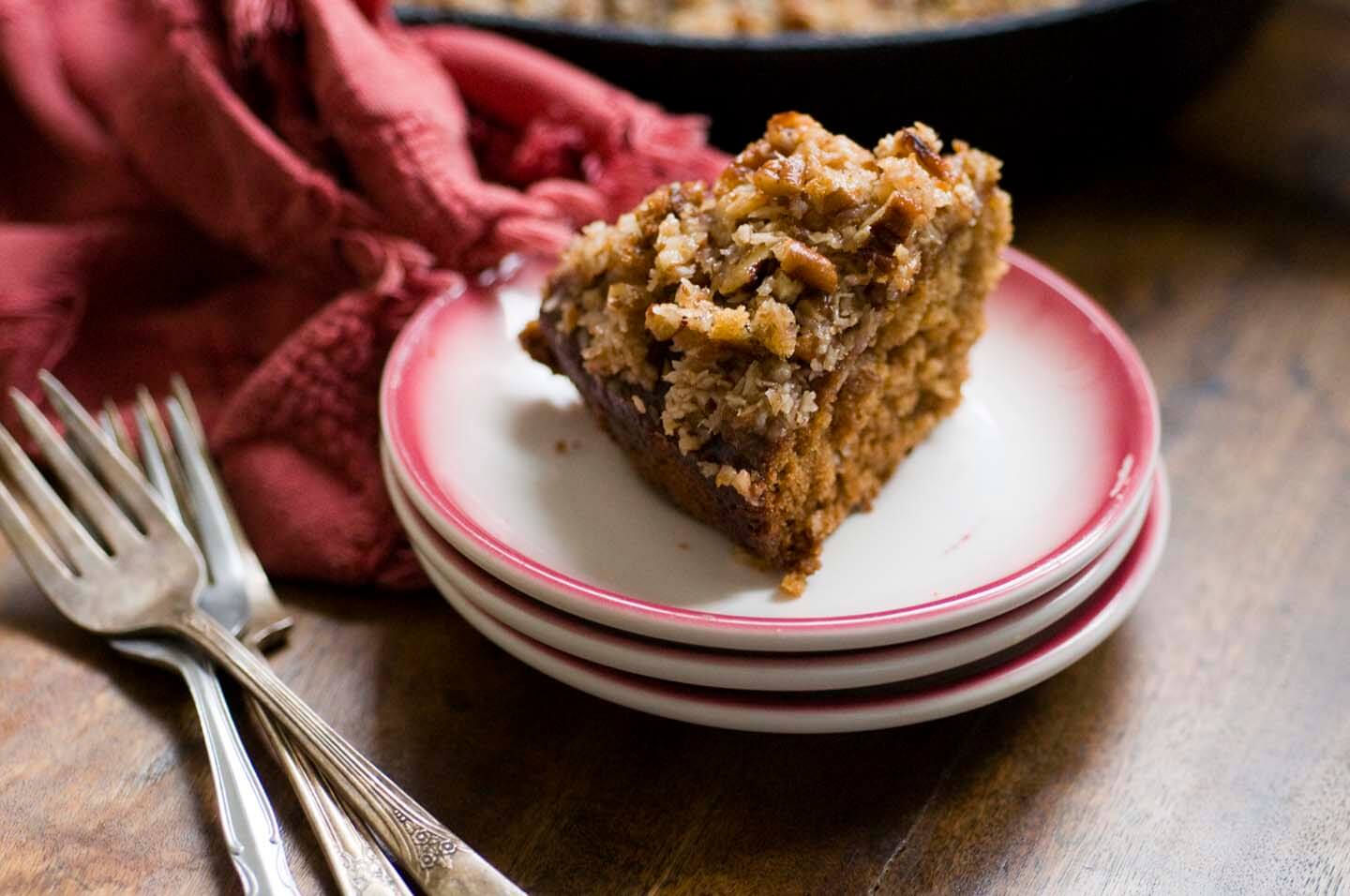 In the meantime, I had only five bottles of Dublin Dr Pepper in my refrigerator and I wanted to share them with as many people as possible. And this simple, old-fashioned Dr Pepper oatmeal cake felt like the best way to say good-bye.
Dr Pepper oatmeal cake with a coconut and pecan topping
Ingredients
Ingredients for the cake:
1 1/4

cups

Dr Pepper (not diet)

1

cup

rolled oats (not instant)

1/2

cup

unsalted butter, room temperature

1/2

cup

granulated sugar

1

cup

brown sugar

2

large eggs, beaten

1/2

teaspoon

vanilla extract

1 1/2

cups

all-purpose flour

1

teaspoon

baking soda

1/2

teaspoon

ground cinnamon

Pinch

of ground allspice

Pinch

of ground nutmeg

1/4

teaspoon

kosher salt
Ingredients for the icing:
1/2

cup

butter, melted

1/2

cup

brown sugar

1/4

cup

buttermilk or half and half

1/4

teaspoon

ground cinnamon

Pinch

of salt

1

cup

shredded coconut

1

cup

roughly chopped pecans
Instructions
Preheat the oven to 350° F and grease a 9×9 cake pan. (You can also use large cast-iron skillet if you prefer.)

Pour the Dr Pepper over the oats and let it sit for 10 minutes or until the oats are hydrated.

Cream together the butter, granulated sugar and brown sugar until well blended. Add the beaten eggs and vanilla and stir until fluffy. Sift together the flour, baking soda, cinnamon, allspice, nutmeg and kosher salt. Add flour mixture and Dr Pepper and oatmeal to the creamed butter and eggs, and stir until a thick batter is formed.

Pour the cake batter into the pan, and bake uncovered for 35-45 minutes, or until an inserted knife comes out clean.

Ten minutes before the cake is done, make the icing. On low heat, melt the butter, and then stir in the brown sugar, buttermilk, cinnamon, salt, coconut and chopped pecans.

When the cake is done, turn on the broiler. While still warm, spread on top of the cake the icing, and place the iced cake under the broiler for 15-30 seconds are until lightly browned.
Notes
If you're not a coconut fan, this cake would also be great with a cream cheese frosting. And if you don't won't to use Dr Pepper, you can substitute root beer.