Banana, bacon, and pecan pancakes
There are many ways to say I love you, and in my family, some folks have decided that pancakes are the way to show they care.
First there was my grandfather, who you'd find every Saturday flipping fat fluffy pancakes stuffed with blueberries and pecans. Then there's my uncle and his famous Mexican pancakes, a concoction so outrageous that he's been known to travel with a special skillet that's used especially for these large pancakes loaded with pineapple and coconut. My brother has also taken to making pancakes, and on Christmas morning the family visited in the kitchen as he made stack after stack after stack.
Pancakes and love have been on my mind this week, as it's not only the first week of Lent but Valentine's Day is happening, too.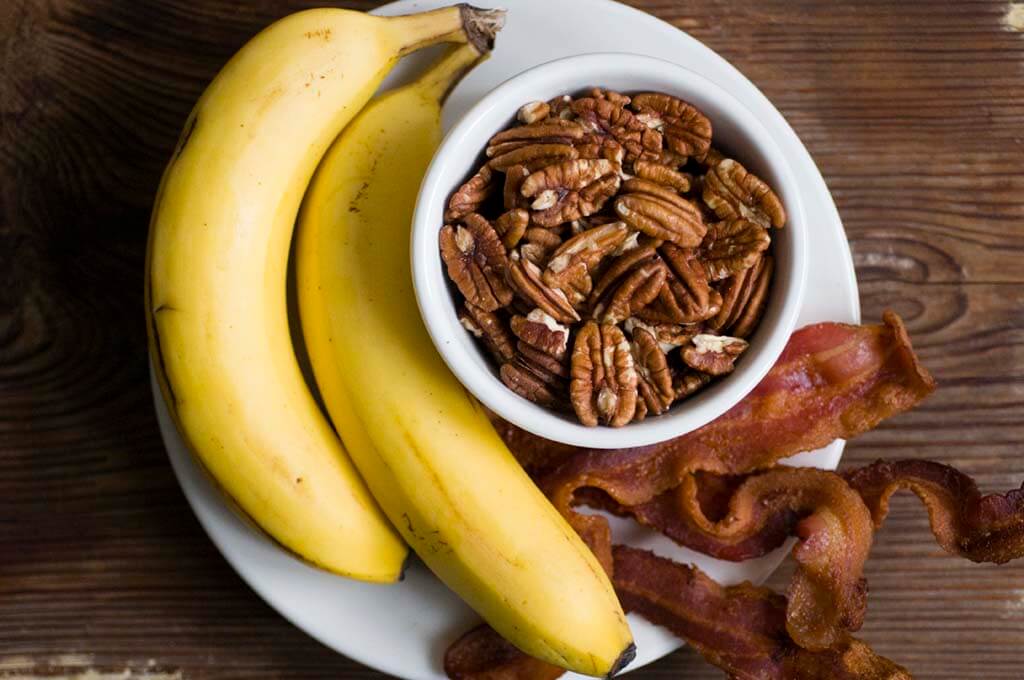 Shrove Tuesday, which in England is known as Pancake Tuesday, is that last hurrah before Lent begins. Of course, Shrove Tuesday is also known as Mardi Gras. And growing up in Houston, which is close to Galveston and New Orleans, two places rich with Mardi Gras traditions, I always felt a little strange spending that particular Tuesday hanging out in my church's parish hall eating pancakes instead.

A few years ago, however, some British friends of mine were adamant about celebrating Shrove Tuesday and we emptied our refrigerators and pantries and came up with all sorts of crazy pancakes, both savory and sweet. It might not have been a parade down Bourbon Street, but it was still pretty wild.
The spirit of that evening lived on recently, as I found myself with too many bananas. While my first thought was to make banana bread, I decided that banana pancakes sounded far superior. And as I was already frying up some bacon, I figured I'd chuck a few pieces of it into the batter. Then a little research lead me to a Bon Appetit recipe for a caramel banana topping, which I dolled up with even more bacon along with some fresh pecans for a bit of crunch, too.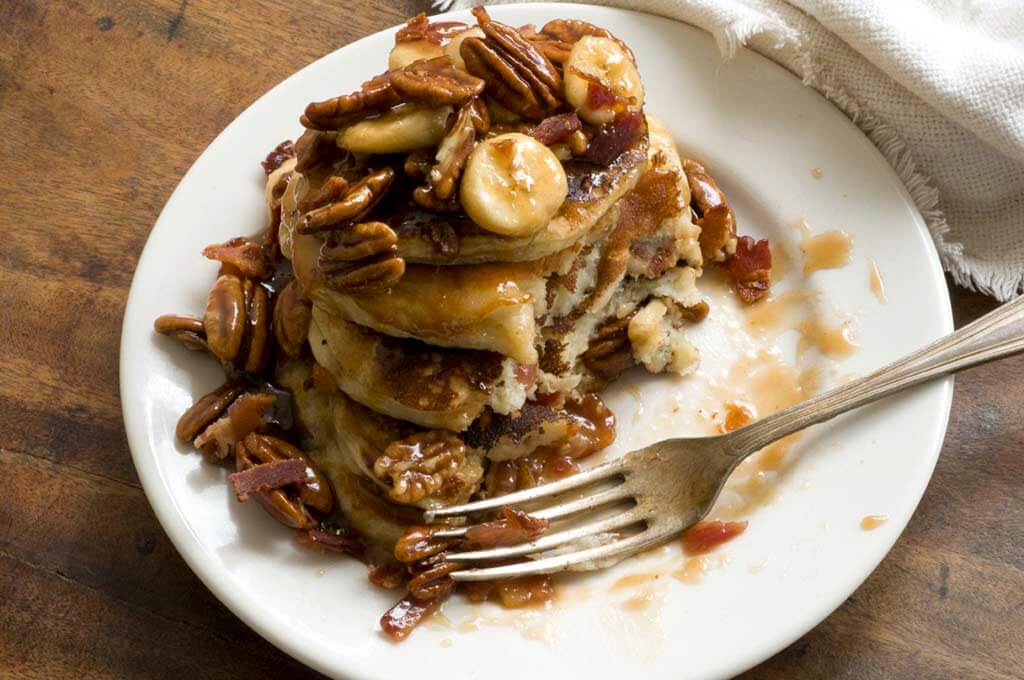 Sweet, smoky, salty, and nutty. These are tremendous pancakes. You could certainly eat a stack on Shrove Tuesday and feel like you've indulged quite a bit. Though they also make for a fine special day breakfast. And whoever is lucky enough to eat them will know immediately how you feel, as these banana, bacon, and pecan pancakes are a perfect way to show you care.
Banana, bacon, and pecan pancakes
Ingredients
Ingredients for the topping:
1/2

cup

unsalted butter

1

cup

brown sugar

1/2

cup

water

1

teaspoon

vanilla extract

1/4

teaspoon

cinnamon

2

bananas, peeled and sliced into 1/4-inch rounds

1/2

cup

pecans

4

slices

cooked bacon, crumbled

Salt
Ingredients for the pancakes:
2

cups

all-purpose flour

1

tablespoon

baking powder

2

tablespoons

granulated sugar

1/4

teaspoon

kosher salt

1 1/2

cups

buttermilk

1

large egg beaten

1/4

cup

vegetable oil

1

teaspoon

vanilla extract

1

banana, peeled and mashed

2

slices

cooked bacon, crumbled

1

tablespoon

butter, room temperature, divided
Instructions
To make the topping, in a pot, on medium heat melt the butter, brown sugar, and water. When it comes to a boil, after about a minute, continue to boil for 1-2 more minutes or until it's slightly thicker and syrupy. Turn off the heat and stir in the vanilla, cinnamon, bananas, pecans, and bacon. Add a sprinkle of salt to taste.

For the pancakes, mix together the flour, baking powder, sugar, and salt. Beat together the buttermilk, egg, vanilla, and oil and pour into the flour mixture. Add the mashed banana and crumbled bacon, and stir until a thick batter is formed.

Preheat the oven to 200°F and line a baking sheet with parchment paper. Heat a skillet on medium and add a dab of the softened butter to the skillet to grease it. Pour 1/4 cup of the batter into the skillet and cook for a about 2 minutes on one side, until the edges are slightly set and bubbles begin to form in batter. Gently flip the pancake and cook on the other side a couple more minutes or until an inserted toothpick comes out clean. Place cooked pancake in the oven, and continue for the rest of the batter, adding a dab of butter to grease the skillet when necessary.

To serve, stack 3-4 pancakes on each plate and cover with the topping.