Uncle Austin's Mexican pancakes with coconut
The day before Ash Wednesday? Yep, I'm a pancake eater. I grew up in an Episcopalian family and that's how we rolled—in warm griddlecakes and cold glasses of milk. And even though most of my friends prepare for Lent in a more colorful style, old traditions are hard to shake and I still enjoy a tall stack of pancakes on Shrove Tuesday.
Pancakes might not be shiny beads, feathered costumes, fevered dancing or boisterous singing, but they don't have to be completely boring. I've been known to serve gingerbread pancakes, buttermilk pancakes, banana nut pancakes and chocolate chip pancakes. But to truly get in the frenzied spirit on the eve of Lent, Uncle Austin's coconut pancakes (more colorfully known as Uncle Austin's Mexican pancakes) are a definite must.


When I was young, Austin would make these pancakes for us on special occasions. Their main attraction was their size—he'd make one pancake the entire width of a 10-inch pan. And you didn't even have to share this big baby—no way—this over-sized coconut pancake was all for you!

But incredible heft aside, Austin's Mexican pancakes were sweet with fresh coconut, and some family members allege that there was chocolate and nuts in them as well.
I asked Austin for his recipe, but he said that not only had he not made these in 30 years, but also that he never really had one. Instead, he just took my grandpa's basic pancake recipe and dolled it up a bit with the shredded coconut, chunks of brown sugar and extra pats of butter.
Curious why they were known as Mexican pancakes, he admitted that there was nothing authentically Mexican about them, but it was very, very important to be listening to Tejano music, preferably loud, while making them. He stressed, however that the main excitement was in the flipping of the 10-inch pancake—the messier the better!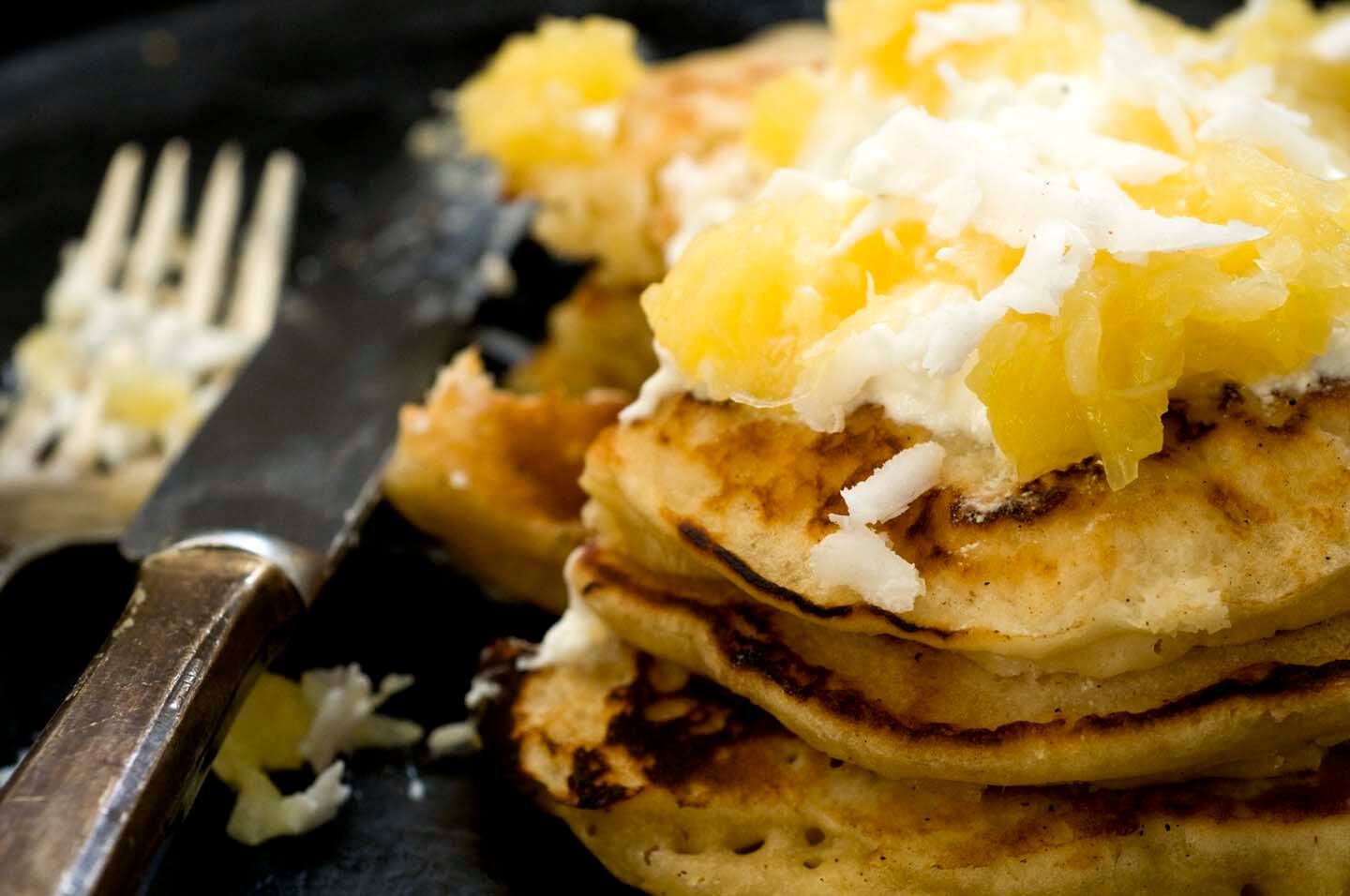 If you're celebrating pancake Tuesday, why not try Uncle Austin's Mexican coconut pancakes—they're far more adventurous than your usual buttermilk pancakes. And with the Tejano thumping and the pancake batter flying, it may be the most thrilling pancake supper you've ever had!
What's your favorite pancake recipe?
Coconut pancakes (Uncle Austin's Mexican pancakes)
Ingredients
1

large egg

1 1/2

cups

whole milk

2

cups

all-purpose flour

1

tablespoon

whole-wheat flour

1

tablespoon

fresh baking powder

1/2

tsp

kosher salt

1/4

cup

brown sugar

1/2

cup

fresh shredded coconut

2

tablespoons

freshly squeezed lime juice

1/4

teaspoon

ground cinnamon

4

tablespoons

unsalted butter, melted
Instructions
Beat together the egg and the milk.

Stir in the rest of the ingredients and mix until smooth. If too thick, add more milk.

For regular-sized pancakes, pour 1/4 cup of batter onto greased skillet heated at medium low. For Austin-sized pancakes, pour about 1 1/2 cups to 2 cups of batter into pan.

Cook for a few minutes on one side, until edges are brown and bubbles form in batter. Flip and cook on other side a couple more minutes.
Notes
Chopped pecans and chocolate chips are an excellent addition if you like. Austin recommends serving them with pineapple and I agree. I also top my pancakes with yogurt, but honey or syrup would be dandy as well. And Austin didn't add limejuice or cinnamon in his original recipe—that was my doing.