Green chile creamy avocado salsa
The first time I had the creamy green salsa found on many Houston Tex-Mex tables, it was an eye-opener. It was cool, creamy, and bright with just a hint of spice. I was in love and it became my favorite thing about the whole dining-out experience in Houston.
Mama Ninfa Laurenzo of Ninfa's fame was the one who popularized this style, as she was among the first to make this salsa a common accompaniment to chips along with the usual red. Her recipe has been published many places, and in the early days of this site I ran the one that had been in the Houston Chronicle.
Now, her version calls for sour cream, though along the border and in Mexico, Mexican crema would be more common. For years, I made it this way and was pleased. A few years ago, however, I came across an avocado salsa that had all the tang and spice of hers, yet it was dairy free. I published a recipe for this in my first book, and while sometimes I go back to the sour cream version, more and more I prefer to make it without.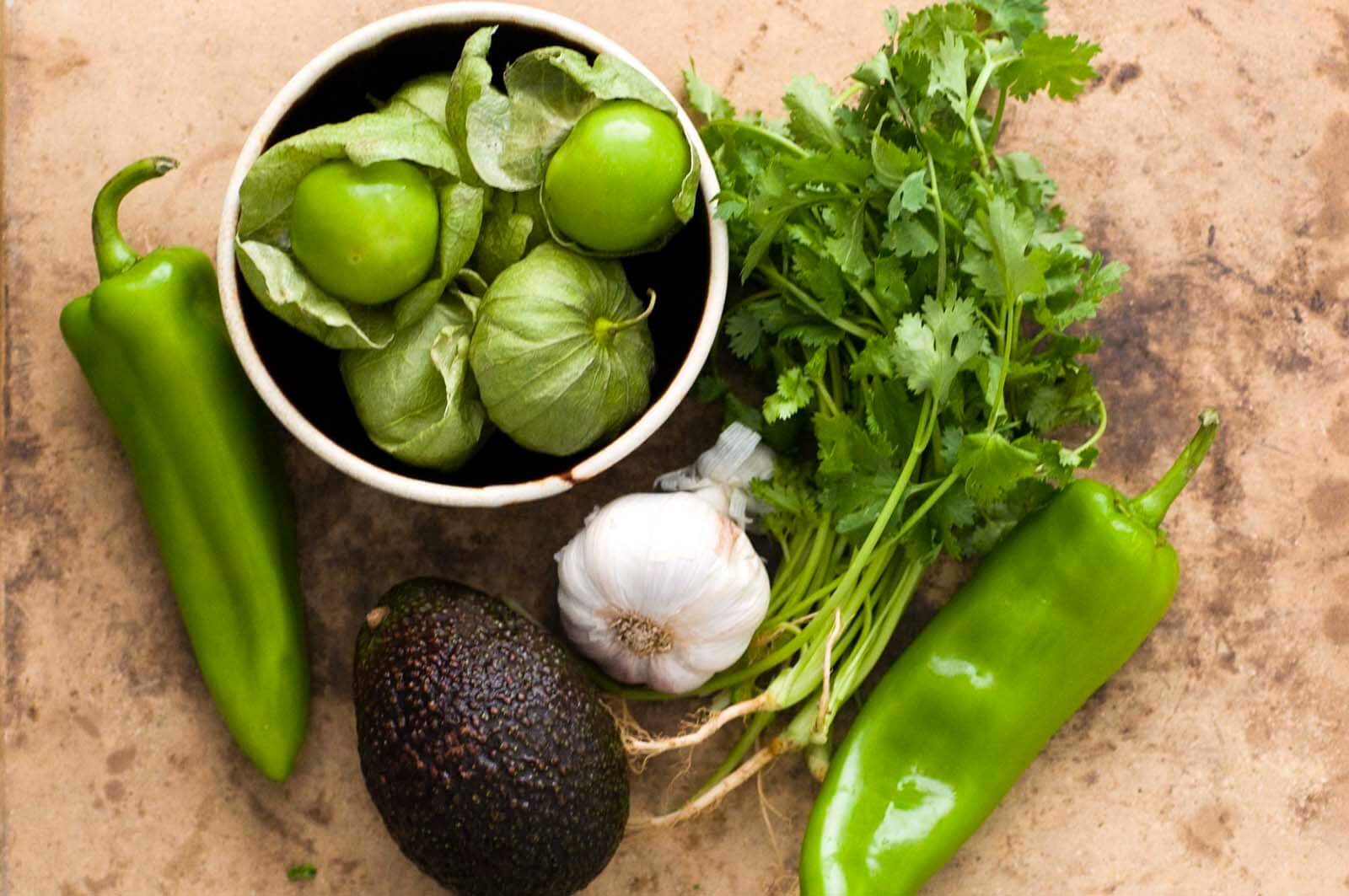 This style of creamy avocado salsa is a popular condiment to tacos, flautas, and steak in Northern Mexico and along the border. A healthy handful of tomatillos is mixed with avocado, cilantro, garlic, and chiles to form a silky blend. This allows the avocado to go further than it would in guacamole, which makes for a cost effective yet tasty sauce.
You see it all over the Rio Grande Valley, where Laurenzo was from, so it makes sense that she would offer it at her restaurants. The sour cream was probably added to make the ingredients stretch further, but even without sour cream it's still smooth, and if you're working on a small scale, not using it makes for a more intensely flavored dish.
The chiles in creamy avocado salsa are usually small piquant ones such as serrano or jalapeños. But since chiles are now in season and long green chiles, which are found under the name Hatch, Anaheim, or New Mexican, are available in abundance I thought it would be fun to try it with those instead.
Typically, you boil the tomatillos, but since I was roasting my long green chiles to remove the tough skin, I added my tomatillos to my skillet, as well. After the tomatillos were darkened and the chiles had been peeled, I then pureed them in a blender along with an avocado, garlic, lime juice, and a healthy handful of cilantro.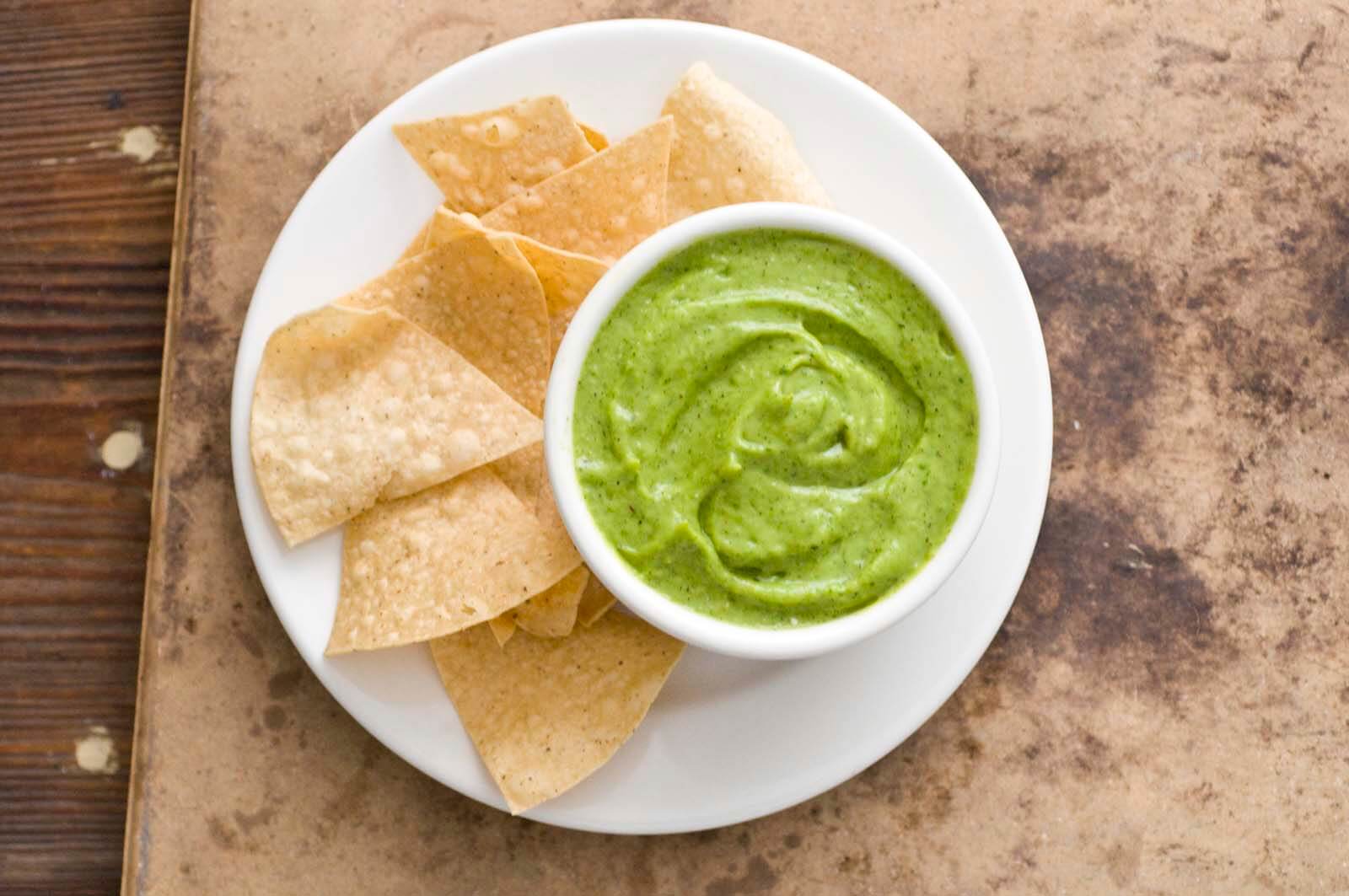 The result was creamy and good, with an added depth from the roasting of the chiles and tomatillos. While I had been concerned that the blackened skins from the tomatillos might affect the salsa's color, it turned out as vibrant and green as always. While it wasn't as fiery as it would be if made with serranos, my long green chiles were hot enough to make this batch plenty sharp. Most importantly, however, is that this green chile creamy avocado salsa is still a much beloved and familiar friend.
Green chile creamy avocado salsa
Ingredients
2

long green chiles such as Hatch or Anaheim

1/2

pound

tomatillos, husked

1

avocado, peeled, pitted, and cut in half

2-3

cloves

garlic

1/2

cup

cilantro leaves

1

teaspoon

lime juice

¼

cup

water

Salt
Instructions
Roast the chiles and tomatillos under the broiler until blackened on both sides, about 10-12 minutes, turning once. Once blackened, place the chiles in a paper sack or plastic food-storage bag, close it tight and let the chiles steam for 20 minutes. Place the tomatillos in a blender.

After the chiles have steamed, remove from the bag and rub off the skin. Remove the stems and seeds from both the chiles and add to the blender.

Add the avocado, garlic, cilantro, lime juice, and water to the blender. Puree until smooth, then add salt to taste (I usually start with 1/2 teaspoon kosher salt). If too thick, feel free to thin it with more water.

Will keep in the refrigerator for 3 days.