Green chile chicken salad
The other day a friend in Texas was telling me about all the Hatch chile items she'd bought at the store on a recent visit. Besides whole roasted chile peppers, she also picked up salsa, tortillas, cobbler, and chips. But the thing she gushed about the most was a limited-edition Hatch chile chicken salad. "We ate the whole container in one sitting," she said.
Chicken salad is something that I enjoy, especially when it's hot outside, but I've never felt compelled to eat a whole quart at one time. My interest piqued, I asked my friend what made the chicken salad so special. She explained that it was your basic chicken salad but it had been livened up with green chiles and corn. Those two ingredients took it to another realm, as the peppers added some heat and the corn gave the salad a sweet crunch.
Now when you think of Texan cuisine, I will admit that chicken salad isn't the first thing that comes to mind. Yet there are written records of it being served as far back as the 1850s and there are no less than six recipes for chicken salad in The First Texas Cookbook published in 1883. While perhaps it's not considered an iconic Texan dish today, it is still very much a part of the state's culinary history.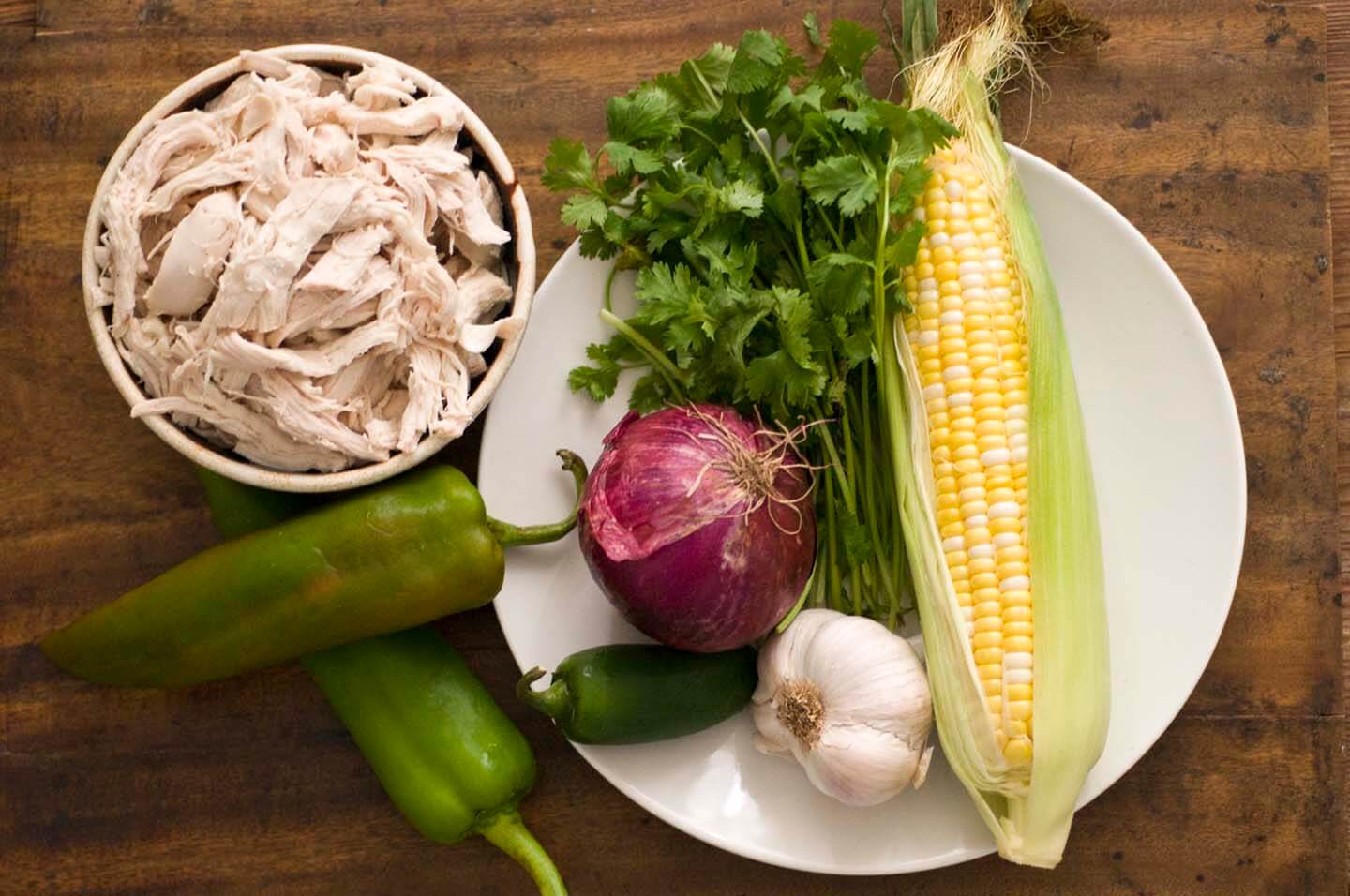 The chicken salads I grew up eating were usually made with chicken, pecans, and grapes, combined with either an herbed or a curried mayonnaise. Both are very good and perhaps I'll discuss them further at another time. (Then there is my great-grandma Blanche's version with lemon gelatin, which I will probably not discuss at another time.) But the chicken salad my friend described with green chiles was new to me, and since I was curious if it was as wonderful as she said, I decided to make my own version at home.

To start, I poached a whole chicken in water studded with jalapeño and cilantro. Once that was done, I shredded the chicken and tossed it with roasted green chiles, garlic, onions, celery, cumin, corn, and cilantro, along with some diced fresh jalapeños for additional crunch and flavor. To bring it all together, I dressed the salad with mayonnaise along with freshly squeezed lime juice for brightness and a bit of mustard for its bite.
While I had no idea if my green chile chicken salad tasted anything like my friend's, I was very pleased with the results, as it was tangy, spicy, and good. The chiles provided some heat but it was the corn that made the salad shine, as the fresh kernels gave each bite a nice pop.
The salad takes very little time to make, with waiting for the chicken to cook being the longest step. Though if you wanted to make this even easier, you could use leftover chicken or grab a rotisserie chicken from the store. And if you're looking for ways to cut down on fat and calories, I found that substituting Greek yogurt for some (or all) of the mayonnaise worked well, too.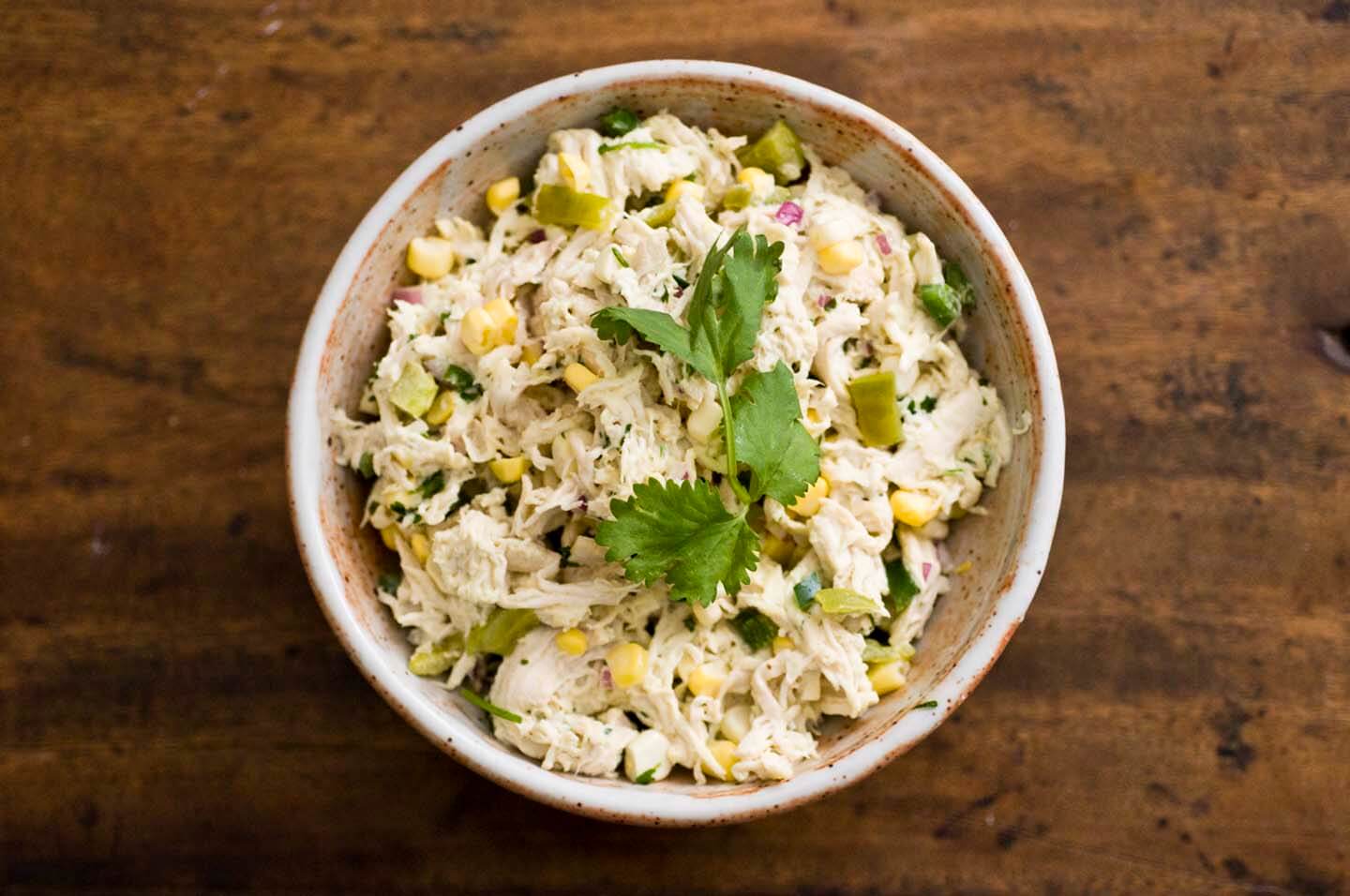 Like most chicken salads, this pairs well with lettuce, especially crisp iceberg, but it's also terrific with tortilla chips and crackers. You could stuff an avocado, tomato, or bell pepper with it, or if you're looking for something to throw into a lunchbox, it makes for a fine sandwich, too.
Though don't be surprised if you eat this all in one sitting, as like my friend, you may discover that green chiles and corn added to chicken salad does indeed make for a captivating mix. This might not be the chicken salad my great-grandmothers made, but I'm not complaining as it's an old favorite made fresh and new.
Green chile chicken salad
Ingredients
Ingredients for the chicken:
1

3- to 4-pound whole chicken

4

cloves

garlic, peeled

1

bay leaf

1

leafy cilantro sprig

1

tablespoon

kosher salt

1

teaspoon

black peppercorns
Ingredients for the salad:
2

Hatch, Anaheim, or Poblano chiles

4

cups

cooked, shredded chicken

1

ear of corn, kernels removed or 3/4 cup fresh corn kernels

1

jalapeño, seeded and diced

1

celery rib, finely diced

1/4

medium red onion, finely diced

3

cloves

garlic, minced

1/2

cup

chopped cilantro

1

teaspoon

ground cumin

Pinch

cayenne

3/4

cup

mayonnaise

2

teaspoons

yellow mustard

1

tablespoon

freshly squeezed lime juice

Salt
Instructions
To poach the chicken, place the chicken breast side down in a large pot along with the garlic, bay leaf, cilantro, salt, and peppercorns. Add enough water to the pot to cover the chicken. On high heat, bring the pot to a boil and then turn the heat down to low. Simmer uncovered for 1 hour.

After an hour, remove the chicken with tongs and place in a large bowl and allow to cool for 20 minutes. If you like, you can strain the broth and reserve it for another use. Once the chicken has cooled, remove the skin and bones and shred the chicken with your hands or two forks. You should have about 4 cups of chicken meat.

As the chicken is cooking, roast the Hatch, Anaheim, or Poblano chiles under the broiler until blackened, about 5 minutes per side. Place the chiles in a paper sack or plastic food-storage bag, close it tight and let the chiles steam for 20 minutes. After the chiles have steamed, remove from the bag and rub off the skin. Remove the stems and seeds from the chiles and dice.

To make the salad, in a large mixing bowl, stir together the chicken, diced green chiles, corn, jalapeño, celery, onion, garlic, cilantro, cumin, cayenne, mayonnaise, mustard, and lime juice until well combined. Taste and adjust seasonings. Add salt if needed, and if the salad seems too dry, feel free to add more mayonnaise, too.
Notes
If you want to cut down on the fat, you can substitute plain Greek yogurt for some or all of the mayonnaise. If you do this, taste before adding the mustard to make sure the salad isn't too tangy.