This summer has gone by fast and I'm still a little surprised that it's August and people are returning to school. I've spent my summer working, which is not a complaint because I love what I do. But it I am disappointed that I haven't had the time to make a trip to West Texas, which is one of my favorite places to unwind.
While I cherish the rugged vistas and laid-back people you find in West Texas, one of my favorite things about this region is the food, as it varies from the rest of the state. For instance, you'll find dishes such as stacked enchiladas and red chile-based stews that aren't typical to other parts of Texas.
But one of the main things I love about West Texan cuisine is the assertive presence of long, green chiles. These chiles, which are locally grown near El Paso in both Texas and New Mexico, are generously added to their salsas, stews, and enchiladas, among many other things. And while August is a time when many celebrate these chiles, in West Texas, green chiles are cherished throughout the year.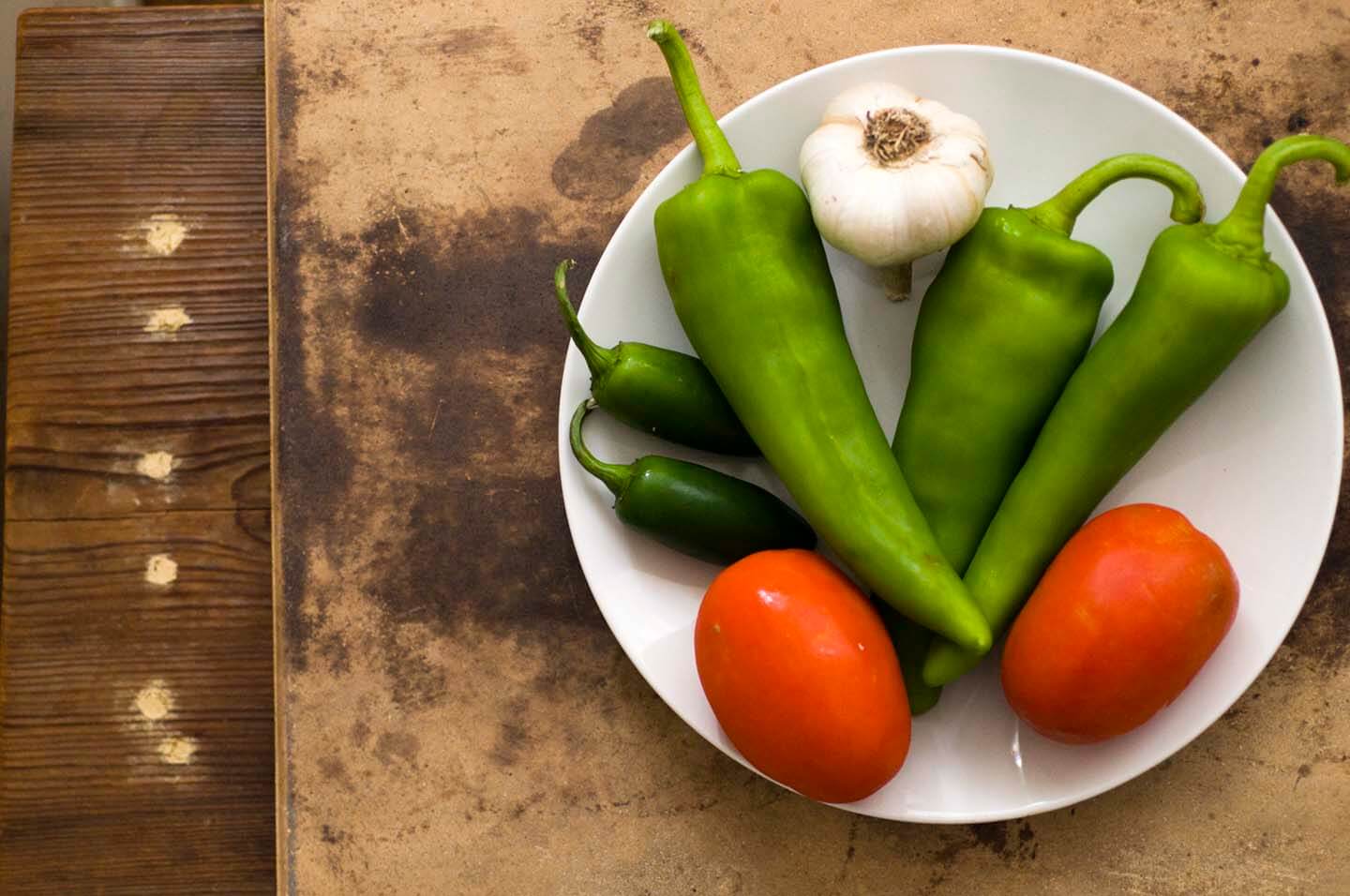 To eat long, green chiles—whether it's a Hatch, a green chile that has been cultivated and grown in Hatch, New Mexico; an Anaheim, to which the Hatch is related; or a poblano chile, a darker, wider chile than the others—you first need to roast them in order to remove the tough skin. Because this is done, the chiles not only contain their bright, earthy flavor but also carry a hint of smoke from the roasting, which makes them all the more robust and appealing.
Late summer is prime salsa season for me, and while most of the year I make it with canned tomatoes, in the summer when tomatoes are ripe and delicious, I use fresh. One of my favorite summertime salsas is quite simple. I broil tomatoes, jalapeños, and garlic until they've charred, then I whir them in the blender (or smash in a molcajete) until it all comes together. It's easy and good.
While a tomato-based table salsa is prevalent throughout most of Texas, in the western part of the state you'll often find green chile-based salsas, too. Since green chiles are in season, I decided to make my usual summer salsa but with a more assertive green-chile presence instead. I wanted a West Texas roasted salsa.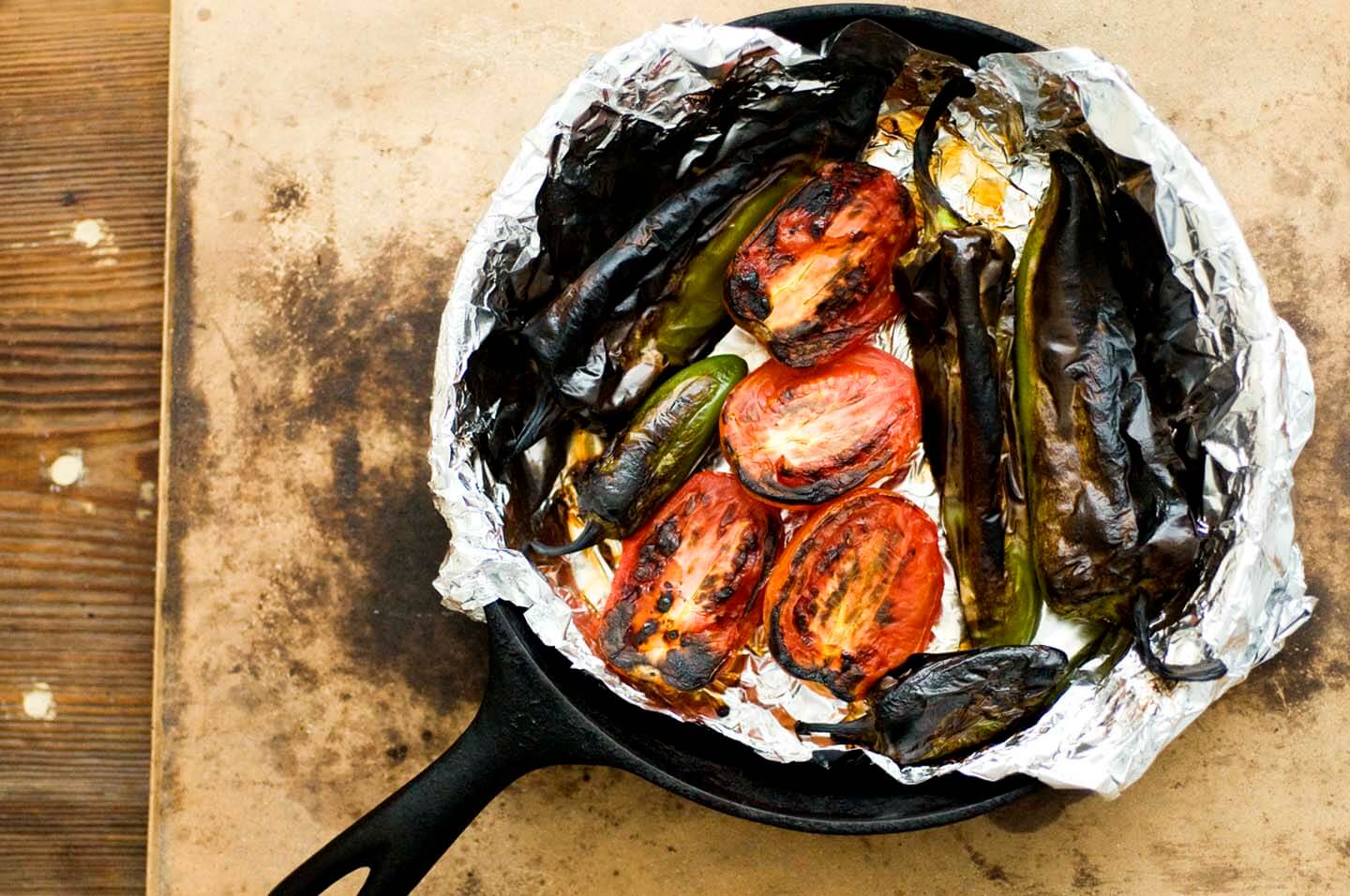 First I broiled some green chiles (I used hot Anaheim chiles, as Hatch chiles haven't arrived in New York yet, but if I were in Texas I'd definitely go with Hatch), jalapeños, and garlic. While I wanted the chiles to take center stage, I did add a couple of ripe tomatoes to round out the salsa with some sweetness and acidity. After everything was sufficiently roasted and peeled, I threw it all into the blender with a bit of salt and blended until smooth.
I grabbed a handful of tortilla chips and began to taste. One bite led to another and while I'd made almost a pint, I realized that I should have made at least a quart as this salsa was addictive. My West Texas roasted salsa had heat without being incendiary, and while the main thrust was the earthy, roasted green chiles, the garlic and the tomatoes added an aromatic beat that gave the salsa depth.
This salsa stands firm on its own, but if you wanted to make it livelier you could throw in some fresh cilantro and lime juice, as well. It's super versatile, and not only is it terrific as a dipping sauce for chips, but it's also excellent on tacos, eggs, and as a topper for most meats, vegetables, and fish. I haven't made queso or enchiladas with it yet, but that's next on my list as I know it would work well with those, too.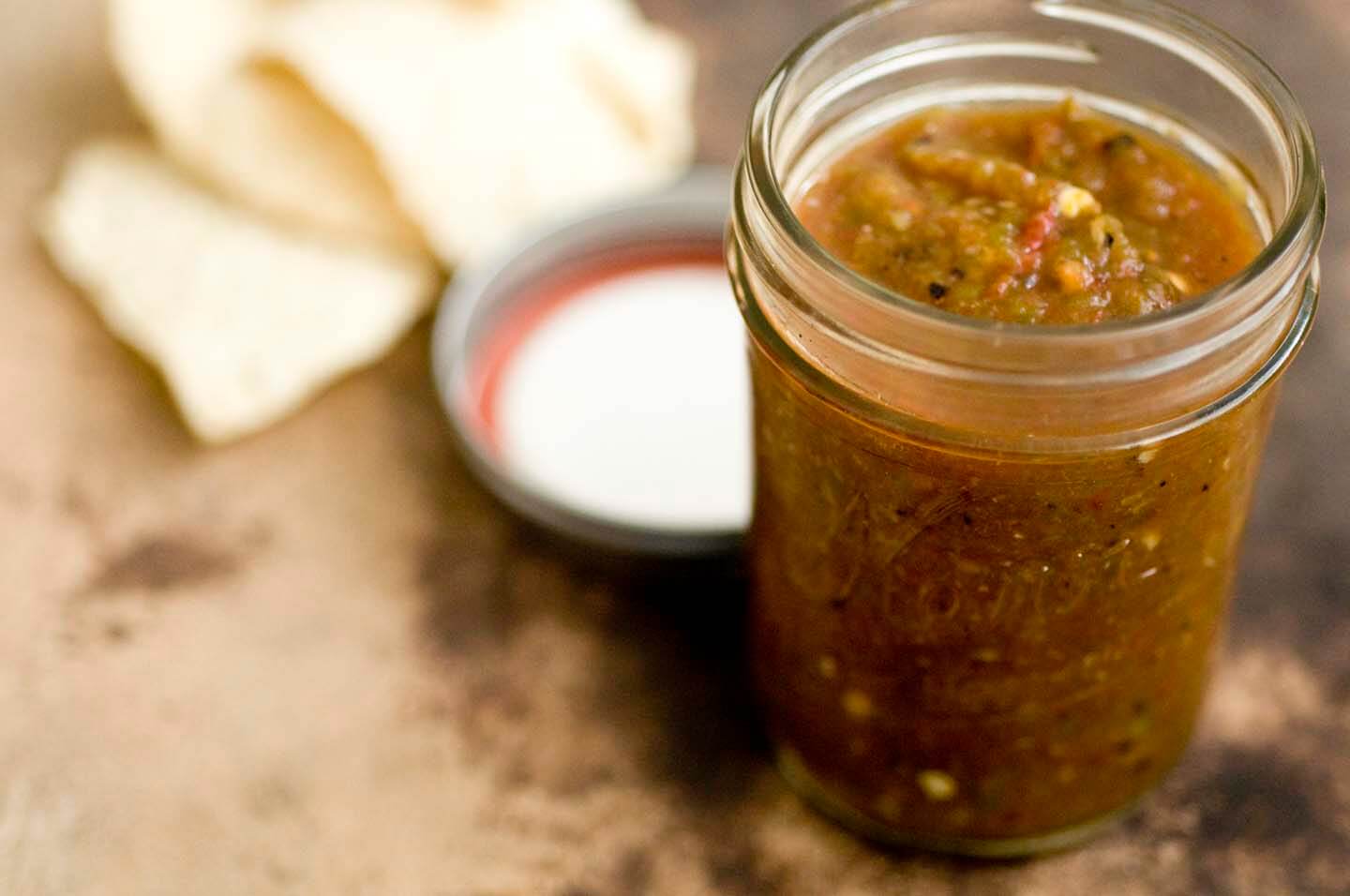 Hopefully I'll be able to visit West Texas soon. In the meantime, however, this West Texas roasted salsa takes me back to that vast and beautiful place, where the people are friendly, the views are beautiful, and the food is soulful and good.
West Texas roasted salsa
Ingredients
3

Hatch or Anaheim chiles

2

jalapeños

2

plum tomatoes, cut in half, lengthwise

3

cloves

garlic, peeled

1/2

teaspoon

kosher salt

1/2

cup

chopped cilantro, optional

1

tablespoon

freshly squeezed lime juice, optional
Instructions
Turn on the broiler and place a rack 5 inches away from heating element. Line a cast-iron skillet or baking sheet with foil and place the Hatch chiles, jalapeños, tomatoes (seed side up), and garlic on the skillet. Cook under the broiler for 7 minutes, and then remove the skillet from the oven. The garlic should have light brown spots on it. Remove it from the skillet and place in a blender. Turn over the Hatch chiles and jalapeños (leaving the tomatoes as they are), and return the skillet to the oven.

Continue to broil the chiles and tomatoes for 7 to 8 more minutes or until nicely charred. After this time, remove the skillet from the oven. Place the tomatoes in the blender, and put the Hatch chiles and jalapeños in a paper sack or plastic food-storage bag, close it tight and let the chiles steam for 20 minutes.

To capture any juices and other flavorful bits, add 1 cup of water into the foil-lined skillet, swirl it around, and then pour it into a glass measuring cup. The water should be a light brown color much like the color of weak tea.

After the chiles have steamed, remove from the bag and rub off the skin. Remove the stems and seeds from the chiles and add them to the blender. Add 1/4 cup of the skillet water to the blender and then pulse on low until everything comes together. Depending on how thick you want it, add more skillet water until it's your desired thickness. Stir in the salt, taste, and make any adjustments.

This is a terrific salsa as is, but you can give it a brighter flavor by adding cilantro and lime juice, if you like. And you can serve it warm or let it cool, it's good either way. Store it in the refrigerator, and it should keep for about a week.