If you think of iconic American tacos, the crispy taco what most often comes to mind. This style, which also goes by the name of hard-shell tacos or crunchy tacos, is defined by the corn tortilla fried into a U shape, then stuffed with meat, lettuce, tomatoes, and cheese. While fast-food renditions and prefabricated tortilla shells have given it a bad reputation, when prepared with love and with care, the classic crispy taco is a Tex-Mex joy.
Like all tacos, the crispy taco has its origins in Mexico, where you will find crisp folded tacos called tacos dorados. Flautas are also a Mexican form of crispy taco, though they're rolled instead of folded.
The crispy taco also has a long history in the United States, as well. Most point to its provenance on this side of the border in California, as the earliest American recipe was published in a California-Mexican cookbook in 1914. This version took a corn tortilla, stuffed it with ground beef, sealed it, pan-fried it, then smothered it in chili gravy.
While additional recipes didn't appear for a few more years, tacos were mentioned in the American press with citations in Los Angeles and Texas. Sometimes the taco was referred to as a Mexican hamburger or a Mexican sandwich. An early mention in the San Antonio press referenced tacos made with beans, and while the style of the tortilla wasn't specified, it's interesting to note that bean tacos even today are associated with that city.
Although the first published American taco recipe came from California, a San Antonio restaurateur named Robert Gomez said in a 1980 article from The Dallas Morning News that the crispy tortilla shell was first created in McAllen, Texas in 1932. While I have not found supporting evidence to this proclamation, one of the earliest crispy taco recipes published in Texas did come from the Rio Grande Valley, though it's from Brownsville instead.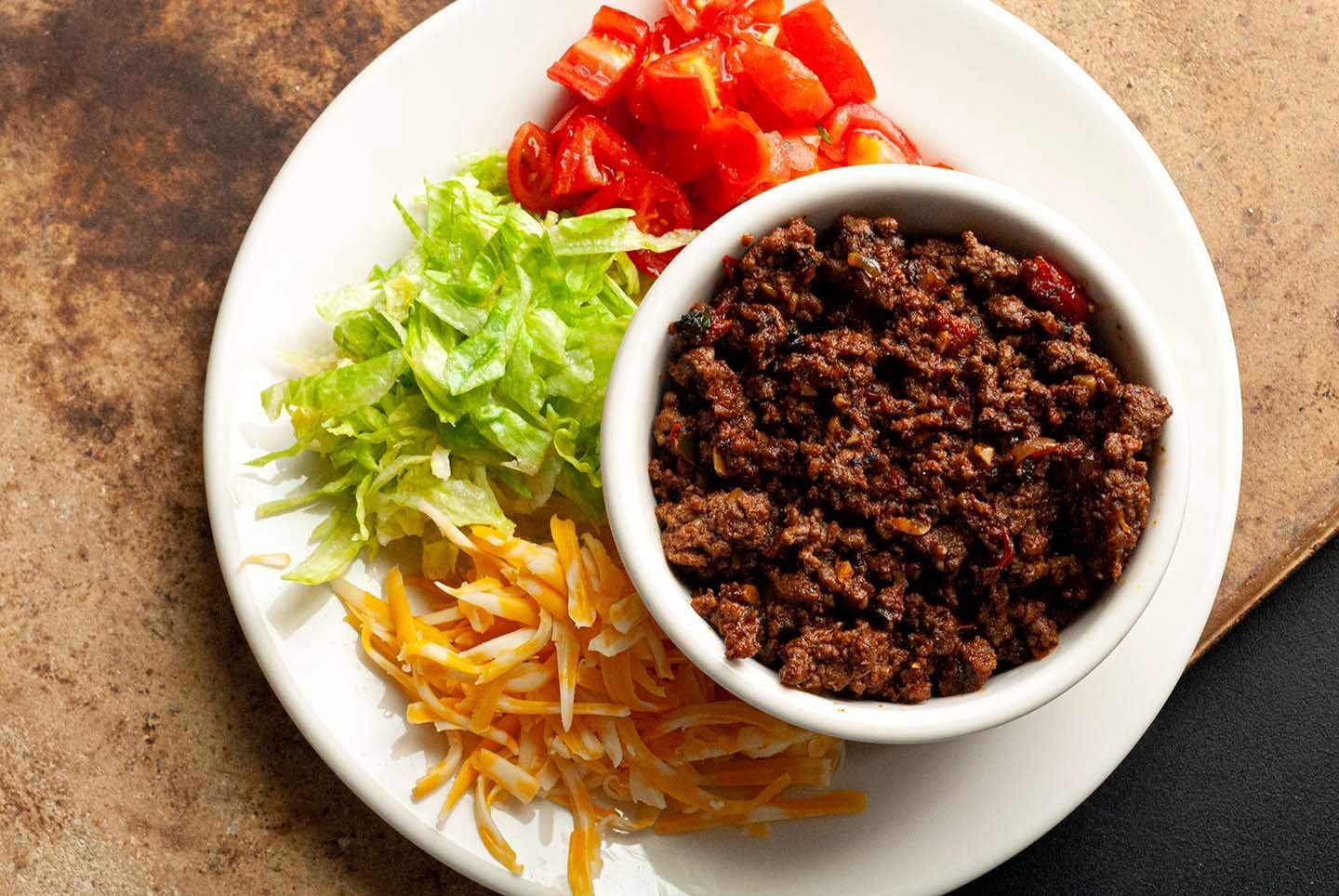 The recipe appears in a church cookbook from 1947 and when you read it and prepare it, you see that not much has changed for a home-cooked crispy taco. You take a corn tortilla, stuff it with seasoned ground beef, fry it then top it with lettuce, tomatoes, and cheese.
Over the years, however, as people wanted an easier meal, they stopped making their shells, instead using taco kits from the grocery store to both season their protein and contain their fillings. While this method is faster, it doesn't make for a very satisfying taco. Though with a little preparation, a far superior crispy taco can be had.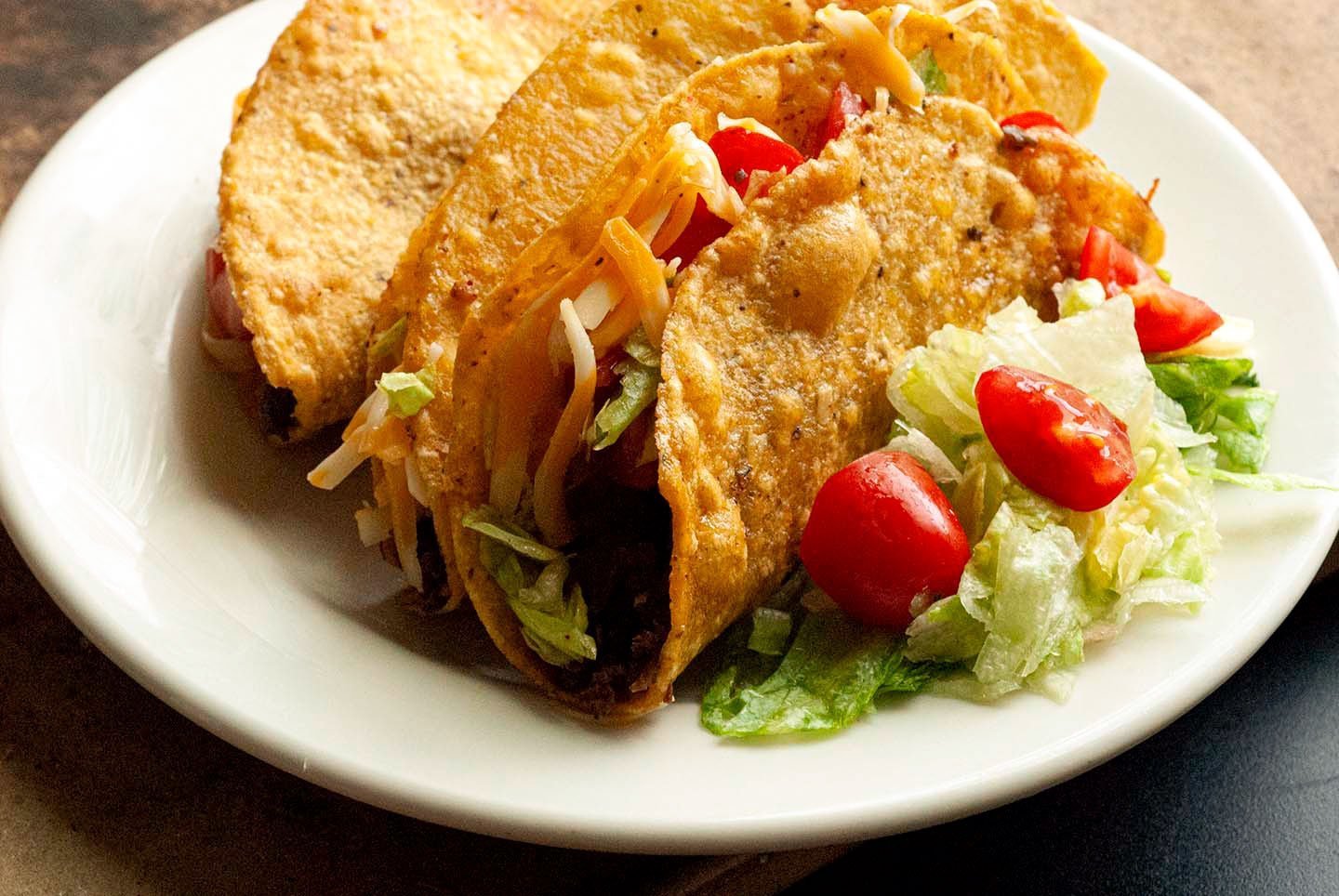 As with anything, it's the quality of the ingredients and amount of love put into the preparation that allows this Texas crispy taco to rise above the genre's diminished reputation. In fact, this early Texas taco, when made well, is as good as any other Texas taco. And a fine example of how terrific Tex-Mex can be when made with love.
—————
Would you like more Homesick Texan? Well, I've started offering additional recipes for paid subscribers to help with the costs of running the site. While I'm not taking anything away, if you'd like to support Homesick Texan and have access to exclusive, never-seen-before subscriber-only posts, please consider becoming a member; annual subscriptions are as low as $25. Thank you for reading, your consideration, and your support!
—————
Classic crispy tacos
Ingredients
For the ground beef filling:
1

tablespoon

vegetable oil

1/2

medium yellow onion, diced

1

jalapeño, seeded and diced

4

cloves

garlic, minced

1

pound

ground beef

2

tablespoons

chili powder

1

teaspoon

ground cumin

1/2

teaspoon

dried oregano

1

teaspoon

kosher salt

1/2

teaspoon

black pepper

Pinch

cayenne

1

plum or 1/4 cup grape tomatoes, chopped

1/2

cup

chopped cilantro

1

tablespoon

lime juice
For the tacos:
Oil for frying

12

corn tortillas

2

cups

shredded iceberg lettuce

2

plum tomatoes or 1/2 cup grape tomatoes, seeded and diced

2

cups

(8 ounces) shredded yellow cheddar or Colby-Jack cheese
Instructions
To make the filling, in a large skillet, heat the oil on medium-low heat and add the onion and jalapeño. While stirring occasionally, cook until the onions and jalapeño are softened, about 5 minutes. Add the garlic and cook for 30 more seconds.

Add to the skillet the ground beef, chili powder, cumin, oregano, salt, pepper, cayenne, tomatoes, and cilantro. Stir until everything is well combined then turn the heat down to low and simmer while stirring occasionally until the meat is browned, about 15 minutes. Stir in the lime juice and taste and adjust seasonings. Remove from the heat.

To make the tacos, line a baking sheet with paper towels and heat 2 inches of oil to 350°F in a heavy skillet. Take a tortilla and fold it in half into a "U" shape, holding it with tongs in the center. Using the tongs, dip one half of the tortilla, lengthwise, into the hot oil, leaving the other half out of the oil. Fry the first side until crisp, about 10 seconds, and then repeat for the other side, holding the already-cooked side out of the oil. Drain the taco shell on a paper-towel-lined sheet and repeat until all the shells are fried.

To assemble the tacos, take each shell and fill with ground beef, lettuce, tomatoes, and cheddar cheese. Serve with salsa on the side, if desired
Notes
It's best to fry the tacos shells right before eating. If you wish to make them ahead of time, to keep them crisp, re-heat them in the oven at 375°F for 10 minutes before serving. You can also make the meat up to 2 days in advance.