The other day I went to the store to buy some collard greens, but the store was sold out. In the produce department there was a large, colorful sign that said, "Collards are the new kale!" which may explain why there weren't any left—everyone wanted to try this new, hip green. There was, however, plenty of kale.
Of course, like most Texans, I've been eating collards all my life. But I have to admit that prior to that day I'd never bought kale. Heck, I'm not even sure that I'd even eaten it despite its popularity and ubiquity the past couple of years. Mind you, I'm not averse to greens, but I usually opt for the ones that we grew—such as said collards, along with spinach, turnip greens, or Swiss chard—all of which made frequent appearances on my family's table.
Because there weren't any collards available that day, I decided it might not be a bad time to finally try kale. (I've always been a late adopter.) And since the store had plenty of it available, I picked up a bunch of lacinato kale, which is also delightfully known as dinosaur kale. (I imagine this green's name is very popular with the under-five set.) I left the store with visions of kale salads in my future.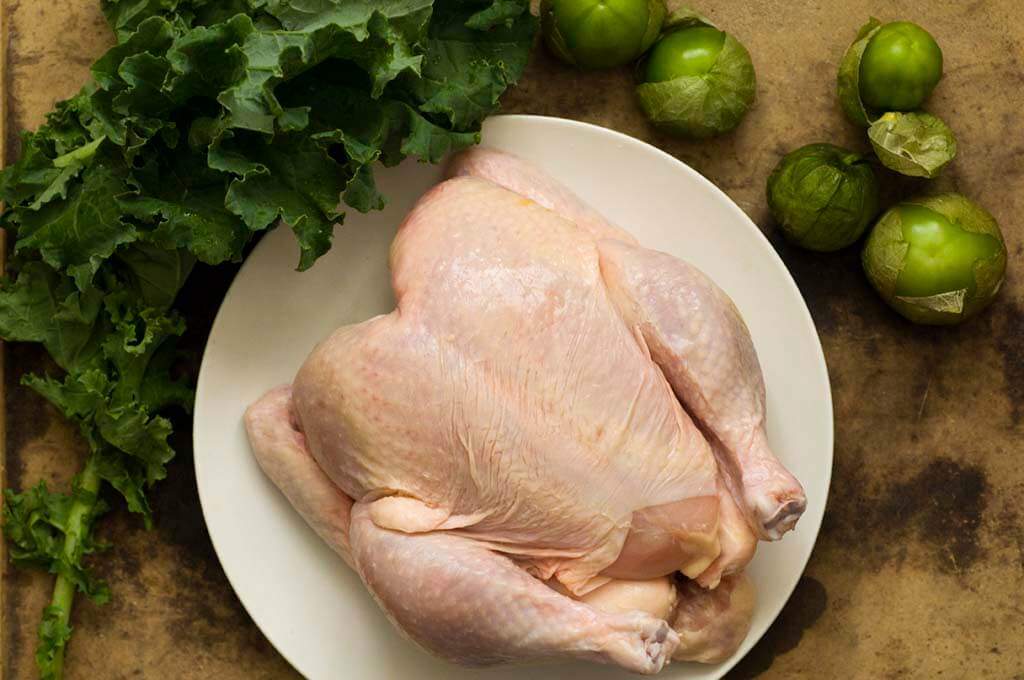 After a couple of crunchy, chewy meals with the kale, however, I still had a mess of the greens in my refrigerator and was getting kind of bored. It was time to do something different. Now, my first thought was to cook them with bacon. But since it's the New Year and I'm trying to eat relatively light for a few weeks, I opted instead to throw a handful of the kale into a pot of chicken posole verde I had simmering on my stove. Wouldn't you know? My mountain of kale seemed a lot more manageable, plus my soup looked festive with the greens swirling around the pot.
Before we go any further, let me tell you about this chicken posole verde. It's a simple chicken soup with some tangy tomatillo salsa verde stirred in, along with posole—also known as hominy or spelled pozole, depending on where you're from—which gives the soup a toasted corn flavor. The flavors are much like your favorite plate of chicken enchiladas, yet in a more soothing form. Plus, its warmth makes it perfect for chilly weather and because it's relatively light, it's ideal for when you're trying to undo some of the holidays' excesses. This is a terrific soup for January.
Now, my new year usually begins with a bit of excitement yet trepidation—I'm thrilled with the possibilities ahead but a part of me also craves comfort and consistency—the antithesis of change and uncertainty. While this posole verde is very familiar to me, by adding an ingredient I'd never cooked with—kale—it seemed not only a bit daring but also like something new.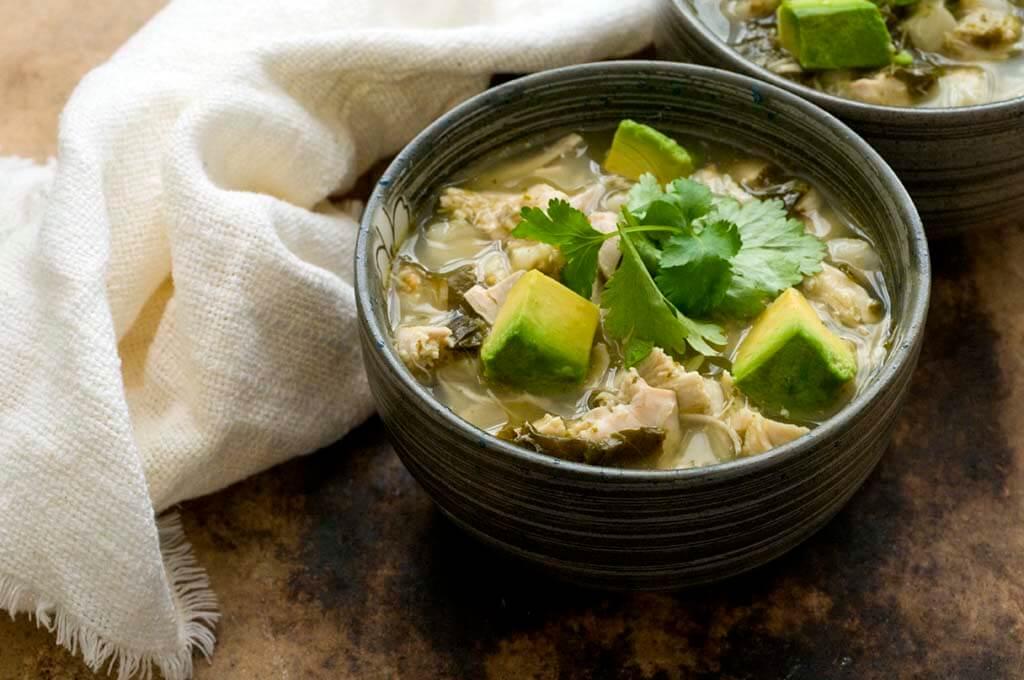 You're going to love this soup—it's refreshing and bright, yet hearty enough to keep you satisfied. I realize it's not completely traditional, but this doesn't make it any less satisfying. And if you're like me and have somehow avoided eating kale (though I'm pretty sure I might be one of the last people in America who hasn't tried it before), you'll appreciate this delicious introduction to such a healthy vegetable.
Here's to delicious new beginnings. Change is good and I'm looking forward to this new year!
Chicken posole verde (chicken pozole verde)
Ingredients
Ingredients for the broth:
1 3-

pound

whole chicken

1

medium yellow onion, quartered

8

cloves

garlic

1

celery rib, quartered

2

teaspoons

black peppercorns

8

whole cloves, or 1/4 teaspoon ground cloves

8

allspice berries, or 1/4 teaspoon ground allspice

1

leafy stem of cilantro

1

bay leaf

2

teaspoons

kosher salt, plus more to taste
Ingredients for the salsa verde:
1/2

pound

fresh tomatillos husked, or 1 (10-ounce) can of tomatillos

1/4

medium yellow onion, chopped

4

cloves

garlic, chopped

x

2

jalapeños, seeded and chopped

1/2

cup

chopped cilantro

Salt
Ingredients for the soup:
3

large kale leaves. preferably lacinato, stems and center ribs discarded and leaves chopped (about 3 cups)

2

(15-ounce)

cans hominy, drained and rinsed

1

teaspoon

ground cumin

1/4

teaspoon

ground allspice

Pinch

of cayenne

2

tablespoons

freshly squeezed lime juice, plus more if desired

Chopped cilantro, for serving

1

avocado, peeled, pitted, and diced, for serving
Instructions
To make the broth, place the chicken, breast side down, in a large pot, along with the onion, garlic, celery, peppercorns, cloves, allspice berries, cilantro, bay leaf, and salt. Cover with 12 cups of water, bring to a boil, and then turn down the heat and simmer uncovered for 45 minutes.

Meanwhile, make the salsa verde. If using fresh tomatillos, place them in a pot and cover with water. Bring to a boil and then simmer uncovered for 10 minutes. They should be softened and a lighter green. Turn off the heat and allow to cool for 10 minutes. If using canned tomatillos, skip this step. Place the tomatillos in a blender, along with either 1/4 cup of the cooking water or 1/4 cup of the canned tomatillos' liquid. Add to the blender the onion, garlic, jalapeños, and cilantro. Blend until smooth. You should have about 2 cups. Add salt to taste.

Once the broth has cooked 45 minutes, turn off the heat, carefully remove the chicken with tongs and place in a large bowl. When cool enough to handle, remove the meat from the skin and the bones; chop the meat and discard the rest. You should have about 4 cups of meat. Salt the chicken to taste.

Meanwhile, strain the broth, discarding the vegetables, then remove the fat from the broth with a gravy separator. If you don't have a separator, you can take a quart-sized plastic storage bag and pour some broth into it. Snip a bottom corner of the bag and drain the broth, stopping when you get to the fat layer that is on top. (You will probably have to remove the fat in batches). Return the broth to the pot; you should have about 12 cups. Bring the broth to a boil, and then cook until the broth has reduced to 6 cups, which will take 15 to 20 minutes. Once reduced, turn the heat down to a simmer.

To make the soup, add to the simmering reduced broth the salsa verde, chicken, kale, drained hominy, cumin, allspice, cayenne, and lime juice. After about 5 minutes, the kale should be greatly reduced. Taste and adjust seasonings, adding salt to taste.

Serve garnished with cilantro and avocado.
Notes
If you want to make a quick version of this soup, you can use pre-made chicken broth, pre-made salsa, and 4 cups of cooked chicken.