Sour cream chicken nachos with poblano salsa verde
Let's talk about nachos, shall we? Now, I've gone on record stating my preference, which is for the traditional type of nacho where all the ingredients are on one chip. While this is how all nachos were served when I was young, I find this style more and more a rarity. I also realize that sometimes I am in the minority.
Take another Texan friend of mine in New York, for instance. He's a Tex-Mex purist through and through and like myself loves his nachos made the correct way. That said, the other day he mentioned to me a place that served pile nachos and conceded that they had been delicious. "You should try them," he said. "I think you'll like them."
Well, long story short, the nachos were sampled and while as a pile of chips topped with meat, beans, and cheese they were good. But it was a frustrating eating experience as many chips were either soggy from too much topping, or sadly bereft of any toppings, which wasn't ideal either. It was a mess and ultimately didn't satisfy all of us as we started fighting over who got what. It wasn't fun and dare I say it, this pile of chips was not how nachos were intended to be.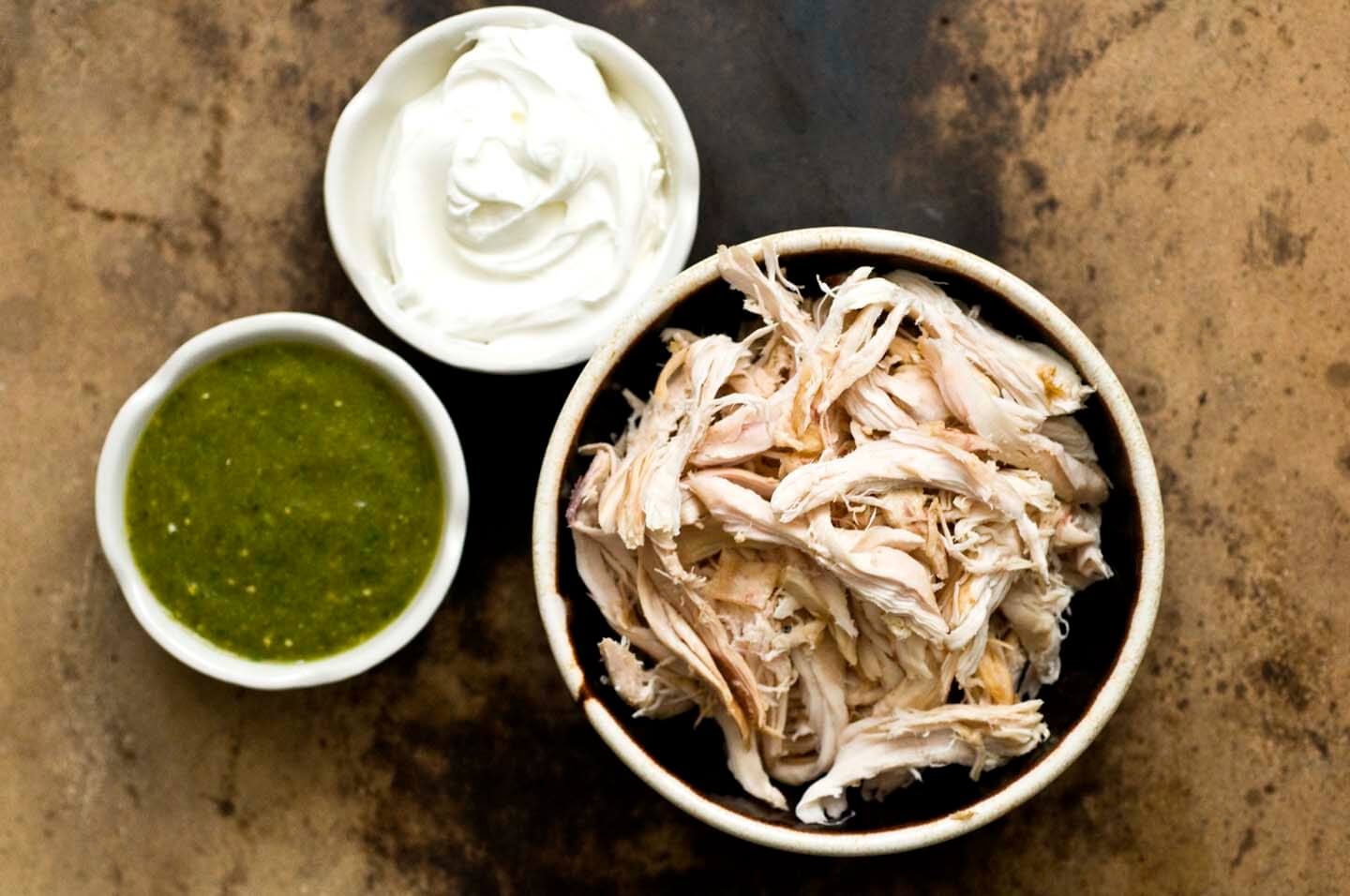 I won't continue down this path because I've made my preferences known before, but I thought it was important to share because as I was explaining to my friends why proper nachos are indeed better, one gave me steely look and said I needed to open my mind a bit and get beyond the traditional nacho made with cheese, jalapeños, and refried beans.
To defend myself, I first pointed towards my new book, which has a plate of Crazy Nachos on the cover, a popular Dallas dish that is so named because beyond the usual cheese, beans, and jalapeños there are also taco meat, guacamole, and sour cream on each chip. Crazy indeed! And not only do you get a mess of toppings but every chips has all of them, so everyone is happy.

Then I started thinking about other nacho variations found throughout the state, which adhere to the classic form of all the toppings contained on one chip. For instance, there are sour cream nachos, which are primarily found in restaurants across Dallas, though while not as common, they're available sometimes in San Antonio, too.
Sour cream nachos, which are sometimes called sour cream chicken nachos because they're usually made with said meat, are classic Tex-Mex. While there are slight differences available, basically the standard format is this: You take a chip, top it with sour cream, add some cooked, shredded chicken, sprinkle on some white cheese such as Monterey Jack and then run the dish under the broiler until the cheese has melted and the sour cream is warm and bubbling. To finish, you top each nacho with a piquant jalapeño, though if you want to keep it mild you could totally forgo this step.
Sour cream chicken nachos are much like their other Dallas Tex-Mex counterpart, sour cream chicken enchiladas, yet in just a more crisp and bite-sized form. This is a nacho for the dairy lover, for one who doesn't really like the heat, as they are not super fiery and instead just a comforting blend of cream and cheese. This is not to say, however, that they are boring. No, they are simply a less exotic and earthy dish than others in the Tex-Mex pantheon but they are still delicious, especially if you are a fan of sour cream, chicken, and cheese.
To make my sour cream chicken nachos, I first make a salsa verde with tomatillos, poblano, and jalapeño chiles. Then I toss cooked, shredded chicken with the poblano salsa along with some sour cream. I fry some chips, layer them with the toppings, bake them, and then serve them with the remainder of the salsa on the side. (Of course, shortcuts can be taken, such as not frying your own chips, using a pre-made salsa, and even picking up a roasted chicken from the store.)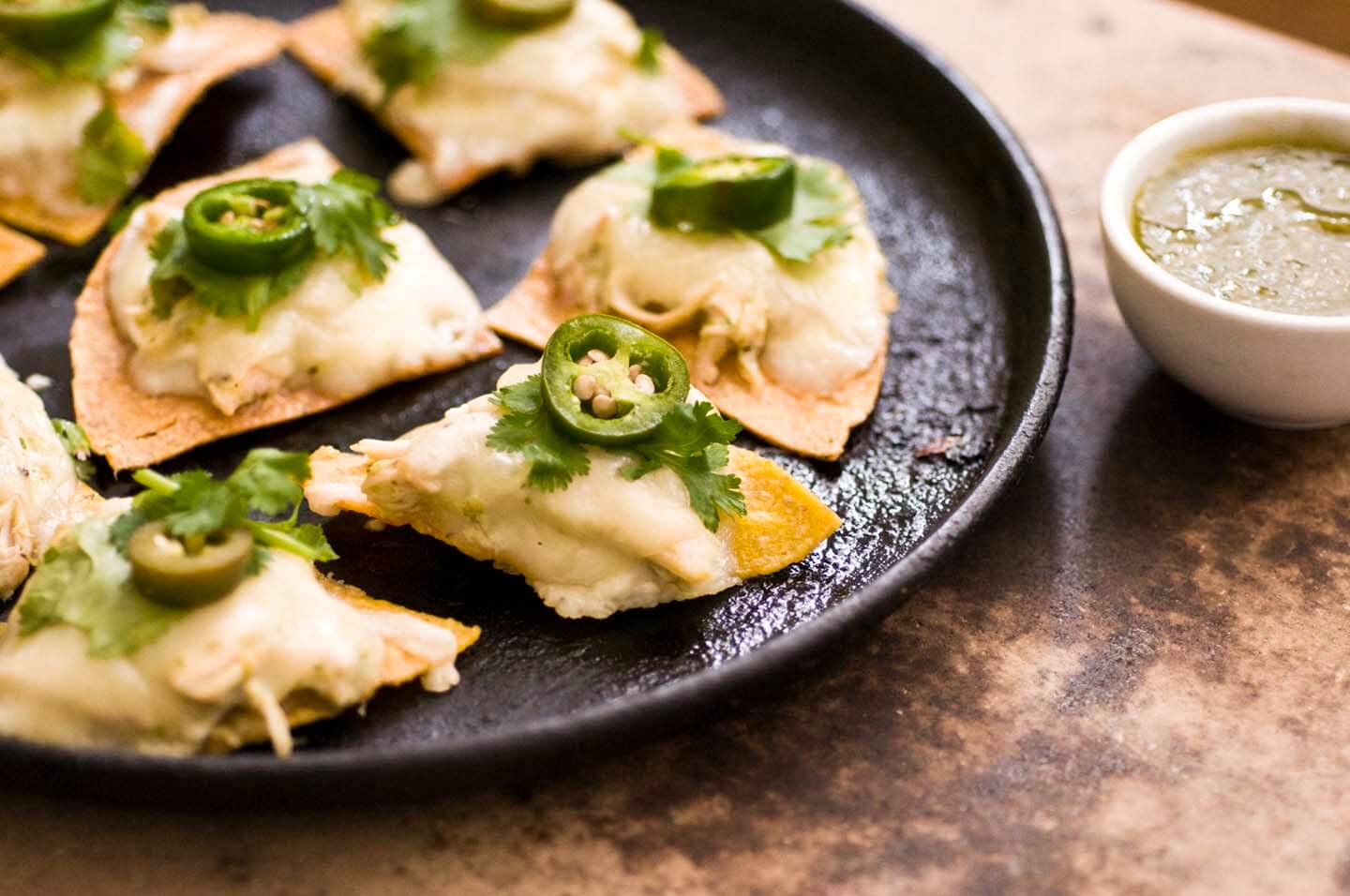 While I know plenty of people will disagree with me that nachos should be served this way, that's fine because it leaves more nachos for the rest of us. That said, while these sour cream nachos may take a bit more effort as you attend to each chip, I have yet to have one person turn down these nachos, and yes, as with pile nachos, we'll also often find ourselves fighting over that last bite. I reckon some things never do change!
—————
Would you like more Homesick Texan? Well, I've started offering additional recipes for paid subscribers to help with the costs of running the site. While I'm not taking anything away, if you'd like to support Homesick Texan and have access to exclusive, never-seen-before subscriber-only posts, please consider becoming a member; annual subscriptions are as low as $25. Thank you for reading, your consideration, and your support!
—————
Sour cream chicken nachos with poblano salsa verde
Ingredients
Ingredients for the poblano salsa verde:
1

poblano chile

2

jalapeños, seeded, stemmed, and cut in half lengthwise

1/2

pound

tomatillos, husked

3

cloves

garlic

1/8

medium yellow onion

1/2

cup

cilantro

1/4

teaspoon

ground cumin

Salt
Ingredients for the chicken:
2

cups

shredded cooked chicken

1/4

cup

sour cream

1/4

teaspoon

ground cumin

1

teaspoon

lime juice

Salt
Ingredients for the nachos:
8

corn tortillas or 32 intact tortilla chips

Oil for frying

1

cup

sour cream

2

cups

8 ounces shredded Monterey Jack cheese

32

sliced pickled jalapeños

Cilantro, for garnishing
Instructions
To make the poblano salsa verde, place the poblano under the broiler until blackened, about 5 minutes per side. Place the poblano in a paper sack or plastic food-storage bag, close it tight and let it steam for 20 minutes. Peel the chile by gently rubbing off the skin then remove the seeds. Place the poblano in a blender.

Meanwhile, place the jalapeños, tomatillos, garlic, and onion in a pot. Cover with water, bring to a boil, and then turn down the heat and simmer uncovered for 10 minutes or until all the vegetables are soft. Transfer the vegetables to the blender along with 1/2 cup of the cooking water. Add the cilantro and cumin to the blender and blend until smooth. Add salt to taste.

Toss the chicken with 1/4 cup of the salsa along with 1/4 cup of sour cream, cumin, and lime juice. Save the rest of the salsa for serving. Taste and adjust seasonings, adding salt to taste if needed.

Preheat the oven to 375°F. Cut the tortillas into quarters. Pour enough oil in a heavy skillet to come up 1/2 inch up the sides and heat to 350°F. If you don't have a thermometer, you can test the temperature by sticking a wooden spoon into the oil. If it bubbles around the spoon, it should be ready for frying. In batches, fry the quartered tortillas for 1 minute, turning once or until golden brown, and then remove. Drain on a paper towel and sprinkle lightly with salt. (If using pre-made chips, you can skip this step.)

Place the chips close together but not overlapping on a baking sheet, and top each with 1/2 tablespoon of sour cream, 1 tablespoon chicken, and 2 tablespoons Monterey Jack cheese. Bake in the oven for 5 minutes or until the cheese is melted. After removing the nachos from the oven, top each with 1 jalapeño slice and cilantro, if you like. Serve warm with salsa on the side.