In the 1930s, a Dallas cooking school advertised its course offerings, stating that it would be teaching how to make tortilla soup. This was the first mention in the Texas press of the popular Tex-Mex dish, though it would be 40 more years until it made another appearance.
While the recipe used in the 1930s' rendition was not shared with the public, in the early 1970s, the Dallas Morning News Columnist Frank X. Tolbert spoke of a soulful tortilla soup that he'd had in the Rio Grande Valley. After some hectoring of the cook, he procured her method, which was to place stale tortillas and sliced onions in a bowl and cover it with chicken broth.
A year or so later, another recipe for tortilla soup appeared in a West Texas newspaper, the Hudspeth County Review. This one was a bit more complicated as it incorporated chili powder and pureed tomatoes along with the aromatics, tortillas, and broth. Likewise, to serve it was topped with cheddar cheese and sour cream.
These two versions of tortilla soup from the 1970s are direct links to what we now see across Texas. While many point towards the tomato-based soup as the definitive version, others prefer a simpler presentation with an unadorned chicken broth. I have a friend, in fact, who is so enamored of the latter, that she will always enquire how a place's tortilla soup is prepared before ordering, as she finds the inclusion of tomatoes distracting.
On this site, I've included a recipe for sopa de lima, which is very similar to what you will find if you encounter a chicken-broth based tortilla soup. There are no tomatoes and instead the tortillas, chicken broth, and significant splash of tangy lime juice bring the soup to life.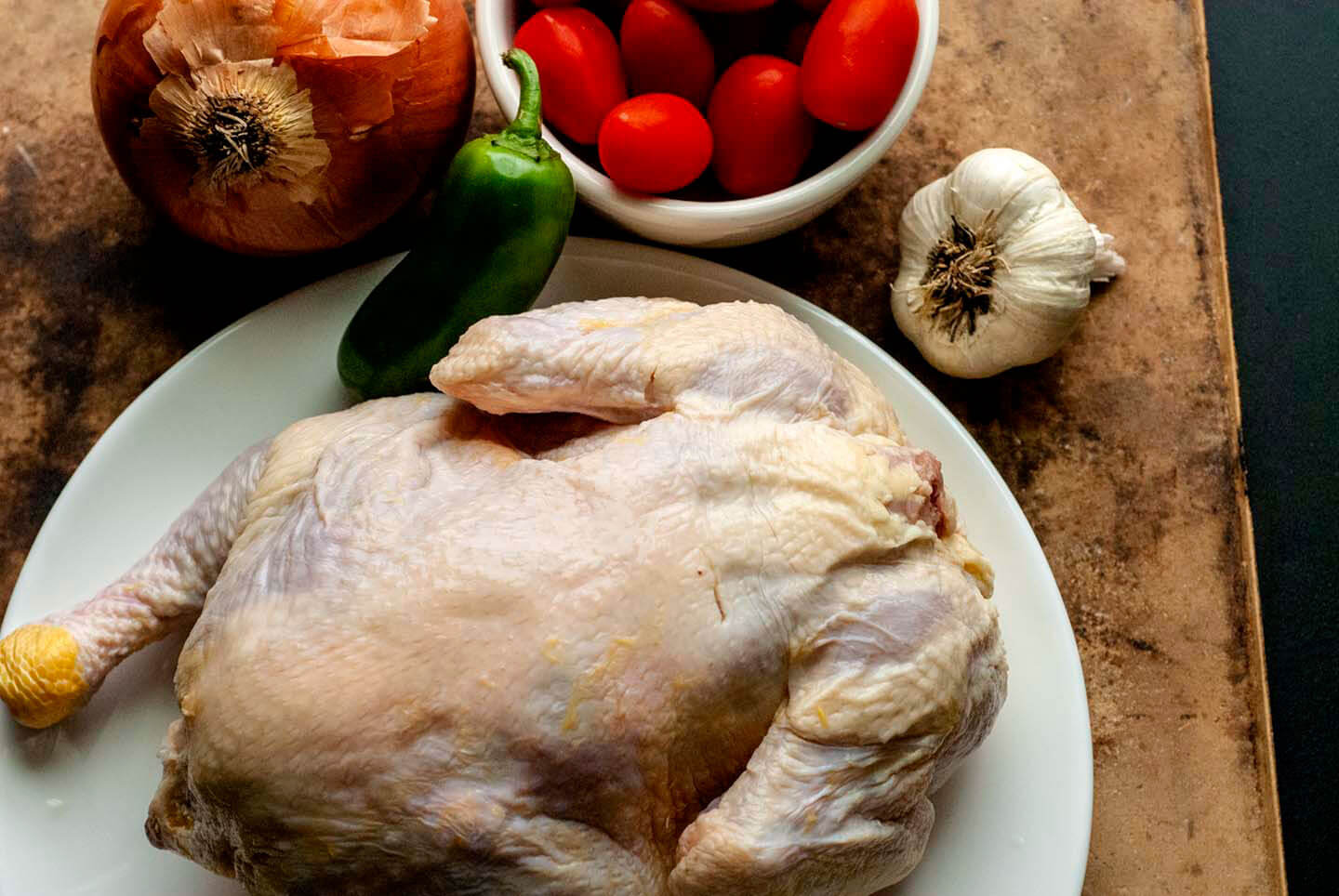 That said, a tomato-and-chile-based tortilla soup is quite popular in Mexico, where it can either go by the name sopa de tortillas or sopa Azteca. This is the style that has become what many associate with the name.
For this soup, tomatoes, onions, and garlic are roasted then pureed with soaked dried chiles. The peppers used include ancho chile, pasilla chile, guajillo chile, and chipotle chiles, depending on where you are in the country. (Though often a combination of two or three can be included, too.)
A chicken broth is prepared and mixed with the puree. Then after finely chopping the meat and removing the bones, the soup is served with fried tortilla strips, chicken, cheese such as queso fresco or shredded Monterey Jack, avocado, and crema or sour cream. It is hearty and can be a complete meal.
In my first book, I included a take on this style, which got its flavor from chipotle chiles and Worcestershire sauce and was served without meat. Though here's another adaptation, where I keep the chicken tortilla soup firmly rooted in Texas by not only adding plenty of meat, but also our state's beloved jalapeños and ancho chiles. I prefer to work with dried ancho chiles for their creamy texture and depth of flavor, but in a pinch, prepared chili powder may be used as well.
After roasting the vegetables and chiles and pureeing until smooth, I blend it with homemade chicken broth and tender shredded chicken. Along with the traditional toppings (though I forgo the sour cream), this makes for a refreshing, satisfying bowl that's hearty without being heavy. A welcome Tex-Mex favorite at any time of year.
—————
Would you like more Homesick Texan? Well, I've started offering additional recipes for paid subscribers to help with the costs of running the site. While I'm not taking anything away, if you'd like to support Homesick Texan and have access to exclusive, never-seen-before subscriber-only posts, please consider becoming a member; annual subscriptions are as low as $25. Thank you for reading, your consideration, and your support!
—————
Chicken tortilla soup
Ingredients
For the chicken and broth:
1

(3- to 4-) pound whole chicken, halved

1/2

medium yellow onion, peeled

6

cloves

garlic, peeled

1

teaspoon

kosher salt

1

teaspoon

black pepper

1/4

teaspoon

ground allspice

1

jalapeño, cut in half

1

leafy stem of cilantro

1

bay leaf

1

tablespoon

freshly squeezed lime juice
For the tortilla soup:
1

dried ancho chile, seeded and stemmed, or 2 tablespoons ancho chile powder

8

ounces

grape tomatoes

1/2

medium yellow onion, peeled and cut in half

6

cloves

garlic, peeled

1

jalapeño, cut in half lengthwise and seeded

1

teaspoon

ground cumin

1

teaspoon

dried oregano

1

teaspoon

dried epazote

1/2

teaspoon

kosher salt

1/4

teaspoon

ground allspice

6

corn tortillas, cut into thin strips

Oil, for frying

1

avocado, peeled and diced, for serving

Crumbled queso fresco or Cotija cheese, for serving

Cilantro leaves, for serving
Instructions
To make the chicken and broth, place the chicken in a large pot, along with the onion, garlic, salt, pepper, allspice, jalapeño, cilantro, and bay leaf. Cover with water, bring to a boil and then turn down the heat and simmer uncovered for 45 minutes.

Meanwhile, for the soup, in a dry skillet heated on high, toast the ancho chile for about 10 seconds or just until it starts to puff. Fill the skillet with enough water to cover chile. Leave the heat on until the water begins to boil and then turn off the heat and let the chile soak until soft, about 30 minutes. (If using ancho chile powder, you can skip this step).

As the chile soaks, turn on the broiler and place a rack 6 inches from the heating element. Place the tomatoes, onion, garlic, and jalapeño in a cast-iron skillet and cook for 10 minutes or until everything is starting to blacken. Remove the garlic and place in it a blender. Flip over the onion and jalapeño (leaving the tomatoes as they are), and return the skillet to the oven. Cook for 10 more minutes then remove the skillet from the oven.

Place the tomatoes, onion, jalapeño, cumin, oregano, epazote, salt, and allspice in the blender with the garlic. Pour 1/4 cup of water in the skillet and while scraping the bottom swirl the water then pour into the blender.

After the ancho chile has softened, rinse it then place it in the blender. (If using the ancho chile powder, add this instead). Puree the roasted tomatos, aromatics, and chiles until smooth. (Add more water if necessary.)

When the broth is done, remove the chicken from the pot and turn off the heat. After the chicken has cooled, remove the skin, pick the meat off the bones, and either shred or cut into bite-sized pieces. Sprinkle the chicken with the lime juice and add salt to taste.

Meanwhile, strain the cooled broth throwing out the vegetables. Rinse out the pot then pour back in 8 cups of the broth, reserving for another use any left over.

Pour the roasted tomato and chile puree from the blender into the pot with the chicken broth, then stir until both are well combined. Simmer on low until warm and fragrant, about 20 minutes. Stir in the shredded chicken, then taste and adjust seasonings.

While the soup is simmering, make the fried tortilla strips. Heat in a heavy skillet 1/4 inch of vegetable oil to 350°F. In batches, fry the tortilla strips until lightly browned and crisp, about a minute. Drain on a plate lined with a paper towel and lightly sprinkle with salt.

To serve, pour the soup into bowls and top with the fried tortilla strips, avocado, cheese, and cilantro.
Notes
While this soup will have more depth if you make it all from scratch, I realize not everyone has that luxury of time. Most of the soup's flavor comes from the roasted tomato and chile puree, so don't skimp on that; the puree can, however, be made a couple of days ahead of time. You can then blend the puree with 3 cups shredded cooked chicken and 2 quarts prepared chicken broth for a quick and delicious meal. You could even use crumbled tortilla chips, though I do find the freshly fried corn tortilla strips are more sturdy as well as flavorful.