Last week was one of adjustments. With limited electricity, water, heat, and other necessities because of the winter storm across Texas, like most, I had to make do with what I had instead of following a plan. Though that's okay because sometimes being flexible can lead to delicious results.
While I was fortunate to have my power cycle in such a way that it wasn't a complete blackout at my home, because my kitchen is electric I could only cook during these brief windows of time. And since the outages were occurring with no set pattern, I never know just how long I had and I had to be quick.
My original idea had been to make homemade pizza, one that was inspired by a place in New York that crafts a pie topped with crawfish and jalapeños. For this, I had bought the crawfish along with blocks of Mozzarella cheese.
Pizza, however, takes a commitment of oven time for both pre-heating and baking, and since I was unsure about my power, I decided it would be wise to forgo starting the process.
That said, I already had thawed my crawfish tails and they needed to be used. And because I was still craving the comfort of melted cheese, I pivoted and cooked crawfish queso fundido instead.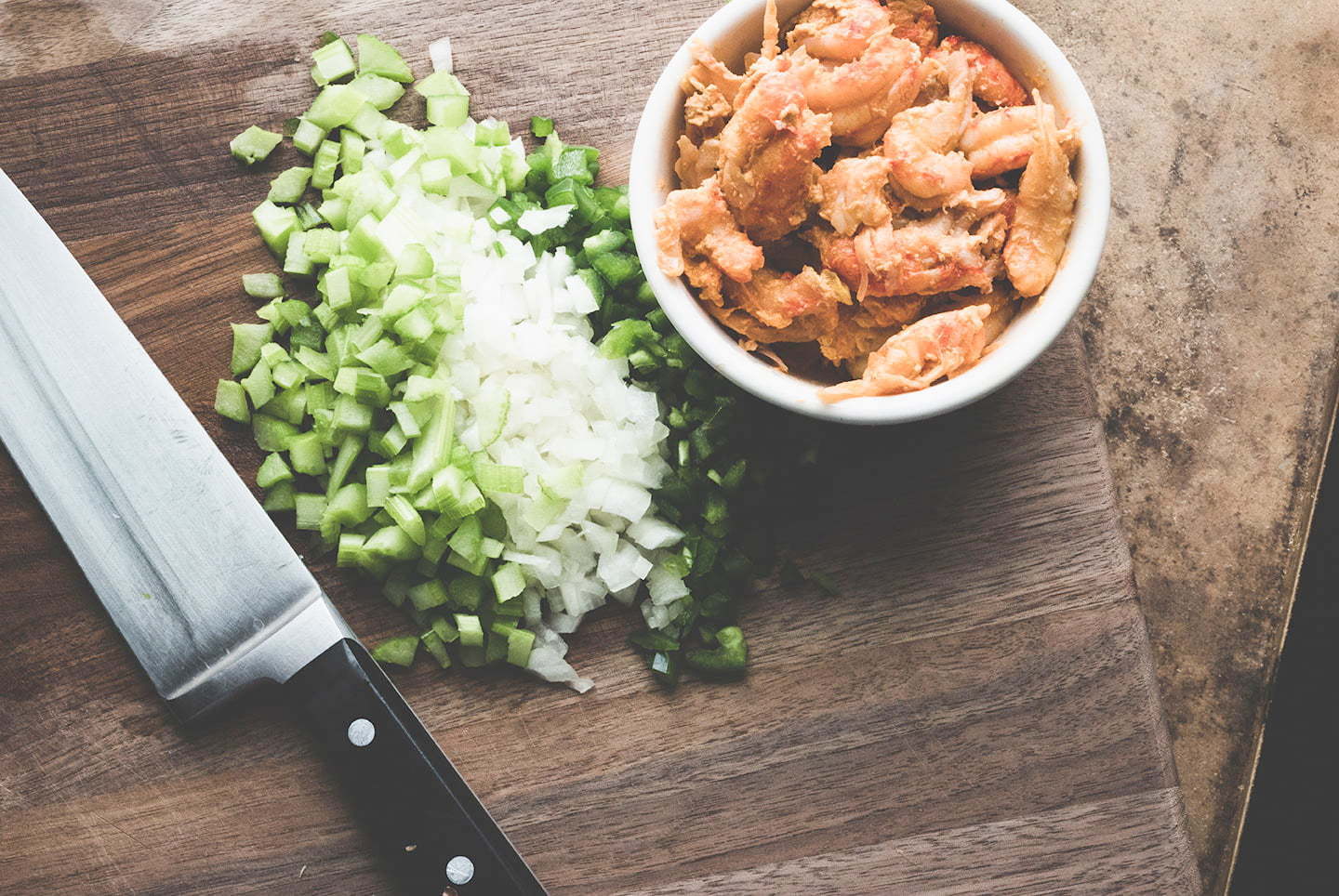 Now, I've enjoyed crawfish enchiladas, crawfish chile con queso, and crawfish quesadillas. But for some reason, I'd never had a hot skillet filled with thick melted cheese along with crawfish and peppers. And since I love shrimp queso flameado, I figured that preparing that dish with crawfish instead would be just as good.
For the topping, I took notes from the Cajun classic of étouffée and sautéed in butter onions, celery, garlic, and jalapeños. I seasoned the aromatics with the traditional Cajun blend of cayenne, oregano, and Worcestershire, though I also added a dash of cumin, cilantro, and lime juice for a Tex-Mex lift. I stirred in the already-cooked crawfish, gave it a taste, then let the topping sit.
For the cheese, I layered a pound of shredded Mozzarella into a small skillet and then baked it for 15 minutes until it pulled and bubbled. While typically, I use Monterey Jack for my queso fundido (which can also go by the name for queso flameado), in parts of the Rio Grande Valley, Mozzarella is often used instead so my switch still adhered to tradition.
To finish, I topped the hot cheese with the crawfish and cooked jalapeños, then pulled spoonfuls of the cheesy crawfish into hot flour tortillas. I then dolloped in some salsa, rolled the tortilla, and served.
The delicious tacos made from the queso fundido were quick, easy, and extremely good. Crawfish always goes well with onions, celery, and jalapeños, and the molten, chewy Mozzarella was a welcome blanket.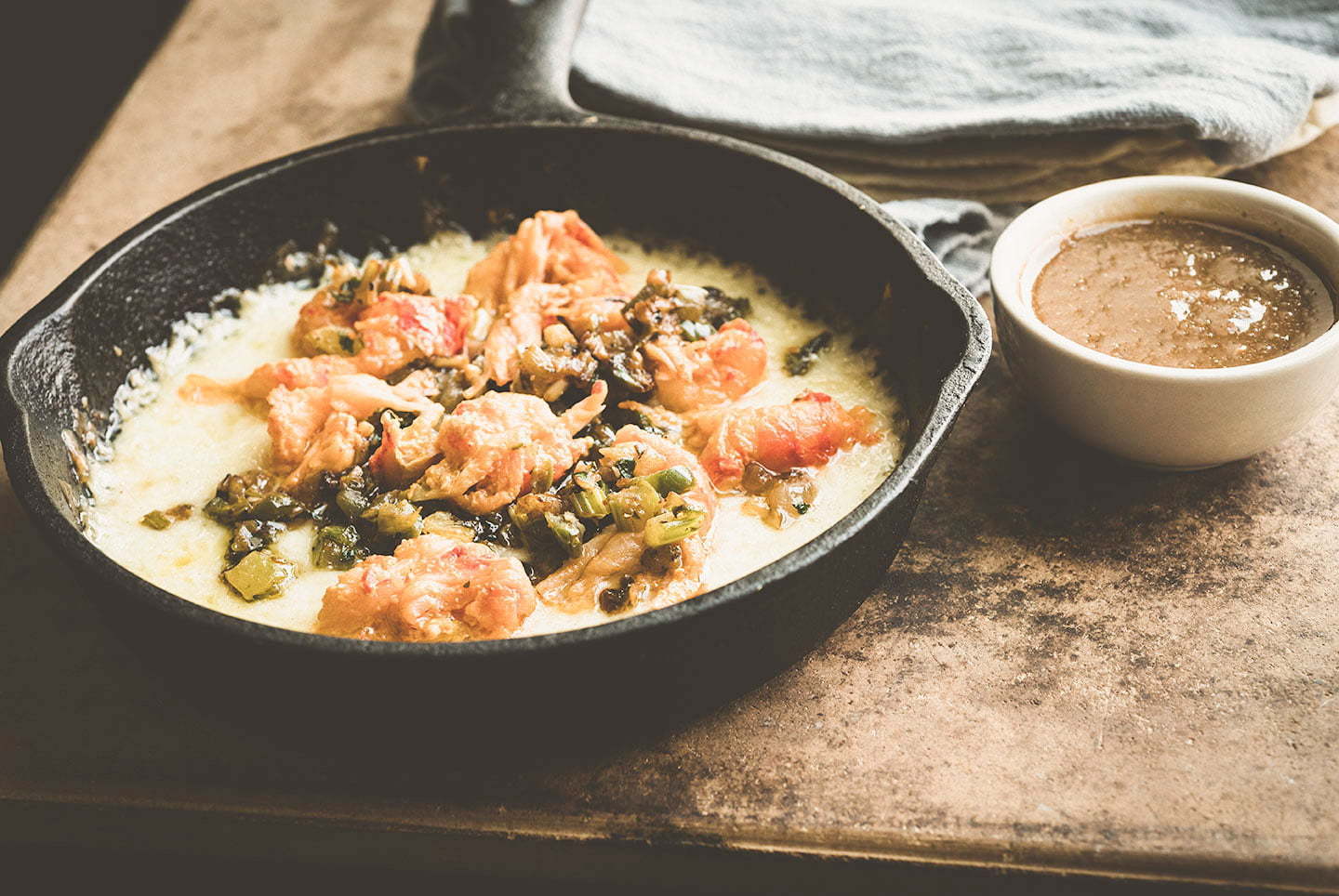 Was it what I'd expected to make? No, but that's okay. As challenging as the week was, I felt a small level of success in being able to make do with what I had. And best of all, I now have a new way to serve crawfish in my rotation. Give it a try. If you enjoy crawfish and cheese, I know you'll enjoy it, too.
—————
Would you like more Homesick Texan? Well, I've started offering additional recipes for paid subscribers to help with the costs of running the site. While I'm not taking anything away, if you'd like to support Homesick Texan and have access to exclusive, never-seen-before subscriber-only posts, please consider becoming a member; annual subscriptions are as low as $25. Thank you for reading, your consideration, and your support!
—————
Crawfish queso fundido
Ingredients
16

ounces

Mozzarella cheese, shredded (4 cups)

2

tablespoons

unsalted butter

2

jalapenos, seeded and diced

1/4

medium yellow onion

1

celery rib, diced

4

cloves

garlic, minced

1/4

cup

chopped cilantro

Pinch

cayenne

1/4

teaspoon

ground cumin

1/4

teaspoon

dried oregano

1/2

teaspoon

kosher salt

1

pound

cooked crawfish tails, thawed

2

tablespoons

freshly squeezed lime juice

1

teaspoon

Worcestershire sauce

Warm flour or corn tortillas, for serving

Salsa, for serving
Instructions
Preheat the oven to 350°F. Lightly grease an oven-proof skillet, then add the cheese. When the oven is ready, place the cheese in the oven and bake until melted, about 15 minutes.

Meanwhile, in a skillet, melt the butter on medium-low then add the jalapeño, onion, and celery. While stirring occasionally, cook until softened. Add the garlic and cook for 30 more seconds.

Stir in the cilantro, salt, cumin, oregano, and cayenne. Stir in the crawfish until well blended with the vegetables, then stir in the lime juice, and Worcestershire sauce. Taste and adjust seasonings. Cook for a minute or just until the crawfish are warmed, then remove them from the heat.

Remove the cheese from the oven, top with the crawfish, then serve immediately with warm tortillas and salsa. Spoon the queso fundido into the tortillas and top with salsa to make your own tacos.