Lessons learned from my first crawfish boil
It's crawfish season (or crawdad, as we used to say in Texas when I was growing up), and nothing beats having a group of people over for a big boil. Usually, these gatherings are held outside since the cleaning, boiling and eating of the crustaceans can get messy. But what if you don't have an outdoor space? Here are 10 things I learned this weekend when I held my first-ever crawfish boil inside my tiny New York City apartment.

1. These guys are feisty and love to pinch. Either wear thick gloves or stock up on bandages.
2. A broadsheet newspaper, such as The New York Times, makes a better table cover than a tabloid newspaper, such as The New York Post. The latter, however, has far wittier headlines.
3. Accordions are optional. If you don't have any Zydeco bands on your IPod, don't fret. Anything that gets your feet tapping and your hips shaking will be fine.

4. Finding Zatarain's or Tex-Joy crawfish boil spice mix on the East Coast is impossible. Old Bay will suffice as long as you supplement it with tons of cayenne. Or better yet, make your own spice mix.
5. If you don't have a supply of local, live crawfish, order them from Louisiana purveyors such as Cajun Grocer or Louisiana Crawfish. Not only do they taste better but it helps the Louisiana economy.
6. Don't gaze at their cute little bug eyes for too long or you might start feeling bad about what you're about to do the creatures: boil them and eat them.
7. If you're cooking in a small apartment without any outdoor space, be sure and open a window (or two) when purging (a.k.a. cleaning) the crawfish. All that mud and swamp gunk gets stinky.
8. When your live crawfish arrive at the office, resist the pleadings of your colleagues to open the cooler and pull out a couple for races. This can only lead to trouble, especially if they're fast and like to hide (the crawfish, not your colleagues).
9. If the tail on a cooked crawfish isn't curved, do not eat it. A straight tale means that the crawfish was dead before it was boiled, and it's going to be mushy and taste rotten. It's best to try and pick out most of the dead ones before you do your boil, but be careful as the live ones can get restless as you're picking through the batch (see tip No. 1).
10. These crustaceans are known by many names—crawdads, crayfish, crawfish, swamp lobsters or mud bugs—but no matter what they're called, they taste just as delicious. (Though our Louisiana friends may give you the stink-eye if you refer to them as anything but crawfish.)
What are some of your tips for boiling crawfish?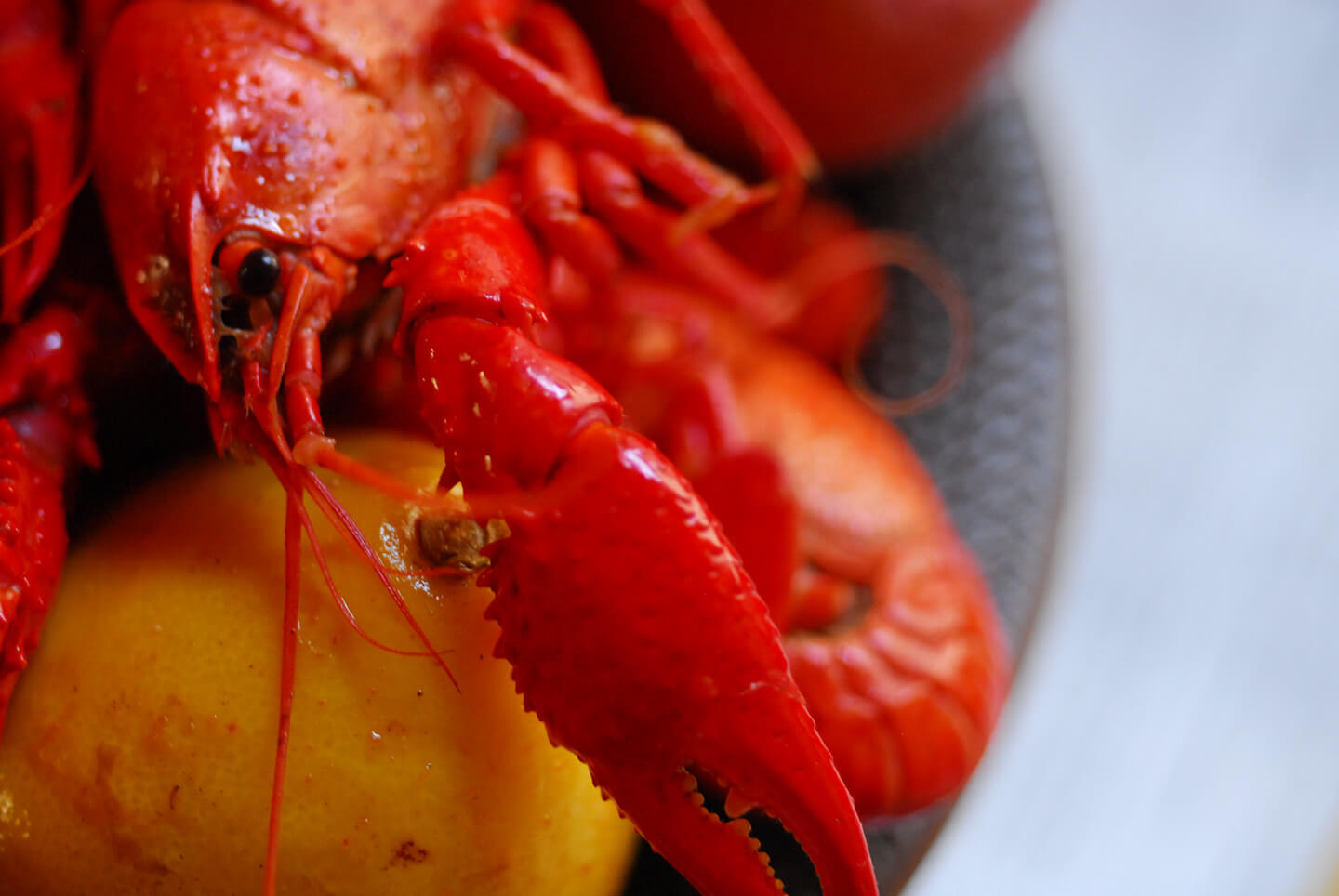 Boiled crawfish
Ingredients
1

stick unsalted butter

6

lemons, cut in half

1/2

cup

mustard seeds

1/2

cup

kosher salt

1/4

cup

whole cloves

1/4

cup

whole allspice

1/4

cup

coriander seeds

2

tablespoons

cayenne

10

bay leaves

20

pounds

of live crawfish

1

stalk celery

10

red potatoes

10

ears of corn cut in half

1

pound

andouille sausage, cut into one-inch pieces

2

medium yellow onions, cut in half

12

cloves

garlic. peeled (one head)

20

pounds

live crawfish
Instructions
In a tall 12-quart pot with a boil basket, add the butter, lemons, mustard seeds, salt, cloves, allspice, coriander, cayenne, bay leaves, potatoes, corn, sausage, onions, and garlic. Fill the pot with water two-thirds up the sides. Turn heat on high. When the water gets warm (but before it's boiling), taste the water and make any spice adjustments, such as adding more salt or cayenne.

Meanwhile, as the water is heating, purge the crawfish if they haven't been purged yet. (Purging is getting rid of all the mud and other swamp gunk). To do this in an apartment, put a stopper in your kitchen sink, unload the crawfish into the sink, and fill it with water. Let them soak for 2 minutes and then drain the sink. The water will be brown and kind of funky, but after you repeat this action 2 more times the water should be more or less clear.

Once the pot is boiling, throw in the crawfish and boil for 10 minutes, turn off the heat and let sit for 15 minutes. (You can do this in batches, just add more water and spices as necessary. The corn and potatoes can come out of the pot after the first batch is boiled.)

Place bowl of crawfish on table covered with newspaper or butcher paper, snap, peel, and enjoy.
Notes
For condiments, Louisiana hot sauces such as Tabasco or Crystal are appropriate, though I've found Mexican Cholula, while untraditional, adds both heat and smokiness to the meat. Melted garlic butter, lemon juice, and cocktail sauce also go well with the crawfish. For the boil, I like to use my own spices but most people use a commercial spice mix for a boil, such as Zatarain's or TexJoy. If you order live crawfish, however, the seller will usually include some crawfish boil spice mix in your package.