Beef flautas, how to make the best
When I lived in Iowa City, a fellow homesick Texan was tired of the lack of good food, so he opened a Mexican restaurant called La Perlita. The name means little pearl in Spanish and this small restaurant was indeed a gem. The salsas were fiery and bright, the refried beans had depth and flavor, and the tortillas were patted out by hand. But I have to say my favorite dish on menu were the freshly fried flautas.
Not familiar with flautas? Perhaps you know them by another term: some refer to them as taquitos and in parts of Mexico they're often called tacos dorados. But the basic premise is the same—it's a rolled taco that's been fried.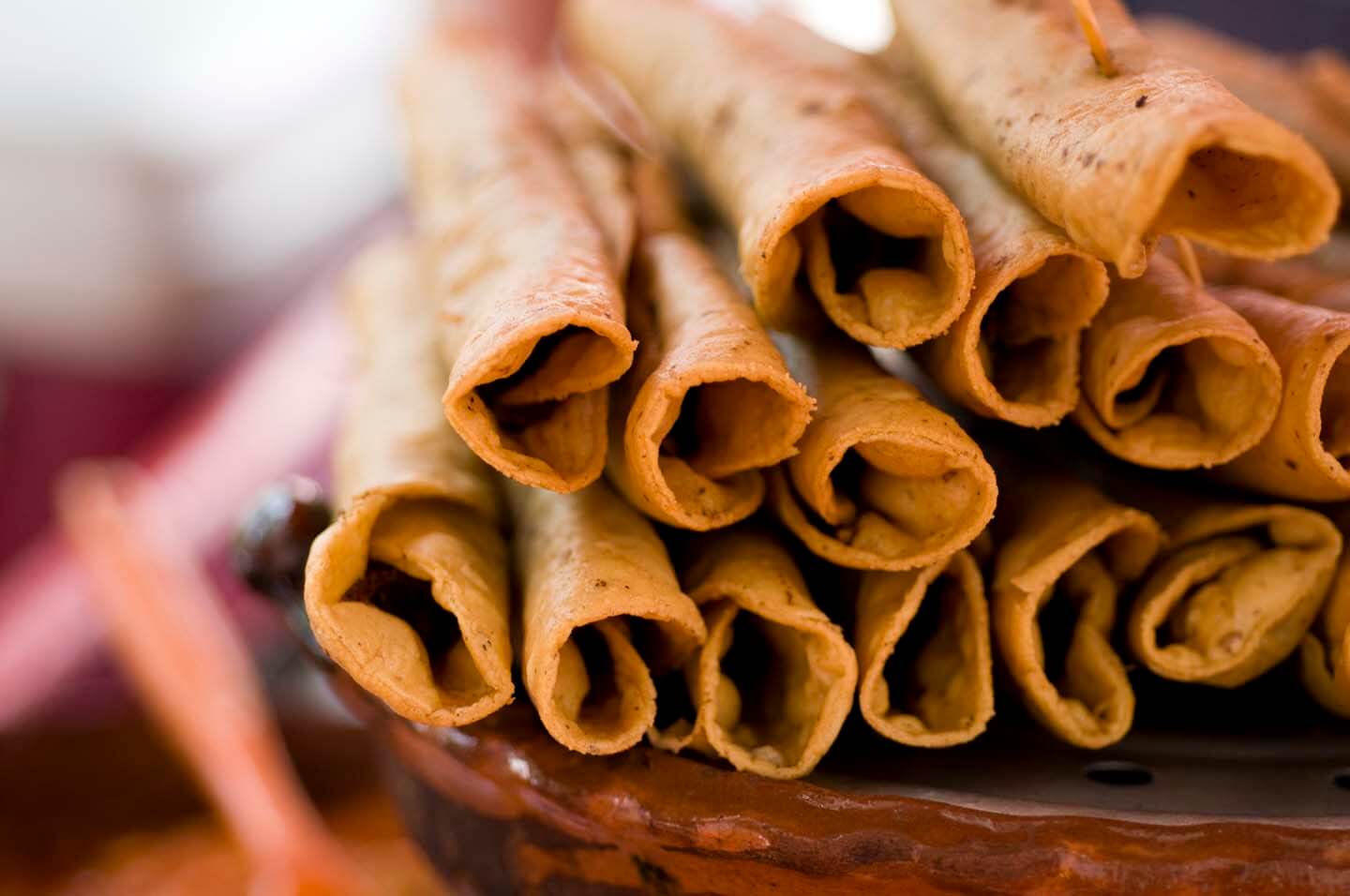 Flauta (which means flute in Spanish) is what I grew up calling them, so I was a bit flummoxed by the variation in names. When I asked my non-Texan friends, they insisted that it was a flauta if it was made with flour tortillas, a taquito if it was made with corn. I have to disagree as I'd never even had flour tortilla flautas (though I don't doubt their existence). And the Mexican street-food vendors here all sell tacos dorados, but they look just like flautas to me.
No matter what you call them, however, the key to a good flauta is that it needs to be fresh. Often you'll find pre-fried ones, where a dull tortilla surrounds a cold, lifeless filling. Would you eat a cold nacho? Would you eat a cold enchilada? Of course not! So I don't understand why people insist on serving old food—you can't doll it up no matter how much lettuce, cheese or salsa you pile on top of it.
But a fresh flauta? Now that's a thing of wonder! The tortilla snaps, the filling is alive and no adornment is necessary—though a drizzle of hot sauce is certainly welcome.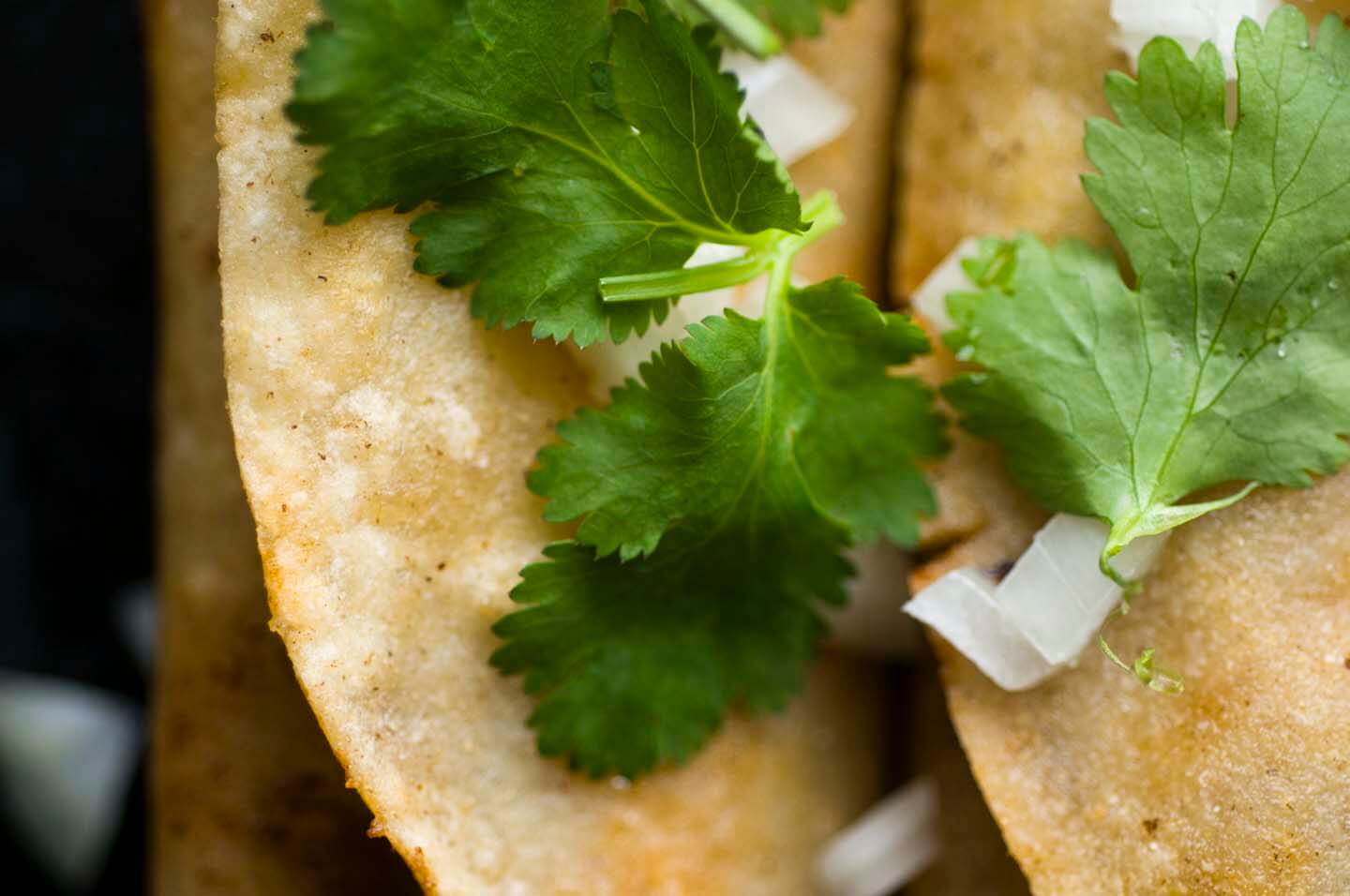 Making these is not difficult—as long as you're brave when confronted with a skillet that is hissing and popping with hot fat. (I wear long sleeves and oven mitts to keep myself safe.) But because of your fearlessness you will be rewarded with the best flautas you've ever had. Actually, that's not exactly true—I still think that the best flautas were those served to me at La Perlita, by a fellow Texan who knew how to make those needing a respite from the cold feel welcome and warm.
I'm curious—what do you call these? And am I wrong—is there indeed a difference between flauta, taquitom and tacos dorados? Please let us know!
—————
Would you like more Homesick Texan? Well, I've started offering additional recipes for paid subscribers to help with the costs of running the site. While I'm not taking anything away, if you'd like to support Homesick Texan and have access to exclusive, never-seen-before subscriber-only posts, please consider becoming a member; annual subscriptions are as low as $25. Thank you for reading, your consideration, and your support!
—————

Beef flautas
Ingredients
2

pounds

chuck roast, cut into 4-inch chunks

1

tablespoon

bacon grease or canola oil

1

medium Spanish onion, quartered

5

cloves

garlic, crushed

1

pound

tomatillos, husked and quartered

2-4

jalapenos, seeded and diced

1

cup

chopped cilantro

2

tablespoons

ground cumin

1

tablespoon

kosher salt

1

tablespoon

black pepper

2

tablespoons

freshly squeezed lime juice

12

corn tortillas

Oil, for frying

Salsa, cilantro, diced onions, and sour cream for garnishing
Instructions
Brown the cubed beef in the fat on medium heat in a large Dutch oven or pot (may have to do in batches). Add the onions, garlic, tomatillos, jalapenos, cumin, 1/2 cup of the chopped cilantro, 4 cups of water, salt, and pepper.

Bring to a boil and then lower to a simmer uncovered for 2 hours until meat is tender. Remove beef from the pot, shred it and then toss it with the 2 tablespoons pan juices, the lime juice, then taste and adjust seasonings.

Wrap the tortillas in foil, and heat in a 350° F oven for 10 minutes or until soft. Take each warmed tortilla and place 2 tablespoons of the shredded beef into it and roll tightly.

Heat 1 1/2 inches of canola oil in a large iron skillet and when oil is 350° F (or hot but not smoking), gently place 3 flautas into oil, seam side down, and cook on each side until crisp, 45 seconds per side. (If you don't have a thermometer, you can stick a wooden spoon into the oil and if it bubbles around it, the oil should be hot enough.)

Serve immediately with salsa, chopped cilantro, onion and sour cream.