Red posole (pozole rojo) for New Year's Day
I'm usually a black-eyed pea girl when it comes to New Year's Day fare. A big bowl of the golden legumes, made rich with ham hocks and piquant with a dose of pepper vinegar is usually my insurance that I'm off to a good start. And throw in some smoky collards and a thick slice of ham and my good fortune is tripled! But not everyone subscribes to this view. Take my New Mexican friend Monica—she'll be eating red posole on New Year's Day.
Remember where we were 10 years ago? Yes, we were all waving our hands and fretting over that Y2K nonsense which predicted a computer glitch would bring the world to a standstill come midnight, January 1, 2000. Living in New York City, nothing terrified me more than being stuck in a city caught in a meltdown, so I made a plan to be in Texas for New Year's Eve 1999 instead.
"Come on down!" said Monica, who lived in Dallas. "We're having a big bash and you'll be safe here. Plus, I'm making red posole."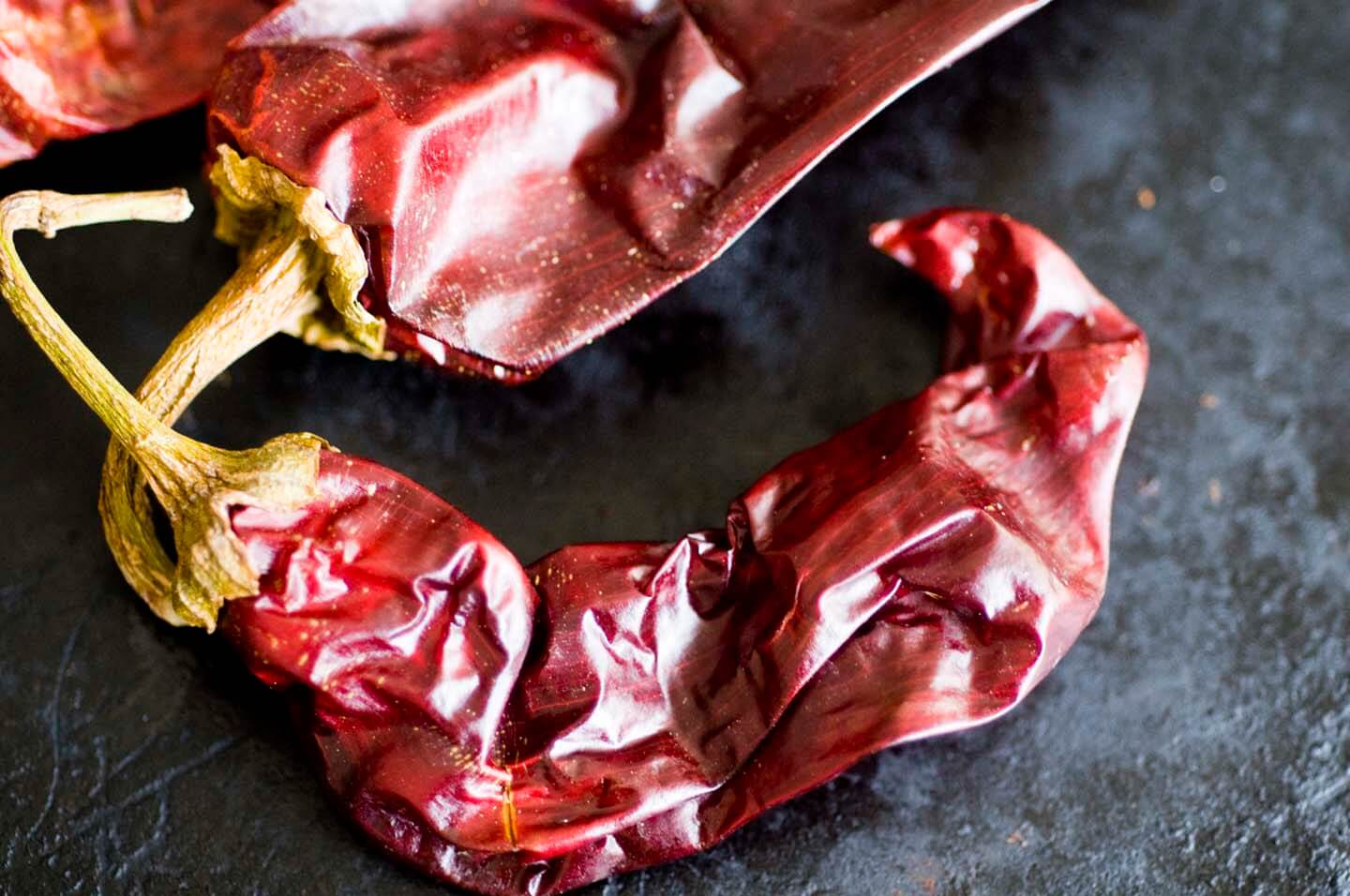 I'd never had red posole, known as pozole rojo in Spanish, and was a little dubious that she was serving this instead of black-eyed peas. She assured me, however, that this is what her family ate in New Mexico, not to mention it was traditional New Year's Day fare in Mexico as well.
As she began to make the posole, she pulled out a large bag stuffed with the elegant red New Mexican chiles. They were dry but pliable and if you sniffed you could smell their fire and spice. I had never cooked with whole dried chiles before, so I was an eager student, curious to see how it was done.
She then threw into the pot the hominy or posole, which gives the dish its name. These huge corn kernels have been soaked in lye water until the hull and germ have been removed, an ancient process called nixtamalization. And what's left behind is a flavorful thick puff with enough chew and squeak to keep things interesting.
Besides our dancing like fools to Beck and Prince that New Year's Eve, I remember how Monica's house was fragrant with pork, chiles, garlic, and corn as the posole simmered on the stove. And when the clock struck midnight and we discovered that the world was still intact, we tucked into a bowl of the rich red soup thick with hominy and looked ahead to not only a new year, but also a new decade and a new century as well.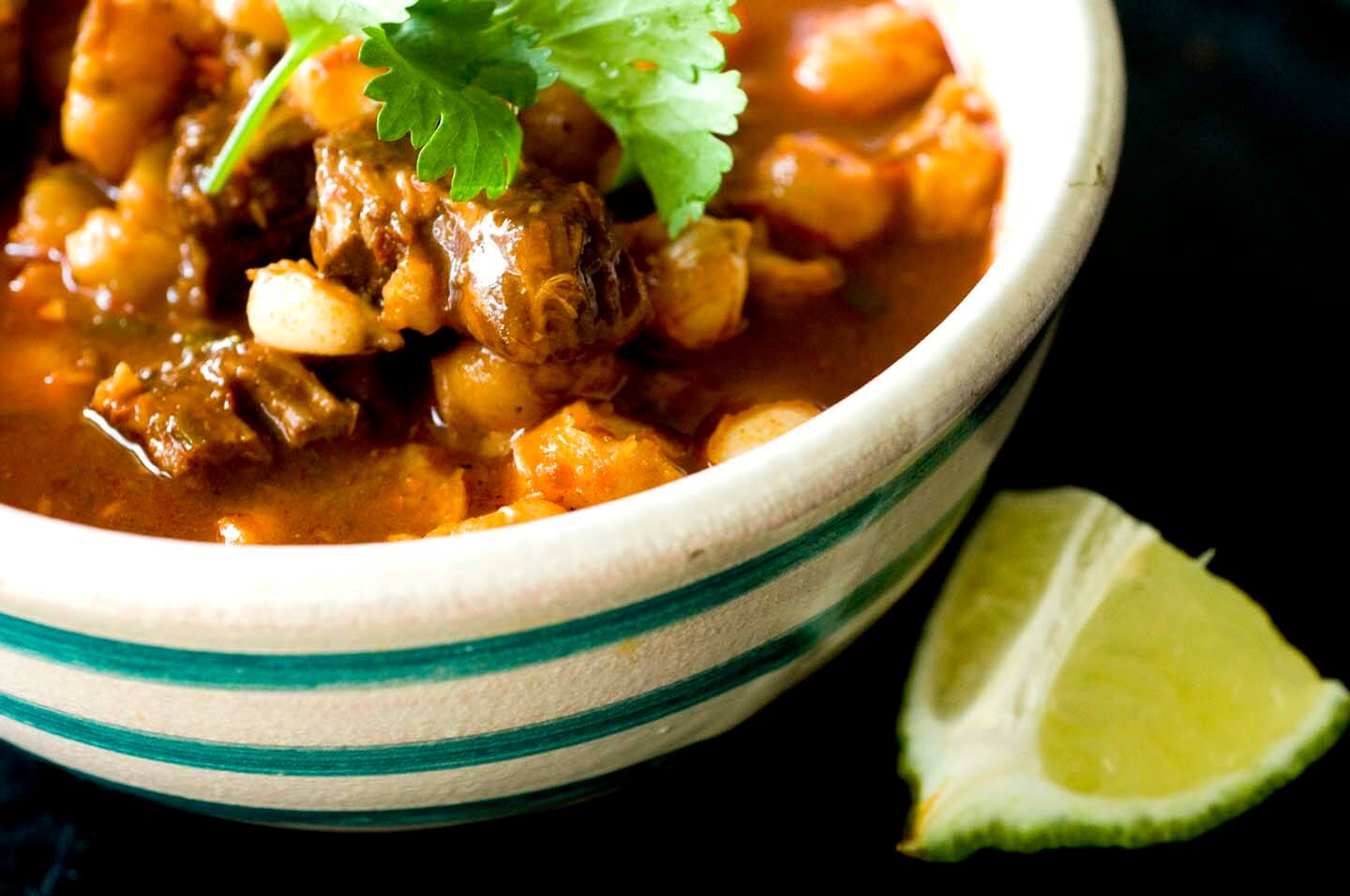 I think we can all agree that this past decade has been challenging. But there have been many highlights for me as well, the biggest of which was starting this blog and getting to know so many of you as we've connected over our mutual love of good Texan food. And while I usually prefer black-eyed peas on New Year's Day, I can't help but wonder if Monica's red posole didn't help steer me onto this path. If so, I am eternally grateful.
So I raise my bowl to y'all for being such a bright spot in the past decade–may y'all have a peaceful, prosperous, healthy and happy New Year!
Red posole (Pozole rojo)
Ingredients
1

pound

dried posole or 2 (29-ounce) cans white hominy

2

tablespoons

lard, bacon grease, or canola oil

1

medium yellow onion, diced

2

pounds

pork shoulder, cubed

8

cloves

garlic, minced

8

cups

water

1

smoked ham hock

1

tablespoon

Kosher salt

1

tablespoon

Mexican oregano

1

tablespoon

ground cumin

1/2

teaspoon

ground cloves

2

tablespoons

ancho chile powder

9

New Mexico chiles, stems and seeds removed

2

tablespoons

freshly squeezed lime juice

1/4

cup

chopped cilantro

1

avocado, peeled, pitted, and sliced, for serving

1

lime cut into wedges, for serving

Chopped cilantro, for serving

Diced onion, for serving

Tortillas and tortilla chips, for serving
Instructions
If using dried hominy, soak the hominy a gallon of water for at least 8 hours until it's doubled in size. (If using canned, wait until later to add it to the stew.)

In a large pot, heat up the lard and cook the onion for 5-7 minutes or until soft and beginning to brown. Add the pork and brown on each side for a couple of minutes. Throw in the garlic and cook for 30 more seconds.

Pour the water into the pot and add the ham hock, salt, oregano, cumin, ground cloves, and ancho-chile powder. Bring to a boil and then turn down to a low simmer.

Meanwhile, take the New Mexican chiles and cook on high in a dry cast-iron skillet until the pop, a couple of minutes. Turn off the heat, add water to the skillet and let the chiles soak until hydrated, about half an hour.

Drain the chile-soaking liquid, and place the chiles in a blender. Add 1 cup of water and blend on high until a smooth puree has formed. Stir the chile puree into the soup pot.

After a couple of hours, add the hominy to the pot along with the juice of one lime and the chopped cilantro. At this point, taste and adjust seasonings, adding more salt if desired. Continue to cook on low for a couple more hours until pork and hominy are tender and fragrant.

Pour into bowls and serve with diced onions, lime wedges, chopped cilantro, avocado slices and tortillas or tortilla chips.
Notes
Substituting beer or broth for all or part of the water is delicious, as well!