When the days are hot and muggy, chilled pickled shrimp is a lush and refreshing way to help you forget you're roasting in a hard, cement-coated city.
Pickled shrimp, which in Spanish would be called ceviche, is simply lightly cooked shrimp soaked overnight in an acidic liquid—such as citrus juice or vinegar—that's flavored with herbs and aromatics. Pickled shrimp is perfect for summer. And I had some at lunch recently—a bowl so bright and cooling that if I closed my eyes I could imagine that I was no longer in steamy Manhattan but instead lounging on a breezy beach by the sea.
My dining companion was a New York book editor who hails from Texas, whom I've had the pleasure of corresponding with for the past few months. And it was a real joy getting to know her as I always get a kick out of meeting fellow Texans; our shared love of our home state instantly creates a special bond.
Though, truth be told, I was also interested in talking to her about publishing. People have been telling me I should write a book and for someone who has loved writing her whole life, this is all very flattering.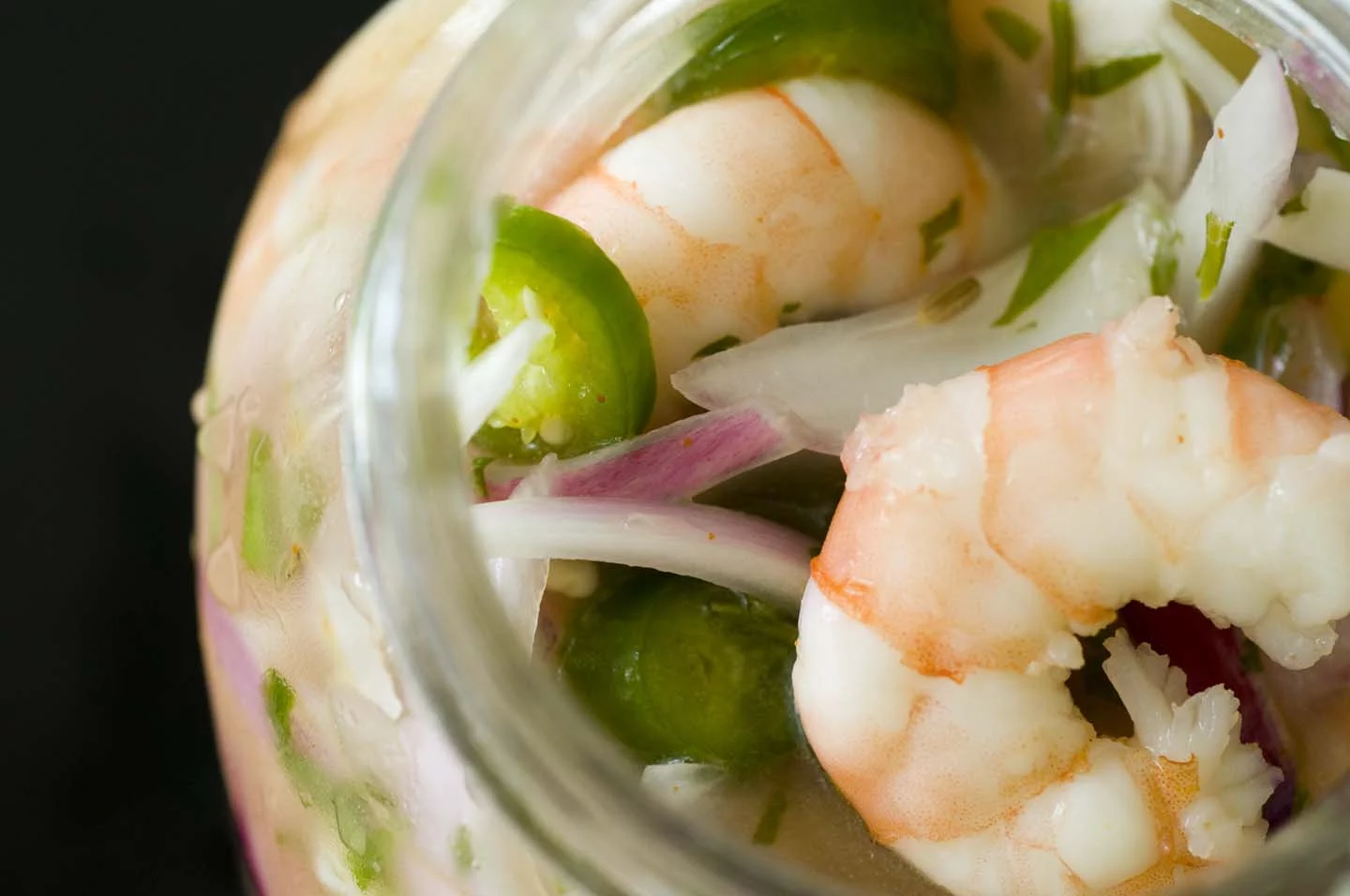 That said, for a long time I've struggled with what I'd have to say in a book. Not to mention, if I wrote a book would it be a food narrative or a straight-on cookbook? I've been advised to do both, which just adds to my confusion.

Our conversation was constructive. But also edifying was the food, especially an appetizer of shrimp pickled in lime juice with Serrano peppers, red onions and chunks of pineapple.
Straight from the bowl we both ate the pickled shrimp, so fast there wasn't time to layer it on warm flour tortillas also on the table (though that would have been good, too). We did, however, take the time to deconstruct the dish. While a couple of flavors and textures eluded us, it was still clear enough that I knew I could come back home and recreate something similar with ease.
And that's just what I did.
I enjoyed my lunch and the chance to get to know a fellow Texan in New York, and I'm feeling a bit more clarity about what sort of book I'll write. But I know I have some more pondering to do, probably because it's my silly nature to make life difficult by over thinking things.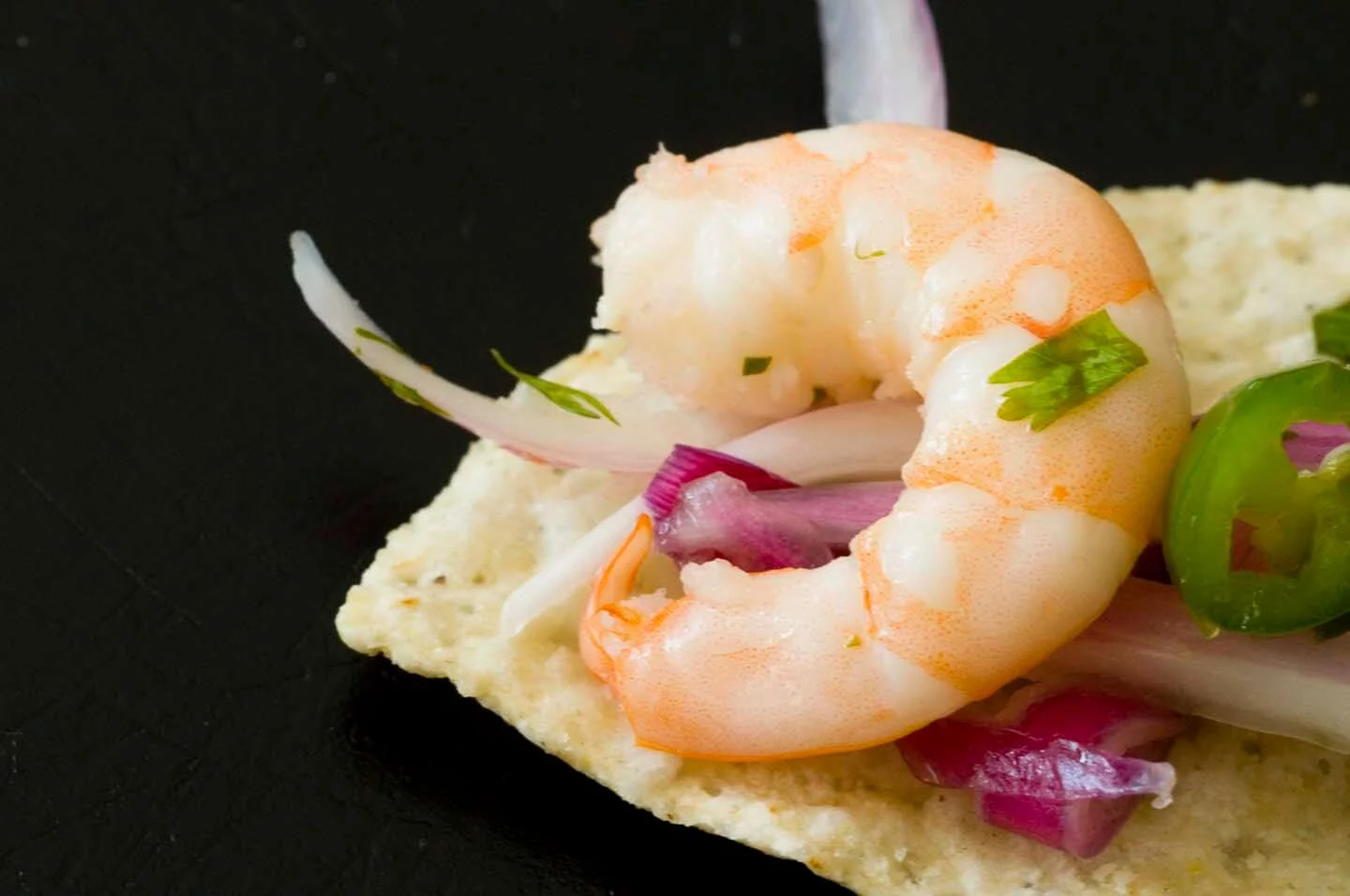 Fortunately, however, I didn't have to think too long about making this bowl of pickled shrimp—its flavors came together seamlessly. And, perhaps with a bit of hard work and hope, the right idea for a book will soon come together with such ease, too.
Pickled shrimp with lime
Ingredients
1/2

teaspoon

cayenne

1

bay leaf

2

tablespoons

salt

1 1/2

pounds

uncooked medium-sized shrimp, peeled and de-veined

1/2

cup

freshly squeezed lime juice

1/2

cup

pineapple juice

1/4

cup

white wine vinegar

1/4

cup

chopped cilantro

1-2

Serrano chiles, sliced

1/2

medium red onion, cut into slivers

1

clove

garlic, crushed

1/2

teaspoon

cumin seeds

Tortillas chips, for serving
Instructions
Add the cayenne, bay leaf and 2 tablespoons of salt to a large pot of water. Bring to a boil and then add the shrimp. Cook shrimp for one minute, drain and run cold water over shrimp.

In a large jar or plastic food-storage bag, add the shrimp, lime juice, pineapple juice, vinegar, cilantro, Serrano chiles, red onion, garlic, and cumin seeds. Add 1 cup of water (or enough to cover the shrimp), sprinkle in a bit of salt, and marinate in the refrigerator overnight, shaking or turning occasionally.

Serve in bowls with tortilla chips.