When I first moved to New York City and discovered that the Tex-Mex was seriously lacking in this town, I embraced Indian food. Now, if you're not familiar with Indian cuisine that may seem bizarre. But Indian cuisine is rich with ingredients familiar to Texans, such as cumin, chiles and cilantro. And while Indian food doesn't taste much like Mexican food, its base note flavors satisfied my needs.
I first fell in love with Indian food when I lived in Austin. On Sundays my friends and I would frequent an Indian buffet and load up on tandoori chicken, stewed vegetable dishes filled with okra, potatoes and cauliflower, puffy naan bread and my favorite Indian offering of all—saag paneer, a creamy spinach dish spiced with cumin, cinnamon and ginger, with cubes of paneer cheese dotted throughout.
This past weekend I was at the Southern Foodways Alliance's (SFA) annual symposium held in Oxford, Mississippi. If you're not familiar with the SFA, it's mission is to document, study and celebrate the diverse food cultures of the changing American South. This year's theme was the Global South and there were presentations on topics such as "Cajuns, Croats, Vietnamese: On Land and Sea in Biloxi," "Havana to Alabama: Cuba through a Southern Lens" and "Houston: The South's New Creole City."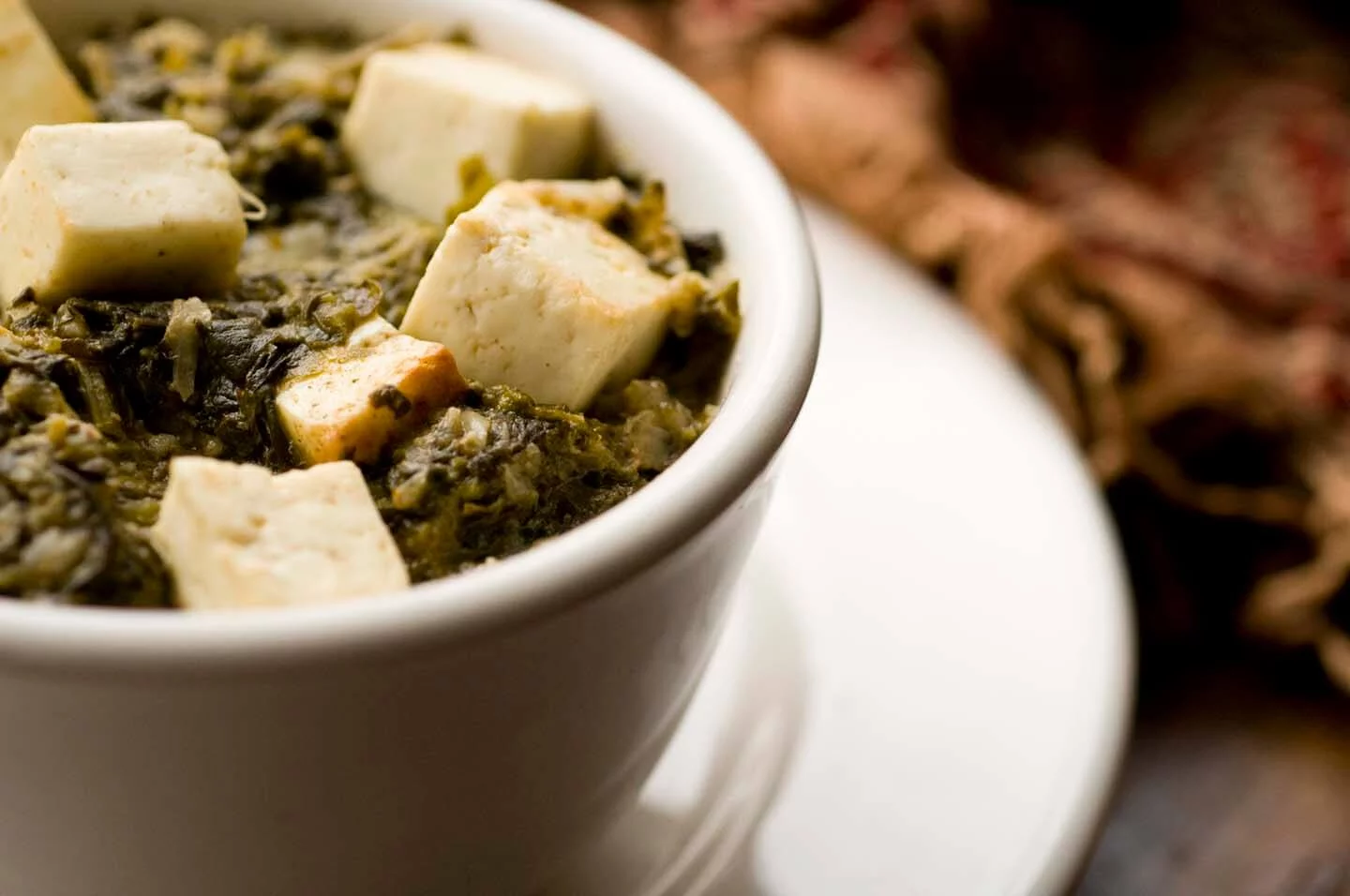 Robb Walsh delivered the Houston talk and he discussed how in Houston he sees a glorious evolution of Texan cuisine as new immigrants arrive and merge their native foods with what we already eat. So you'll see, for instance, Lebanese-Mex fajitas, spicy beef wrapped in pitas or Armenian bean soups that taste like chili.

The largest Asian population in Houston, according to the 2000 census, is Indian. And this got me thinking: why not make saag paneer enchiladas? There used to be a wonderful restaurant in Houston called Jalapeños and they had a spinach enchilada plate that was outstanding. It was pure Tex-Mex in that it was a rich spinach filling wrapped in flour tortillas and topped with a cilantro cream sauce—it certainly bore little resemblance to anything you'd find in Mexico. But I loved it and fortunately the Houston Chronicle published the recipe so you could recreate it in your home kitchen.
For my saag paneer enchiladas, I decided to use Jalapeños' recipe as a starting point, but instead I made saag paneer the filling and then topped the enchiladas with a cilantro-mint raita, which is simply cilantro, mint, green chiles and yogurt. Paneer cheese is made much the same way as queso blanco, so including it in the enchiladas also seemed like a natural fit. And I used flour tortillas as they are very similar to the Indian flat bread called roti.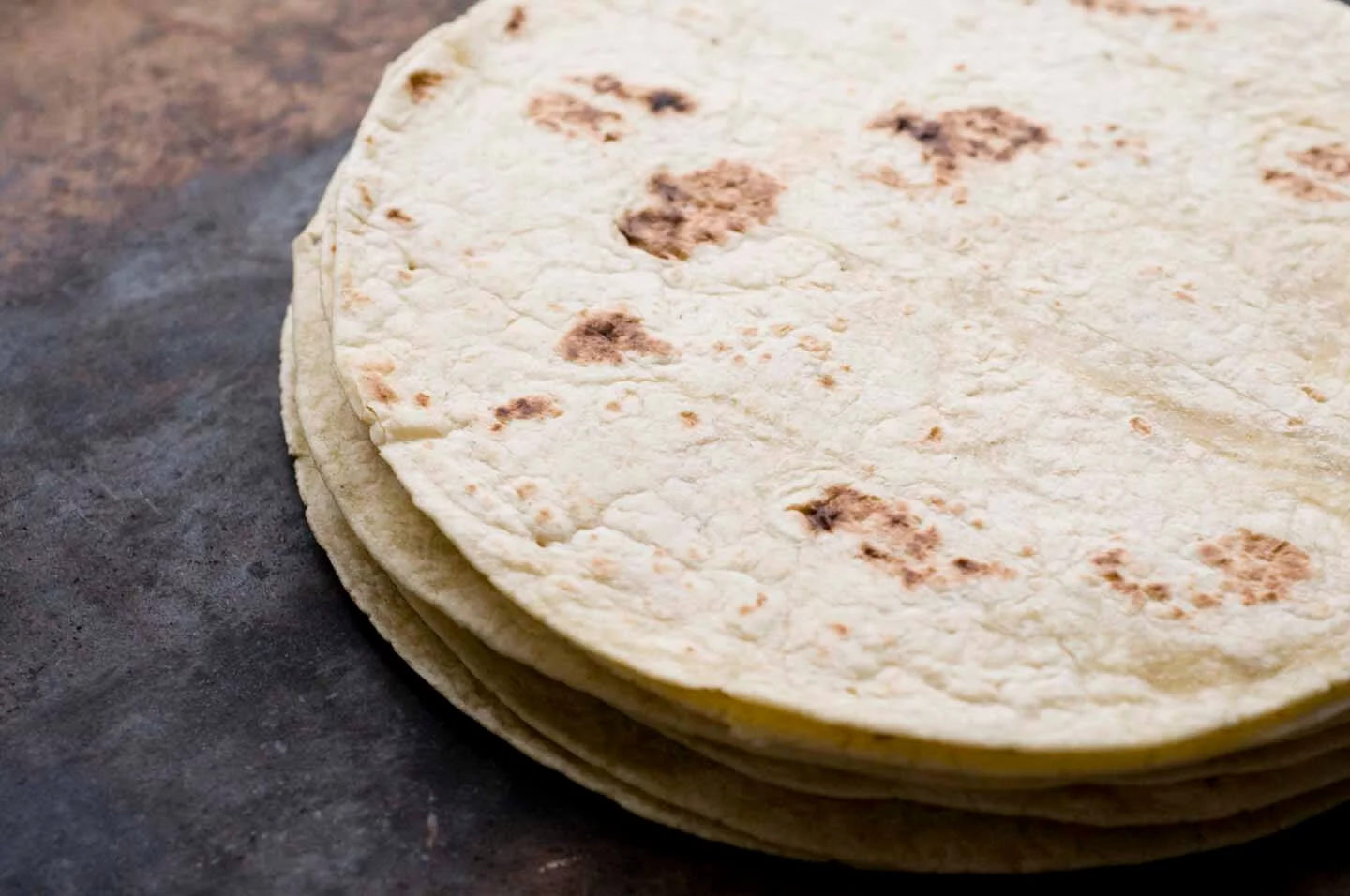 I think it's an exciting time for Texas as people from different cultures arrive and blend their indigenous cuisines with the foods we already love. Sure, I will always cherish the dishes I grew up with and those that have been in my family for generations. But it's also fun to try hybrid creations, such as these saag paneer enchiladas, and learn more about the cuisines of the world.
Saag paneer (adapted from Jalapeños and Smita Chandra's From Bengal to Punjab)
Saag paneer enchiladas
Ingredients
Ingredients for the saag paneer:
1

medium yellow onion

2

cloves

garlic

1

tablespoon

fresh ginger, grated

2

tablespoons

vegetable oil

2 10-

ounce

packages of frozen spinach, thawed

1

teaspoon

ground cumin

1

teaspoon

ground cinnamon

1/8

teaspoon

ground cloves

1/4

teaspoon

cayenne pepper

1

cup

plain yogurt or sour cream

1/4

cup

buttermilk

1/2

cup

half and half

1/2

pound

paneer cheese cut into 1/4-inch cubes
Ingredients for the cilantro-mint sauce:
2

cups

cilantro

1/4

cup

mint leaves

1

jalapeño, seeds and stems removed, chopped

1

clove

garlic

1

teaspoon

fresh ginger, grated

1/2

teaspoon

ground cumin

1

tablespoon

lemon juice

1/4

cup

buttermilk

1 1/2

cups

plain yogurt or sour cream

Salt to taste
Ingredients for the enchiladas:
8-10

flour tortillas or roti

Chopped cilantro for garnish
Instructions
In a blender or food processor, grind the onion, garlic and ginger. In a skillet, heat up the vegetable oil on medium-low heat and add the onion mixture and cook while stirring for 5 minutes. Add to the skillet the spinach, cumin, cinnamon, clove, cayenne, yogurt and buttermilk. Turn the heat down to low and simmer uncovered for 20 minutes, stirring occasionally. Stir in the half and half and paneer cheese and simmer for 5 more minutes. Taste and adjust seasonings and add salt.

Meanwhile, to make the sauce, in a blender, puree the cilantro, mint, jalapeño, garlic, ginger, cumin, lemon juice and buttermilk until smooth (you will probably have to press down the sides of the blender with a spoon a couple of times to make sure all the herbs are pureed.). Stir the cilantro puree into the yogurt. Add salt to taste.

Preheat the oven to 350. Wrap the tortillas in foil and place in the oven for 10 minutes while the oven is preheating.

Grease a baking dish. Remove the tortillas from the oven and open the foil (be careful as there may be hot steam). Take a tortilla and spoon 1/4 cup of the filling down the center. Roll the tortilla and place seam side down in the baking dish. Repeat with remaining tortillas. Cover the tortillas with cilantro-mint sauce and bake uncovered for 5 minutes.

Serve topped with cilantro.
Notes
I recommend using whole-milk yogurt. And you can usually find paneer cheese at Whole Foods or Asian grocery stores such as Kalustyan in New York City.