Ruby red grapefruit and pecan sheet cake
March 2 is Texas Independence Day. On this day 176 years ago, a group convened at Washington-on-the-Brazos (back then simply known as Washington) to craft a declaration of independence from Mexico. From that moment, the Republic of Texas was born.
Because of its significance to Texas history, March 2 is a state holiday, a day of recognition. Now, banks don't close and you still have to go to work, but plenty of folks gather to say howdy, share a Texas-themed meal and talk about how much they love their home. And yes, usually at these parties there's some eating and some dancing and maybe even some singing. It's a wonderful thing.
There are many ways to mark the occasion. For instance, you'll see Texas Independence Day barbecues held around a smoking pit chock full of briskets, sausage and ribs. Or you'll see Texas Independence Day get-togethers at local community centers where pots of chili simmer on the stove and hot skillets of corn bread arrive fresh out of the oven. And picnics have long been a popular way to celebrate, with fried chicken and cold salads on hand.


So what do my friends and I do? Being in New York, a backyard barbecue is out of the question. Instead, we keep it inside and offer plates of chicken-fried steak smothered in cream gravy. There will also be plenty of frosty beverages and lively songs. And while it may be a challenge to two-step in a five-foot square space, it's been known to be done.

But no matter how you celebrate Texas Independence Day, you have to have cake since it's Texas' birthday and all. My preferred birthday cake is chocolate sheet cake, as that's what my mom made me when I was growing up. I wondered, however, what would happen if I changed it up and gave it more of a homegrown Texas taste.
So instead of adding cocoa to my cake batter, I added our state fruit, the Ruby Red grapefruit, and our state nut, the pecan. The result? A tangy and nutty cake made extra decadent as it's topped with cream cheese frosting loaded with chopped pecans and grapefruit zest. This one's a keeper and I do believe a new tradition has been born.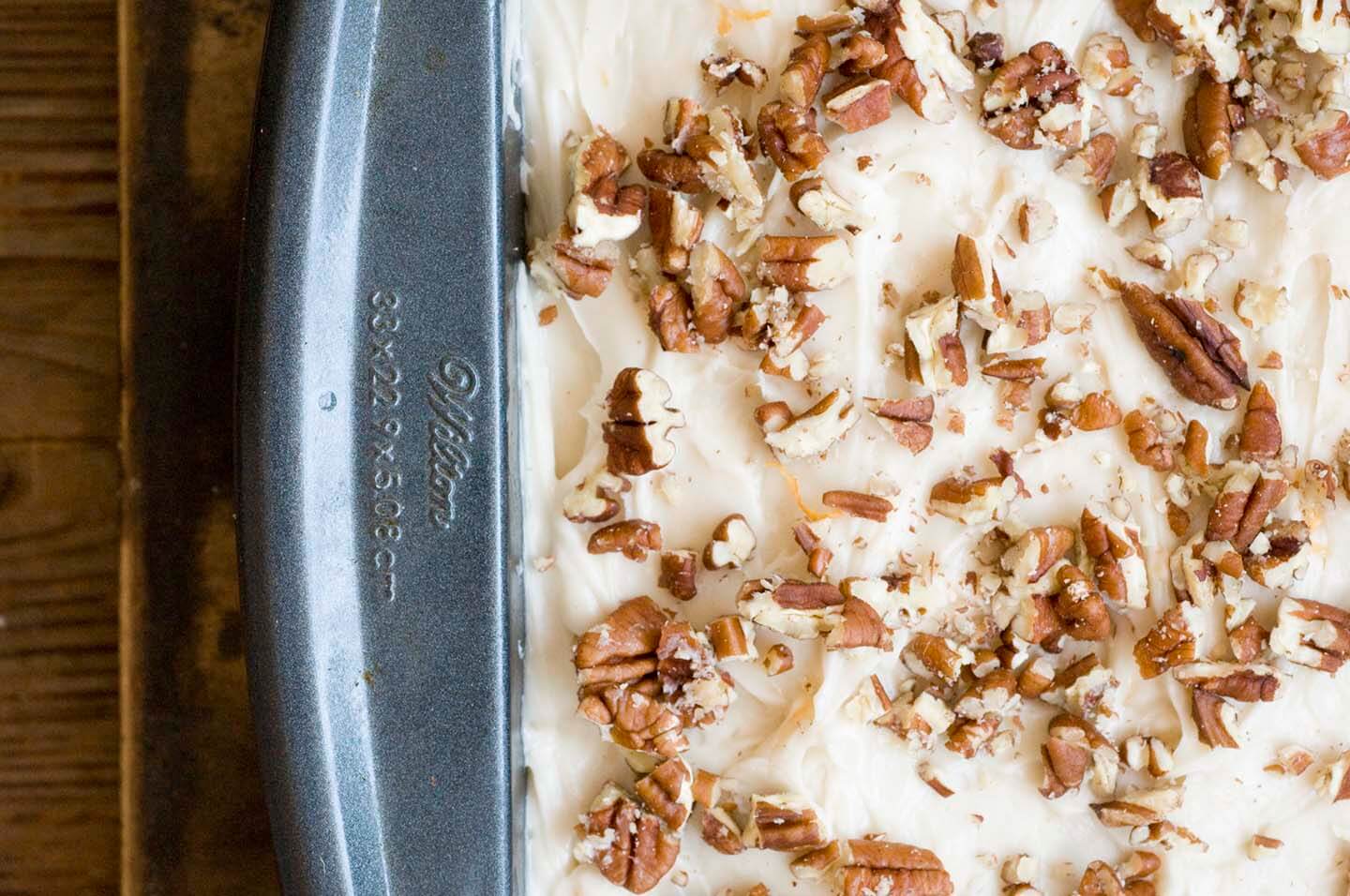 People who aren't familiar with Texas Independence Day often ask if there are fireworks or parades as there are on the Nation's birthday. I've never seen that, though it might have been that way in the past. But even sans all the fanfare, it's still a splendid occasion to gather with friends and family and share your mutual love for the great state of Texas.
Happy birthday, Texas!
Ruby red grapefruit and pecan sheet cake
Ingredients
Ingredients for the cake:
16

tablespoons

(2 sticks) unsalted butter

1/2

cup

Ruby Red grapefruit juice

1/2

cup

water

2

cups

all-purpose flour, sifted

2

cups

granulated sugar

1

teaspoon

baking soda

1/2

teaspoon

ground cinnamon

1/4

teaspoon

kosher salt

1

cup

roughly chopped roasted pecans

2

tablespoons

Ruby Red grapefruit zest

1/2

cup

buttermilk

2

eggs, lightly beaten

1

teaspoon

vanilla extract
Ingredients for the cream cheese frosting:
8

ounces

cream cheese, softened

4

tablespoons

unsalted butter, softened

2

tablespoons

Ruby Red grapefruit juice

2

teaspoons

Ruby Red grapefruit zest

1

teaspoon

vanilla extract

4

cups

confectioners' sugar
Instructions
Preheat the oven to 375° F and grease and flour a 9×13 pan or a 15x10x1-inch jellyroll pan.

In a small pan on low heat, melt the butter with the Ruby Red grapefruit juice and water.

Mix together the flour, sugar, baking soda, cinnamon and salt. Stir in the pecans and grapefruit zest. Pour in the melted butter, along with the buttermilk, eggs and vanilla extract. Mix until a smooth batter is formed.

Pour the batter into the greased and floured pan, and bake for 25-30 minutes, checking it at 20 minutes, or until the cake is lightly browned and an inserted knife or toothpick comes out clean. (If using a jellyroll pan, it should take about 20 minutes, so check it at 15 minutes.)

As the cake cools, prepare the frosting. Cream together the cream cheese, butter, grapefruit juice, grapefruit zest, vanilla extract. Stir in the sugar and blend until smooth. Once the cake is cool to the touch (about an hour or so), frost the cake.