The other day someone asked me what I always keep in my refrigerator. After going through the usual list of things such as salsa, cilantro, and jalapeños, I added that you will usually find a jar of chili gravy in my refrigerator, as well. "What do you do with it?" he asked. I then explained that I use it for impromptu batches of enchiladas, drizzle it on eggs, or pair it with leftover meat to make a quick and flavorful stew.
Now, speaking of leftover meat, one of my favorite things about Thanksgiving is the few days afterwards when you have a refrigerator loaded with food. Not only does this mean you get to enjoy cold slices of pecan pie for breakfast, but there's also a mountain of leftover turkey begging to be made into new and exciting dishes, too.
Enter my jar of chili gravy. When you take shredded cooked turkey and then cook it in a sauce that's rich with chiles, onion, garlic, and spices, you soon have an easy Tex-Mex dish that can be served in a bowl, scooped into flour tortillas, or even rolled into cheesy chili enchiladas. For lack of a better name, I like to call this marriage of chiles and meat Texas turkey chili.


Now, typically Texas chili is made with beef. That said, there are a handful of recipes out there for something called Texas turkey chili, yet these dishes are not very chili like at all. For instance, when it comes to spice they only have a slight shake of chili powder along with perhaps a jalapeño slice or two. There are also always beans, along with tomatoes and bell peppers. Matter of fact, the final result seems more like a turkey, tomato, and bean soup.

When you combine shredded turkey with a sauce made with whole chile peppers, however, even if it's not your typical beef chili, it is still an incredible dish worthy of taking a place at your family's table. And while I realize that most people don't have a jar of chili gravy in their refrigerator, not too worry, as it's quite easy to make.
My chili gravy can often be an improvisational dish that is determined by what dried red chile peppers I have on hand at the moment, but for the most part I stick with the basic base of ancho chiles, pasilla chiles, and guajillo chiles. And if I'm feeling wild, I may throw in a smoky chipotle chile, too.
The ancho and pasilla chiles, which are dried poblano and chilaca chiles, respectively, bring the bittersweet, raisin-like notes, whereas the guajillo chiles, which is a dried marisol chile, gives the chili a bit of brightness with its berry-like tones. That said, if you don't have a lot of dried chile varieties on hand, you could easily just use the fairly ubiquitous ancho chiles and still have a very fine dish.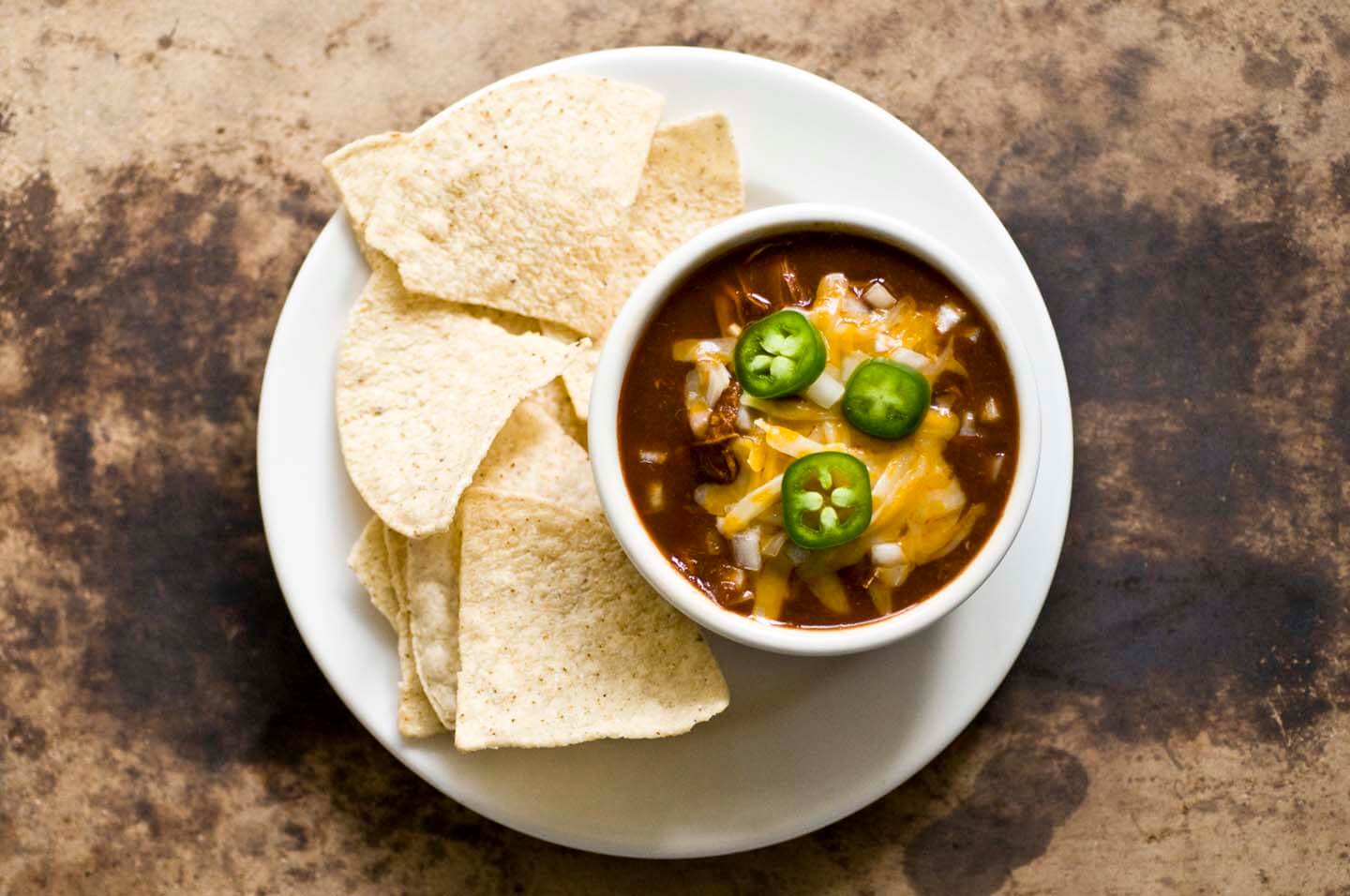 To make the chili, you simply rehydrate the chiles, puree them with garlic, onion, and broth, and then throw them into a pot along with some spices and the turkey. Soon you will have a tasty stew. This turkey chili is excellent with fried eggs, pairs nicely with flour tortillas, or you can enjoy it the traditional way—in a bowl topped with cheddar, onions, and jalapeños. All you need is a spoon.
Texas turkey chili
Ingredients
3

ancho chiles, seeded and stemmed

3

guajillo chiles, seeded and stemmed

3

pasilla chiles, seeded and stemmed

1

tablespoon

bacon grease or vegetable oil

1

medium yellow onion, diced

6

cloves

garlic, chopped

4

cups

turkey broth or chicken broth

1/4

cup

brewed coffee

6

cups

cooked turkey, shredded

1

tablespoon

ground cumin

1

tablespoon

dried oregano

1/2

teaspoon

cocoa powder

1/2

teaspoon

ground allspice

Pinch

ground clove

Pinch

cayenne

Salt

Black pepper

Masa harina, optional
Instructions
In a dry skillet heated on high, toast the ancho, guajillo, and pasilla chiles on each side for about 10 seconds or just until they start to puff. Fill the skillet with enough water to cover chiles. Leave the heat on until water begins to boil and then turn off the heat and let chiles soak until soft, about 30 minutes. Once hydrated, discard the soaking water and rinse the chiles. Place the chiles in a blender.

Meanwhile, in a large pot or Dutch oven, heat up the bacon grease on medium-low heat. Add the onions to the pot and cook until translucent, about 5 minutes. Add the garlic and cook for another minute. Turn off the heat and add the onions and garlic into the blender. Pour 2 cups of the broth into the pot and with a wooden spoon, scrape the bottom of the pot to get any remaining onion and garlic pieces, and then pour the broth into the blender.

Blend the chiles, vegetables, and broth until smooth, and then pour the chile puree into the pot. Add to the pot the remaining broth, coffee, turkey, cumin, oregano, cocoa powder, allspice, clove, and cayenne, and stir until everything is well combined.

Turn the heat on high, bring to a boil, and then turn the heat down to low and simmer uncovered for 45 minutes. Taste and adjust seasonings, adding salt and pepper to taste. If your chili is too soupy, you can stir in a tablespoon or so of masa harina to make it thicker.