Carne asada stuffed potatoes
In Southern California, there's a dish called carne asada fries. It's a pile of French fries topped with carne asada, cheese, and a variety of other toppings, such as sour cream and salsa. While I've sadly not had the pleasure of eating these, my friends who live in Southern California tell me that they're good. Very, very good in fact. I've been eager to try them.
That said, since I have no immediate plans to travel to Southern California but do plan to visit Texas this summer, I began asking around to see if these fries were offered in our great state. Unfortunately, however, my search only turned up one place that had them—a California-style Mexican restaurant in Arlington. After that, I came up with nothing.
To me this seemed a little strange. Texans love meat and Texans love potatoes—why wasn't this combination more common? Sure, in Texas you'll often find chili cheese fries, of which I am a fan. But I had a craving for the combination of steak with guacamole, cheese, with potatoes, not chili and cheese.
Then, as I was trying to figure out why I couldn't find the fries in Texas, I came across something even better: baked potatoes stuffed with carne asada. And this dish, often called simply papa asada, is found all over the state—from El Paso to the Valley, from San Antonio to Dallas.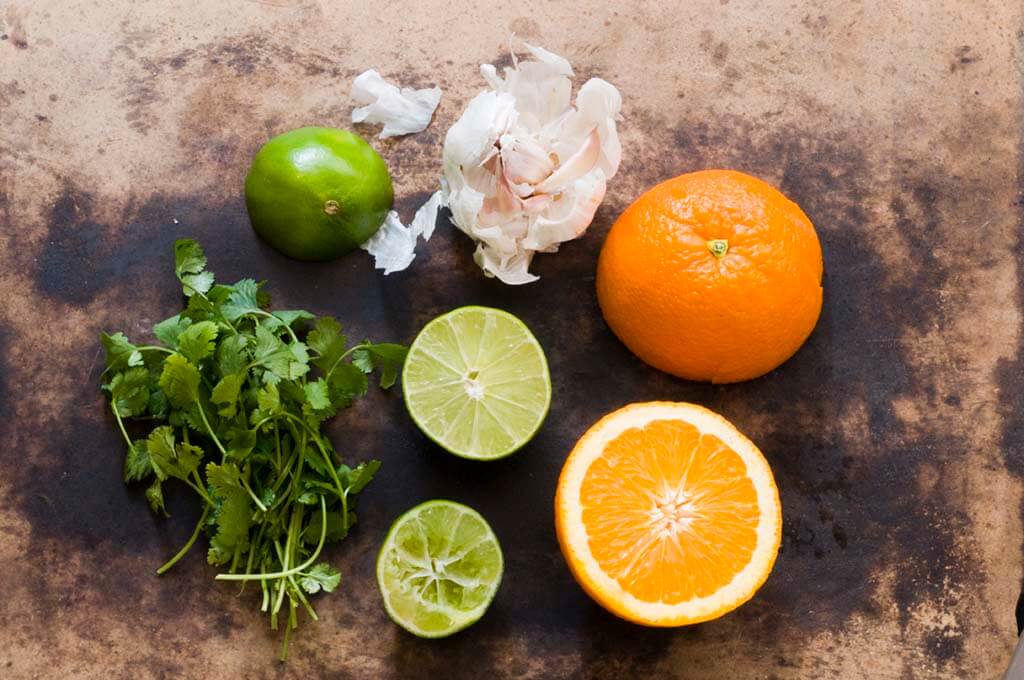 The most common spots offering the carne asada stuffed baked potato are taquerias that specialize in grilled meats, such as the pollo asado joints like El Pollo Regio and/or taquerias that have roots in Northern Mexico, such as Taco Tote or Taco Palenque. Though the more I searched, the more I found it on a host of menus—clearly I just hadn't been looking for the right dish.

Carne asada is typically a grilled beef dish, even though its literal translation from Spanish is roasted meat. To make carne asada, the beef, which is usually flank steak or skirt steak, spends some time in a lively marinade made with citrus, garlic, cilantro, and chiles. Then the steaks are usually grilled.
As I live in a small apartment without a yard and grill, to make my carne asada I had to make do with my cast-iron skillet and my broiler. That said my scorching skillet and broiler's flames do make for a juicy, flavorful steak.
To complete the dish, I then split open some baked Russet potatoes and layered in some cheddar cheese so it would make contact with the steamy skin and melt. I topped that with slices of my carne asada and finished with generous helpings of guacamole, sour cream, and pico de gallo. I might be prone to exaggeration, but believe me when I say this carne asada stuffed potato was probably the best baked potato that I'd ever had.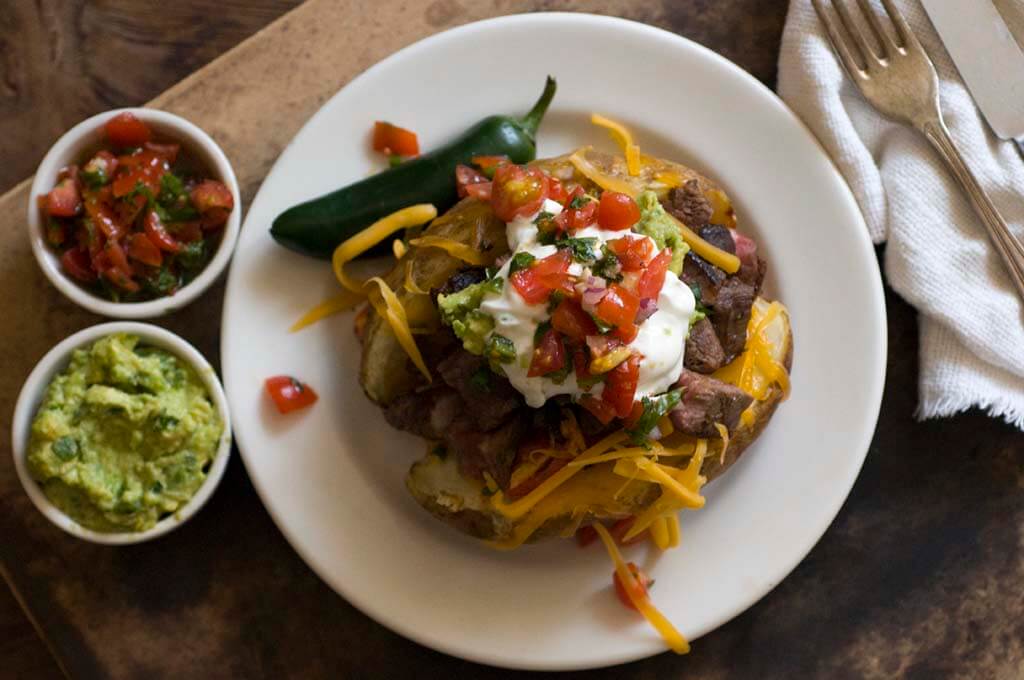 While I realize that some purists may take umbrage with my using my skillet and oven for carne asada, after taking a bite I didn't hear one complaint. And of course, this marinade works just as well with steaks thrown on the grill. Though no matter how you cook your carne asada, I highly recommend adding it to a baked potato with all of these Tex-Mex fixings. It makes for a fine snack or starter if you have a large appetite, though it's also a very satisfying main dish.
Carne asada stuffed potatoes
Ingredients
Ingredients for the carne asada:
4

cloves

garlic, chopped

2

jalapeños, seeded and chopped

1/4

cup

lime juice

1/4

cup

orange juice

2

tablespoons

red wine vinegar

1

tablespoon

Worcestershire sauce

1/4

cup

olive oil

1/2

cup

cilantro

1/2

teaspoon

dried oregano

1/2

teaspoon

ground cumin

1/2

teaspoon

kosher salt

1/4

teaspoon

ground allspice

Pinch

of cayenne

1

2-2 1/2 pounds flank steak

1

teaspoon

butter
Ingredients for the potatoes:
4

Russet potatoes

1

tablespoon

olive oil

1

teaspoon

kosher salt

1

tablespoon

unsalted butter

1

cup

4 ounces shredded cheddar cheese

Sour cream, for serving
Instructions
To make the carne asada marinade, place in a blender the garlic, jalapeños, lime juice, orange juice, red wine vinegar, Worcestershire sauce, olive oil, cilantro, oregano, salt, allspice, and cayenne. Blend until well combined. Place the flank steak in a food-safe, non-reactive storage container and pour over it the marinade, evenly coating the meat. Let the meat marinate for at least 4 hours but no longer than 24.

To make the potatoes, preheat the oven to 375°F and line a baking sheet with foil. Pierce the potatoes in several spots with a fork, and stir together the olive oil and salt, and then evenly spread over the potatoes. Place the potatoes on the sheet and bake for 50 minutes to 1 hour, or until they're soft and can easily be pierced with a fork.

About 30 minutes into the potato-baking time, remove the flank steak from the refrigerator and the marinade, blot the surface of the steak with a paper towel to remove any excess liquid, and allow it to come to room temperature, about 30 minutes.

Once the potatoes are done, remove from the oven and then turn on the broiler. To cook the steak, heat on high a large, ovenproof skillet, preferably cast iron. When a dab of water dropped into the skillet sizzles, add the butter and as soon as it melts, add the steak. Cook the steak for 2 minutes and then flip it and cook for 2 more minutes on the other side. Remove the skillet from the stove and then slide it under the broiler, cooking the steak in the oven 1 minute for medium rare, 2-3 minutes for medium.

Take the steak out of the oven and then remover it from the skillet, allowing it to rest on a plate or platter for 10 minutes. To serve, slice the steak into thin, long slices against the grain of the meat, and then chop these into bite-sized pieces.

To assemble the carne asada potatoes, take a potato, slice it lengthwise across the top and open it, fill it with cheese, then top with the carne asada steak, guacamole, sour cream, and pico de gallo, serving with any additional guacamole or pico on the side.
Notes
To cook this on the grill, after it comes to room temperature, cook for a few minutes on each side until it's your preferred doneness. The potatoes can also be cooked on the grill, though I'd wrap them in foil first.