"Did you know that if you dip a Frito into ketchup it tastes like fried shrimp?" asked my aunt. I told her I did not. She explained that she'd been at a party where everyone brought strange concoctions and this was one of the dishes on offer. "I was doubtful," she said, "but it's surprising how your mind is fooled."
Curious, when I returned home I grabbed a bag of Fritos, squirted some ketchup into a bowl, and began to dip. It wasn't a perfect substitution, but if I closed my eyes and hadn't been aware of what I was eating, I might have believed it was fried shrimp. Amazing. But as much as I love Fritos I might love fried shrimp even more. Sure, that trick of the mind had been initially pleasing, but ultimately all it did was make me crave the real thing even more. It was time to make a batch and get some true satisfaction.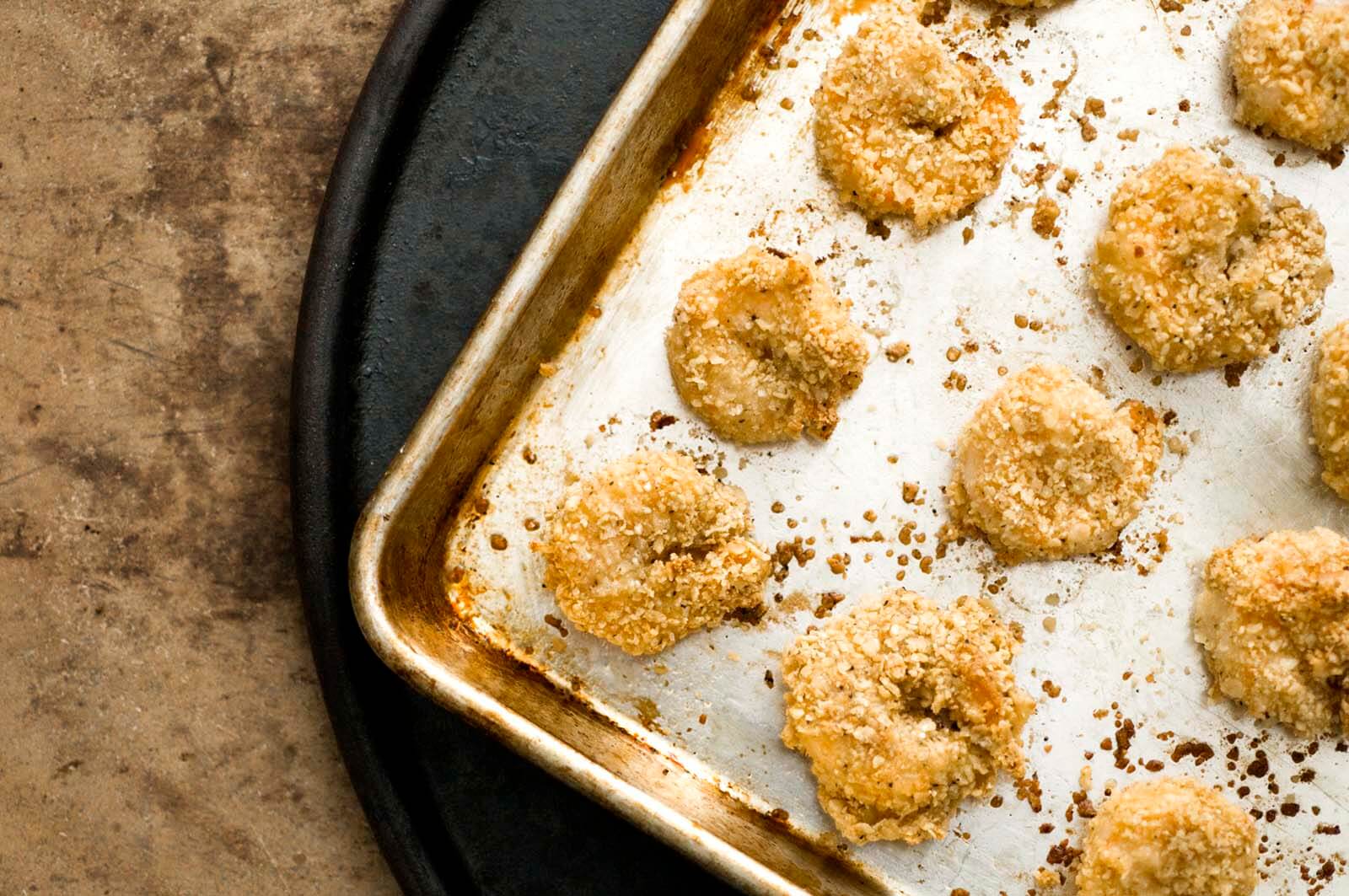 Inspired by the corn chips, instead of doing my usual flour or saltine dredge I opted to coat my shrimp in crushed tortilla chips. Now, in my second cookbook I have a recipe for a tortilla-crusted fish, so taking a lead from that I applied it to my shrimp. First, I lightly seasoned the shrimp then coated them with flour to help everything stick. Next the shrimp were given a quick dip in some eggs and then dredged through crushed tortilla chips seasoned with black pepper, garlic, and cayenne.

Usually I fry my shrimp in oil, but that creates a huge mess and I wanted something more quick and easy. My tortilla-crusted fish was baked, and while I'd never prepared coated shrimp in the oven I gave it a try. After a few minutes at high heat, the tortilla-chip shell was crisp and the shrimp were sweet and snappy. The most difficult thing about the whole process was getting the chips onto the shrimp.
With fried seafood, I'm equal opportunity about my dips and often go with buttermilk dressing, melted butter, or tartar sauce. Taking a lead from my initial inspiration—those chips in ketchup—for these I kept the ketchup and jazzed it up with horseradish, lime juice, and chipotle chile powder. A smoky, spicy cocktail sauce was born.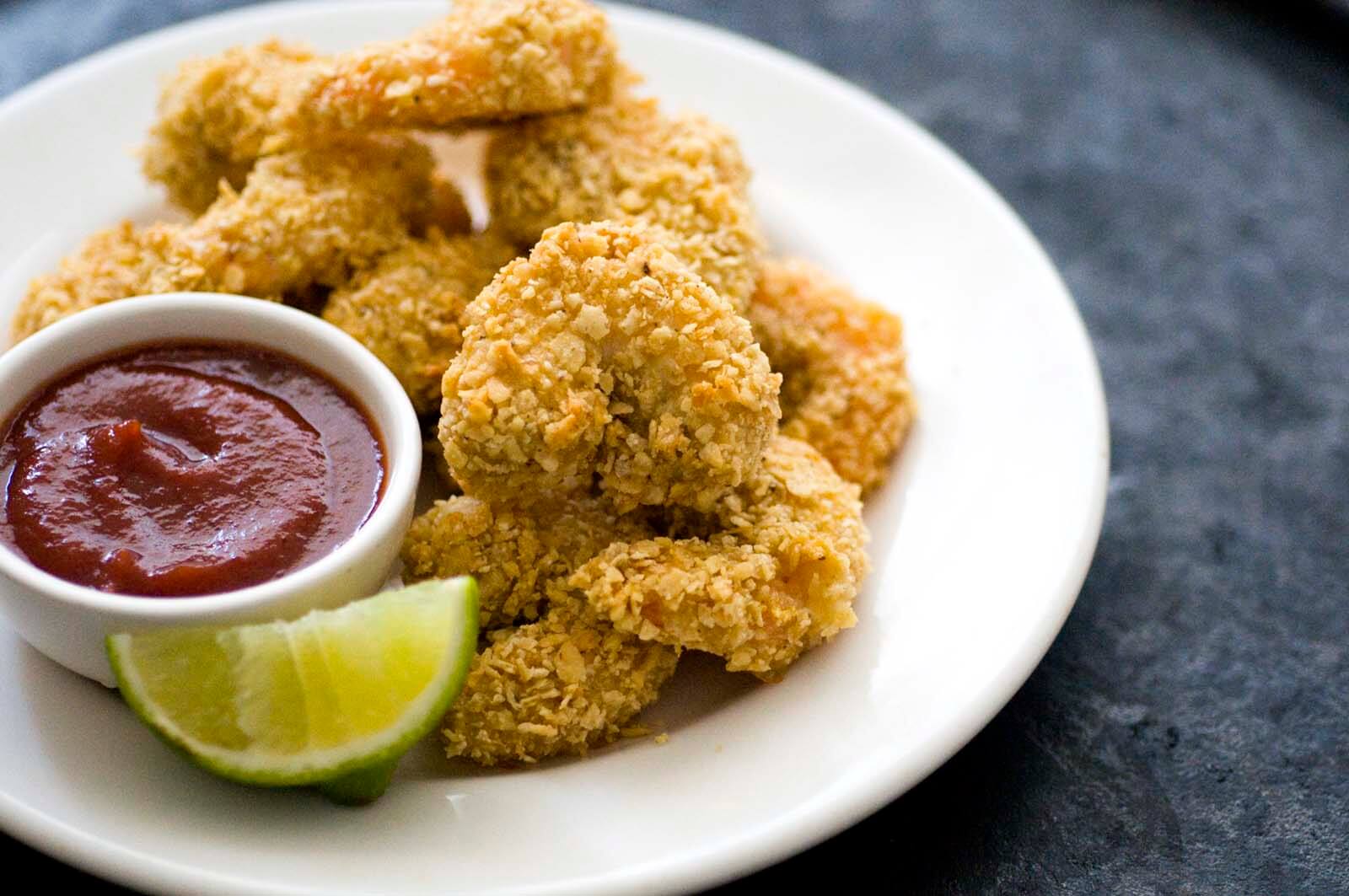 After I pulled the shrimp out of the oven I squirted them with lime juice, and when they were cool enough to handle I began to dip them in the sauce. Fried shrimp always take me back to summertime trips to Galveston. And while I ate, if I closed my eyes I was back on the beach with sunburned cheeks enjoying a basket with good friends. True satisfaction indeed.
Tortilla-crusted shrimp
Ingredients
2

cups

finely crushed tortilla chips

1/2

teaspoon

black pepper

1/2

teaspoon

garlic powder

¼

teaspoon

cayenne

Kosher salt

1

pound

medium shrimp, shelled and deveined

2

tablespoons

all-purpose flour

2

large eggs

½

cup

ketchup

1

teaspoon

horseradish

1/2

teaspoon

chipotle chile powder

1

teaspoon

freshly squeezed lime juice

Sliced lime, for serving
Instructions
Preheat the oven to 450°F and grease a baking sheet with cooking spray.

Season the crushed tortilla chips with the pepper, garlic powder, and cayenne. Taste and adjust the seasonings if needed, adding salt to taste. (Depending on the chips, I usually start with ¼ teaspoon.)

Lightly salt and pepper the shrimp then toss with the flour. (If using frozen shrimp that's been thawed in cold water, pat down the shrimp with a paper towel before seasoning so they aren't too wet.) Beat the eggs until bright yellow and place ½ cup of the crushed tortilla chips into a bowl. (You only start with 1/2 cup so you can refresh the chips as you dredge, which keeps them from becoming too clumpy.)

Working in batches, dip the flour-coated shrimp into the eggs then dredge in the tortilla chips. Place coated shrimp on the baking sheet. A quarter-way through the process, refresh the tortilla chip dredge with another ½ cup fresh crushed tortilla chips, then continue to dredge. Repeat the process until all the shrimp are coated.

Bake uncovered for 7 minutes, then remove the sheet from the oven and flip the shrimp over to the other side. Return to the oven and cook for 5-7 more minutes or until the coating is lightly browned and the shrimp are pink.

As they are baking, to make a chipotle cocktail sauce stir together the ketchup, horseradish, chipotle powder, and lime juice. Taste and add salt, if needed. After the shrimp are done, serve warm with the chipotle cocktail sauce and limes on the side.